Packages Tracker for Windows 10 keeps tabs on all your shipments
Packages Tracker is a Fluent-Designed Windows 10 app that lets you keep track of all your packages.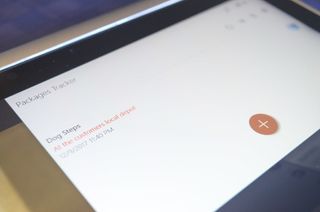 There are many ways to track packages on Windows 10, including via Cortana, but if you're in an area where Cortana isn't available or you just want a dedicated app for tracking packages, Packages Tracker is a solid choice.
The app is available for free, though to track unlimited packages you'll have to spend $1.49. However, we had an issue with the app that kept us from tracking any packages until we upgraded to the premium version. We read the app reviews, though, and this doesn't seem like a widespread problem.
It works across Windows 10, Windows 10 Mobile, and HoloLens.
The app is simple but it's hard to imagine wanting frills or a more complicated design just to track packages.
See in the Windows Store (opens in new tab)
Wide range of courier support
The app supports tracking packages from 130 couriers. The most popular ones are there, and the developer seems open to adding more if people request it.
That number includes regional variants for many couriers, a nice touch to make sure you can track your packages no matter where you are.
To add a package you just click on the plus icon at the bottom of the app. You can name the package whatever you'd like. You then add the tracking number and the provider and it adds the package to the app.
Packages Tracker features
Packages Tracker lets you select security login options, including Windows Hello, allows you to sync and backup your content through OneDrive, and it also has the option to turn notifications on or off.
The syncing is especially useful as the app is available across so many types of Windows devices.
It also has a barcode scanner and the option to pin packages to Live tiles.
Design
The app embraces many elements of the Fluent Design System language as well as other UI elements that Windows users like seeing. It has light and dark themes, blur effects in the right places, and uses familiar icons. It's a very minimalistic app that just does its job while fitting into your array of Windows apps.
Wrapping up
Packages Tracker is an easy-to-use app that does its job and looks good while doing it. It has the features you'd like in a package tracking app and they're easy to find.
See in the Windows Store (opens in new tab)
Windows Central Newsletter
Get the best of Windows Central in in your inbox, every day!
News Writer and apps editor
Sean Endicott brings nearly a decade of experience covering Microsoft and Windows news to Windows Central. He joined our team in 2017 as an app reviewer and now heads up our day-to-day news coverage. If you have a news tip or an app to review, hit him up at sean.endicott@futurenet.com (opens in new tab).
But wait! Cortana was supposed to be the answer to this! Cortana supposedly has the capability to read your emails and recognize package info and ask you if you would like her to track it! Sadly, not so much anymore. It worked early on, but now, no matter how many things I order via Amazon or ebay--two of the most common places people order things--Cortana never recognizes it, even though I've given Cortana the permission to do so. I always have to manually enter the tracking info for Cortana. Sadness.

Cortana will track your packages but you'll need to enter them via the Notebook. The AI isn't good enough yet for it to auto - track from emails or app transactions.

Oh, that's the case NOW. But I absolutely know early on Cortana would pick up package info from my emails and it would literally pop up and ask me if I wanted it to track the package for me. Not anymore.

Yeah she use to be able to auto track packages. So you are 100% correct about that.

I bought something on Amazon.com and viewed the shipping info in Cortana a few minutes ago. It's been working for me since before AU. BTW, the first sentence in the article states: "There are many ways to track packages on Windows 10, including via Cortana, but if you're in an area where Cortana isn't available or you just want a dedicated app for tracking packages...".

As with all things Microsoft, Cortana functionality in this area is half baked. It recognizes my packages but doesn't give any notifications when something changes including delivery. Far from a working solution as stated in the article.

My Amazon account is tied to a different email address than I use with Cortana, so I enter them manually in the notebook. Unfortunately, this doesnt sync properly to Android Cortana frequently.

Cortana always tracks Amazon packages for me automatically, and it has improved. It used to just title it by the Amazon order number, but now it actual auto-fills the item I ordered. Very handy still. It might do eBay as well, I can't recall? But I don't think it has ever tracked anything from other sources.

Cortana still tracks my packages automatically. Not sure why this changed for others.

My Cortana tracks every amazon order automatically.

Part of my point is IF so much is meant to be baked in WHY would we even want to put more bloat on our devices, duplicating features? I think that's just insane. Just like having a ridiculous number of messaging/video communication apps. I should only want or need ONE.

Sadly, most of the apps that the myAppFree app recommends as "App of the Day" only replicates what other apps already do better like Microsoft's OneNote or Todoist, etc. Gosh, how many note taking and task planner apps I've seen as, "App of the Day." And I've seen apps appear multiple times as, "App of the Day." Sigh.

The baked in functionality of Cortana is nice for infrequent use and fills my needs fine. But there was a time when Package Tracker was a must have for me, and still would be if I was receiving as many packages as I used to. Mostly because I could pin the various shipments to my start screen and have them update on the live tile. If you're an eBayer, a frequent shopper, or need extra info, then the app fills a need beyond the standard offered by Cortana.

Developers are still free to create apps. If an one doesn't want to utilize them..... Awesome! Apps that do the same things as maybe Cortana are great for those who choose not to give Cortana permission to read/have access to their email, etc. Plus, this app is not by Microsoft, so it's not bloating your device. It is your choice to download the app. Where is the disconnect here? Why is this a conversation?

Is it better than 17Track? Package Tracker was my go-to until they stopped support. 17Track is ok, but it's the little things that bug me. Like, if I archive a package on desktop, I have to also archive it on phone - it doesn't sync that. Also, when you load up the app, you have to manually trigger a sync. It's not automatic. It's the small things that make a difference.

i saw it pretty close. you can set up sync with onedrive

This new Packages Tracker is like the good old Package Tracker. Really good app. While there is a setting that refreshes all the packages upon opening the app, you may have to force a refresh every now and then.

worth the money im use it right now.

Been using this for months now. It has worked very well. Only issue I have run into is the sync failing, rarely, but all you have to do is delete the files out of the sync folder in one drive and sync the device with the correct package data again to clear the issue. Dozens of carriers to choose from, and more added all the time. Worth every penny and then some. Buy the man some coffee!

This would be one of the best Apps I would use except for one sad issue (which the original App had too) sync wipes out the data on other machines. I spent a load of time entering packages on my PC, went to my phone and pressed sync and it wiped the ones on the PC out !
Windows Central Newsletter
Thank you for signing up to Windows Central. You will receive a verification email shortly.
There was a problem. Please refresh the page and try again.