Can you believe there was a time in human history where the best we could do as a society was bang a couple rocks together to produce fire? And now here we are in 2019, producing fire from a USB battery. Neanderthals ain't got nothin' on us, man. Be a part of society's advancement with Tacklife's EY01 USB-rechargeable electric arc lighter on sale for $6.48. Just use the code BFM3MDJY to get the price down. We usually see this arc lighter selling for around $10 and it's currently going for closer to $13 without the code. Either way, today's drop is one of the best prices we've seen.
The lighter has free Prime delivery, but if you don't have Prime you'll either want to sign up for it or get your cart over $35 before checking out.
Flame on!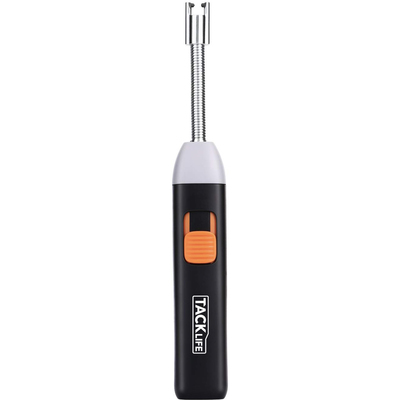 Tacklife 2600mAh USB-rechargeable electric arc lighter
The lighter has a 2600mAh battery that's USB rechargeable. No gas. No mess. No smell. Just fire. Burn baby, burn. It's wind and rain proof and has a flexible neck for hard to reach spots. Comes with a lifetime warranty.
$6.48 $10.00 $4 off
Tacklife's arc lighter has a 2600mAh battery and can be used more than 1,000 times before needing to be recharged. There's even a power indicator to let you know when it's low. And then all you have to do is plug it in. There's nothing to refill or anything like that.
The benefit of an arc lighter like this is there's no flame, no gas, and no smell. You can use it throughout your daily life to light candles, start a burner, work on a grill, or engage in some do-it-yourself projects like a lightning tower or punch-activated flamethrower. Cavemen probably think we're pretty awesome, huh?
The arc lighter is wind and rain proof so you can use it even when you're outside. Since the fire is produced from an arc it won't blow out like a regular lighter would. If you're thinking about going camping or spending some time outside as fall hits, you'll want one of these for sure. It comes with a safety lock to help prevent accidents, and Tacklife protects the device with a lifetime warranty. Users give it 4.4 stars out of 5 based on 28 reviews.
We may earn a commission for purchases using our links. Learn more.