Killer Instinct is experiencing a bit of an online revival, possible tournament news incoming
It appears like Killer Instinct fans tournament fans have some news to look forward to.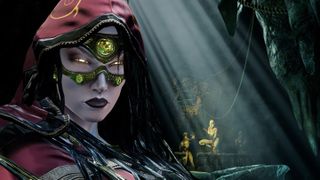 (Image credit: Xbox Game Studios)
What you need to know
The 2013 reboot of Killer Instinct saw new fighters released up through 2017.
Killer Instinct is returning to the Evo lineup with Evo Online.
Brandon Alexander, head of the Killer Instinct World Cup, is teasing some news coming in the next few weeks.
Fans on Twitter have been asking for more support and a sequel with #BringBackKI.
The 2013 Killer Instinct, initially developed by Double Helix before Iron Galaxy took the reins, has had an interesting lifespan. While it launched in something of a rough shape with only nine fighters, it wasn't long before additional seasons filled out the roster and added new maps. Later additions saw guests from across the Xbox roster like the Arbiter from Halo and General RAAM from Gears of War.
The fantastically-low input lag, excellent visuals, rocking soundtrack, and easy-to-approach aspect for beginners slowly built momentum for the game. Killer Instinct even ended up launching on Steam and crossing 10 million players.
Since 2017, however, support dropped, with a lack of real presence at fighting game events such as Evo (Evolution Championship Series). There's also been no sign or hint of a sequel happening, with Iron Galaxy doing various porting work for assorted Nintendo Switch titles.
Even so, over the last few months, Killer Instinct appears to be garnering something of a revival. #BringBackKI started trending on Twitter, after community leader and fighting game aficionado Maximillian Dood, aka Maximillian Christiansen, led a campaign to get Killer Instinct noticed again and encourage hope for a sequel.
Christiansen is a massive figure in the Killer Instinct community, having actually worked on the game editing trailers starting with its second season. The video, which you can watch above, made quite a splash and rekindled enthusiasm for the game.
Then came a bit of surprising news, news that indicates maybe the online fan rallies have had an impact. After the cancelation of Evo 2020, the event was replaced with Evo Online. To the shock and joy of many, Killer Instinct is part of the Evo Online lineup, with an open tournament for players to enjoy. Why exactly is unclear, thought it could be influenced by the aforementioned online attention the game garnered in 2019. This reveal didn't go unnoticed by Adam Isgreen, creative director at Xbox Game Studios.
With all of this happening, Xbox leadership needs to be at least heavily considering a follow-up title. Killer Instinct being at the center of massive online petitions, a newfound presence at Evo, and the possible return of the Killer Instinct World Cup is a clear sign of interest. Killer Instinct earned the respect of fans (including myself) due to its support and depending on how the next few months go, capitalizing on that attention with the announcement of a sequel would be a massive PR win.
It looks like we'll be hearing news soon, too. Brandon Alexander, head of the Killer Instinct World Cup, recently told fans on Twitter that there was some news coming in the next couple of weeks. Exactly to what scale something will be happening is unclear but after years of silence, any sign provides hope for the Killer Instinct community.
The Xbox Series X is set to arrive in Holiday 2020. Even if it's not available until sometime after launch, a next-generation Killer Instinct would be a great show of faith to fighting game fans on Xbox, as well as the hardcore who stuck by Killer Instinct over the last generation.
Combo breaker!
(opens in new tab)
Killer Instinct: Definitive Edition
Choose from every single fighter

Killer Instinct: Definitive Edition includes the 2013 game and all 26 characters from Seasons 1 through 3. If you're new to fighting games, there's a dojo where you can go to practice and learn how it all works.
Xbox
(opens in new tab)
Main
Samuel Tolbert is a freelance writer covering gaming news, previews, reviews, interviews and different aspects of the gaming industry, specifically focusing on Xbox and PC gaming on Windows Central. You can find him on Twitter @SamuelTolbert.
I've been breaking combos handing out Ultras since 1994. Time for another Killer Instinct.

The reason KI made a comeback, and is in Evo Online Open isn't unclear if you're in the FGC (fighting game community). Every single game in the Online Open lineup, has an established reputation for having good netcode. (MK11, Them's Fighting Herds, KI, and Skullgirls 2nd Encore). The initial 9 games in the Evo lineup, while popular with massive following, they have some of the worst latency and netcode in the genre. Why? for various reasons you can research, the biggest being they use Delay based Netcode instead of Rollback, but even then there's more to it because Street Fighter V, uses Rollback, and it's terrible (the 4 online games, including KI all use Rollback based Netcode) KI actually saw a resurgence before this, not only because of Max's push to get relevant again, but also because of COVID, people have been spending time online, thus fighting game players have been gravitating towards games with a much better online experience, and one of the best netcodes and lobby systems, come from KI.
Windows Central Newsletter
Thank you for signing up to Windows Central. You will receive a verification email shortly.
There was a problem. Please refresh the page and try again.