Kinect exclusive Disney Fantasia: Music Evolved gets free Xbox One and Xbox 360 demo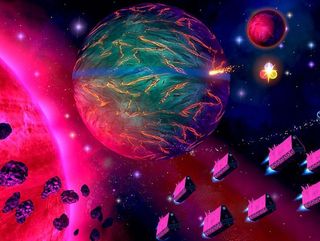 If you own a Xbox One or Xbox 360 with its Kinect sensor, then you have a chance to play a free demo of one of the few remaining Kinect exclusive games made for both platforms, Disney Fantasia: Music Evolved.
The free demo, announced today, offers a taste of the full game, which is loosely based on the classic 1940 Disney animated film Fantasia. That movie was an experimental anthology film featuring sequences inspired by, and using music from, classical music pieces. Disney Fantasia: Music Evolved, developed by Dance Central creators Harmonix, will offer a blend of classic and modern music and allowing the player to change and alter them as they listen and play through the game.
Again, this demo, and the full game, do require that the Kinect sensor made for each console be used. The full version of Disney Fantasia: Music Evolved will be released on October 21. Xbox One owners can go ahead and pre-order and pre-load the full digital version of the game for $59.99, or they can spend $89.99 for the Deluxe Digital Bundle, which offers access to 18 additional DLC tracks. Will you be trying out the demo today?
Source: Xbox One (opens in new tab) and Xbox 360 (opens in new tab) demo links.
Windows Central Newsletter
Get the best of Windows Central in your inbox, every day!
Lets go retro and watch a 1940 movie.

I quite like Fantasia, the animated sequences are drawn by artists not musicians so all the sequences are the interpretation of the artist. Not only that but most of the animation techniques they invented, yes invented, for it are still in use today. Fantasia was also the first film to have its own surround sound system specifically designed for it, not bad for the 40s.

I've been playing the (full) game for a few weeks now (it helps knowing some people in the 'business' ;)). Its decent. Haven't gotten too far into it (Destiny and vacation happened close to me obtaining this game). It has some neat aspects to it, but the music selections (so far) have been pretty underwhelming for me. The best ones are the classical tracks from the original Fantasia movie.

More maybe added in the Future, as in the case with DC: Spotlight. At first I thought songs from Just Dance 2015 are better. Now more songs are added as add on. BUT my time is spent on Forza Horizon 2.. may try this one too though.

Hmm, they haven't gotten around to sending our review copy yet. :-\

Tried the demo, made me not want to buy it. Classical tracks do feel better to play though.

How so? I played the demo and immediately digitally preordered it. I thought it was really fun to be a maestro to the music; the Kinect controls worked really well. It is another homerun for Harmonix in the motion-controlled dance genre, and this gives Xbox One it's fifth straight solid Kinect game after D4 (great) Dance Central Spotlight (great), Kinect Sports Rivals (good), and Xbox Fitness (great).

Uh, isn't saying a "free demo" kind of redundant? I'd be absolutely livid if any company expected me to pay for a demo.

Like Sony did with Gran Turismo Prelude? :p

Not the best example, prelude included about what a person should expect in an expansion pack, so paying Ex Pack prices isn't unreasonable. You certainly can't compare it to the demo of Forza 3 which went out of its way to let people use one car on one track... woo.

See Metal Gear Solid: Ground Zeroes.

I haven't played this game so I can only speculate, but based on the information I've read it sounds more like the shareware of old rather than a demo. As much as I wish it wasn't the case, shareware doesn't exist, we no longer get that kind of content for free any more, and again, it could be considered as the equivalent of an expansion pack, so partying expansion pack prices aren't unreasonable.

Ground Zeroes was a single level or area. Shareware used to be much more generous - shareware Doom was one third of the entire game if I recall correctly. I would say that one level of a larger game is exactly the definition of a demo. Needless to say, I never bought it in any case.

Yeah, that's a demo, shameful.

Absolutely love the demo. Kinect controls are tight and the influence you have over remixing the songs makes listening to once overplayed songs (e.g., Feel Good Inc., Royals, Radioactive) actually enjoyable again. For me it's an home run and I can't wait to get my hands on the final version.

Yeah haven't finished the demo but seemed like a fun game.

What am I doing wrong? Don't see the demo in the game store on XBO.

Never mind. Will never get used to getting to demos via web over the store itself. New to XBO and still learning the little things but the PSN (from where I came) was not this convoluted.

"Xbox, Bing, game demos". Easy breezy.

Appreciate it, but still not as easy as having a 'Demo' category of games in the actual store as PSN has. Everything self contained in the store's universe. Thanks for taking the time to comment and help out, nonetheless. I'll use it next time. Cheers.

The 360 wasn't like this either.

Go to games and apps and go all the way right and it will say new demos. Can't miss it

Thought I tried looking all the way over to that side of screen. Will check again - that would be easiest. Thanks!

I played this last night and it was surprisingly fun! I was also pretty inebriated at the time but even then I think it would be fun sober. I recommend a few bowls of some dank before playing.