Kingdoms & Lords soft launches early, arrives on all Windows Phone 8 devices next week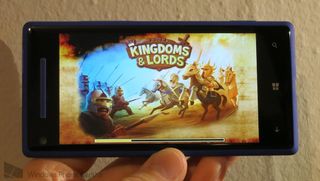 Xbox Windows Phone gamers might have noticed that a Store link for Gameloft's Kingdoms & Lords has been making the rounds today. Unfortunately, most users are finding they can't actually download or play the game on their phones. Is it a case of the dreaded 1 GB RAM requirement? Nope, even folks with 1 or 2 GB of RAM can't get their Kingdoms on.
Windows Phone Central checked in with our friends at Gameloft and discovered just what is happening with Kingdoms & Lords. It turns out the game has soft launched in a few territories but remains mostly inaccessible to users in other regions like the United States. Luckily it will be releasing worldwide next week, so the wait shouldn't be too hard.
Head past the break for our hands on video, Achievement details, and more!
Romancing the kingdoms
Kingdoms & Lords is one part city building game mixed with one part strategy. Players will expand their own towns, purchasing buildings, building roads, and harvesting resources. Completing missions nets you experience and new items to use in your kingdom.
Unlike simpler games such as Gameloft's own Ice Age Village, Kingdoms & Lords also features a strong battle component. Players can invade each others villages and defend their own villages. They'll also do battle against AI bosses, each of which provides a tasty Achievement.
That competitive element puts Kingdoms & Lords ahead of other games in which players just check in throughout the day to collect resources and nothing more. This one also features some really nice medieval artwork. You can zoom in really close to take it in or stay zoomed out for easier kingdom management. Oh, and you'll be glad to know this game supports cloud saves, too.
Achievements
Time was we regularly learned about Xbox Windows Phone game's Achievements well in advance of their actual release. Sadly Microsoft closed the door on the method once used for those early discoveries. But having already played the game on a developer phone, we have the full Achievement list to share with you now.
Advancement (5): Complete the tutorial and the mission "The First Visit."
Friends All Over the World (10): Have more than 10 friends.
Defense Fortress (5): Establish your defensive line.
Draw First Blood (10): Win the first fight.
Be First Blood (5): Lose one fight.
Demon (10): Successfully invade friends' kingdoms 100 times.
Demon's Nightmare (10): Successfully resist invasion 100 times.
One Step, One Footprint (10): Raise the Population to 150.
Roast Chicken Hobbyist (5): Have 10 campfires on the map.
Money, Money (15): Own all of the Kingdoms buildings.
I See You (10): Wipe out shadowy areas.
Good Luck Follows You (5): Win 50 one-on-one battles.
Barbarian General (10): Defeat Barbarian General.
Lady of the Coast (10): Defeat Lady of the Coast.
Duke of Cowerdon (10): Defeat Duke of Cowerdon.
The Evil Monk (10): Defeat The Evil Monk.
Lady Bloomdale (10): Defeat Lady Bloomdale.
General McCallister (15): Defeat General McCallister.
The Stygian Witches (15): Defeat The Stygian Witches.
World Conqueror (20): Defeat all the bosses.
Looks like we'll be doing a lot of battling with our friends, doesn't it?
Soft launch
Previous Gameloft titles have sometimes experienced problems with their social features at launch. In order to reduce those woes, Kingdoms & Lords is soft launching in Vietnam, Romania, Indonesia, and Mexico this week. Players in those regions should be able to grab the game now (or tomorrow at the latest).
The rest of us (who don't care to resort to region switching trickery) will have to wait till next week in order to grab the game. Gameloft expects Kingdoms & Lords to fully launch on November 11 (Monday), slightly ahead of the usual Wednesday release. We'll see! It runs on 512 MB devices and costs nothing to download, so all Windows Phone 8 owners will be able to join in the fun. As for the Windows 8 version: don't expect it next week, but it should arrive by the end of the year.
In the meantime, here's a link you can use to view the game's Store page. Remember, you won't be able to download the game if your phone's region isn't set to the countries listed above.
Kingdoms & Lords – Windows Phone 8 – 122 MB – Free – Store Link (keep in mind the game may not be available in your region)
Paul Acevedo is the Games Editor at Windows Central. A lifelong gamer, he has written about videogames for over 15 years and reviewed over 350 games for our site. Follow him on Twitter @PaulRAcevedo. Don't hate. Appreciate!
Not yet, but before the end of the year.

Hmm, wait just a week and get it on my phone or wait awhile longer for the Windows 8/RT version? That's a tough one especially since the last Xbox release on Windows Phone was Babel Rising 3D over a month ago. Do you think Kingdoms & Lords will play better on a phone or Surface/PC? Will there be cross-platform synchronization of play (start it on Windows Phone, head to your Surface and pick up where you left off, etc.)? What about cross-platform multiplayer? If I get it on Surface and my brother gets it on Windows Phone, can we play online together?

Yeah, I know it's free but I'm weird like that, though. If it syncs everything across devices then I'll gladly get both (I would've even more gladly paid for it to not have to deal with ads, IAP, and the like, but that's another rant), but if it doesn't sync, I'd rather just get one version than have to worry about managing multiple game saves. It would be really sweet if it synced across Windows 8, Windows RT, and Windows Phone devices, and also allowed cross-platform play. But, I'm guessing that none of this will be the case, particularly because many Windows 8 Xbox games do not sync data across even other Windows 8 devices, which is a pity.

It will probably sync across both platforms. Hopefully the Achievements will share properly between them, unlike Six-Guns.

Ok. Sometimes i wonder if gameloft games to w8 is like the rovio games and angry birds sw2. They eventually. arrive but with big delays. I wonder if angry birds sw2 and the new race game will arrive on this platform. My kid is crazy about angry birds.

Please give us the expansion to Order & Chaos instead Gameloft! And a fix for the rune quest as a bonus.

I'm not complaining, I'm contemplating :-p

and please make it available to ram 512

I hope it isn't pay2win crap again...

Of course it is. What else can you expect from Gameloft?

Paul, may you check in with your friends at Gameloft to find out when Asphalt 8 is coming to Windows Phone? Thank you.

It's regularly free on iOS and Android, WP users have to wait as usual. It's the never-ending waiting platform.

Agree!!
WP will always be the eternal 3rd in marketshare because its very slow catching up!

I believe we'll have news on that soon.

you can download it if you change your region/country to Mexico. jussayin' :)

Is it available for 512mb ram

you can download it from indonesia region too . i just downloaded it yesterday and i found out that this game already released in indonesia too for a couple of days before im downloaded it. and yeah its working on 512 RAM cause i run it at my Lumia 520

I cant, it says that my Phone need a software upgrade, still running amber

try different country then

Download sysapp pusher and upgrade all system app.

Yup, I'm downloading it at the moment here in Indonesia

Nice release for the 11th. Hopefully, Gameloft will release Minion Rush and Asphalt 8 this month too. Let's not wait any longer for these games to be released. Fiesta Run got released on Android and iOS but still NO Windows Phone. :(

You can change region vietnam to download this game

Is this like clash of clans?

You want Total Conquest, also supposed to be out before the end of the year

Since its a soft launch, is it in the store b/c I can't find it there and in running a L822

Downloading it ::D those who cant download just switch your region to MEXICO

Yes! Another game, another experience. Good news, good news. Keep em' coming. :)

Paul do you know when temple run 2 & asphalt 8 is coming??? even now asphalt 8 is free on android and ios....

Почему нельзя установить, менял и регион и формат на Сша

When I was change region phone/setting then I can download this. Solo falta a cambiar para el Mexico y ya esta. Estamos jugando ;)

Looks pretty cool. Will be picking this up :) Hopefully the achievements will pop across both platforms.

Lets hope that monday will come this out and wednesday we will see one more xbox release (hopefuly rayman fiesta run)
The XBOX department must stop having one day of releases and begin to release xbox titles every when the are certfied without waiting every wednesday to release them!

First new xbox game in months. I hope the drought us over.

It has been awhile, but not months. Babel Rising 3D launched for Windows Phone 8 in October (though technically not new as it was a Windows Phone 7 title, it is new to most Windows Phone 8 owners). A few weeks prior Tetris Blitz launched in late September.

I was able to download it by changing my region to Vietnam.

I played it,it is very good,though they should make the UI better

Got it in Vietnam store. Reminds me of Ice Age Village
Windows Central Newsletter
Thank you for signing up to Windows Central. You will receive a verification email shortly.
There was a problem. Please refresh the page and try again.