Lara Croft: Relic Run adds new location, weapon and more in latest Windows Phone version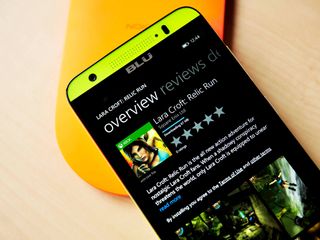 It's been a few months since Square Enix released the Windows Phone version of its Tomb Raider-based endless runner game Lara Croft: Relic Run. Now the game has received a rather large update, adding a new location along with other new content and features.
Here's a look at what's included with this update:
New location - Mountain Pass featuring a new vehicle, enemies & boss!
New weapon - the incredible mini gun! Decimate your enemies with this rapid firing machine of destruction.
New campaign map – now advance the Relic Run story by completing levels and objectives.
New Clue Saving feature - carry your collected clues to the next run.
Improved tutorial.
What do you think of the new Mountain Pass location and campaign map? Let us know in the comments.
Download Lara Croft: Relic Run from the Windows Phone Store
Thanks to everyone for the tips!
Get the Windows Central Newsletter
All the latest news, reviews, and guides for Windows and Xbox diehards.
Off topic... Shazam for Windows 10 PC finally updated!!!

What's it used for... I see ppl get excited about shazam.

Detects album or song name through mic.

Needs lot of improvements!!!

It's a Good update..
But Lara has some problem with her movements..
She can't take Right/ Left, Roll/Jump suddenly.. ( when compared with other endless running games like Subway surfers & Temple run )

Relic Run isn't an endless runner. Oops, was thinking this was a GO update. Carry on. D'oh. Run. D'oh.

And what about the poor performance, crashes and broken achievements? Are those still there?

Performance seems even poorer, but achievements are fixed

Achievement's fixed for sending the VCR Repair curse. I haven't played it enough to know whether or not it's stable, but I know the initial release of the update was extremely unstable on my L928. This has an updated version number for the re-publish of the update (.70 instead of .69).

Relic Run is my favorite of any endless runner I have ever played. There are two main reasons, I think: 1. I love Tomb Raider. 2. No motion-sensor sections at all. Now if only it ran more smoothly on my 1520...

Glad to see the game get updates. Now, if only Square Enix would add Xbox intgration into that other Lara Croft game on Windows Phone.

It's my favourite endless runner game bcoz I can play it sleeping or sitting or standing... Say thanks to No Motion sensor

Time also for Xbox games to have cloud saves as standard, played for a long time on my 1520 and built up a lot of gear and coins, moved to my 1020 and obviously lost all that then uninstalled because it didnt run as well. Would be nice to reinstall now and pick up from where I left off

YES. I vote a grillion times for this.

BLU WIN HD beautiful phone I hope came a new version more powerful

In the photo. Where are SIM and Wi-Fi icons at the top?

It should have progress save option so we could continue where we stopped after deleting a game.

Yes finally my favourite game is back at the store, earlier today it twas not available

Currently not available? Lumia 830 at&t US w10m 10572

The update's available if you check for updates in the Store (Store -> "..." -> Settings -> Check for Updates), but the game has been pulled for a few days now from the Store.

Android got this update weeks ago so I asked if WP would get this update on their twitter,looks like they listened :)

Cool! It's time for me to pin it to Start again!

Same BLU Win HD LTE as mine. :). And i love this game. Performance in not great though.

The game is now almost unplayable due to terrible, poor performance. Fixed achievements is a plus though, but who can collect 1 million coins when the game does not even work correctly? Most deaths I gain are because of the poor performance. Will be interesting to see if Lumia 950 XL speeds things up, but I doubt - bad coding is just what it is...bad coding!

Yeah, there will be no difference even if you play it on Lumia 950/950XL. I have played Relic Run on a lower end Lenovo Tablet (A7-30 A3300) running Android Kitkat and it's very clear that the performance is much more smoother rather than playing it on my Lumia 830 (Windows Phone 8.1). Square Enix needs to give this a game a performance fix very soon.