Launch 2020 brings over a dozen UWP apps to the Microsoft Store
By Sean Endicott last updated
A growing community of UWP developers just launched a dozen new apps and updates in unison.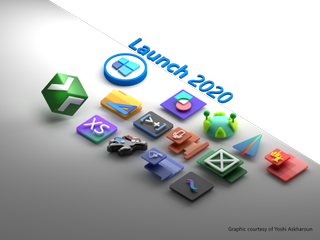 (Image credit: Yoshi Askharoun)
What you need to know
A community of UWP developers just launched twelve new apps and two refreshed apps.
The releases are part of the second annual Launch 2020 event.
The apps include a UWP file explorer, a client for Instagram messages, a Discord client, and an app for managing GitHub tasks.
The second annual Launch event is this week, and Launch 2020 brings a dozen new apps and a couple of app refreshes to the Microsoft Store. Apps that are part of Launch are made by developers from the UWP Community Discord. The developers in the Discord server discuss app development, the UWP platform, and often help each other improve their apps. They also frequently weigh in for our developer reaction stories.
Arlo Godfrey, the man behind the UWP Community Discord server shared an extensive breakdown of all the apps from Launch 2020. You can check out his blog post and see all of the highlighted apps from Launch 2020 below.
Chaptifier
Chaptifier is an app that allows you to add podcast metadata to MP3 files. It's designed to make it easier for podcasters to share their content by adding useful data. You can add chapters, images, titles, comments, and other content to enrich your podcasts. When you create chapters in Chaptifier, they support titles, URLs, start time, end time, and images.
(opens in new tab)
This app helps podcasters add chapters, titles, images, comments, and more to make it easy for listeners to find content.
Files UWP - Preview
This modern file explorer supports tabs and is made with Fluent Design. It works with a mouse and keyboard or touch, thanks to its larger icons and elements. The project is still in its early days, but it's open source and has grown quite a bit since it started. I've been in the beta for this app for a long time and it will be one of the first apps I review from Launch 2020.
(opens in new tab)
This modern file explorer works with touch or a mouse and keyboard and looks gorgeous doing it.
Indirect
This is a messaging app for Instagram. It allows you to send and receive direct messages and view and reply to stories. It features Fluent Design language and works well with touch or a mouse and keyboard.
(opens in new tab)
This Instagram messaging client allows you to send and receive messages. It also supports replying to and viewing stories.
Aurora
This app allows you to manage the non-code tasks from GitHub. With it, you can access repositories, issues, and labels, and assign colors to repos and different logins. It supports multiple accounts, so you can open GitHub accounts on different tabs simultaneously.
(opens in new tab)
With this app, you can access GitHub repositories, issues, labels, and other non-code tasks.
Quarrel
Quarrel is a Discord client for Windows 10 and now Xbox One. Quarrel was rebuilt from the ground up for Launch 2020. The rewrite focuses on stability and usability. In addition to the stability improvements, the app adds Xbox support, text channel, voice channels, direct messages, group DMs, and more. I've spoken with the developer and Xbox voice support should be improved later this week, as updates are still rolling out.
(opens in new tab)
This Discord client now supports text channels, voice channels, direct messages, and more. Xbox support is also coming soon.
Brainf*ck# (Preview)
This client for Brainf*ck programming is an interactive console and memory viewer. It has an IDE with syntax highlight auto completion, and custom themes. It's a powerful debugger for developers.
(opens in new tab)
This app is a console/IDE and debugger for Brainfck programming. It's an advanced tool for developers that work with the Brainf*ck language.
Yugen Mosaic
This app allows you to turn any image into a mosaic. These types of images are popular ways to make images appear iconic and stylized.
(opens in new tab)
This tool creates striking mosaics out of images. It makes it easy to create original art with a unique design.
XSpot
You can use this app to get Spotlight images from Microsoft. You can find more about the images on Bing and export images in JPG, PNG, or BMP. It also allows you to set images as your wallpaper
(opens in new tab)
This app makes it easy to grab images from Spotlight. You can save the images, share them with other apps, and set images as your wallpaper.
Visual Asset Generator
This tool allows you to create a wide range of assets for a UWP manifest with a single image. It supports transparency and works with bicubic, average, or nearest neighbor resizing.
(opens in new tab)
This tool makes it easy to create every visual asset you need for a UWP from a single image.
8 byte
This client for Byte lets you watch videos you follow, see your daily byte mix, and comment and like videos. You can also use it to follow users and topics.
(opens in new tab)
This is a straightforward Byte client that lets you watch and interact with videos.
Swift Browser
Swift Browser supports syncing between Windows 10 devices and has Adblocker, Dark Mode, and KeePass built in. You can save websites for offline viewing and use the browser's reading mode to look through text easier.
(opens in new tab)
This browser supports syncing between Windows 10 devices and has handy things built-in, including Adblocker, a Dark Mode, and KeePass.
UWP Community Client
This app is the easiest way to keep up to date with UWP Community projects. You can check out projects in progress and register your projects to get showcased on the app.
(opens in new tab)
With this app you can browse UWP Community projects and register your project to be featured.
Some honorable mentions
Some developers weren't ready to release their apps in time for Launch 2020 but shared about their upcoming apps.
Dynamic Shell
This app will allow people to customize the look and feel of Windows 10. It will support v2 of an AudioFlyout and have the ability to prevent touch swipe gestures from the edges of the screen.
Strix Music
Formerly Spotimo, this Spotify client is getting several improvements. It now uses 30 percent less memory than before and the developer is working on several new features, including a "Zune-esque Now Playing view."
Project Input/Project Screen
Project Input allows you to send your mouse, pen, and gamepad input from one device to another. The developer, Christopher Black, also known as Ryken, will prioritize this after he's wrapped up myTube 4.0.
DirectXStudio
This app is a UWP IDE for developing .NET applications and games. It's a rich code editor and has a 3D scene view.
Reviews on the way
I plan to review quite a few of these apps over the coming weeks and months. I've been in the beta for some of these apps for a while and have had a fun time testing out their features. Please let me know which apps you'd like to see reviewed in the comments below.
Sean Endicott is the news writer for Windows Central. If it runs Windows, is made by Microsoft, or has anything to do with either, he's on it. Sean's been with Windows Central since 2017 and is also our resident app expert. If you have a news tip or an app to review, hit him up at sean.endicott@futurenet.com.
Keeping the dream alive! :)
too bad there are no new Windows Phones to benefit from these apps. :(

They're Windows 10 not Windows 10 Mobile Apps.

Yeah eventually WM 10 stopped supporting newer UWP versions. Personally I compiled my own UWP app for WM10 too a half year ago but it got trickier and trickier since the feature gap between W10 and WM10 got bigger. I needed to disable quite some features when it was running on WM10 (to prevent crashes because WM10 did not support features like timeline, certain default icons (realized later on fonts were the way to go), certain styles etc.). Aside from some growing minor visual & behavior differences between W10 and WM10 UWP apps because of the newer updates.
Shame though, I really liked having the ability to use these apps on all my devices natively.

new uwp apps are good for uwp platform

I am always amazed by this community and the effort they put into this. On the other hand I rarely see anything value to me. Asset builder sounds awesome, but I just gave up Windows phone / mobile development. UWP file explorer looks very pretty, will give it a try, but am somewhat sceptic about whether an independent developer will be able to keep pace with Microsoft. Although there is a good chance that Windows 10 X file explorer will not hit Windows 10. Can't wait to see the production release of myTube! 4 though.

Over a dozen UWP apps. That's huge! UWP definitely is not dead. /s

It's worth mentioning that these are merely third-party apps.

That may not sound like a lot at first, but each app has at least one developer behind it who poured hundreds of hours into their work with help from the community, for the sake of making something worth using.

Hey, Arlo! I know you're among the devs behind these. I'm sorry but I didn't mean to bash you all in anyway. Kudos to you and everyone involved who have put everything they had in these projects 👏.

It's nice to see there are an enthusiasts who are still making UWP apps. I've made a few simple UWP apps too. I'm just sad and a little bit very angry on Microsoft for killing Windows 10 Mobile. And by killing W10M they killed UWP's main purpose and future. Not a lot of people are using apps on a desktop.

And not a single one I would actually use...

Now how hard was it for a trillion $ company to get in touch with these other companies and make an official/first-party one for their own app platform/store? #Shame

Microsoft does contact companies, but most of the time they say "no", even when large sums of money are involved. I once worked at a place where this exact thing happened.

These apps look terrible UI wise. Not designed for desktop use.

how exactly are they terrible for desktops?

I disagree, they look modern and practical.

All the more important Microsoft support the MS Store better.

This is awesome. I'm going to try some of these. I'm a new UX designer and I want to work at Microsoft. Hoping I can help create some useful stuff for the future.

I am looking to UWP file explorer for my surface tablet. Default file explorer is kind of clumsy with touch at times, but I could not found any file explorers (till this point it seems) that offer the same flexibility and performance.

I think Files UWP could be the best app to come out from Launch 2020, but it's still in preview so it's hard to say. If it becomes fully stable and featured then I think it'll be excellent.

Doesn't Quarrel violate the Discord TOS?
Windows Central Newsletter
Get the best of Windows Central in in your inbox, every day!
Thank you for signing up to Windows Central. You will receive a verification email shortly.
There was a problem. Please refresh the page and try again.