Lava Iris Win1 now available at Flipkart for ₹4,999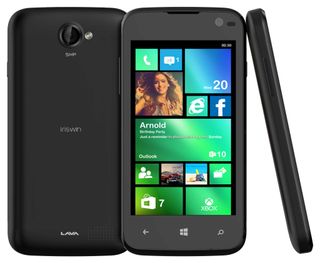 Earlier this week, India's Lava Mobiles launched its first Windows Phone, dubbed the Iris Win1. The device is now available for purchase at Flipkart for ₹4,999 ($80).
Available in black, the device features a 4-inch WVGA (800 x 480) screen, 1.2 GHz quad-core Snapdragon 200 CPU, 1 GB RAM and 8 GB internal memory along with a microSD card slot that can accommodate up to 32 GB. There's a 5 MP camera at the back with LED and a 0.3 MP front camera. Also included are accelerometer, proximity sensor, and ambient light sensors, and the Iris Win1 comes with a 1,950 mAh battery. In terms of software, the device runs Windows Phone 8.1.
You also get a free flip cover and screen guard in addition to the standard set of accessories. Considering the strong feature-set for the price, how many of you are going to buy the Lava Iris Win1?
Thanks for the tip manikandan!
Very nice, but it's only available in India I guess. We need such a product here in Indonesia.

Waiting for the windows 10 flagship..

You'll be waiting till spring.

Bhai, you have to for to long
Because MS won't release the WP10 and Windows 10 at the same time

There's no "WP10" as such. Only one OS Windows 10 for all devices.

Call it whatever you wanna call it
I call it WP10
The MOBILE OS isn't ready yet, and until now we don't have a specific name for it
Tho it have a one name, one core, and one UI. But it won't be the same OS.
Like the OS which will work on the PC WILL NOT WORK ON THE PHONE
and vice versa

Won't wait. I would buy 730.

The render looks horrible. :/

Yeah like a version of start screen on Android.launcher

It's still windows phone. The render means nothing.

Yup.. No Segoe WP font. I switched to WP just bcoz I liked the typeface so much.

Disgusting. People who are familiar with the OS will think, "what the * is that?"

Pretty huge battery for 4 incher

*Off topic* Camera 360 sight is out of beta now

*offtopic*
Anyone noticed snapdeal is giving Acer Iconia W4 @13,900 only (49% off)
http://m.snapdeal.com/product/Acer20W4-8202032%20GB/...

cool thanks for the info. i gad initially thought about buying a windows tablet but have decided to spend money on a laptop.

No SIM support. It's useless for me.

I hope it sells well. It has awesome specs for its price.

The pic is completely wrong, with wrong icons, and wrong font style.

The only problem is that, with such companies if you get a lemon you are screwed. Also long term reliability on these is not that great. Just pray that you get a good device.

I will buy it for my small sister...

these oems find difficult to compete bcoz in the case ehst happened to all suvh android oems that. they were making budget phones and soon moto was launched and tried to destroy the reputation whatever oems like xolo,micromax snd other oems had. now in case of windows phone Lumia is the only smartphone marketed well and Lumia is nokia/ now Microsoft. there's only 2 oems in WP where wp can still sell except Lumia are. one plus, and xiaomi

They should have just took the screenshot from actual device, rather than wasting time in recreating it, what a poor render, looks ugly!

Wow a four inch phone. Haven't seen one of those in a while.

It looks like the original Windows Phone 7 Samsung Focus!

Does Benny Lava make these Lava phones?

Great specs for the price. I am impressed, specially the RAM, ambient light sensor, the back camera with flash and even the storage of 8GB.

It's great to see Indian companies getting in on the Windows Phone action. I am sick and tired of only having to choose android when looking for a cheap phone. The specs of the phone are pretty good even when you compare it with android phones in the price bracket and the phone will definitely user experience than those android phones. The smoothness of the OS makes it ideal for the budget end of the market.

I think The Lava Iris Win1 is a great way to lure people who are sick of the lag and sluggish performance of Android to try out the Windows Phone OS. And i like how they won't be getting a bad phone for it. A quad core processor and an entire GB of RAM means that they will be able to get their hands on almost all the apps from the store!
Windows Central Newsletter
Thank you for signing up to Windows Central. You will receive a verification email shortly.
There was a problem. Please refresh the page and try again.