Lenovo Legion Y740 17 review: Ridiculous power in a laptop that costs less than the competition
By Cale Hunt published
Lenovo has added a NVIDIA RTX 2080 Max-Q GPU to its Y700 series, and the results are impressive.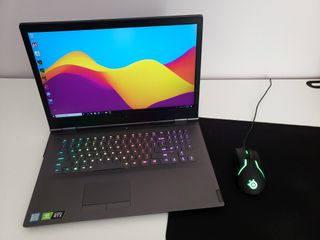 Last year, Lenovo unveiled an updated Legion Y730 with a modern, mature look, and while we applauded the design change, the laptop was held back by underwhelming gaming performance in the form of a NVIDIA GTX 1050 Ti graphics card (GPU). Yes, this big and beautiful laptop was only capable of handling low-impact games or AAA titles with lowered settings. Now, however, with the 17.3-inch Legion Y740, Lenovo has gone all-in, offering NVIDIA RTX 2060, 2070, and 2080 GPU options.
Lenovo supplied Windows Central with a review unit of a Legion Y740 with an RTX 2080 GPU, Intel Core i7-8750H processor (CPU), and 16 GB of DDR4 RAM, which costs about $2,320. It's not cheap, but I've certainly been having some fun with it for the last couple of weeks. It's a powerhouse, and while it checks a lot of boxes for gamers, there are some drawbacks you should know about.
From $1,840Bottom line: If you're in the market for a 17-inch laptop with NVIDIA RTX graphics, the Legion Y740 can deliver it for a price that's less than a lot of the competition.
For
Ridiculous power in a thin laptop
RAM, HDD, and SSD can be upgraded
Tons of ports
RGB lighting
144 Hz G-Sync display
Against
Battery life is (understandably) abysmal
Poor touchpad
Display tops out at 1080p
Lenovo Legion Y740 17 tech specs
Category
Spec
OS
Windows 10 Home
Processor
8th Gen
Intel Core i7-8750H
Hexa-core
Up to 4.10 GHz
RAM
16 GB DDR4-2666MHz
Dual-channel
Graphics
NVIDIA RTX 2080 Max-Q
8 GB GDDR6 VRAM
Storage
256 GB Samsung PM981 PCIe SSD
1 TB Seagate SATA HDD
Display
17.3 inches
1,920 x 1,080 (FHD)
G-Sync enabled
144 Hz refresh rate
Ports
Three USB-A 3.1
Mini DisplayPort 1.4
HDMI 2.0
RJ45 Ethernet
Thunderbolt 3
3.5 mm headset jack
Audio
Dual 2 watt speakers
Dolby Atmos
Integrated subwoofer
Wireless
Killer Wireless
AC 1550i
802.11ac
160 MHz channel support
Bluetooth 4.1
2 x 2 MU-MIMO
Camera
Front-facing 720p
Keyboard
RGB backlight
Corsair iCUE support
Touchpad
Precision
Battery
Li-ion 76 Wh
230 W AC adapter
Dimensions
16.2 inches x 12 inches x 0.91 inches
(412.6 mm x 304.9 mm x 23 mm)
Weight
From 6.3 pounds (2.9 kg)
Lenovo Legion Y740 17 design
There's really no denying that the 17-inch Legion Y740 is a big and heavy laptop. It's more than a foot wide and about a foot deep, weighing in at more than six pounds for a baseline configuration. However, thanks to there being plenty of space for hardware and the fact that it's using a thinner Max-Q NVIDIA RTX 2080, it remains less than an inch thick at its bulkiest point. The Y740 has a ledge behind the display hinges that hold vents and ports, keeping the sides mostly clear.
Above each port along the back ledge is a small light that denotes which port is where, removing the problem of having to flip the laptop around when you're trying to plug something in. You get Mini DisplayPort, HDMI, USB-A 3.1 (Gen. 1), USB-A 3.1 (Gen. 2), RJ45 Ethernet, a Kensington lock slot, and Lenovo's proprietary charging port in this area, as well as a Thunderbolt 3 on the left side and another USB-A 3.1 (Gen. 1) on the right side. It's a decent selection of ports, though it would be nice to have a full-size DisplayPort.
On the bottom of the laptop, as part of the thicker black rear that holds the ports and side vents, is a spacious grid air intake for the dual-fan cooling system. It's raised to allow better airflow, but holding the laptop on your lap is no doubt going to partially interfere with cooling. It's best used on a desk or flat surface, which gives the built-in subwoofer on the bottom a bit of extra oomph at the same time.
The case is primarily aluminum and has a dark grey color, accented by the black plastic venting on the back. The Legion name is emblazoned on the left side of the lid and has a lit-up Y logo for a bit of flair, but other than that, it's quite sleek despite its size. There's not really any unnecessary bulk here, which is often the case with gaming laptops. The front tapers to a bit of a wedge, making it appear thinner than it is when sitting closed, and each side has a speaker that mostly fires down. Sound is full and gets loud, but you'll probably want to grab a gaming headset if you're getting into anything competitive.
Lenovo Legion Y740 17 display
Lenovo doesn't offer anything higher than 1080p for the 17.3-inch display, which is no doubt a sore point for a lot of people. The RTX 2080 Max-Q GPU is highly capable, and even a 1440p option would be a welcome sight, if not 4K. The FHD resolution does mean you're going to get some insane framerates for a lot of games, and the display has a 144 Hz refresh rate to accommodate and deliver smooth visuals. Ample port selection does mean you can easily hook up an external display if you want a higher resolution, but it would be nice to have more display options straight from the factory. As an added bonus for the NVIDIA GPU, the display features G-Sync compatibility for further smoothing and reduction of tearing.
The bezel is rather thick around all sides, but I think the sheer size of the laptop kind of makes it disappear, especially once you start gaming. Contrast seems spot on and nothing appears washed out. Testing color reproduction, I saw 97 percent sRGB and 75 percent AdobeRGB, both excellent results that you'll notice every time you open the lid. I, unfortunately, noticed a fair amount of light leak around the edges when displaying a dark screen, which could annoy some people.
Above the display is a 720p front-facing webcam that's just alright. For any streamers out there, we definitely recommend grabbing an external webcam with a higher resolution.
Lenovo Legion Y740 17 keyboard and touchpad
One thing I loved about the Legion Y730 was the customizable macro keys along the left side of the laptop, but Lenovo has removed them for the Y740 and instead added a full number pad on the other side. Keys can still be individually customized for RGB lighting thanks to Corsair's iCUE app, and there are numerous presets to choose from if you want something flashy without going to too much work.
There's ample travel in the keys, and though it's not a mechanical keyboard, I didn't mind using it to game. Keys are well spaced and respond without too much pressure, and you always have the option of attaching an external gaming keyboard for improved performance.
The touchpad is rather small compared to the rest of the laptop, and it has physical buttons that further take up space. It's using Precision drivers, and while it tracks well, you'll no doubt want to promptly plug in an external gaming mouse. The physical buttons don't respond unless you hit them directly in the middle, causing unnecessary frustration when using the laptop for regular tasks.
Lenovo Legion Y740 17 gaming and VR
A disclaimer before getting into performance: The first Legion Y740 17 I received from Lenovo had some issues with cooling. The CPU was hitting 100 degrees Celsius almost immediately under heavy load and, as designed, throttled itself heavily to avoid damage. After reaching out, Lenovo promptly sent out a new one to test, and it performed as it should, with core temperatures remaining steady at about 75 to 80 degrees Celsius and no CPU throttling during an extended stress test. This is an issue you might (rarely) come across when buying a pre-built desktop or laptop — it might have had a rough time during shipping as Lenovo tests these units before sending them out — but remember that these come with a one-year warranty with the option to extend.
A laptop packed with this much performance hardware is bound to get hot, but the (second) Y740 17 handles it without much issue. The fans are noticeably loud but nothing awful — they have a lot of work to do — and remained consistent during an extended stress test. There was no annoying up and down speed variance to listen to while it ran next to me. Battery life while gaming hits below the hour mark, which is pretty terrible but understandable when you have this type of hardware inside. As for general tasks, you can expect about two hours from a charge. There is a quick-charge option available with the beefy 230 W adapter, which will charge up to about 80 percent in an hour.
One thing I noticed while keeping a close eye on temperatures is that when the CPU is running on its own, it pulls about 60 watts of power, and with a GPU running alongside, it drops down to about 45 watts. This gives you more processing power when you just need a CPU, and keeps the laptop from getting into the temperature danger zone when a GPU is working overtime alongside the CPU.
After the stress tests to ensure cooling is working properly, I ran some synthetic benchmarks to see how well the hardware performs. This is a VR-capable laptop, and if you're in the market for something portable to tote with your VR headset, the Y740 will make a suitable choice.
3DMark
Time Spy (Higher is better)
| PC | GPU | Score |
| --- | --- | --- |
| Lenovo Legion Y740 17 | RTX 2080 Max-Q | 7,128 |
| Lenovo Legion Y730 | GTX 1050 Ti | 2,568 |
| Lenovo Legion Y7000 | GTX 1060 | 3,975 |
| Dell G7 15 7588 | GTX 1060 | 3,792 |
| Acer Predator Triton 700 | GTX 1080 | 5,809 |
| ASUS ROG Zephyrus | GTX 1080 | 5,551 |
3DMark
Fire Strike (Higher is better)
| PC | GPU | Score |
| --- | --- | --- |
| Lenovo Legion Y740 17 | RTX 2080 Max-Q | 16,303 |
| Lenovo Legion Y730 | GTX 1050 Ti | 6,890 |
| Lenovo Legion Y7000 | GTX 1060 | 10,137 |
| Razer Blade 15 | GTX 1070 | 13,560 |
| Acer Predator Triton 700 | GTX 1080 | 14,572 |
| HP Omen 15 | GTX 1060 | 8,722 |
VRMark
Orange Room (Higher is better)
| PC | GPU | Score |
| --- | --- | --- |
| Lenovo Legion Y740 17 | RTX 2080 Max-Q | 8,885 |
| Lenovo Legion Y730 | GTX 1050 Ti | 3,742 |
| Acer Predator Triton 700 | GTX 1080 | 8,592 |
The RTX 2080 is capable of handling Rift, Vive, and Windows Mixed Reality without issue.
To get a better idea of how well the laptop performs when playing actual games, I tested framerates with Metro Exodus, which features support for ray tracing and deep learning super sampling (DLSS), which is what the RTX GPUs are all about. I also tested framerates with Tom Clancy's The Division 2, which doesn't feature ray tracing or DLSS but is still unbelievably detailed and ultimately a workout for any gaming PC.
Metro Exodus averaged 125.6 FPS (68 minimum and 187 maximum) on High settings without ray tracing or DLSS enabled. With the latter two options enabled and still running on High settings, I saw an average of 63.2 FPS (52 minimum and 82 maximum). Tom Clancy's The Division 2 on the High preset ran at an 89.4 FPS average with 66 minimum and 113 maximum. If you want to play the latest and greatest games on a portable device, it's clear that the Legion Y740 17 is up to the task.
Lenovo Legion Y740 17 general performance
Other than gaming, the hardware in the Legion Y740 17 is capable of handling video and photo editing, as well as general productivity tasks. An important feature to note is that the RAM, SSD, and HDD are all user replaceable, so you can keep the laptop relevant longer. I ran some synthetic benchmarks to see how well it compares to other gaming laptops.
CPU
Geekbench 4.0 Benchmarks (Higher is better)
| Device | CPU | Single core | Multi core |
| --- | --- | --- | --- |
| Lenovo Legion Y740 17 | i7-8750H | 5,067 | 22,578 |
| Lenovo Legion Y730 | i7-8750H | 4,793 | 19,085 |
| MSI PS63 Modern | i7-8565U | 4,909 | 14,466 |
| Lenovo Legion Y7000 | i7-8750H | 5,134 | 22,540 |
| Razer Blade 15 | i7-8750H | 4,872 | 17,910 |
| Acer Predator Triton 700 | i7-7700HQ | 4,834 | 15,298 |
PCMark
PCMark Home Conventional 3.0
| Device | Score |
| --- | --- |
| Lenovo Legion Y740 17 | 5,102 |
| Lenovo Legion Y730 | 3,731 |
| Lenovo Legion Y7000 | 4,097 |
| Acer Predator Triton 700 | 4,205 |
| Dell G7 15 7588 | 3,853 |
SSD
CrystalDiskMark (Higher is better)
| Device | Read | Write |
| --- | --- | --- |
| Lenovo Legion Y740 17 | 3,356.5 MB/s | 1,388.1 MB/s |
| Lenovo Legion Y730 | 3,244.8 MB/s | 1,335.4 MB/s |
| MSI PS63 Modern | 3,300 MB/s | 1,875 MB/s |
| Lenovo Legion Y7000 | 3,493.5 MB/s | 1,653.8 MB/s |
| Razer Blade 15 | 2,722 MB/s | 1,217 MB/s |
| Dell G7 15 7588 | 521.5 MB/s | 303.4 MB/s |
The 256 GB Samsung PM981 PCIe SSD is a real performer here, but you'll see plodding speeds with the 1 TB SATA HDD.
Should you buy Lenovo's Legion Y740 17?
The 17-inch Legion Y740, despite issues with the original review unit that were not at all apparent in the replacement, is a big, powerful laptop that's competitively priced. The review unit here costs about $2,320 (opens in new tab), which certainly isn't cheap, but it's still less than you'd pay for similar hardware found in, say, Dell's Alienware m17 (opens in new tab) or Acer's Predator Triton 500 (opens in new tab) . That hardware is capable of delivering high framerates in modern AAA titles, which become especially apparent thanks to a 144 Hz display and G-Sync compatibility. While 1080p might be fine for some, I wish Lenovo made a 1440p or 4K display optional, since the RTX 2080 with Max-Q design is certainly capable of handling itself at those higher resolutions.
The laptop remains cool under extended load without throttling, the fans are noticeably loud but remain consistent when the laptop needs cooling, and while it gets hot under the keyboard and on the back panel, it can stay on your lap without too much discomfort. Just be sure you're wearing pants. The touchpad is forgettable, but you'll likely be plugging in an external mouse before long.
Battery life isn't at all great, clocking in at about an hour of playtime before needing a charge, but that's expected with the performance the Y740 offers. You'll want to keep the AC adapter close at hand, which together with the laptop's size doesn't exactly lend itself to portability. At well more than six pounds, you'll likely want to plan your excursions so you're not toting around on your back for a full day.
Should you buy the Legion Y740 17? If you're expecting to get the full performance capability of an RTX 2080 GPU, you won't find it here. The Max-Q version just doesn't offer the same power, and you'd be better off building your own PC or buying a pre-built desktop. But if you do want a laptop that's one of the most powerful options out there and that's priced lower than a lot of the competition, we recommend giving the Y740 a second look.
17-inch powerhouse
Portable high-end gaming

You won't get a killer touchpad, thin bezel, or any display options above 1080p, but you will get ridiculous performance at a cost lower than much of the competition. It's all wrapped up in a mature aluminum chassis with programmable RGB keyboard and lighted exhaust vents.
Cale Hunt is a Senior Editor at Windows Central. He focuses mainly on laptop reviews, news, and accessory coverage. He's been reviewing laptops and accessories full time since 2016, with hundreds of reviews published for Windows Central. He is an avid PC gamer and multi-platform user, and spends most of his time either tinkering with or writing about tech.
Windows Central Newsletter
Get the best of Windows Central in in your inbox, every day!
Thank you for signing up to Windows Central. You will receive a verification email shortly.
There was a problem. Please refresh the page and try again.