Lenovo reportedly planning to acquire Fujitsu's PC division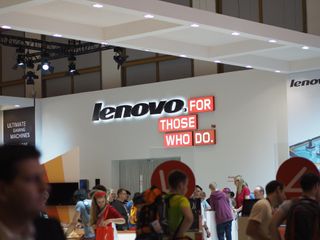 A new report claims Lenovo is in talks with Fujitsu to acquire its PC division, which would make the largest computer maker worldwide even bigger.
Nikkei Asian Review states:
Japan-based Fujitsu shipped 4 million PCs worldwide in its last fiscal year, but that division of the company also lost $96.5 million during that time period as well. A proposal to merge Fujitsu's PC business with Vaio and Toshiba's computer division fell apart earlier this year.
Windows Central Newsletter
Get the best of Windows Central in your inbox, every day!
Lenovo also just announced (or were quoted) that they will not make any more Windows Mobile devices. The claim they have no confidence Microsoft will support Windows 10 Mobile.

http://gettopical.com/windows-10/a197ea3b702f7e8dab1c1b5c625dc057?src=di...

WC covered that a day or two ago: http://windowscentral.com/lenovo-still-has-no-plans-windows-phones-doubt...

I obviously missed that. Asleep at the wheel which is unusual.

Man, I was just going to tell you to go back to sleep too. =P

Old news! And btw, Lenovo never made a Windows Mobile device that I know of. Hence, they can never discontinue what they never made in the first place. Ma binu, Gẹẹsi kiise èdè mi

They were supposedly introducing one here in Japan with Softbank, but I have not seen hide nor hair of it so as far as I know vaporware

LOL, eyin ara ibi yii nde bi? I agree with you, but it should be a clarion call to Microsoft.

So what. Lenovo will not make W10M devices till they do.

I think my point was more the terrible signal MS may be giving OEM. I'd have rather they stayed in the mix at 2-3% rather than trumpet the "retrenchment," slashing teams, and signaling fewer revenue streams. There were some international markets where Windows Phone was in double digits, and in spurts even challenging iPhone due to price.

It is not a signal they are giving them. It is clearly communicated between important OEMs like Lenovo about the future of Windows 10 Mobile. And the future is no interesst from Microsoft to help this System. Else they would have told Lenovo. It is not like Lenovo is just some third world OEM creeping out of the woodwork. It is one of the main suppliers of Windows Hardware in the World .. there is not guessing on their side.. their is just knowing and not publicly announcing it. Just started the return of my girlfriends 950XL i have purchased in September. Stopped recommending it to people month ago. As MS said - they are focusing on the Business side. pointless to recommend it to consumers clearly

Or it's a typical marketing move by Lenovo in their continual battle with HP, to weaken HP's argument that they HP offers a more complete package to enterprise customers than Lenovo with the Elite X3.

This is Satya at work! I blame him for all odd this by focusing solely on the cloud and announcing at a major every that Windows Mobile wasn't their focus and also by not making the surface phone which has been talked about since at least 2012 buy now isn't reassuring to potential partners.... Lead by example!

Is the entire ms market that is sinking since big networks are moving away from ms due to platform neutral cloud solutions
And institutions moving away from ms office
Sadly :(

Microsoft is gaining share in cloud business. That was a huge win for Microsoft over the past year. Unlike mobile.

I knew about the existence of Fujitsu but haven't seen any pc/laptop, I think. And, "the largest computer maker"? What's HPs and Dells share than? I thought one of these was biggest [I've seen only Lenovo laptops, phones & tablets]

Last time I remember seeing a Fujitsu PC was in Toys'R'Us. That's some years ago now though.

To borrow a comment from the other article on Levono... "'Fujitsu' makes PCs?" I thought they were a film and camera company. They must mainly market in Asia?

They are somewhat common here in Norway, but targeted towards business. Consumers can still buy them, but you dont see them in consumer electronics shops. I think their European hq is in Germany, and I believe their primary markets are Europe and Asia. I dont think I've ever seen one in the US, and I grew up there.

Even in italy, Fujitsu do high quality pc, notebook and servers

I sell Fujitsu pc and servers to my clients... I hate lenovo and i find them not a serious/affordable company
So i'm sad they take over Fujitsu

HP and Dell? second and third, respectively. For a good while, lenovo was increasing its sales figures while the rest of the OEMs lost steam and were losing sales.

Yah, Lenovo is #1 worldwide overtaking HP a couple years ago, but I think HP is #1 in the United States still though, but I could be wrong. I do know that I see a lot more HP computers in public than Lenovo though. But I know that Lenovo is HUGE in the important Asian market.

I have a Fujitsu PC and I love it. I hope they keep the name for differentiation. It just sounds cooler than Lenovo. Also as far as those talking about phones, so what? As far as I know Lenovo has never been a powerhouse player in the phone business. Just let them sit on the sidelines while others make phones. What would be cooler is if someone like Meizu announced a W10m phone. Top quality and affordable. They've made Ubuntu phones, which is even far more of a niche market than Windows 10 Mobile.

Lenovo is not a powerhouse player on the mobile market? Dude where you sleeping in the last 5y.??? :D

Lenovo, the next Samsung in the making.

So in addition to spyware, their devices will start exploding soon too?