Lenovo reveals 13.3-inch Windows 8.1 version of Yoga Tablet 2 for $699.99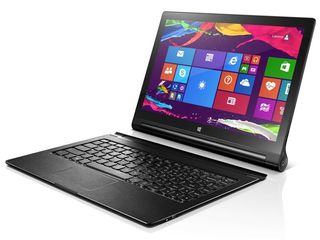 Lenovo announced a bunch of Yoga Tablet 2 models earlier this month, including a 10-inch Windows tablet. Today, the company stated that a 13.3-inch version of the Yoga Tablet 2 running on Microsoft's operating system will go on sale in November with a starting price of $699.99.
The 2.27 pound tablet will have a 2560x1440 IPS display. Inside, there's an Intel Atom Z3745 processor with a clock speed of 1.86 GHz, along with 4 GB of RAM and 64 GB of onboard storage. The battery life is supposed to last up to 15 hours. It also includes a detachable Bluetooth keyboard that can also serve as a cover for the tablet. Like all of the other Yoga Tablet 2 models, this new addition has a kickstand that can allow the owner to user it four different ways: Hold (holding in the hand), Stand (standing by itself), Tilt (tilted for better media viewing) or Hang (hanging it on a hook placed on a wall). Finally, it has twin speakers and a JBL subwoofer with Dolby Audio and Wolfson Master Hi-Fi support.
The Windows 8.1 version of the 13.3-inch Yoga Tablet 2 is the same size as the Android version that was announced earlier this month, but with double its RAM and onboard storage. However, the Windows version lacks the Pico projector that the Android device has inside its battery case.
Would you pay $699.99 for a 13.3 inch tablet running Windows 8.1?
Source: Lenovo (opens in new tab)
Get the Windows Central Newsletter
All the latest news, reviews, and guides for Windows and Xbox diehards.
Definitely...was looking for surface but that's not available. So Lenovo is the only choice.

John, yes I will pay $699.99 for a 13.3 inch tablet running Windows 8.1 only if I could find support centers in my city.

Same design, same price but with core M processor <3

$700 for atom, what a good deal

That's what I was thinking.. Isn't the atom pretty underpowered for such a high res screen and specs altogether? I'm confused.. At least the price isn't bank breaking but the atom doesn't fit this picture haha

But the iPad with this configuration and Samsung galaxy tab S 10.5 are all the same price. With Windows. What about the Asus T100 ? Its not that underpowered if you are not editing HD videos and playing Skyrim with the highest settings.

I don't know, that high resolution of a screen takes some juice. Atom chips don't seem very well suited to the task.

Exactly what I was thinking

Wow, that seems like it's a pretty good deal.

Yes I would I hope we get a revised One with Cherry Trail. This is amazing

I'd rather go for a surface at that price.

Nice! And this price makes the Surface Pro 3 i3 version for 799$ not as pricey as it looked at first.

Good device, but not $700 worth. I would rather buy the surface pro 3 i3 version.
That is core CPU, 4gb ram, 64gb ssd, 12" screen, has active pen, high screen resolution etc for same price.

This. Lighter and thinner, too.

Yup. For the active stylus give me the Surface.

2.27 pounds with or without the keyboard ?

updating tetra lockscreen for the 3rd time today

Direct competitor to the surface right here

not that bad in comparison to the surface pro 3. but it lacks a pen.

And the fact it only has an Atom processor.

Why do people even want a powerful Laptop when laptops are meant for on the go work ? Buy an All in one if you want Power and compliment it with a tablet like this or the 10" version For light on the go work.

Maybe some people actually have to do work on the go that still requires some horsepower? Maybe not everyone can afford a powerful all in one desktop AND a $400-$700 tablet?

Get out of here with that logic sir... We'll not tolerate it!

Try putting a 21+in AIO in your backpack, then you'll understand the demand.

I work with 3 or 4 different clients; I manage their business information needs! I need power & mobility, lots of it, and most of the work i do it a home maniging average of 100 diferent files at the time, some of them don't even have a desk specifically for me at their offices. Even 256 Gb and 4 Gb is kind of short for me, I now have a laptop with 1 Tb and 6 Gb, but my minimum would be S3 Pro with 512 Gb and 8 Gb, so I wish MS sold that litllest beast in my country. Answering your question with another question, why would I want an all in one a laptop and a tablet?

They never make it easy to choose. Bump up the processor and RAM a little and this sounds great. Or if the keyboard was included with SP3 suddenly that would seem more reasonable. I guess it's good to have choices.

They could've bumped the processor to an i3 and it will be a Surface Pro competitor.

Breaking news!!! WhatsApp and Tetra Lockscreen updated!!!

Whatspp isnt working now(cant see chat window). so dont update.

These machines are so beautiful :).

I personally think the Surface is a better choice, but that battery life is pretty amazing if it holds up, that might be because of the atom processor though.

That's what I'm thinking. The Atom processor does indeed enable more battery life, just don't expect to do anything too processor intensive.

Sounds pretty sweet other than the processor.

No Active Stylus, No 3G or LTE - Loved the design and the Magnetically attachble, sturdy yet bluetooth keyboard for some use-from-a-little-distance freedom. But something has to be missing isnt it....

No not without the projector

I sure would like to see one of these upcoming tablets have cell/LTE ability. I would replace my ipad in a second if i could. doesn't yoga 2 tab have it in some other countries..

Beautiful device and love the reviews of the Android tablet's battery life that sound like they carry over to the Windows version, but this price. This price is insane. Why would you pay this much for anything running Atom when you can get something for the same price or less running Core i3 or i5 and more memory? Battery life is supposedly amazing and it is light, but this should have a much better processor for that price. Lenovo's prices have been missing the mark lately.

very dissaointed in Lenovo here with thier line up!! Here it is going on 2015 and they offer up a 399.99 10 inch Tablet with a god dam 32 gig HD of storage. Sure it comes with a 32 gig SD and there's ONE Drive but i seriously think these companies and consumers think that the extra 32 gig Sd can be used to download and save Live Apps / .EXE progams to this space and you "CAN"T" 32 gb HD is not ample storage at all !! More so when other devcies in this catogory is offer up a bare mininum of 64 gb !! Whats worse is offering this option on a 13 inch meaning if i want the extra storage ..minus the 8 meg back cam and 3 more inches of screen I have to pay 300 dollars more beofre Taxes!!! Screw that mess !! This should be offered with at the veryleast a 128 gb HD while the 10 and 8 inch should be 34 gb and 64 bg accoudingly !! or offered both choices on the smaller Tablets ! And the kicker the 13 inch Win 8.1 version doesn't even offer up the cool projector that the Andorid modle does and hypes when on business/enterprise/Windows office users could be easyily pitched to in getting and it be a decent offering for such people /uses !! Lenovo dropped the ball on this one IMO !! And don't get me started on why all 3 have ATom processorSS this 13 inch model should be sporting a 128 gb and an i5 option !!!

Looks very nice, even more proof that batardized ARM processor tablets are overpriced jokes.