Lenovo ThinkPad X1 Carbon prototype reveals the 3:2 display that never was
Lenovo toyed around with the idea of using a 3:2 aspect ratio for its ThinkPad X1 Carbon.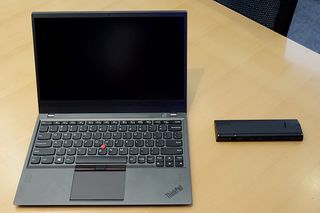 These days, if you're looking for a laptop with a 3:2 aspect ratio, you're largely limited to either a Surface or Huawei's MateBook line. But laptop makers are always considering new options, and it turns out Lenovo has at least experimented with a 3:2 aspect ratio for its business-focused ThinkPad X1 Carbon.
Lenovo recently showed off a prototype version of the ThinkPad X1 Carbon to Japanese publication PC Watch (via Notebook Check), and it varies quite a bit from what eventually hit the market. Namely, the "proof-of-concept" device included a 12-inch display instead of 14. Lenovo also experimented with a 3:2 aspect ratio for the screen.
Aside from the screen, Lenovo was also experimenting with some other interesting ideas. An expansion kit could be added to the bottom of the device to add more ports; an addition necessitated by the prototype's inclusion of only a single USB-C port. The company also toyed with the idea of adding a webcam into the bezel above the keyboard.
Image 1 of 3
The prototype device is two years old at this point, so it's not a look into what may be coming down the line. The company tells Windows Central that it is considering a 3:2 screen for future Carbon devices, but any decision is likely a ways off.
Why it's time for PC makers to embrace 3:2 displays
Still, if you prefer a 3:2 aspect ratio over the more prevalent 16:9, it's a good sign that Lenovo has at least prototyped the idea. And you can bet that if Lenovo is on board, other companies are experimenting as well.
Dan Thorp-Lancaster is the Editor in Chief for Windows Central. He began working with Windows Central as a news writer in 2014 and is obsessed with tech of all sorts. You can follow Dan on Twitter @DthorpL and Instagram @heyitsdtl. Got a hot tip? Send it to daniel.thorp-lancaster@futurenet.com.
Except it looks a lot like the prototype ALSO has a 16:9 aspect ratio. A quick and dirty measurement from the image gave me 15.75:9, close enough. Now Lenovo DID come out with a 3:2 X1 Tablet, so there's hope. It would be a welcome improvement on my X1 Yoga 3rd gen.

The prototype is in fact 3:2 not 16:9.

Well if it is they have the wrong picture up, see this sketch: https://s15.postimg.cc/pmp01e9ln/aspectratio.jpg Green boxes are 16:9. Red box shows 3:2. Both models in the picture are definitely not 3:2.

The red box is more accurate than the green box on that machine, obviously perspective is going to play apart in this as well but the right laptop is clearly taller than 16:9.

I used to have a 17 inch Toshiba notebook. It was a nice powerhouse, but when I got the Surface Pro 3 it didn't take long before I got rid of the Toshiba. I have never looked back. Similarly, my wife had a 15 inch HP and then she went to the SP4. I now have the 2017 SP. Neither of us miss the big machines in the least. And the 3:2 display has been perfectly fine for us.

I wish companies would bring 3:2 back, IMO it's the best aspect ratio for a computer display Edit: an unacceptable opinion apparently lol

Agreed, I am not sure of the ratio of the ipad, but, That should be the ratio for any tablet based device like the surface etc. It is the exact ratio of books, magazine, etc. Things you would use a tablet for.

Bring back? As far as I'm aware, 3:2 is relatively new. Are you thinking about the old 4:3 that was the norm before 16:9 took over?

Apple used 3:2 displays in their 15" PowerBooks from 2001 until 2006. (I used to a late 2005 model that's screen was 1440x960 which I always loved) There was another company too but I can't remember the name of it now

<