Lenovo Yoga A940 review: A strong alternative to the Surface Studio 2
4K reclining touch display, powerful hardware, robust audio come together in this impressive all-in-one PC.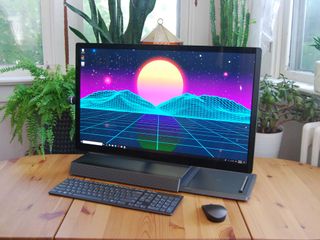 (Image credit: Windows Central)
Lenovo's answer to Microsoft's Surface Studio 2 is here in the form of the Yoga A940. It's an all-in-one desktop PC that fulfills the same role for creators and designers at a significantly lower price. Although I'm not much of an artist, I've had great fun checking out its wide range of features and basking in its 27-inch 4K touch display. Is it right for you? Does it effectively do enough to replace the Surface Studio 2? Let's find out.
$2,300Bottom line: The Yoga A940 is an impressive all-in-one PC built for creatives and designers. It's relatively affordable, it has powerful hardware options, the reclining 4K display is beautiful, and you can upgrade it to keep it relevant longer.
For
Relatively affordable pricing
Plenty of ports, including Thunderbolt 3
4K touch display with excellent color
Robust hardware options
Loud, full, front-firing audio
Against
Build quality not on par with Studio 2
More powerful GPU options would be welcome
Fan is quite loud
Lenovo Yoga A940 at a glance
Lenovo supplied Windows Central with a review unit of the Yoga A940, complete with 8th Gen Intel Core i7-8700 hexa-core processor (CPU), 16GB of DDR4-2666MHz RAM, 256GB Samsung PM981 PCIe M.2 solid-state drive (SSD), 1TB Seagate SATA hard-disk drive (HDD), and dedicated AMD Radeon RX 560 graphics card (GPU) with 4GB of GDDR5 VRAM.
Models with 27-inch QHD touch display (2560x1440) are available and will save you some money, though this review model has the high-end 4K (3840x2160) touch display with IPS panel and about 350 nits brightness. Expect to pay about $2,300 for this review model, which includes a comfortable wireless keyboard and rather basic wireless mouse.
A Surface Studio 2 with 7th Gen Intel Core i7-7820HQ CPU, NVIDIA GTX 1070 GPU with 8GB of VRAM, 1TB Toshiba SSD, and 16GB of DDR4-2666MHz RAM, for example, costs about $3,499. The 28-inch touch display does have a higher 4500x3000 resolution and 3:2 aspect ratio, but for the most part, you'll end up paying a lot more for a device that's going to fill the same role.
There are quite a few Yoga A940 models out there, and if you need maximum power you can outfit up to 32GB of RAM and 4TB SSD alongside the Core i7 CPU. Expect to pay about $3,899 for the maxed-out specs, which is still nearly $1,000 cheaper than the high-end Surface Studio 2 with 2TB SSD and 32GB RAM.
Here's a breakdown of the exact specs as found in the Yoga A940 review unit.
Swipe to scroll horizontally
Category
Spec
Processor
8th Gen
Intel Core i7-8700
Six cores
Up to 4.60GHz
65W TDP
RAM
16GB DDR4-2666MHz
Graphics
AMD Radeon RX 560
4GB GDDR5 VRAM
Storage
256GB PCIe SSD
1TB SATA HDD
Display
27 inches
3840x2160 (4K UHD)
IPS, glossy, touch
16:9 aspect ratio
Rear ports
Four USB-A 3.1
RJ45 Ethernet
HDMI
Side ports
Two USB-A 2.0
Thunderbolt 3
USB-A 3.1
SD card reader
3.5mm audio
Audio
Dual 5W
Dual 3W
Dolby Atmos
Wireless
Intel Dual Band Wireless-AC 8265
802.11ac (2 x 2)
Bluetooth 4.2
Camera
Front-facing 1080p
Webcam shutter
Biometrics
IR camera for Windows Hello
Keyboard
Lenovo Premium Wireless (included)
Mouse
Lenovo Premium Wireless (included)
Active pen
Included
Dimensions
25.02 inches x 9.6 inches x18.38 inches
(635.7mm x 244mm x 467mm)
Weight
32 pounds (14.5kg)
Lenovo Yoga A940 design and features
Image 1 of 6
Instead of a more classic all-in-one design where all performance hardware is contained within the display portion, Lenovo has built the 27-inch touch display onto a rather large base. As a unit, it's incredibly sturdy, and it allows for more powerful hardware to effectively run without risk of thermal throttling. You can pull the display down on its dual-hinge setup with no feeling of unbalance, and in drafting mode, it's as sturdy as can be.
Along the front of the base are four front-facing speakers that pump out impressive sound thanks to Dolby Atmos, allowing you to easily listen to music while you create or watch videos while hanging out. There's plenty of volume, bass is clearly evident, and there's no hollow or tinny sound when you crank it up. Above the speakers is a platform designed to hold the included wireless keyboard when you have the display folded down, and next to it is a large Qi charging pad that easily has enough space for a Note 9 and wireless mouse. A depression on the pad also keeps the included active pen nearby.
The mostly plastic body doesn't match up to the build quality or overall sleek design of the Surface Studio 2, but considering the enormous price difference, that's not going to be a big deal for a lot of people. And while it might live in the shadow of the Studio 2, the Yoga A940 is a looker in its own right, clearly taking design cues from the revamped Yoga laptop lineup, including the Yoga C930 we love.
Along the back of the base, next to a wide exhaust, are four USB-A 3.1 ports, RJ45 Ethernet, and HDMI, as well as Lenovo's proprietary charging port that hooks up to the beefy 230W adapter. Just around the corner, along the side, there's another USB-A 3.1 port, Thunderbolt 3, an SD card reader, and 3.5mm audio. Lenovo chose wisely placing these ports along the side, as they're the ones that should be most used by the average person. The monitor portion has a USB-A port hidden on either side as well for use with the Lenovo Dial.
Like a lot of Lenovo laptops, the Yoga A940 includes a privacy shutter for its front-facing 1080p webcam located above the display, effectively cutting off the view from anyone attempting to look in. The camera itself is clear and gets the job done, and it's backed up by an IR camera for quick logins through Windows Hello. It's snappy, and it worked without flaw each time I signed in. As an added feature, there's a row of LEDs along the bottom of the display that are controlled by a button on the side of the monitor. You get three levels of brightness that can help with working in the dark, especially since the included wireless keyboard doesn't have a backlight.
Lenovo Yoga A940 27-inch display and inking
Image 1 of 2
The reclining display is ultimately the selling point of this PC focused on creativity and design, and the 4K option I tested is gorgeous. It's seated in a body about an inch thick along the top (there's a bit more bulk along the bottom due to an extra portion tacked on), all held together with sturdy metal arms with hinges at the PC base and at the monitor. When you pull forward on the display, it smoothly extends itself towards you, ultimately arriving at a drafting position that has about a 25-degree angle. A rubber strip runs along the bottom edge of the display, and while it will rub your desk when you're moving to drafting mode, it provides a good base for working. You're not going to hear or feel the display rubbing against the desk while using an active pen.
The display hits about 350 nits brightness when cranked up, which is enough to combat average lighting in a room. However, because of the glossy finish, glare can be an issue when dealing with direct light. This is especially apparent in drafting mode if you're in a space with aggressive overhead lighting. It's certainly not a deal-breaker, but it's something to keep in mind. As for color reproduction, I measured 100 percent AdobeRGB, 100 percent sRGB, and 95 percent NTSC, all stellar results for anyone interested in photography and creative work.
Combined with the Lenovo Dial — which has a button on the end and two rotating dials that work with specific software like Adobe Photoshop, Lightroom, Illustrator, Autodesk Sketchbook, Office apps, and general Windows controls for things like volume and brightness — working in drafting mode is a comfortable experience. The 25-degree angle feels natural, the Dial isn't out of reach (though something like the Surface Dial that sits directly on the screen is optimal), and the included active pen does a serviceable job, providing 2,048 levels of pressure sensitivity and standard palm rejection. It's based on Wacom AES tech so you can use other compatible pens with the display if Lenovo's offering doesn't cut it, which I can foresee being the case for the professionals out there.
Lenovo Yoga A940 performance
Image 1 of 2
The Yoga A940 might not be as sleek or have a display quite as impressive as the Studio 2, but its larger base has room for a desktop-class 8th Gen Intel Core i7-8700 hexa-core CPU, up to 32GB of RAM, and up to 4TB of solid-state storage. A high-end model does cost a pretty penny, though thanks to the design, you can get inside the base and upgrade RAM and 2.5-inch and M.2 storage after purchase, allowing you to save money at checkout and upgrade as budget allows.
The AMD Radeon RX 560 GPU with 4GB of GDDR5 VRAM isn't going to hold up to the GTX 1070 available in the Studio 2, so if you're planning on gaming or any other task that is heavily reliant on the GPU, you might want to think twice. Still, its an able GPU for artists and photographers, and altogether the A940 is a strong performer; I ran some synthetic benchmarks to see how well it stacks up.
CPU
Geekbench 4.0 Benchmarks (Higher is better)
Swipe to scroll horizontally
| Device | CPU | Single core | Multi core |
| --- | --- | --- | --- |
| Lenovo Yoga A940 Desktop | i7-8700 | 5.503 | 24,788 |
| Surface Studio 2 | i7-7820HQ | 4,443 | 15,772 |
| Surface Studio 1 | i7-6820HQ | 4,200 | 13.323 |
| Surface Book 2 | i7-8650U | 5,036 | 14,237 |
| Dell Latitude 7400 2-in-1 | i7-8665U | 5,469 | 15,800 |
| MSI PS63 Modern | i7-8565U | 4,909 | 14,466 |
| Huawei MateBook X Pro | i7-8565U | 5,192 | 16,757 |
| HP Spectre x360 13t | i7-8565U | 5,056 | 14,767 |
| Surface Laptop 2 | i5-8250U | 4,203 | 13,233 |
You can clearly see the performance advantage of the 8th Gen hexa-core CPU here compared to the 7th Gen option in the Studio 2. You're going to get better performance for rendering and other specialized work that the A940 is designed for.
GPU
Geekbench 4.0 OpenCL (higher is better)
Swipe to scroll horizontally
| Device | GPU | Score |
| --- | --- | --- |
| Lenovo Yoga A940 Desktop | AMD RX 560 | 58,095 |
| Surface Studio 2 | GTX 1070 | 170,827 |
| Surface Studio 1 | GTX 980M | 85,580 |
| Surface Studio 1 | GTX 965M | 53,685 |
| Surface Book 2 | GTX 1060 | 138,758 |
You're getting about as much power from the RX 560 as was seen in the first Studio with GTX 965M GPU. It's enough for artists and photographers, but it's not going to match the power seen in the Studio 2.
PCMark
PCMark Home Accelerated 3.0
Swipe to scroll horizontally
| Device | Score |
| --- | --- |
| Lenovo Yoga A940 Desktop | 4,354 |
| Surface Studio 2 | 3,374 |
| Surface Book 2 | 3,399 |
| Surface Pro 6 | 3.451 |
This test measures how well the hardware in your PC works together, and you can see the A940 does well. There's lots of room to breathe in the sizeable case, and the fan, which does get quite loud at times, keeps things cool.
3DMark
Time Spy (higher is better)
Swipe to scroll horizontally
| Device | GPU | Score |
| --- | --- | --- |
| Lenovo Yoga A940 | AMD RX 560 | 1,764 |
| Surface Studio 2 | GTX 1070 | 5,250 |
| Surface Studio 1 | GTX 980M | 2,862 |
| Surface Studio 1 | GTX 965M | 1,531 |
| Surface Book 2 | GTX 1060 | 3,538 |
This GPU-intensive test clearly taxes the RX 560, and you're not going to get stellar gaming performance.
SSD
CrystalDiskMark (Higher is better)
Swipe to scroll horizontally
| Device | Read | Write |
| --- | --- | --- |
| Lenovo Yoga A940 Desktop | 3,342 MB/s | 1600.2 MB/s |
| Surface Studio 2 | 3,094 MB/s | 952 MB/s |
| Surface Studio 1 | 1,327 MB/s | 512 MB/s |
| Surface Book 2 | 2,428 MB/s | 730 MB/s |
| Lenovo ThinkPad T490 | 3,254.8 MB/s | 2,954.9 MB/s |
| Dell Latitude 7400 2-in-1 | 3,110 MB/s | 2,825 MB/s |
| Huawei MateBook X Pro | 3,0416 MB/s | 2,779 MB/s |
| HP Spectre x360 13t | 3,085 MB/s | 1,182 MB/s |
The Samsung M.2 SSD is quite fast, and you can upgrade with something even faster after purchase. If you opt for an HDD from the factory, know that it is about as slow as possible, hitting about 131 MB/s read, and 125 MB/s write speeds in my testing.
Should you buy Lenovo's Yoga A940?
A lot of the stuff we criticized the Surface Studio 2 for — old quad-core CPU, no Thunderbolt 3 port, no upgradeable hardware, and elevated price — are essentially fixed by the Yoga A940, though you're not going to get the same GPU horsepower, a display that's as brilliant, or an overall build that's as sleek.
If those tradeoffs sound like things you can live with, you're ultimately going to get an awesome desktop PC that's ideal for creativity and design. The 27-inch display folds down smoothly for a comfortable drafting mode, you get plenty of ports for hooking up accessories, the front-firing speakers offer loud and clear music when you're at work, and it's all available for a price that's far more reasonable and includes active pen, Dial, keyboard, and mouse.
Creative workstation
A more affordable Studio 2 alternative

The Yoga A940 fixes a lot of the issues we have with the Studio 2, and it's available for considerably less money. Upgrade hardware, enjoy the included accessories, and create to your heart's content with this multipurpose all-in-one PC.
Get the Windows Central Newsletter
All the latest news, reviews, and guides for Windows and Xbox diehards.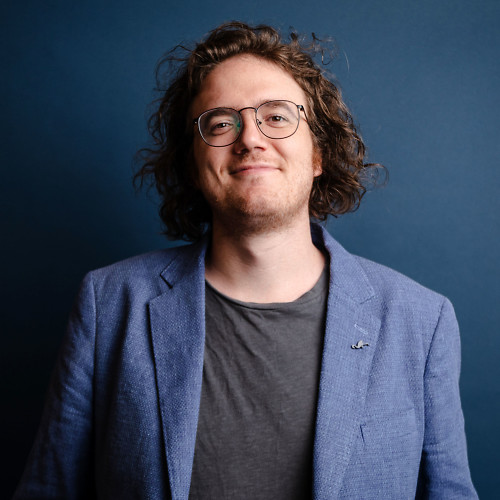 Senior Editor, Laptop Reviews
Cale Hunt is formerly a Senior Editor at Windows Central. He focuses mainly on laptop reviews, news, and accessory coverage. He's been reviewing laptops and accessories full-time since 2016, with hundreds of reviews published for Windows Central. He is an avid PC gamer and multi-platform user, and spends most of his time either tinkering with or writing about tech.