Lenovo Yoga Tablet 2 with AnyPen unboxing and impressions
By Daniel Rubino last updated
Lenovo's new 8-inch tablet has a few tricks, but taking notes is probably not one of 'em.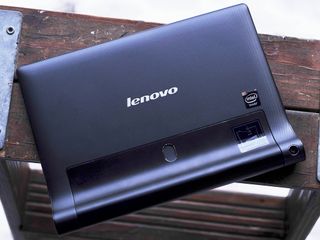 Besides catching that wrath of security and privacy hounds worldwide recently, Lenovo is also known to make some interesting consumer devices. One of those is the Yoga Tablet 2 with AnyPen, announced earlier this year at CES.
Luckily, this tablet is not part of the Superfish scandal, which only applied to a few notebooks.
The 8-inch Windows tablet is a port of sorts from the popular Android version, but with a twist in the form of AnyPen. The $250 tablet is now available and I besides the unboxing, I give you a quick tour and some initial thoughts about this exciting consumer tablet.
Lenovo Yoga Tablet 2 with AnyPen specs
Intel Atom Z3745 64-bit Processor 1.33 GHz (burst 1.8 GHz)
8-inch IPS LED LCD Touch with AnyPen Technology (1920x1200)
Audio: 2x Front large-chamber speakers with Dolby Audio and Wolfson Master Hi-Fi Codec
2 GB RAM
32 GB of internal storage (eMMC) with 18 GB available; micro SD expansion
6400 mAh battery rated for up to 15 hours of power
802.11abgn WLAN
Bluetooth 4.0
Camera: Front 1.6MP, Rear 8MP AF
Windows 8.1 with Bing (32-bit)
Office 365 Personal
What makes this device a Yoga though is the adjustable kickstand that wraps around its cylindrical battery. Lenovo boasts that Yoga Tablet 2 now has four different modes with the kickstand, including:
Regular tablet mode (no kickstand)
Tent mode (ideal for typing at a slight angle)
Propped up (perfect for movies, media)
Hang mode (a new hole lets you hang the tablet)
Although it may seem gimmicky, the kickstand and larger cylindrical battery are great additions. The kickstand does make this tablet much more useful for watching movies or even screen-typing while the cylindrical battery gives you something to grip making it ideal for reading or web browsing.
AnyPen … However, no pen?
Perhaps the most confusing aspect of the Yoga Tablet 2 with Windows is AnyPen, Lenovo's name for its touch-sensitive glass display. Lenovo argues that the Yoga Tablet 2's display is much more precise than previous versions, letting you use your finger, pencils, pens, scissors and more to navigate the Windows 8.1 OS.
However, the Yoga Tablet 2 with Windows does not come with an actual digital pen or stylus. This missing piece is because although the touchscreen is more precise to touch input, it is not a Wacom or N-trig type display ideal for digital pens. In other words, if you are looking for a genuine note-taking tablet using a digital pen, then the Toshiba Encore 2 WRITE is much better suited for the task.
AnyPen is a welcomed addition to the Windows world, as precise input using objects on the display is always a good thing. Nonetheless, I think the marketing behind it is a bit confusing, especially with devices like the Surface Pro 3 or the 8-inch Toshiba Encore 2 WRITE. Then again, the Yoga Tablet 2 is $100 less than the Toshiba, and it looks to have better battery life and more versatility.
Great consumer device
Lenovo is positioning the Yoga Tablet 2 with Windows towards the consumer market. The tablet features two, relatively loud front-positioned speakers giving a very nice stereo effect for music and movies. The 1920x1200 display at 8-inches looks great. Compared to the Toshiba Encore 2 WRITE (1280 x 800), the added pixels go a long way.
Lenovo claims 15 hours in battery life with the beefy 6400 mAh battery. I am not quite ready to believe that, but I do believe it will do very well in this area. The Toshiba, as useful as it is, has only mediocre battery power so far.
The cameras are decent depending on lighting (see sample image above). Lenovo claims the rear 8 MP camera has a f/2.2 aperture and a BSI sensor -- all good things for imaging. However, performance is sluggish with the Atom processor and the image quality falls under 'better than average' in good lighting. It's not bad for a tablet, but nothing amazing either. The front-facing camera also does decently in low-light, although expect lower resolution and graininess.
Between the kickstand, long battery performance and an impressive display, the Yoga Tablet 2 seems ideal for the following people:
Students
Watching movies, streaming video
Reading on the web or using a reader app like the Kindle
Those who want a 'fun' device for media consumption
If, however, you were looking for something more professional for work, including notetaking with a digital pen or an excellent audio recorder for meetings, the Toshiba Encore 2 WRITE is a much better choice.
Initial thoughts
Overall, I like the build quality of the Yoga Tablet 2 with Windows. It is fantastic. The metal kickstand is stable, as is the hinge. The display looks great, and I adore the cylindrical battery that acts as a grip when holding the device in portrait mode. I could envision reading on this device for extended periods of time due both to the ergonomics and big battery.
However, I was a bit disappointed with the AnyPen technology. Although it is useful, I thought this was more of a stylus type tablet. While you can use any pointy object to draw or use the Windows handwriting tool, it falls short of what a Surface Pro 3 or Encore 2 WRITE can do.
Of course, this is more about expectations than anything.
So long as you are comfortable with the idea that a stylus (that is not included, by the way) is secondary to this tablet, then the Yoga Tablet 2 stands on its own. Plus, it is $100 cheaper than the Encore 2 WRITE and Wacom display.
It will take a few more days to see how the Yoga Tablet 2 holds up, but so far I am feeling positive about using it on the couch. However, putting aside the 'ok' battery life, the Toshiba Encore 2 WRITE has my attention these days.
You can order the Yoga Tablet 2 with Windows direct from Lenovo (opens in new tab) for $250. It should also be available in Best Buy in the coming weeks. The Yoga Tablet 2 comes with Windows 8.1 but will be upgradeable to Windows 10 for free later this year.
Daniel Rubino is the Executive Editor of Windows Central, head reviewer, podcast co-host, and analyst. He has been covering Microsoft here since 2007, back when this site was called WMExperts (and later Windows Phone Central). His interests include Windows, Microsoft Surface, laptops, next-gen computing, and arguing with people on the internet.
Remember, stay away from public Wi-Fi hotspots.

Edit: I know it's funny/popular to least Lenovo on this topic, but the Superfish drama is serious, but also over with. This device is not included in the privacy scandal, so I would appreciate if we all stay on-topic, thanks!

Already replied to your other comment. It's late in Europe blabla, end the night with a giggle blabla, I know it's tablets only and that it's been ceased. Gnight!

ROFL Some people cant take a joke!!!!

It's just frustrating to spend 3 hours of your day making something that everyone just brushes off. Not that I can't take a joke. But hey, I get it, I wasted my time, money (cost of the device) and energy with this one.

Agree.. You wasted your time. And I wasted mine watching this. Big fan of this tablet design. You may be good at writing articles but not with video product reviews. Michael Fisher from pocketnow.. Watch him do product reviews. Close to 14 mins u went on like a road roller going downhill with no brakes.

Can't impress everyone. Also, I have a site to run, writers to manage, meetings to take, developers to work with, comments to respond to and simply do not have time to shoot videos all day. Epic unboxing videos are hardly a top priority for me.

For what it's worth, I'm a big fan of your videos Dan.

Word of advice, never argue with people who reply to your articles... just let it go.

Hey! I was thinking the same...you know the phone technical preview videos of both....i thought fisher killed it there...kind of demo one would love to watch...MKBHD is also awesome.

@Sandeep Nair1 Wow! You really have the balls to say that to the person who made an effort to make the review. Let us see your video review first. You are shaming your fellows.

"Wow! You really have the balls to say that to the person who made an effort to make the review." Thanx.. I guess.
"Let us see your video review first" No I am not good at that which is why u wont see me doing that.
"You are shaming your fellows." What is this? Some kinda religious cult? Can I not voice my opinion without members ganging up against me? Mr Rubino spoke his mind in his reply. You will find mine somewhere down below.

He's got balls? to say mean things to people behind an anonymous user name takes about no balls what so ever. He seems like a winy bitch to me. Don't feed the troll

agree... he is the one keeping Windows market share 3%

You're not a customer here. You're not paying Daniel or WinCentral to offer you news and services so take it easy with your criticism.. The only one who can dictate and criticise Daniel's work is his superior if he has one and himself. All the readers have to do is offer feedback. If you don't like the way Daniel works and presents his articles, nobody forces you to read them or watch them. And you are entitled to an opinion, just be more respectful. Nobody likes seeing that kind of stuff here.

Please read my reply to him down below. I accidentally posted it as a new comment. That said.. Are you saying they are a non profit organization or doing a service to humanity? What about people who paid to get wincentral app?
And its like you are saying you are FREE to provide a feedback but it better be positive.
Again I mentioned that the Lenovo tab 2 is my fav tablet design. I very clearly mentioned what it is that I didn't like about the presentation of the video. I apologized to him and he accepted it and said he will consider my suggestion.

Right on, sir! For what it's worth, it's a nice looking device. Just don't go fishing with it!!! (so sorry)

Lol no need to be like that! He has a point, what other nefarious junk has been dropped on this device? Funny or no it illustrates the behaviour of a company that cares only for its bottom line. All companies do that. Not all do that so flagrantly.

If you watched the video I talk about what is (and is not) installed on this tablet. I suppose though that is too much to ask of you folks.

It's just humour - the video is good. Indeed, your videos always are. Given the issues highlighted re Lenovo, hdd firmware, sim cards and all the rest... Well one has to laugh!

Even if it is laptops that come with SuperFish. I will not buy anything from Lenovo in the future. (That's not to say I don't appreciate the work that went into the review, Lenovo has just been forever tarnished from my wallet's point of view).

Lol, SuperFish was not the worst software bundled with a machine. Dell, HP, Acer, ASUS, Sony, Toshiba, etc are no better.
Guess everyone forgot about the bundled McAfee OEM version that was causing BSOD and data loss. Budget models are going to bundle unwanted software to save you money.

Agreed, I've had crapware on Dells, HP, Asus and Lenovo that all screw with performance and who knows what else. The best one is the Asus tablet I got from the MS store, no extraneous software.

Unless that crapware impersonated security certificates, NO, it's not the same. Superfish was not so bad because of the software itself, but because the easy way it compromised for sensitive information. If you are ignorant of the gravity of the problem, you should not brush it aside. I personally will recommend everyone to stay away from Lenovo.

Hey Daniel, did you notice any type of palm rejection? That's my biggest issue with this tablet.

Nope. Mentioned in the video. That'd require a Wacom or Ntrig system :/

Apologies. I rarely watch the videos. Kids napping on the couch with me currently!

Lol he's gonna rip you for not posting attention to the video lol

Palm rejection is nice. However based on my experience (I use a Wacom tablet), the function is not so reliable as it requires the pen to stay within the magnetic field of the screen and may lead to accident touch if you lift the pen up while resting your palm on the screen. I simply disable the touch screen when I use the pen.

True, but at least you can do that. Since this is just a straight up touch display you always have to write with your palm lifted off.

Ya I agree. The only way to get this function now is buy the ThinkPad series as Lenovo only offer digitizer pen on them.

Yup. Thing is, I like a lot about this tablet...imagine if they just had it with a Wacom pen? It'd be awesome. Same with Toshiba. Great tablet, but battery life, lower display is all 'meh'.

How do you turn off the touch screen? Do we have to tinker with the control panel, or there are some easy toggle?

If you install the latest wacom penabled driver, you will have a little "program" called "wacom pen & touch" installed in the control panel. I just pinned the tile to the start screen for fast toggle.

Wait a minute--do you mean that it's possible to add Wacom capability to a Yoga by installing some software? I'd be happy to buy a Yoga and then buy a Wacom setup for it if that's the case...

No. Wacom is a hardware brand. You cannot get digitizer function by installing a driver.

Did you get the Fishsnap app?

It comes with extra tartar sauce...

How is it for Skype video? A lot of these tablets don't optimize the camera location, angle and field of view for video calls.

If you hold it like a book (portrait) the FF camera is on top and it's pretty great for Skype. If you leave it on the landscape, it's a bit off. It's a decent camera, gets the job done, but I need more time with it.

Thanks! Would love to see more tablets put the camera in the middle/top in landscape mode so it's basically centered no matter how you hold it. But this still looks like a great option if you're not committed to an active stylus.

I have a ThinkPad Tablet 10. If both were available at time of purchase, I would have chosen the Yoga for the following reasons: Better Battery life Higher pixel density Speakers Micro USB AnyPen(I only use this for consumption anyways) This because I mostly use my Tablet for consumption. I'll rephrase that...I only use it for consumption. However, I feel the ThinkPad 10 is more versatile and if I decide to be productive, I've got the tool for the job.

I'm curious why is it that manufacturers are allowed to say they have say a 32 GB ssd but only 18 GB is useable? They should just build in the extra 14 GB of space they need so the consumer actual gets the whole 32. I have never understood how they can get away with it.

Because they did add a 32GB SSD. If you want less overhead you could delete recovery image

Even if you have a 256GB SSD in your ultrabook you don't have the whole 256... The OS always takes some.

I understand the OS takes up space, but I don't think they should be able to claim that 14 GB of used space as space at all for a selling point. They should have to state it has an 18 GB ssd instead of 32. I just don't see how they get away with it. Throttling unlimited data is not ok why should saying they are giving you a 32 GB ssd be ok when they are actually only giving you 18 GB of free space that you can use.

I agree with you... But... It *IS* a 32GB SSD. The spec does not talk about how much free space their is, but how big the SSD actually is. I have seen some manufactures do something on the specs on the side of the box in tiny text saying something like "Storage: 32GB SSD (18GB available). To me, that's OK. Not that the average consumer would even notice that. Anyway IMO that's how they "Get away with it." :) - J

Seems like not nearly enough RAM.

Not enough RAM for what? High end Steam gaming? Video production? 3D modeling? Hundreds of tabs in Google Chrome? Maybe. For general consumers 2GB RAM is not going to be an issue at all. I have several 2GB Atom tablets and none of them have any troubles with memory, especially if you plan to use modern apps.

Same. Heck, I did my job (covering Microsoft, live blog) with the XPS 13 Core i5 with only 4 GB of RAM. Ran Lightroom with a DSLR attached and had no issues. Granted, I think if you use Chrome, RAM is a bigger deal but I'm fine with IE, especially on this type of device. 2GB on a tablet of this class is A-ok.

Don't wait for the review, buy the 8" or 10" model of the Yoga Tablet 2 depending on your needs. I've owned both for months and they are amazing devices. Super thin, incredible battery life, awesome stereo front facing speakers (the 10" model has Dolby EQ software), powerful dual band Wi-Fi, beautiful display, better than average cameras. Can't recommend these devices highly enough. If you are looking for something for drawing and note taking this might not be the best product, but as a general Windows tablet I think this is as good as it gets right now.

Especially for the price. Build quality looks great

Nice, glad to hear your feedback and that you like it. I'm watching Days of Thunder on it right now and it's impressive for such a little thing. Great media device.

I also really like the Tron-white pulsating power button that let's you know when the tablet is fully charged. One correction to what I said before though, both the 8" and 10" models have Dolby Digital Plus equalizer software. It is hidden in the desktop's Control Panel so it is easy to not realize that it's there. I think the big barrel design lets them put better speakers on this than would be possible on a regular tablet.

Interesting, will take a look at that.

What is the battery life llike on the 8 inch model?

Rated for 15 hours, though I would put that at 8-10 in real world usage. I haven't had it long enough to really test.

WIth the 10 inch model it is far above ten hours, that is for sure.

I'll stick with my Asus 8 inch and its wacom digitizer.

Does this have adware pre-installed?

Even if it did I think I saw earlier where they are giving instruction on how to remove it

They didn't say how to remove the certificate which is the real issue. So those instructions are half assed at best.

Thanks Daniel nice review as per usual.

Hi Daniel. Does it work with the Microsoft wireless dispaly adapter?

I'll try to test it in the coming days...I can't see why it wouldn't but will try to verify.

It does. I had some resolution issues with mine since the display is 1920x1200 rather than 1920 x 1080, but was able to adjust the resolution to 1080p and mirror the screen to my display in a couple of minutes.

Hey Daniel, just wanted to say I enjoyed the video & keep up the great work!!

Thanks, glad you liked it!

Nice video! Please keep up the laptop and tablet reviews, love reading them as compared to other sites :)

Mine just got delivered, and I noticed that the cylindrical battery is a tad too smooth for my liking. I feel like I have to grip it extra hard in portrait mode, and that kind of bothers/worries me. I'm afraid it might slip out of my hand if I'm not using my other hand or some other surface to rest it on. Any suggestions for cases or covers, or any suggestions in general to make the grip a bit better? Also, I'm a huge fan of Snap Attack, and is it just me, or does the sound seem off while playing it? The sound seems to work perfectly for everything else, so I'm not sure what the deal is here. Any feedback would be nice. Thanks in advance!

I use a 10 inch Yoga 2 tablet and I have no issue with a slippery battery, i can hold it very well in portrait mode. There is however cases to get but mainly through ebay.

Thanks for the reply. Yeah, I don't know what it is. Maybe it's just my fingers. It's not too much of a problem when I have it in portrait mode and have it set down on something or when I'm using two hands. Any companies you might recommend for a case or cover?

The main issue i have with cases available on ebay is that most of them will cover the speakers when closed, some will even cover them partially while open. This is because of the kickstand, there is one or two cases that ignore the stand and they do not cover the speakers but then you can't use the stand and must rely on the case stand instead.

Does anyone know if this will be carried in Microsoft stores?

No idea. In the past, MS Stores have had some Lenovo stuff, but Best Buy may have the deal on this one.

Thank's for a good review, i have the 10 inch version and i love it, for media consumption, steam in-home streaming and light workloads its pretty much perfect. On my tab i managed 18h on the last charge which is insane compared to other tabs, I had a nVidia SHIELD Tablet that i swapped for the Yoga when the shield broke by itself (cracking issue) and the Yoga beats it hands down in all avenues, the Yoga has much better build quality, image, sound, 3 times longer batterylife, and lets not forget a much better OS. If that wasn't enough it also comes with a bluetooth keyboard cover that sports a trackpad. All this for the same price as the shield tablet and 100€ less then same size samsung tabs. I cannot recommend these tabs enough.

Interesting. I may have to take a look at the 10-inch model too. I know Best Buy has them available.

I agree. I just bought the 10" version from Best Buy. It's currently on sale for $319.99 which includes the keyboard w/ trackpad. It doesn't have the Anypen technology like the 8" version, but I really didn't care about that as I currently also own a Samsung Galaxy Note Pro 12.2 tablet and didn't personally find myself using the S Pen much at all. I also felt that the 8" version of the Yoga would be just a tad too small for my needs. The Yoga 2 is much more comfortable to hold than most other tablets I've tried. This is because of its rounded battery case. The kickstand was the other major deciding factor for me. It ads a lot of versatility to the tablet. I've only just unboxed it, but am very happy with the tablet. I would highly recommend that you try one out in person if you are considering a tablet purchase.

why don't manufacturers release a core m/atom tablet with 4GB RAM?

Cost/benefit ratio drops. Most of these tablets (10-inch and lower) are consumer devices, which would not utilize 4 GB of RAM. I think there are limits on Atoms.

Intel now has several Atom Z3... processors that include 4GB RAM. But these tend to be in larger and pricier tablets like the 13" Yoga Tablet 2 with Windows.

I can understand.. Especially now that two tech previews are out there are new news flying around. I just wanted to say that your style of conveying the message in one breath can be changed. Maybe (in future videos) if you could pause a little and stress on some words and bring some humour into the reviews people will enjoy long videos. Just a suggestion. Forgive me if the first line of my original post was a bit harsh. ​

That's fine, will consider, thanks.

Could you try charging it with a mobile powerbank?

Any power bank that does at least 1A should charge this no problem. I have the Asus VivoTab Note 8 currently and it will charge (very slowly) off a 500mw phone charger. I also have a power bank and it charges my current tablet fine. I'll be replacing it with this Yoga 2 8" but since I don't have it now I can't say for sure. Also a lot of power banks will so 2.1A and that should charge this thing no problem. Anyway different tablet I know but it should work. :) - J

No HDMI !! To have a desktop replacement, you have to add $120 more for 10" tablet with HDMI.

I have the 10.1" Yoga 2 and it has a mini HDMI socket on the side. EDIT: Just realised you were referring to the 8" model. Sorry. Can't delete my post.

Buy the 10 inch version. You have HDMI.

It's nice to see something that is a little outside the box and high quality at the same time. I especially liked the pic of the tablet hanging on the hook. It seems there is never enough space for the electronics that have such a grip on our lives.Good stuff!

Great review, as usual! Is it miracast certified/compatible? Thanks!

For quite a while I have the 10.1" Yoga 2, and it is a definite keep! Absolutely satisfied with how Win 8.1 performing on it, and the apps i use on, the screen quality, colours, battery usage time....just love the device. And being a person of loving music a lot, great sounds with headphone/earbuds (when not connected to speakers with bluetooth and hanging on wall)

wow, there are various awesome tablets out there and this is one of them. i will actually buy a tablet, i coud find some scenarios in which a tablet could help me a lot, but before that, i'm still waiting for dual boot thing to happen. am i too much of a dreamer? edit: does windows 8.1 Start and Modern apps have a portrait orientation?

Does lenovo have to call every friggin' device they put out 'yoga'? Are they purposely trying to confuse customers?

It's actually a important and useful piece of information. I'm satisfied that you just shared this helpful information with us. - http://jobseye.net

What's the best windows tablet for no more than 250 bucks?

So Dan and WinCentral, I want to say THANK YOU for posting this unboxing and overview. I didn't know this tablet existed until this morning, and as it happens, I have been in the market for a new 7" or 8" tablet. My current tablet is the Asus Vivotab Note 8. It's been great, but I never use the Stylus and the battery life could be better. I was really in the market for a 7" but none of them have 2GB of ram. I had been watching the Superfish thing unfold and even if it had it, it would be easy to remove. As others have stated, other companies have included some NASTY crap on their machines. I used to be hardcore into ASUS for EVERTYHING, I have had several of their montiors and gaming laptops, and still have an awesome Asus routers. My gaming PC is stuffed full of ASUS parts as well. But Lenovo has really impressed me and a while back I picked up a Y40 as a primary laptop. I frickin love it! And thanks to you, I now know about this stellar tablet. I ordered one. Again thanks to you. Haters gonna hate and people will spew what ever trash they want behind the safety of their computer monitors. Running a site, I know you know all this already. Please keep up the great work. I come to WC several times a day to see what's new for all my Windows news. - J

Daniel I understand it's no SP3, but I personally am looking to take notes in meetings with OneNote, would you consider it adequate to that use case, or still better to look at the Toshiba? I'd probably go Toshiba anyway just to get the 10" display surface to write on.
Windows Central Newsletter
Get the best of Windows Central in in your inbox, every day!
Thank you for signing up to Windows Central. You will receive a verification email shortly.
There was a problem. Please refresh the page and try again.