Lenovo's IdeaPad YOGA 2 Pro is on sale now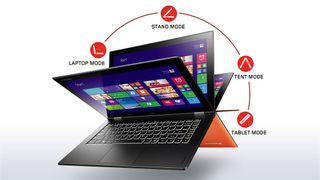 Lenovo's IdeaPad YOGA 2 Pro is officially on sale and starting at $1,049. When the original YOGA was released, we considered it close to perfection; the new Lenovo YOGA 2 Pro brings that dream one step closer to reality.
The YOGA 2 Pro sports a 3200 x 1800 10-point multi-touch display and is backed up by IPS support. Additional improvements include a new Lenovo Transition system, which automatically locks the keyboard in place when the hinge is flipped 360 degrees into tablet mode. The keyboard has also been upgraded and includes a backlit keyboard for easy use in low light situations.
The new design is also thinner at .61 inches thick and weighs just over 3 lbs. Throw in Lenovo Motion Control, Lenovo Voice Control, and Dolby Home Theater – we are sold.
Cheapest unit costs $1,049 and includes an Intel Core i3 CPU, 4 GB of RAM, and a 128 GB SSD. If you have the full $1,499, you can purchase the premium model with an Intel Core i7 CPU, 8 GB of RAM, and a 256 GB SSD. The unit is available in both silver and "clementine orange". (And yes, it comes preloaded with Windows 8.1)
Source: Lenovo (opens in new tab)
Not in Canada yet though :(

Very good chance that this is my next.

WOAH. Who's site do you think you are on, sir?

The Verge is alright.... sometimes....

The verge was good when it was this is my next....things changed so much since then

Yoga is probably the most successful line of hybrid devices, not counting surface pro, which isn't really a hybrid in my book. Out of three friends that got new laptops recently, two of them were yogas.

Best buy has them. I wanted to check out after work and see if I should order the 8gb memory model

Do they really? I'm there this weekend!

This looks very nice. I'm not in the market for a new tablet though. Maybe next year or notebook, whatever it is

I wonder if they made the touchpad better? Was really the one thing I didn't like at all about the first one.

You do know you it has touch screen right, touch pad is some what obsolete if you ask me.

Yes, well aware. But I make my living writing code and none of the IDE's work well with touch.

You do know that touchscreen and touchpad are NOT the same experience in usage?

WOW. 3200x1800 display with starting price of $1049?
Lenovo is killing it. First gen Yoga was the best Win8 convertible by far and this is improved in every possible way.

HP needs to stop crying and try to make impressive devices like this.

EDIT: $1149 model is much better deal overall.
You will get core i5, 8 GB RAM and 256 GB SSD.

Bestbuy is selling it for even better prices.
core i5, 4GB and 128 GB SSD for $999.
http://www.bestbuy.com/site/lenovo-ideapad-yoga-pro-2-ultrabook-convertible-13-3-34-touch-screen-laptop-4gb-memory-silver/1838553.p?id=1219065987641&skuId=1838553#tab=overview
core i7, 8 GB and 128 GB SSD for $1199.
http://www.bestbuy.com/site/lenovo-ideapad-yoga-2-pro-ultrabook-convertible-13-3-34-touch-screen-laptop-8gb-memory-silver/1817254.p?id=1219065404810&skuId=1817254

but it has single channel ram, which makes HD4400 as slow as HD4000

Is this really true? This user did a test and showed almost no difference:
http://www.reddit.com/r/buildapc/comments/1fcs77/discussion_ram_single_v...

the one in test is not an integrated GPU

Could've sworn that the "keyboard locking" mechanism was in the new Yoga-like thinkpad convertible, but not the Yoga 2, as it's too thin.
Or maybe I'm thinking of something else.

Correct. Thinkpad Yoga has the KB locking tech. The Yoga 2 Pro does not due to the added thickness it brings.

I am still waiting for the Tjinkpad Yoga!

Looks pretty cool but not for me :)

Does it have an Ethernet port?

It should come with an Ethernet USB dongle like most of Lenovo's ultrabooks. Otherwise it's like $20 to get it from Lenovo.

Lol Ethernet... Nigga kill yoself.

Wired > Wireless all day every day.

Could you please include the metric equivalents of imperial. Not all the WPC readers are American. ;)

I'm thinking of getting it. Seems a little heavy for a new ultrabook, though, at 3-plus pounds. That 360-degree hinge us tough to pass on, though

Macbook air 2.96 lbs, Yoga 2 pro 3.06 lbs.

MacBook is boring anyway. I'd never get one. I thought I saw some 2lb Windows ultrabooks, is what I was saying. I live my 1.5lb Surface RT, but I realize the Yoga 2 Pro is 13".

Just to confirm, the Yoga Pro 2 has an active digitizer correct? Deciding between this and the Surface Pro for the gf, needs to have active pen support.

The ThinkPad Yoga has the digitzer but now QHD+ screen. Decisions, decisions.

Wait, so the Yoga Pro 2 doesn't have an active digitizer? I could have sworn they were advertising it with one. That's a deal breaker.

Same here. As far as I know the Yoga Pro 2 does NOT have an active digitizer. The closely related ThinkPad Yoga, due imminently, does.have one.

I also remember seeing this advertised as having such capabilities, but not coming with one. Anyone mire privy?

My wife has the original Yoga and loves it. This one should be even better.

That doens't really sound like a good deal.Honestly, that i3 model should just go away at that price. If you can afford $1,000 for your machine and want that, you REALLY should go up the extra $100 and go up to the i5 and double the RAM and storage.

Bought it! Thanks for posting it up! It looks awesome.

Great system. I am drooling.

" If you have the full $1,499, you can purchase the premium model with an Intel Core i7 CPU, 8 GB of RAM, and a 256 GB SSD."

It seems you did not click the More Models button, you get the 512GB SDD for $1599
http://shop.lenovo.com/us/en/laptops/ideapad/yoga/yoga-2-pro/?sb=:000001...

Would have got this if it had a better graphics card, got the loaded y510p instead for a steal at 919$.

Wow. That looks absolutely gorgeous. I am currently rocking the Dell XPS 12 convertible for work. Nothing against the XPS 12(its awesome) but this would be a great replacement for the Dell.

Interesting. Altough not listed on Lenovos site, I've seen a 512GB SSD version listed here in switzerland. Dunno if just typo or really available but given the price (1699CHF, around 1860$) it could well be. Super version for the wealthy?

The 512GB SSD version is available, just page right and you see the model option on Levnovo's website. It's $1,599 USD for the i7 and 512GB SSD version.

Just placed my order for the i5 for $1,149. Not bad, just wish the i7 was not an addtional $350. Now the wait for 2 weeks till it comes....

the i7 with 8gb ram and 256ssd was 1199 at best buy. but i dont see it anymore. I just got it yesterday and its the balls.


Thanks Gemini for the heads up, I see it on their site but checking with Lenovo if they would match.

I picked up the silver i7 one at Best Buy for $1,199.99. Thanks Gemini, got my Yoga 2 a week earlier and $350 cheaper!

Grrrr I can't find the i7 model at any of the Best Buys in-store or for pick-up! TAKE MY MONEY

Do they carry the orange one at BestBuy?

It seems that orange is only available from Lenovo.com, for now.

Is this thing Haswell ready?

The CPUs in this are Haswell Core series.

Wife loves her original Yoga (non-RT), and I love getting to use it every now and then. Too heavy to be a true tablet, but great in a pinch. The keyboard-down-screen-back mode is great for kitchen work with recipes.

Looks great, but really wanting a Helix with Haswell. THAT will get my attention!

My son took the wife's Yoga to school with him. I just ordered him the i5 8G 256 SSD model. We loved the last gen Yoga. I just wished they had a 1080P version... Imagine the battery life it would have!

This is probably the only device that surpasses the Surface. Looks amazing! I currently have T500 that still runs like a champ so there's no need to upgrade. Quality products!

Still too big and heavy. It's the Sony VAIO Flip for me.

Which one is that? The Sony VAIO Fit looks pretty nice.

This is definitely a gadget to buy. Can't imagine any better right now. Well done Lenovo

Tempting. But what's the upgrade from yoga to yoga2. Still trying to decide my next hybrid: surface 2 pro, Nokia 2520, yoga 2, taichi 2 (?)

Have you looked at the Sony Vaio Flip? There's also the Dell XPS 12.

I have a XPS 12 and I love it. I chose it over the yoga because of better specs (at the time) and I wasn't a fan of the exposed keyboard when the Yoga is in 'tablet' mode. I would recommend taking a look at the XPS 12 if you're looking for a convertible ultrabook.

Decisions, Decisions, with all these new hardware coming out I cant wait for the christmas / boxing day sale lol. I was just about to plump for a samsung led smart tv as I'm vying to try out this app http://www.windowsphone.com/en-us/store/app/unofficial-samsung-remote/eee32829-f405-40b4-93d1-568bbda1664d and need to get a tv for my room as my older bro nicked my tv to play GTA 5. He can keep that dying plasma lol, but reigned my temptation... still gotta pay for the ps4 and x1...

I've a Yoga 13, and it's been very frustrating. It performs well and I love the touch screen, but WiFi was terrible on it and the keyboard was very mushy with the space bar not registering consistently. From looking at the specs on the Lenovo site, it looks like they replaced with barely supported RealTek WiFI module with an Intel N-7260 mini-PCIe implementation... while not dual-band or 802.11ac, it should be a huge improvment and will likely support Miracast. The keyboard has got some love, but until I see reviews, I won't know if it's a winner.

If it JUST had an active digitize for stylus input I'd be sold. The new ThinkPad is a derivative of this model and has that feature, but isn't as impressive as the Yoga Pro 2. I'm torn, between these two and the Sony Fit.. and the Surface 2. Gah!

I also am torn on what to buy. I thought he Yoga 2 Pro did have stylus support, though.

Just Ordered the i5, 8G Ram, 256GB version at 1079$ with a company discount.



I did the same. That was a great discount for what you get: i5, 8GB RAM, 256 SSD, and the Clementine Orange model to boot! Sure, the i7 would be nicer, but the i5 will probably do just fine. Sure, the RAM is single channel, but unless you're doing heavy PC gaming, you probably won't notice (I'll be doing all my gaming on my Xbox One, so I don't mind), and the 512 would've been nice too, but 256 should be more than enough since most of my stuff is either in SkyDrive or I just stream it.

So, how long does the battery last? Biggest dealbreaker in a laptop for me.
Edit: looked it up. "up to 9 hours" isn't as convincing as I'd like, but still way better than what my current ones offer.

It sucks that the 8GB/512GB Pro 64bit doesn't come in orange. I thought they said that all levels would be available in both colors?

I picked up the i7 256 gig version from Best Buy on Wed of this week. Typing on it now. It's very nice.
I have a Surface Pro as well, and it's going up for sale. The Yoga Pro 2 is super light, the total weight of the laptop itself is the same as the Surface Pro + keyboard + power adapter. I already carry a work issued X230t with a Lenovo power supply, so carrying the Yoga Pro 2 in the same bag is the same weight. I got a square power tip for my Lenovo travel adapter, so I can use the same charger for both computers.
The screen is jaw dropping and battery life is very very good. Wifi is great - solid connection everywhere. Keyboard is firm, not mushy. I don't like the small right Shift key as my pinky keeps hitting the arrow key when typing fast, but that's a minor quibble. Speakers are very loud and sound full, thankfully (the Surface Pro speaker is positively terrible).
Basically, Lenovo has a great piece of hardware on it's hands and will undoubtedly sell very many of them.
My only complaint is I have to remove both laptops for security wheras my Surface could stay in my bag. That's the price for carrying two laptops I suppose.
Windows Central Newsletter
Thank you for signing up to Windows Central. You will receive a verification email shortly.
There was a problem. Please refresh the page and try again.