Game of Life and Parking Mania available to all, Shoot 1UP returns to Windows Phone 8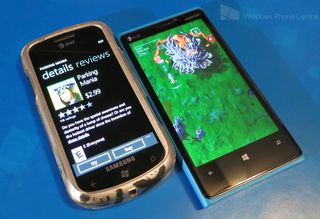 Since summer of last year, Electronic Arts and Chillingo have been pumping out Nokia-exclusive Xbox Windows Phone games. Players not fortunate enough to own Nokia phones sometimes feel left out and/or upset because they can't access those games from their phones. But we are talking about timed exclusivity here.
Six months after release, Mirror's Edge became available to all Windows Phone users, followed by Risk and Connect 4. So while owners of HTC, Samsung, and other non-Nokia devices have to wait a while, Nokia's deal with EA does pay off for them as well.
This week, two more former exclusives became available to all Windows Phone users: The Game of Life and Parking Mania. As if that wasn't enough, Shoot 1UP, an Xbox game that was found to be incompatible with Windows Phone 8 has just gained compatibility. Gotta love being able to play more stuff!
LIFE, the Universe, and Everything
The Game of Life brings the popular board game to your phone. It simulates a person's path through life, from getting a first job, going to college, getting married, having kids, and eventually retiring. Players spin a wheel for movement, collect 'Share the Wealth' cards that help them or hinder opponents, and occasionally choose between different life paths to follow.
The Windows Phone port supports single- or local multiplayer – no online play, unfortunately. But the Achievements are fairly easy and the game itself is decently interesting for a few playthroughs. Check out our review for more details and free ice cream*.
Game of Life – Windows Phone 7 or 8 – $2.99 – 23 MB – Store Link
Parking Maniac
Parking Mania is something of a puzzle/driving game in which players must carefully steer one or more vehicles from one destination to another. Levels usually end when all of the cars have been parked in the designated spaces. Complicating matters are extremely tight spaces, occasionally large and unwieldy vehicles to drive, road traffic, and other obstacles.
Parking Mania offers a tense but reasonably challenging experience across its 80 levels, providing much more enjoyment than you might expect from a game about parking. Just make sure to turn off tilt controls in order to make your life easier.
Parking Mania – Windows Phone 7 or 8 – $2.99 – 46 MB – Store Link
Shooting for 1UPs
Now that it runs on WP8, we can take our own screenshots!
We have to give Nathan Fouts of Mommy's Best Games (who we interviewed a while back) props. Shoot 1UP was found to be Windows Phone 8 incompatible last December. Fouts procured a WP8 device as soon as he could and then worked hard to solve the game's crashing issues. It turns out that the differences in memory handling between Windows Phone 7 and 8 caused the problems, which are now fixed. If only the developers of incompatible games like The Harvest and Tentacles cared as much about getting their games running on all devices…
Shoot 1UP is my personal favorite shoot-em-up on Windows Phone. It boasts the unique ability for players to control up to 30 ships at once. Spreading the ships apart increases your firepower, while contracting into a tight formation keeps them safer. The surreal 2D artwork keeps things fresh too.
Just as importantly, it's actually possible for normal human beings to complete the game without dedicating their lives to mastering it. Just turn down the game speed to reduce the challenge or turn up the speed if you need more thrills. See our full review for all the details.
Shoot 1UP – Windows Phone 7 or 8 – $2.99 – 64 MB – Store Link
Thanks to Guilherme and Pbroy for the EA games tips!
Windows Central Newsletter
Get the best of Windows Central in your inbox, every day!
Paul Acevedo is the Games Editor at Windows Central. A lifelong gamer, he has written about videogames for over 15 years and reviewed over 350 games for our site. Follow him on Twitter @PaulRAcevedo. Don't hate. Appreciate!
We need the Sega classic M.U.S.H.A shooter on windows phone!

Anyone else get reminded of GTA2 by Parking Maniac's graphics? lol :P

Overpriced awfull games? Aww yeah was waiting for it.

I actually bought parking Mania on my Surface and I love it, didn't get it on my phone yet. I did get LIFE on my phone, and Im enjoying the shit outta it.

Why is dodonpachi not on that list :(

Oh give me a ****ing break, I have 460MB free and I can't install shoot1up which is 64MB

Yea I want dodonpachi :-(

I have a HTV 8s now and I used to have a Samsnung Omnia 7. I had dodonpachi running on that one. Now it's nowhere to be found. Exclusive to Samsung or what is going on? I do have it for IOS though but I want it on my 8s NOW!

We need more Xbox branded games released every week!

Am I the only one that wants to know where n.o.v.a. 3 is???

It's in certification. No release date yet, as the original source of the release date was incorrect.

Still hoping for Dondonpachi..... Still hoping for Dondonpachi.....

Is Tentacles ever coming to WP8? I loved that game on my Lumia 800.

glad to see shoot 1u return. surprised that wpcentral hasnt commented on doodle jump,being removed from the marketplace

What's with that case on the Samsung?!?!! You NEED to take that off.

Are you saying it's... Out of place? But seriously, the edges of the phone are too scratched up for photos, so I just leave it cased.

That is the ugliest looking device (Samsung) I had ever had the misfortune to gaze upon with my eyes, I actually went blind for a couple of minutes. Looks like a big terd with a screen.

Just a well-worn Samsung Focus.

Parking Mania is tempting, I enjoy games like that.

Parking Mania is in my to buy list, but I would rather have it on my Surface, unfortunately it isn't Xbox enabled on Win 8/RT.

These games are really bad. But I guess for every good one we must get a shit load of bad ones or so it would seem as of late. Am I wrong here?

In my opinion, yes, you're wrong, Shoot 1UP is a good game, made by a guy who knows games.

It's wrong to think of your opinion as objective fact - no game is just plain good or bad. Like Slayer said, you might not like some games but other people could think they're great. I definitely loved Shoot 1UP and liked Parking Mania a great deal. Even LIFE is decent for what it is, not that I'd have bought it if I hadn't had to review it.

Would recommend Parking Mania. It was fun, albeit repetitive. Game of Life is so bad and a waste of 3 dollars, but as you mentioned it does have easy achievements.

Also Paul, not sure where you go 80 levels for Parking Mania, but it has 220 if I recall. In that ballpark atleast. (One of the achievements if for compelting 160 levels).

Well Shoot 1UP is available but some WP7 games which were available all the time are not now for some reason (at least on my HTC 8S)... These are Super Monkey Ball 2 (which I wanted to buy since it is on sale), Cracking Sands and Turn N Run, maybe even more...

Apparently SMB 2's unavailability on certain devices is due to its need for a gyroscope.

i got parkingmania since the very beginning (december) on my lumia 920. how is this one new?

Reading the article before commenting is so important, man. I just can't stress that enough.

oh, i forgot lumia isnt the only WP8 device

It's nice to finally see these Nokia exclusives start being made available for everyone else.