Limited Edition Fallout 4 Xbox One Controller to go on sale Tuesday, Oct. 20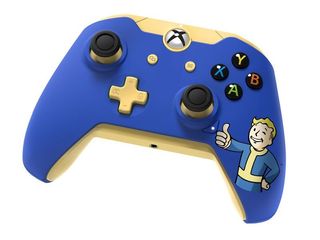 Fallout 4 is only a few weeks away from its release, but before that happens, publisher Bethesda Softworks is giving Xbox One owners a chance to play the post-apocalypse RPG with their own Fallout 4 controller.
Bethesda will sell the limited edition Fallout 4 Xbox One Controller on Tuesday, October 20 on its own online store. The controller, which will be limited to 5,000 units, includes custom "Pip Boy" and Fallout 4 artwork. Bethesda has yet to reveal the price of the controller. It's being sold as part of a "Great War" sales event on the Bethesda Store site. A number of items have had their prices cut, and there will be other limited edition products sold during the next few days, including a Pip-Boy Messenger Bag on Oct. 21 and a Vault-Tec Industries watch on Oct. 22. Fallout 4 itself is due for release on November 10.
Pre-order Fallout 4 for the Xbox One on Amazon for $59.88 (opens in new tab)
Source: Bethesda Store; Via: Polygon
Fugly edit: It looks like toy made by fisher price

I gotta agree with you there. They could've at least made it more like rusty metal, or something else apocolypse like.

Guess I'm not the target audience, looks like something for a 5 year old playing Nickelodeon games.

I really really like it!! Im a 30 years old man :'(

Fake. No port on the bottom.

If you look closely you'll see the markings on the d-pad are the same as the buttons on the port adapter for 3.5mm headphones, also, there's a button the the bottom right of the right thumbstick with an led on it. If I had to guess I'd say they've made a custom controller and inbuilt the headphone adapter.

Plus if you look closely enough the thumbsticks don't have the same grip. This is definitely a custom made controller and not a stock msft one with a skin.

"Fake" Lol, yeah, it's just some company called Bethesda selling it. I have no idea what they have to do with Fallout 4 or Xbox gaming /s

simphf, shut your goddamn mouth

What's that button beside the right thumbstick? It lights up... And I don't understand why there's no original port at the bottom...

Well the bottom port is used only for the headset adaptor (which is now built in, see the 3.5mm socket) and the chat pad which isn't out, so you're not really missing anything.

I love Fallout, but this looks like a Tonka Toy.

I mean yea the colours correspond but god dam that's ugly. Something's definitely custom about it with the button on the side

When will the controller be available? 9pm tonight? 12am tomorrow? I want one. The watch looks meh.

This is a 3rd Party PDP wired controller. That's why it looks a little off. The button below the right stick is for the headset controls you see on the d-pad.

Thanks. I am out then. I haven't had good experience with third party controllers.

Is the pic a real pic or a render? I am buying the elite controller so I don't think I will be buying any other controllers at this time.

I apologize upfront Fallout dude for greasing you up with my sweaty palm and thumb meat for tens of hours but your creators made me do it. I refuse to go to Vault Hunters Anonymous.

HAHA, I love it! it's like what the controller would look like if it was from the 50s :) strong basic colors, and polished :D

+640, looks like pre war era. Now they should make a post war one, that would look even better.

I want one now Posted via the Windows Central App for Android

Better than the shit Sony are pushing out!

Disappointed. I can't use my headset on it in the first place, and it's a third-party release. I'd get an official one for $60-70, but this'll probably be $50 of mediocre build quality.

What a aggravating time to have no disposable cash lol!

Ahh the classic Xbox power button.

I like this controller. It likes dope. I'm really trippin on those analog sticks. That's the first I've seen of them. I wonder if the elite controller will have those as an option.

What! Who made should be shot.

U.S is full of show off(no offence to anyone) but its true
Windows Central Newsletter
Thank you for signing up to Windows Central. You will receive a verification email shortly.
There was a problem. Please refresh the page and try again.