List of Halo: Reach PC known bugs and launch issues
Catch the biggest bugs and issues hitting Halo: Reach for PC on launch day, and how to fix them.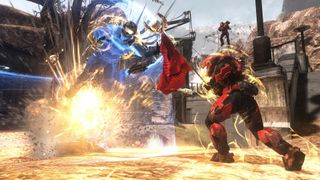 (Image credit: Xbox Game Studios)
Microsoft has released Halo: The Master Chief Collection for PC, kickstarting the migration of the hit Xbox shooter to Steam and Windows 10. The six-piece compilation sees a staged, per-game rollout commencing with Halo: Reach, reviving Bungie's final farewell to the franchise beyond Xbox 360. That comes with significant graphics enhancements to push for 4K, alongside overcoming the challenges of the PC ecosystem bypassed by Xbox consoles.
While Halo: Reach hits PC as an impressive return to the 2010 classic, players are facing a range of graphical, audio, and gameplay bugs and issues. We've rounded up the most prominent Halo: Reach PC hiccups surfacing on launch day, alongside potential workarounds.
With Halo: Reach PC rolling out worldwide, we'll update this list with new bugs and fixes as they surface. Found a bug? Let us know in the comments.
Halo: Reach PC general bugs and known issues
Halo: Reach audio and sound issues
Among the most widespread problems impacting the Halo: Reach re-release is a nasty audio bug, diverging from the soundscape of the original 2010 title. It means some sounds may be muffled, muted, or incorrectly mixed. Microsoft warned of potential hiccups ahead of launch, related to changes to the game's audio encoding, with work underway on a fix. "We are aware that areas of the title don't sound like what you or we ideally want them to," stated Community Support & Engagement Coordinator at 343 Industries, Tyler Davis.
"It will take some time to work through solutions to improve the overall experience for audio and that work is already underway. When it is ready, we will flight to test the fixes we can make prior to updating the title. We also plan to go into more detail on our Reach audio journey in a later blog."
Halo: Reach PC stuttering and lag
Some Halo: Reach PC users report stuttering and lag spikes across all modes. Microsoft has acknowledged issues with certain setups, however, causes and solutions will vary between systems.
Workaround: The newly-added unlocked framerate causes many stability issues for PC, likely to be addressed in future updates. However, Microsoft has warned that Corsair iCue, Logitech G-Hub, and Razer Synapse may cause stuttering with Halo: Reach PC. Disable these programs if installed, when experiencing stuttering and input lag.
Halo: Reach PC freezing and crashing
Halo: Reach may freeze or crash, as a possibility with any PC release. Many report encountering issues during start-up, with a fix likely required to avoid any possible conflicts. Microsoft also confirms a "known crash" when exiting the game.
Halo: Reach PC screen tearing
Halo: Reach PC may exhibit screen tearing, regardless of V-Sync, and other anti-tearing measures. The result of new frames pushed to your display mid-refresh, two separate images may display on two halves of the screen. Many users report heavy screen tearing across a variety of PC setups. "The team is aware of issues around screen tearing and V-Sync not performing as expected for some users," Microsoft stated. "As a reminder, if V-Sync is off, screen tearing will happen." Microsoft continues to investigate issues post-launch.
Delayed mouse input
Microsoft details a number of reports of mouse input exhibiting latency, causing delayed in-game controls. Microsoft is attempting to isolate the issue to specific setups, recommending users contact Halo Support.
'UE4 Critical Error,' 'You've been banned' errors
Halo: The Master Chief Collection PC may output EAC error messages, including a "UE4 Critical Error," "You've been banned," and more. Microsoft has acknowledged an issue, encouraging affected users to contact Halo Support. While UE4 errors appear present, Microsoft claims to have addressed erroneous ban messages.
Workaround: Microsoft recommends players use the latest version of Windows available, eliminating a share of hiccups on PC. If persisting, Steam's "Verify Files" feature may resolve issues tied to local files, while Microsoft Store users should complete a full reinstall.
Unable to crouch while moving
Halo: Reach PC restricts players from crouching while moving their character. To crouch, players must stand still, before pressing the assigned crouch key. Microsoft states this is a legacy issue stemming from the Xbox 360 release when moving and crouching simultaneously were unnatural via the gamepad. The team is "currently testing and prototyping potential alternative solutions to address the community's feedback," expected with future updates.
Main menu performance bug
The Halo: The Master Chief Collection menu may demonstrate poor performance across some setups. "We are investigating on our end but need more data points of this issue," said a Microsoft representative. "If you are experiencing this problem, please visit the Halo Support site and create a ticket."
Other miscellaneous issues
When using Bluetooth-connected headphones with Halo: Reach PC, users may lose audio after opening the game's main menu. Microsoft has acknowledged the issue, attributed to how the title prioritizes devices, with a simple step-by-step fix available.
When a capture care is designated as the default audio input device, PC audio will transmit over the voice channel.
Halo: Reach PC Campaign bugs and issues
Tip of the Spear performance drops
Microsoft has acknowledged some players may experience cutscene performance issues throughout Tip of the Spear when using AMD hardware. While no formal fix has been provided, expect a fix moving forward.
ONI: Sword Base not loading
The game's second playable mission ONI: Sword Base won't load for some players. Microsoft is yet to acknowledge the issue, although appears to be affecting a handful of unlucky PC users.
Latency during Campaign co-op
Cooperative multiplayer Campaign sessions may cause drastic input lag for all connected players, besides the session host. Microsoft has acknowledged the issue facing some players, although it was unable to promise a significant fix. "Co-op campaign play uses P2P networking and we're aware that some players are reporting high latency and a poor experience when playing Campaign together," a Microsoft representative states. "This is an area the team will continue to monitor but given the complexities of P2P networking and the underlying net code of Reach, the extent to which this issue can be addressed is still TBD."
Miscellaneous Campaign issues
Character models may temporarily desync after performing an assassination.
When playing cooperative multiplayer modes, entering an elevator may activate an unintended falling animation.
Halo: Reach PC Multiplayer bugs and issues
Slow multiplayer matchmaking (Fix deployed)
While Halo: Reach PC multiplayer connectivity has proven relatively stable from launch, many report issues with slow online multiplayer matchmaking, paired with the "Connecting Session" message, attributed to the relays feature. Microsoft has deployed a fix for relays blocking matchmaking, pledging to continually "monitor relay performance and matchmaking" in the near term.
Workaround: Microsoft claims to have fixed relays impacting matchmaking for Halo: Reach PC. Otherwise, it advises players to turn off relays via the Halo: Reach "Network Settings" menu, to disable the feature.
Halo: Reach PC Steam bugs and issues
Steam friends don't display in-game
Halo: Reach PC won't display Steam friends via the in-game roster unless also added on Xbox Live. You can only join Steam friends via the Steam client, rather than the in-game menu.
Workaround: Join friends through Steam's integrated friends list.
Halo: Reach Steam Achievements fail to unlock
Halo: Reach PC players report some Steam Achievements failing to unlock, even after completing required milestones in-game.
Existing Xbox achievements missing from Steam
Halo: The Master Chief Collection hits PC with cross-platform achievements, allowing existing Xbox unlocks to translate to Steam Achievements upon linking your Xbox Live account. Some users report that existing Xbox Achievements may fail to transfer between platforms accurately.
Uninstalling Halo: Reach Steam breaks Microsoft Store install
If Halo: Reach PC is installed on the Microsoft Store alongside the Steam version, uninstalling the Steam version will remove the Easy Anti-Cheat client, and rendering the Microsoft Store game unplayable.
Workaround: Microsoft recommends players uninstall and reinstall Halo: Reach via the Microsoft Store if encountering this issue.
Missing Language Packs
When launching Halo: Reach PC is launched via Steam in Portuguese, Chinese, Japanese, or Korean, required Language Packs may not automatically install. Microsoft has acknowledged the issue, providing a simple step-by-step fix.
Halo: Reach PC Xbox Live and Microsoft Store issues
Halo: Reach PC fails to launch via Microsoft Store and Xbox App
Halo: Reach PC may fail to launch when installed via the Microsoft Store. This can be attributed to a variety of potential causes, both after purchasing the game or using Xbox Game Pass. Some report Halo: Reach launching only when opened via the Start menu, rather than the Microsoft Store, and Xbox apps. Microsoft has acknowledged the issue, working with the Xbox Game Pass team, stating a "hotfix is expected soon."
Workaround: Open Halo: Reach PC via Windows Start menu, over the Microsoft Store or Xbox apps.
Halo: Reach PC fails to download from Microsoft Store
Halo: Reach PC may fail to download, labeled as "Pending" from the Microsoft Store. Signing in to the Microsoft Store a second time, or clearing your Microsoft Store cache, may provide fixes, as detailed step-by-step here.
Have we missed issues you're experiencing with Halo: Reach for PC? Let us know in the comments section.
Remember Reach (Again)
From the beginning, you know the end

Though not perfect, Halo: Reach's PC port is well-done, and its quality should excite fans about the other Halo games coming to the platform in the future.
Get the Windows Central Newsletter
All the latest news, reviews, and guides for Windows and Xbox diehards.
Matt Brown was formerly a Windows Central's Senior Editor, Xbox & PC, at Future. Following over seven years of professional consumer technology and gaming coverage, he's focused on the world of Microsoft's gaming efforts. You can follow him on Twitter @mattjbrown.