Live from the Microsoft Forum at Computex Taipei!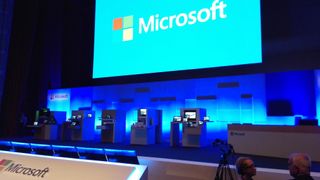 We're at the Taipei international Convention Center for Microsoft Forum, where the software giant will talk about Windows 10, highlight the latest hardware and discuss strategy for its upcoming operating system. With Windows 10 launching on July 29, Microsoft will no doubt showcase hardware based on the upcoming operating system at its press conference.
Nick Parker, Microsoft's Corporate Vice President for device partnerships, will be kicking things off at 2PM China Standard Time, which is 2AM EDT on the East Coast of the United States, 7AM in London or 11:30AM IST for those tuning in from India. We'll be covering the event live, so be sure to follow our liveblog below for all the updates!
Windows Central Newsletter
Get the best of Windows Central in your inbox, every day!
Harish Jonnalagadda is a Senior Editor overseeing Asia for Android Central, Windows Central's sister site. When not reviewing phones, he's testing PC hardware, including video cards, motherboards, gaming accessories, and keyboards.
It's now 3am on the east coast. Any link to a live stream or blog?

The liveblog was in this post.

And where can we tune into it??
I mean throught what media??

Here. There doesn't appear to be a live stream.

We're so good to you we flew from the UK to Taiwan to cover the event!

Ahaa... What can i say...!!!
Thank you and hats off for ur job too...

Don't forget to try some stinky tofu while you are there. It's much better than it smells...

Lol, that makes it sound more appetising now :P.

Taipei international Convention Center........I remember attending some Microsoft conference held there several years ago when I still worked in Taiwan Microsoft.......

Might even be the same even a few years on! Microsoft usually throws something pretty big here, we just never made the trip before. Until now :)

It's a pity that the live text doesn't seem to fit phones - text is cutting off. Oh well, viewing it discreetely on my work pc...

Sadly my phone is my only available internet connected device atm, so its hard to go back and read what I missed. It seems to be designed in such a way that it does not scroll when using touch input and the pagination buttons are pushed off screen when the feed updates with new content.

.......but...but...but....but...wen in India lol. The India joke should be getting boring by now. I wonder if they'll show us the latest builds with all the features that are yet to be present with the slow/fast rings

Not that kind of show, but you never know!

Here we go! The refreshing of our Windows Central feeds has begun. Also Harish, thanks for including start time in IST.

Where is this live blog? I went to the website and there is nothing on It. Your website is crap in the windows 10 mobile browser, btw. Tiny text.

The live blog is in the post you just commented on. If you're using the W10 preview then maybe it's the browser that's broken.

Oops..i typed the url and went to the main site. Mobile site is fine. My apologies lol

Where is the Traditional Chinese version Cortana inTaiwan !!!

Harish. You posted IST as well.. :)

Flagship! http://lumiaconversations.microsoft.com/2015/06/03/the-new-nokia-105-hel...

Is Microsoft going tell more about flagship WM10 phones?

Where can I see the entire video for today's event?