LiveGaming updated with ability to follow Twitch streams, improved chat and more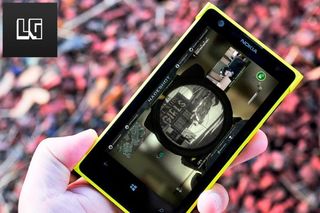 Twitch doesn't yet have an official app on Windows Phone. Which is exactly why you should check out LiveGaming if you want a solid Twitch app. It's been out for about a month on Windows Phone and just picked up a nice update (in addition to 11,000 plus users). Let's check out what's new in LiveGaming.
LiveGaming in late November for Windows Phone. That initial version brought all the features you'd want in a Twitch client for Windows Phone. Viewing streams, comments, and more was fully supported in that initial version. Today we're looking at version 1.1.0.0 in the Windows Phone Store. Here's what's new:
Full Current Channel Emoticon and Chat Color Support! Kappa!
Chat Experience Settings (Backgrounds, Chat Button - Auto Hide etc)
Follow Channels
Fixes for "Stream Offline" when it is live
General Bug Fixes
16:9 Background Support
New Theme
This update for LiveGaming makes a great app even greater. In this update you can follow channels you discover and more. There are also general bug fixes and a fix for a live stream showing as "stream offline". Cosmetically you'll find support for 16:9 and a new theme.
All in all LiveGaming is your best bet for Twitch on Windows Phone. It's also free, although you can donate to the developer in the LiveGaming settings (definitely recommended to show your support). Pick up LiveGaming in the Windows Phone Store.
Windows Central Newsletter
Get the best of Windows Central in in your inbox, every day!
That was quick ;) but we need a wp streaming too:)

Pretty cool app. Didn't even know we had it

I contacted the dev of this app regarding the new red background and also the colour the text when changing stream quality (you can't see the words because its black) He, impressively, got back to me within the hour. Here's what he said - "I'm glad you're enjoying the app so far, sorry to hear not everything is as you would've preferred it. Everyone that donates a buck ($1) will get 3 themes at the next update but ill also revert the default theme to something more neutral; (I wanted something that fits the season ;)) Thanks for your suggestions and i'll definitely put them in for you."

Yep, the dev is a champ. Donated because I was so impressed.

Much appreciated mate ;))

Yessss ! As a Dota 2 player ;)

Exactly have to see who's winning the game to secure my rares

Microsoft really should buy Twitch, lock it out from PS4 and have another great exclusive for Xbox One.

Microsoft would find a way to ruin it

Exclusive social networks suck.

Why do gamers always need to be divided by what platform they play on?

Wp has unofficial apps better than official apps...

Yes people, such as my friend, bitch that they want oficials...

If only Microsoft improved the Store to better highlight these apps... I know Instagram was something we were all waiting for, but apps like 6tag and Instance can be perfect alternatives. If they are not, it's because Microsoft doesn't have the balls to dedicate a specific section of the store to high quality unofficial apps. They could also star these apps as "recommended for Instagram users" or "best Instagram client on Windows Phone". I don't give a toss about having official versions of social networking apps that have APIs, whether they be publicly available or not. I think it's high time Microsoft stop paying companies to make apps available to us and start giving huge credit to the devs working their nuts off to get them here now.

Couldn't sign up new account within the app. Didn't show any Capcha box.

Just go to official twitch website, sign up there, then log in on this app

Awesome! Love it. Donated :)

Thanks! Much appreciated mate ;))

Asphalt 8 is suddenly cheaper....for anyone who wants to have that...

Is it possible to watch archived videos with this app?

Unfortunately Twitch does not make the VODs available over HLS so it is not currently possible in the app.
Windows Central Newsletter
Thank you for signing up to Windows Central. You will receive a verification email shortly.
There was a problem. Please refresh the page and try again.