LOD Tactics, a space combat game for Windows and Windows Phone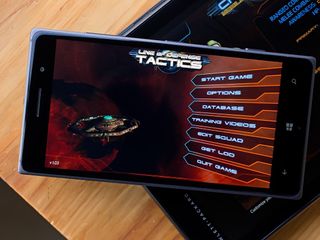 LOD Tactics is a combat game that is available for both Windows 8 and Windows Phone that focuses more on team strategy than run and gun tactics. LOD Tactics (short for Line Of Defense Tactics) has you commanding a team of four Galactic Command marines as they battle their way through various missions.
Available for low-memory Windows Phones, the game has sixteen missions (first three are free), which are based on the Line of Defense comics. Your four-man team can be trained to improve their skills, upgrade and improve their weapons and give their stats a boost as missions are completed.
LOD Tactics has a bit of a Halo Spartan feel to it and while it's not a difficult game to pick up, you may need a little time to get used to the gaming controls. LOD Tactics has seen a decent amount of success over on iOS and Android platforms, as well as being a popular online MMO game. After tackling a few missions, the gaming title should do well in the Windows environment.
The main menu for LOD Tactics has plenty to keep you busy and the options include:
Jump into game play
Access the game's options that cover graphics quality, resetting the game, viewing the credits and restoring IAPs.
Access the LOD Database that will provide background information on ships, androids, carriers and characters that you will encounter during game play.
Access to training videos for game play (via LOD's YouTube account)
Ability to edit your LOD squad as far as gear, training and skills.
Visit the LOD website
Quit the game
Game play is spread out across sixteen missions that take place on space stations, starships and planetary battlefields. You also have a skirmish mode where you defend your position against endless waves of attackers. Obviously, the goal with the skirmish mode is to stay alive for as long as possible. Mission objectives vary and are outlined at the beginning of game play.
Game movement is a little on the tricky side and will take a little time to get used to. Luckily, tutorial windows will pop-up from time to time to help guide you through the gaming mechanic. Unfortunately, these pop-up windows have teeny tiny print.
Missions involve 2-4 marines that you command. The gaming screen for space station and planetary battles opens with a wide view of your environment and troop location. You can pinch to zoom in for a closer view of your troops and rotate the view with two-finger touch. You will have icons running along the right side of the screen for your marines and a settings cog in the upper right corner of the screen.
The settings cog will offer up options to end the game, view your mission objective, access the help screens and adjust the sound effects/screen sensitivity levels.
Troop movement has plenty of options and can be a little confusing at times. Here are some of the options available for both movement and actions.
.You can tap/hold on a marine and drag to a point on the screen where you want them to move to. You can also use this option to direct them to attack an enemy by dragging the line to a target (the line will turn red) you wish them to attack.
.You can tap on a marine's icon to pull up a series of actions and a movement radius. Tap anywhere in the movement radius to direct their movements, throw grenades, move stealthy or defend a position.
.Tap on multiple marine icons to move part of the group in the same direction.
You also have an option to "move all" when you tap on a marine's icon or the marine itself which will tell the entire group to head to that point. Honestly, LOD Tactic's movement controls aren't overly complicated, but it may take a little time to get used to the mechanics.
One aspect that does not help with the gaming mechanics is the screen does not auto scroll as your team moves. I'm not this could be possible in that you can send members of your team in opposite directions. The end result, though, is a lot of touch scrolling as you play LOD Tactics. There is also a lot of tapping going on and luckily as you are setting up your moves, the action pauses. Otherwise, your enemy would cut you in half while you are trying to decide where you want your marines to go.
Movement is similar when piloting a starship or armored tanks. Weapons and shield controls are positioned in the lower right corner of the screen.
Characters will be able to upgrade weapons and skills as they earn experience. You also have some characters that specialize in certain fields such as Mash who is your team's medic and Thumper who is your heavy gunner.
Overall Impression
Game play with LOD Tactics can be a little frustrating and time consuming. While you can command your team to run through the battlefield shooting at everything in sight, you will not go far with this tactic. Instead, success with LOD relies on more of a strategic approach to destroying your enemy.
From moving to positions of cover to using stealth moves to surprise your enemy LOD Tactics does require a little patience and more calculated movement than other combat games.
I would have liked a more simplistic method of guiding your marines around the game. I often found myself tapping when I should have dragged and in doing so, pull up action options I didn't need. I also wasn't too keen on the graphics. LOD Tactics isn't too shabby on the graphics department but the scaling is way too small. I would have preferred characters scaled to about what you see with Dredd vs. Zombies. Maybe even the movement controls too.
The game seemed better suited for a larger screen than what our Windows Phones can offer. The bad thing about moving to the larger screen of a Windows Phone device is the cost, which brings me to another issue this game will face.
LOD Tactics is listed as a free game in the Windows Phone Store but that will only get you access to the first three missions. The additional missions will cost you $4.99 and to unlock the skirmish mode will cost you an additional $1.99. Then you have the Windows 8 version that is $9.99 and lacks a trial version. I couldn't help but feel that there needed to be better consistency in the pricing, plus it may be a little on the high side.
In just looking at the game itself, LOD Tactics has nice graphics (all be it tiny graphics) and challenging game play. The pace is a little slower because of the strategy element but that's not necessarily a bad thing. I can see the appeal LOD Tactics may have for some but suspect the ardent follower of LOD may walk away a little disappointed. If you give LOD Tactics a try, let us know what you think in the comments below.
Get the Windows Central Newsletter
All the latest news, reviews, and guides for Windows and Xbox diehards.
George is the Reviews Editor at Windows Central, concentrating on Windows 10 PC and Mobile apps. He's been a supporter of the platform since the days of Windows CE and uses his current Windows 10 Mobile phone daily to keep up with life and enjoy a game during down time.