Logitech G903 review: A serious optical gaming mouse with inductive wireless charging
The Logitech G903 wireless gaming mouse brings a top of the line optical sensor and some unique features like inductive wireless charging, but it's not quite worth the upgrade from the already excellent G900.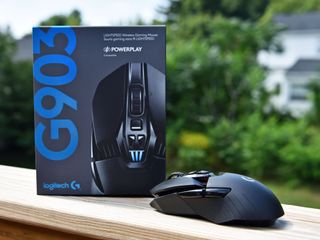 (Image credit: Windows Central)
The gaming mouse industry is one of the more aggressive with gimmicks and tricks that supposedly make gamers better than they are (or can be). The new wireless Logitech G903 ($149) is a spinoff of the now cheaper G900 ($115) and only adds a few new features that make it worth considering.
I've been using the G903 for the last few weeks and while impressive the value play over the G900 is tough to make.
About this review
The Logitech G903 was purchased from Amazon along with a preorder for the Logitech Powerplay Wireless Charging System. Pricing for the G903 was $149.99 at the time of purchase but has since dropped to $138. The Powerplay mat retails for $100, but there is no release date yet for the optional accessory.
See at Amazon (opens in new tab)
Optical is king
Logitech G903 specifications
The biggest difference with the Logitech G903 when compared to the new Razer Lancehead comes down to the sensor. The G903 opts for the PMW3366 optical sensor, which is widely considered to be the most accurate in the world compared to Razer's 5G laser type.
Swipe to scroll horizontally
Category
Specification
Sensor
PMW3366 optical
Resolution
200 – 12,000 dpi
40G acceleration
400 IPS
Wireless tech
1000 Hz (1ms)
2.4GHz wireless dongle
Optional wired play via micro USB
Buttons
Metal spring tensioning with "bounce back"
Eleven independently programmable buttons
Replaceable side buttons
50 million clicks
In the box
Replaceable side buttons
Wireless receiver
Braided USB cable
10g weight and carrying case
Customization
On-The-Fly Sensitivity Adjustment
RGB lighting
Yes; 16.8M colors
Materials and design
Ambidextrous design
Optional 10g removable weight
All plastic materials
Software
Logitech Gaming Software
Dimensions (L x W x H)
130 x 66.5 x 40.4 mm (5.13 x 2.62 x 1.59 in)
Weight
3.88 oz (110 g) mouse only (Excluding cable)
Battery life
Approximately 24 hrs with RGB (32 hours without)
Aggressive but a looker
Logitech G903 design
The look of the G903 is more aggressive than the Razer Lancehead with what I would call a more gamer aesthetic. There are sharp angles for the buttons, lots of divots, and a more spaceship vibe than a traditional mouse. The all-black design though hides some of the more garish aspects, and it looks quite nice all around.
Although Logitech boasts some RGB lighting, it is really on the "G" logo on the back that glows and shifts between the 16.8 million colors. While it contrasts very well with the jet-black body, it's not quite as cool as Razer's Chroma lighting. Users can, of course, customize or even disable the lighting via the Logitech software.
Image 1 of 2
The all-plastic design makes the G903 feel a bit cheap, but it also results in a relatively light mouse as well. The top left and right buttons have a loud click to them that some will prefer, while others may find aggravating. Users though can peel open a small door on the bottom of the G903 and put in a 10-gram weight, which I appreciate and prefer. It's a bit tough to get that door open or remove the weight, but at least it's there.
For ergonomics, I would rate the G903 as excellent. The rounded palm area in the back nicely fills the hand when using it without disrupting the natural flow of movement.
There are, in theory, four side buttons, but unlike the Lancehead the G903 lets you hide two of them. That makes sense as side button the right side if you are right handed is not very useful. As a result, you can peel the buttons off and put a cover on instead. Users can swap these out too so that left handed users can experience proper button placement as well.
Those side buttons are excellent too. They're prominent and large enough that I never had to struggle to feel them whether browsing the web or switching weapons in my favorite first-person shooter.
The scroll wheel is significantly clicky with precise movement. Being Logitech, however, the company has added release button that lets the wheel shift to free spin. While I never use such a feature, I understand that many do and since it's optional, it's great to have just in case.
On the bottom, the G903 is exceptionally clean with just the Logitech and G903 branding in blue. It looks great. There is also a switch to turn the mouse on or off but no compartment for the 2.4GHz wireless dongle, which is a bit weak.
Look ma, no hands
Compared to the Logitech G900 and POWERPLAY charging
The Logitech G900 is considered by many to be one of the best wireless gaming mice on the market. The PMW3366 optical sensor is highly regarded in the gaming community, and that same technology is found in the G903.
In fact, the G903 is the same as the G900 save for a few minor differences. There is the new "Lightspeed Wireless" which sounds a bit like Razer's Adaptive Frequency Technology (AFT) but doesn't go quite so far in its claims. Logitech calls its optimization "Frequency Agility Mechanism" and says that is has a signal strength up to 16x (12dB) higher than the competition. It's Frequency Agility Mechanism sounds like it does what Razer's AFT does by helping avoid cluttered wireless channels.
One of the cooler features of the G903, however, is support for Logitech POWERPLAY. Instead of recharging the wireless mouse every 24 hours the optional $99 POWERPLAY mat uses inductive wireless charging to keep the mouse's non-replaceable battery charged up. It also doubles as the 2.4GHz dongle, so you don't need to sacrifice two USB ports, which makes sense.
Unfortunately, that POWERPLAY mat is not yet available so I could not test it. While I am very intrigued by the idea of a wireless charging mat for a gaming mouse the combined price of $250 for the entire kit is very steep for the privilege.
Finally, there is the previously mentioned optional 10-gram weight that you can add to the G903. I like this feature although I have seen Lenovo do it with multiple smaller weights letting users "customize" how many grams are added versus 10 grams or nothing. Still, I prefer the more solid feel of a weighted down mouse, so that's a win for the G903.
Whether all of that is worth the extra $35 for the G903 versus the G900 is tough to say. I think if you have a lot of wireless interference in your room or just want the best signal response theG903 is the way to go, but it's not a cheap expenditure.
The good news is while the G903 is in some ways a minor refresh over the G900 it doesn't feel any worse either.
Ugh, the software
Using the Logitech G903
My biggest gripe with the G903 has more to do with the Logitech software, which is needed to control its more advanced features. While the software has the right configuration options it is not meant for high DPI display making all the menus and text very tiny. It's like running a Windows app from five years ago on a modern PC – it just feels dated and makes the user experience frustrating. In fact, I want to avoid Logitech's software altogether, but for such an expensive and configurable mouse it's hard to ignore it.
Image 1 of 2
The G903 as a mouse, however, is very good. I find the overall feel of it in hand very pleasant, and while I struggle to "feel" a difference between a 5G laser and optical mouse, there was never a moment where I found the precision or wireless experience any worse. In fact, it performed quite well for gaming and productivity tasks on the Surface Studio with is very high-resolution display.
Charging and setting up the G903 was a breeze and familiar too. There is the 2.4GHz dongle that also comes with an adapter so that you can re-use the micro USB braided cable to quickly swap between charging (wired setup) and going wireless. The included carrying case for the dongle and extra 10-gram weight is also a nice touch, but I do prefer just putting the dongle into the mouse body for travel, something that cannot be done here.
The super clicky buttons and scroll wheel are also near the top of this category as well resulting in an enjoyable and intuitive experience.
While I am intrigued by that wireless gaming mat, I'll have to revisit the topic later when it finally ships to see if the convenience is worth the extra $100. As with all wireless gaming mice, you will have to charge the G903 every other day, which is standard for a mouse with 1ms response time and high DPI.
Finally, that DPI is great at 12,000 although it falls below the Razer Lancehead, which is capable of 16,000 even when wireless. While most people will never use 16,000 DPI for those with larger, 4K or higher displays, the option can be useful for certain tasks. Either way, most gamers I talked to would rather have the Logitech's optical sensor over higher DPI.
Not a revolution
Logitech G903 is an excellent purchase, less so as an upgrade
The G903 is an excellent all-around mouse with some impressive technology in it. Whether you are using it for competitive gaming or just around the office the wired/wireless options are exceptional, and the overall design and ergonomics are outstanding.
The ability to charge the G903 through inductive wireless charging with an optional $99 mat is neat, but it's unclear if the value play and convenience are worth the hefty investment.
If you have a gaming mouse from a few years ago and are looking to step up to something newer I find the G903 to be an excellent choice. I'm not quite certain it's better than the Razer Lancehead, but it is certainly not any worse. Most of the difference seems to come down to design preference, aesthetics, brand loyalty and some ingrained ideologies on sensor types. Interestingly, the G903 was originally more expensive than the Lancehead, but Logitech has since dropped the price to match it.
For those with a Logitech G900 already in use, the G903 does not make much sense as an upgrade unless you just have money to burn, or you're a competitive eSports player who just needs the best gear around.
If you do manage to grab the G903 though, you are getting one of the top PC mice on the market and putting aside price there are no fundamental flaws or deal-breakers with it. The G900 was already a high point for gaming mice and as the G903 demonstrates it's hard to improve upon a winning formula drastically.
See at Amazon (opens in new tab)
Pros:
Top tier optical sensor.
Excellent performance wired or wireless.
Very good side and top buttons; scroll wheel options and ergonomics.
Ability to add weight improves overall feel.
The potential for inductive wireless charging mat is intriguing.
Cons:
Very plasticky feel with mediocre RGB lighting.
Needs recharging every other day.
Dated software.
Windows Central Newsletter
Get the best of Windows Central in in your inbox, every day!
Daniel Rubino is the Editor-in-chief of Windows Central, head reviewer, podcast co-host, and analyst. He has been covering Microsoft since 2007 when this site was called WMExperts (and later Windows Phone Central). His interests include Windows, laptops, next-gen computing, and for some reason, watches. Before all this tech stuff, he worked on a Ph.D. in linguistics, watched people sleep (for medical purposes!), and ran the projectors at movie theaters because it was fun.
Looks like Batman's gadget.

I have the G703 which suits my needs, and the wireless charge mat is an amazing bit of kit. Glad I got them

How is it compared to the G9x? Because I'm still waiting for a worthy successor.

Glad that you are starting to call out companies on lacking high DPI support :)

Have the entire setup replacing my notoriously empty G700 ( not the G700S ) and I'm very satisfied with the wireless charging feature.
Though unlike it's intended use I have the Powerplay on a nightstand to charge the mouse while I'm sleeping and the mouse is not in use.
Go to bed, place the mouse on the mat and be done ( have to do this anyway as otherwise moving it while sleeping would wake up the PC ) Not TOO much of a fan of the ambidextrous design of the mouse itself when comparing it to my long-term favorite the G700 which not only has more buttons to begin with but all of them are easier to reach to boot ( unless you're a leftie ). If they keep rolling with the Powerplay feature for future mice or a revamped G703 I'd probably jump ship to it in a heartbeat.

Lancehead Wireless is a garbage mouse, because it has a laser sensor. DO NOT buy it for gaming. If you really want it, buy the wired tournament version with an optical sensor. And even then, you'd be kind of wasting your money, because there are so many better mice (in terms of shape, price, performance) on the market.

Just a quick note regarding the Logitech Gaming Software (LGS) on a high dpi monitor, you can change it to scaling performed by system (enhanced) which makes it easier to read! Right click the Lcore.exe in the LGS folder (in Program Files on system drive) and choose properties, click the compatibility tab, choose override high dpi scaling behaviour, choose scaling by system (enhanced) in the drop down menu and click apply. A quick reboot and bingo, the LGS stuff is now a lot bigger and easier to read!
Windows Central Newsletter
Thank you for signing up to Windows Central. You will receive a verification email shortly.
There was a problem. Please refresh the page and try again.