Logitech G920 vs. G29: Which Driving Force racing wheel is right for you?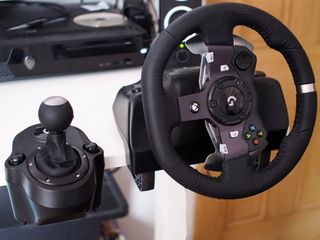 (Image credit: Windows Central)
Logitech G29
Best overall

Compared to the G920, the G29 is better — unless you happen to be using an Xbox One instead of a PlayStation 4. The only aspect of it that's disappointing is the style, but that's subjective anyway.
For
Compatible with PlayStation 4 and PC
Same build quality as the G920
More features
Against
Not compatible with Xbox One
Looks worse
Logitech G920
Xbox friendly

The Logitech G920 is a slightly worse version of the G29. It's still a fantastic wheel, though, and it's the only Logitech option available for Xbox One users. However, if you play on PC, you'd be better off with a G29 in terms of overall performance.
For
Compatible with Xbox One and PC
Built well
Looks great
Against
Lacks features
Not compatible with PlayStation 4
If you're using an Xbox One, then the Logitech G920 should be your choice since it's actually the only option available for Xbox One from Logitech. However, if you play on PlayStation 4 or PC, then the Logitech G29 is the better choice.
Logitech G920 vs. G29: Compatibility against quality
This match-up is a tale of compatibility versus quality. If the Logitech G29 worked with the Xbox One, it would be the better option without a doubt. However, it's only compatible with the PlayStation 4 and PC, leaving Xbox players with the G920 as their only option from Logitech. However, that isn't to say the Logitech G920 is a bad wheel — in fact, when it comes to standard functionality, the two wheels are identically fantastic.
They're identical in a lot of ways as well. They're both made out of the same materials and have a hand-stitched leather steering wheel with excellent 900-degree rotation. They're both around the same size and are both durable and comfortable to use. It's also possible on both to add accessories like foot pedals if you want to spruce up your setup.
| Spec | Logitech G920 | Logitech G29 |
| --- | --- | --- |
| Compatibility | Xbox One, PC | PlayStation 4, PC |
| Materials | Steel, aluminum, leather, nylon, thermoplastic | Steel, aluminum, leather, nylon, thermoplastic |
| Rotation | 900 degrees | 900 degrees |
| Features | Dual-motor force feedback, hall-effect steering sensor, overheat safeguard | Dual-motor force feedback, hall-effect steering sensor, overheat safeguard, RPM lights, adjustment buttons, and knob |
However, the G920 starts to lose this battle in the smaller details. The G29 wheel has a handful of features that the G920 lacks. This list includes revolutions-per-minute (RPM) lights that indicate when the player should shift into a new gear. You'll also get plus/minus buttons and a control knob that help the player make small internal adjustments to their vehicle. When you pair that with the fact that the G29 is significantly less expensive, it's easy to see why it's the better wheel.
Then there's the outward appearance. We don't think that the bright red and blue accents of the G29 look great, but that might be appealing to you. The G920 is just sleeker and more minimalist, which makes it look cleaner overall, but are the G920's better aesthetics worth losing features and paying more? Unless you use Xbox One, the appearance is the only reason you'd want a G920 over its higher quality cousin.
Logitech G920 vs. G29: Which should you buy?
Honestly, if you use a PlayStation 4 or a PC, then the Logitech G29 is easily the wheel you should buy. Aside from looks, it's objectively better than the G920.
However, don't feel too bad if you're on an Xbox One. Despite lacking some features, the Logitech G920 is still a fantastic racing wheel controller that won't let you down. It just doesn't have a lot of features that avid racing game fans might appreciate.
Best overall
Logitech G29
Simply the best

Due to the extra features, the G29 is by far a better option than the G920, provided you aren't using Xbox One.
Xbox friendly
Logitech G920
Still a great choice

While the lower number of features is annoying, the Logitech G920 is nevertheless the best (and only) Logitech racing wheel for Xbox One.
Brendan Lowry is a Windows Central writer and Oakland University graduate with a burning passion for video games, of which he's been an avid fan since childhood. You'll find him doing reviews, editorials, and general coverage on everything Xbox and PC. Follow him on Twitter.
Windows Central Newsletter
Get the best of Windows Central in in your inbox, every day!
Thank you for signing up to Windows Central. You will receive a verification email shortly.
There was a problem. Please refresh the page and try again.