Logitech X100 Review: A good, affordable mobile wireless speaker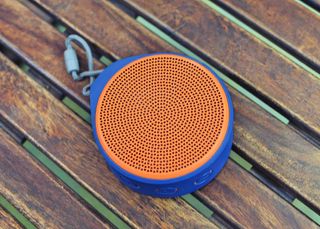 There are a variety of portable speakers in the market now that are good enough to fill a room to kick off a party or a conference call anytime.
The Logitech X100 is a decent, affordable option that provides a decent output and is small enough to slip into any bag. It doesn't rival large speakers or even the premium portable speakers in features or sound quality, but a nicely designed, compact speaker at the price it comes at is definitely interesting.
Design
The Logitech X100 is almost the size of a bigger donut and weighs around 161 grams. The device is made of soft-feel polyurethane, and the rubberized exterior is rugged enough for casual daily usage and a few bumps here and there. It's not waterproof or anything though. Available in several vibrant colors, the X100 looks pretty stylish.
The cylindrical device has a speaker grill on the top and hidden behind the grill is the notification LED. There are four buttons – power button, Bluetooth button, and volume up/down buttons. There's also an AUX input port if you wish to connect it using a standard AUX cable instead of over Bluetooth. As is common, there's a microUSB port for charging the device, which is convenient. The wall charger is not included in the box, mind you.
The speaker includes a hook with a small cord, to hang it from a backpack or something. It's a neat little design twist that is useful, and looks slick.
Performance
For its size, the Logitech X100 has a pretty good sound output, both in sound reproduction as well as volume. The sound is rich and crisp, and easily fills the room better than some expensive portable speakers. It's a non-stereo speaker, but the performance is pretty good. Again, most of these devices wouldn't please an audiophile, but it's a folly to expect most portable speakers to satiate one.
The speakerphone is a disappointment though. The sound output is muffled in a strange way, and the person at the other end of the call had a hard time hearing me in most cases. It works just about fine when it's quiet indoors though.
Well I quite liked that I was able to get the claimed battery life of 5 hours, pumping the speaker at full volume, it's still below average. The charging though is pretty quick, and you'd be able to charge it back to full capacity within an hour. The wireless range is limited as well, and carrying the phone to just the next room didn't work sometimes.
Summary
While the speaker struggles as a utility device to take calls, it offers pretty good music playback. The compact, cylindrical box gives it a nice retro look. Priced at $49 in the US, £49 in the UK, and ₹2,995 in India through various retailers (such as Amazon.com), the wireless speaker is available at a discount at most stores, and is definitely a great device for the price despite a few compromises here and there.
Get the Windows Central Newsletter
All the latest news, reviews, and guides for Windows and Xbox diehards.