Logitech X100 Review: A good, affordable mobile wireless speaker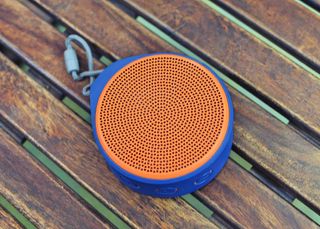 There are a variety of portable speakers in the market now that are good enough to fill a room to kick off a party or a conference call anytime.
The Logitech X100 is a decent, affordable option that provides a decent output and is small enough to slip into any bag. It doesn't rival large speakers or even the premium portable speakers in features or sound quality, but a nicely designed, compact speaker at the price it comes at is definitely interesting.
Design
The Logitech X100 is almost the size of a bigger donut and weighs around 161 grams. The device is made of soft-feel polyurethane, and the rubberized exterior is rugged enough for casual daily usage and a few bumps here and there. It's not waterproof or anything though. Available in several vibrant colors, the X100 looks pretty stylish.
The cylindrical device has a speaker grill on the top and hidden behind the grill is the notification LED. There are four buttons – power button, Bluetooth button, and volume up/down buttons. There's also an AUX input port if you wish to connect it using a standard AUX cable instead of over Bluetooth. As is common, there's a microUSB port for charging the device, which is convenient. The wall charger is not included in the box, mind you.
The speaker includes a hook with a small cord, to hang it from a backpack or something. It's a neat little design twist that is useful, and looks slick.
Performance
For its size, the Logitech X100 has a pretty good sound output, both in sound reproduction as well as volume. The sound is rich and crisp, and easily fills the room better than some expensive portable speakers. It's a non-stereo speaker, but the performance is pretty good. Again, most of these devices wouldn't please an audiophile, but it's a folly to expect most portable speakers to satiate one.
The speakerphone is a disappointment though. The sound output is muffled in a strange way, and the person at the other end of the call had a hard time hearing me in most cases. It works just about fine when it's quiet indoors though.
Well I quite liked that I was able to get the claimed battery life of 5 hours, pumping the speaker at full volume, it's still below average. The charging though is pretty quick, and you'd be able to charge it back to full capacity within an hour. The wireless range is limited as well, and carrying the phone to just the next room didn't work sometimes.
Summary
While the speaker struggles as a utility device to take calls, it offers pretty good music playback. The compact, cylindrical box gives it a nice retro look. Priced at $49 in the US, £49 in the UK, and ₹2,995 in India through various retailers (such as Amazon.com (opens in new tab)), the wireless speaker is available at a discount at most stores, and is definitely a great device for the price despite a few compromises here and there.
I want one with QI charging and Bluetooth.

Get the Nokia MD-12. Much better and has Bluetooth and NFC. Wicked base too for such a tiny device and 12-15hrs battery too. Daniel did a review a few weeks back too

Anyone have a comparison with this and the Nokia MD-12 and the JBL Micro Wireless?

I'd also like to see a comparison I've been thinking of getting a speaker for awhile even more now because I love telling Cortana to play stuff

It better be good because the JBL Micro is an amazing speaker..

I agree. I have one. I just wonder if these compare.

I can get a waterproof rugged speaker for $30 or less Posted via Windows Phone Central App

Don't forget to mention that it sounds like shit

Logitech is still alive and making services.

Looks like a yoyo. Might be cool to have on the desk unless you got a HTC ONE W8(M8).

I was considering one with NFC which this doesn't have, but got this one because it looked like it would pack a lunch, and it does. NFC is over rated for this kind of device as your phone will automatically detect when it's nearby anyway. It was the best in many stores nearby my home when I got it, haven't regretted.

I picked up the MD-12 after Daniel's review. I was so excited to try out the actuator-enhanced sound that I put it on top of the largest cabinet in my home. It was impressive - then I heard a loud crash. It had vibrated its way to the edge and fell about 7 feet onto the tile floor. There wasn't even a scratch or dent on it! Power cycled it and it started up just fine. I'm listening to it now. Gotta love that solid Nokia build!

How many people use wireless speaker ?

Lots do. I have a whole bunch of them.

This is one area where the new HTC W8 and specifically the Nokia 928 have advantages over other phones. The Nokia 928 can output sound with its built in speaker louder than some of these more inexpensive solutions. However, these devices are handy, even if you don't think you would ever use them. From listening to sports or a podcast, there are times you will find use for one. The other thing that is FINALLY gaining BACK popularity is better Bluetooth headsets that have AD2P (even tiny single speaker devices) that you forget you are wearing, and with Cortana, they fill in all your personal listening experiences. *(I blame Apple for the BlueTooth drop the industry experienced, as MFRs dropped Bluetooth offerings when the iPhone started to have success and didn't support headsets - which at the time was almost laughable.) You also can find inexpensive Bluetooth headset devices, like the newer Motorola 'flip' series or even the newer Nokia devices. - I always go back to the Motorola Bluetooth headsets after 10 years of trying virtually every brand and configuration. Even with an HTC or Nokia phone, they are clear and reliable.

I had very useful portable speakers (made in china, yeah) but serves me good. Can accept micro Sd card slot, usb, AUX input.
Only for $ 7.2 (Rp. 85,000 in indonesian)

Made from used box?
Yeah i know, but it sounds horrible. Haha :D

Yeah but its kinda enough for portable speaker... Haha
Wait..used box?

how about comparing this to nokia's latest md-12 ?

Wow, for a change ₹2,995 is almost the same as the $49 price. Looks like people in the UK are getting shafted though.

Most competible and reliable speakers for iphones and outdoor/indoor parties : http://www.amazon.com/XDREAM-X-TEREO-Wireless-Bluetooth-Speaker/dp/B00P4...