LucidSound gaming headsets sound amazing — and look even better
LucidSound focuses exclusively on premium gaming headsets. At PAX South, we tried its super sexy headsets for Xbox One and other platforms and learned about some Xbox-specific headsets that are in the works.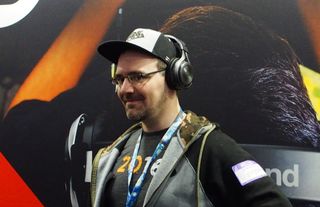 Meet LucidSound
Compared to other gaming-audio manufacturers, LucidSound is a very new company, having been around for less than a year. Its first product, the LS30 wireless gaming headset (opens in new tab), shipped in March 2016. The company was started by someone with plenty of audio experience. Chris Von Huben, who we spoke at PAX South, founded accessor-maker Triton before eventually selling it to MadCatz in 2010. After leaving Triton in 2014, he founded LucidSound.
LucidSound headsets are different from other gaming headsets in two ways. First, they look much nicer than other similar headsets. According to Von Huben, the typical headset flair of RGB lighting is impractical because the person wearing the headset can't see it. Inspired by Beats, LucidSound wants its headsets to be fashionable and cool rather than bulky and cheap looking.
Second, LucidSound headsets have easy-to-use, natural controls. You won't have to worry about in-line controls or fumbling around on the headset to find buttons. Simply twist the outside of the ear cup to adjust volume. Tap the outside of the ear cup to mute. The entire panel — not just some tiny portion of it — is a clicky, non-capacitive button. On the whole, the controls are easy to use and don't interfere with the great visual design of the headset.
We checked out all three of LucidSound's current headsets at PAX South. They're listed here, in order of cheapest to most expensive.
LS20 powered headset
The LS20 is a wired on-ear headset rather than an over-ear one. The advantage is size. This one is sleek and lightweight, perfect for people who find regular gaming headsets too bulky. It was designed with comfort in mind, too.
Like all of the LucidSound headsets, the LS20 features a removable boom mic, so you can wear it outside of the house as headphones without looking (too) silly. It also has presets for Xbox One and PlayStation 4 that ensure the best possible audio levels with each system.
Other features:
Amplified headset with rechargeable lithium-ion battery.
40mm speakers for booming bass, crystal-clear highs and bass boost.
Memory foam ear pads for enhanced comfort and innovative easy-to-use controls.
Playback and call controls for use as a mobile headset.
Solid metal construction for added durability.
The LS20 retails for $99.99, but you can find it for less at Amazon.
See on Amazon (opens in new tab)
LS30 wireless headset
The LS30, LucidSound's first headset, comes in two styles: black and silver, and white and gold. The gold is my favorite, and one of the sexier headsets I've seen. Both the LS30 and LS40 are over-ear headsets, but you can hardly accuse them of bulkiness.
One advantage the LS30 has over the LS20 is individual control over chat and game volume. These controls are mapped to the outer ring of each ear cup, so you just twist the appropriate one to adjust audio levels. On the LS20, you'd perform these adjustments through the Xbox One system menus.
Note that the LS30 is completely wireless for game audio, but Xbox One and PlayStation 4 voice chat still requires a cable to connect to the controller. They draw game audio via a wireless dongle that connects to the console's optical audio output.
Additional features:
Comfortable memory-foam ear pads and quilted head rail padding for extended game-play sessions.
Fresh design with premium materials and build quality.
Rechargeable, built-in lithium-ion battery delivers 15 hours per charge.
Variable mic monitoring lets you hear your own voice without shouting.
The LS30 retails for $149.99, but you can find it for less at Amazon.
See on Amazon (opens in new tab)
LS40 7.1 surround headset
The LS40 is the cream of the LucidSound crop, with full DTS Headphone X surround sound audio. Many surround sound headsets utilize Dolby Headphone, an older standard that doesn't stack up to DTS. DTS headsets include several standard audio profiles.
LucidSound makes additional enhancements within DTS's guidelines, even fine tuning its own drivers so the LS40 provides a different, better gaming sound than other DTS Headphones. Playing Battlefield 4 with the LS40 at PAX South, I was impressed by the directionality and quality of the sound the headset produces.
Comfort is the name of the game with the LS40, as the ear cushions feature protein leather on the outer shell and velour on their inner portion. Inside, they use a special memory foam that has been treated to reduce heat and sweat. They're extremely comfortable. The padded headband also has color cross-stitching that looks quite cool.
More features:
DTS 7.1 Surround Sound Wireless headset with rechargeable lithium-ion battery.
50mm speakers with booming bass, crystal-clear highs, and Multiple EQ/Surround presets.
Innovative easy-to-use controls.
Removable boom mic and internal mic with 3.5mm connection for use with mobile devices to manage phone calls, music and videos.
Universal Compatibility (Xbox Live requires included chat cable).
The LS40 retails for $199.99.
See on Amazon (opens in new tab)
Future fully-wireless Xbox headsets
All three of the LucidSound headsets I tried at PAX South are fantastic, but the wireless ones have one thing in common: they still require a cable to connect to Xbox One controllers for voice chat. That's a necessary design requirement for universal headsets, and the existing LucidSound crop works with PlayStation 4, Nintendo Switch, mobile and PC, as well.
But wireless lovers needn't fret. Earlier in the month at CES, LucidSound announced a partnership with Microsoft. This will enable the gaming-audio manufacturer to produce Xbox-specific headsets in the future. These won't need PlayStation support, so they can potentially be fully wireless on Xbox One. Expect new product announcements at E3 in June. We'll definitely keep an eye on whatever new Xbox products LucidSound has in store.
Windows Central Newsletter
Get the best of Windows Central in your inbox, every day!
Paul Acevedo is the Games Editor at Windows Central. A lifelong gamer, he has written about videogames for over 15 years and reviewed over 350 games for our site. Follow him on Twitter @PaulRAcevedo. Don't hate. Appreciate!
These looks like decent headphones, lets hope they didn't take the sound design of Beats as well as the aesthetic design. I have a set of Beats, it was a gift, and they are some of the worst sounding headphones I've ever had; overly bass heavy to the point of being unusable. The price could be better but if they are a premium product that lasts for many years, they'll be worth it over time.

I want a fully wireless good sounding headset with a good mic for my Xbox One AND PC.

I wonder if the Xbox-branded ones can pair to the XB1 wireless adapter on PC.

If that's the case then may be worth a try.

Let's hope the full wireless headphones will be better than the Astro A50s Gen. 3 I returned after a week. While they sounded great and I liked the look, they felt a bit cheap and the documentation and troubleshooting was absolutely horrible. I had 3 major audio bugs with the headset, in addition to charging issues. Also, range was a bit horrible as well. I had it in my living room without any line of site issues, and sometimes it would sound fine, other times I sounded like a robot underwater. I also had a really difficult time finding the right balance of voice chat & game audio as the volume controls adjusted at defined presets and couldn't be fine-tuned. I agree with Brian that let's hope they don't take the negative aspects of Beats. Like Bose hardware, they generally use below average components, but have a great audio engineering team to get the best out of sup-par internals. You pay a premium for engineering magic. I've heard that the 3rd party hardware test team is really, REALLY bad at testing other vendors' hardware properly, so let's hope that LucidSound can overcome that obstacle.

I have to say, I don't like the design on these at all. I've never cared for white or gold, let alone both--I could see that as a design my grandma would like on her iPHone (in fact, she might have the white-and-gold iPhone...), The stitching isn't appealing to me, either. Lastly, the influence of Beats is pretty obvious because the logo looks like a fancier rip-off of the logo on a pair of Beats. I'm not a big aesthetics person in general with this stuff, though. Like you said, we can't see what we're wearing--and they're unlikely to ever leave the house for public mockery. Still, if I had to pick a headset on looks, these wouldn't even get a consideration. I'm also wary on dropping premium price money on a startup company. Being founded by a Triton person doesn't stop the early days from being iffy, and when you put the mid-range against going to a known company like Steelseries (whose Arctis 7 sits at the same price as the LS30, while also being wireless on PS4), I don't see why I'd pick the lesser-known company whose product is a bit less flexible. Lastly, I'm confused as to why the low-end ones have a rechargable battery on a wired headset. Is that just for wireless use as a phone headset?

Man... If only I had the money for a $150 set of headphones. I didn't like spending $70 on my CloudX.

I'm the same. I keep wantign to go with something higher-end, but I hate spending money on this kind of stuff. I guess it's that I know I'm not going to be too picky on the audio quality in the grand scheme, but I don't like putting money into knowing the quality is sub-par, but I hate paying for the better quality. Plus, the headsets I want all seem to have some pretty key flaws, with the alternatives not giving me the hardware I want.

Looks like a headset. Pitty I cant try it.

You are quite correct, it is a headset.

Hey these look interesting and the prices look very reasonable. I'll have keep an eye out for them. I'll never buy another headset without trying them on first, darn those ears, so hopefully GameStop has them to try on. And Paul, thanks for not using the word, "cans" when writing this review, man that drives me crazy...

Looking good there Paul on the first pic, glad that you get to try them all.

They definitely look nice. I do wish gaming headsets would go for a much lighter (weight) design. I love my Bose headphones because they don't feel like they are there.