Need a case for your Lumia 2520? Check out the Watson Wallet Folio from Incipio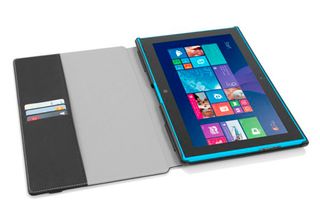 Rocking a Nokia Lumia 2520? It's a killer tablet with an amazing display. And unlike the Surface 2, it's truly mobile by incorporating LTE in the device. Add the Nokia Power Keyboard and you've got yourself a nice little mobile station for being productive. You might want to check out the Watson Wallet Folio from Incipio if you don't plan on typing much on the Lumia 2520 and are still looking for a good case.
The Watson Wallet Folio offers up not only a protective case for your Lumia 2520, but a place to keep your cards, cash, and ID. You'll find interior slots on the cover to store the contents you'd normally keep in your wallet. Don't feel like carrying the whole sleeve around? You can remove the Lumia 2520, but retain a protective hard shell around the back of the device. It snaps on and off, so the choice is yours.
From the looks of it, the Watson Wallet Folio is probably pretty awesome. We'll have our hands on one shortly and give you a mini review and first look at it once we get it. Anyone interested in this for their Lumia 2520? It goes for $49.99 and can be picked up at Incipio's website.
Source: Incipio
Windows Central Newsletter
Get the best of Windows Central in your inbox, every day!
Why do people want to keep cards and ids in their cases. I never understood that but that's just me I guess. Nice looking alternative to the keyboard case though.

I was just about to say how stupid that is now gift cards business cards maybe but credit cards people please don't be that stupid

i agree, they should put there some memory card pockets instead.

Not interested in the case but would love the cyan 2520...

I keep getting angry when I see cyan in pictures.

I would first need the damn tablet to be put for sale in Europe...Nokia keeps saying nothing, it's becoming very frustrating...

Isn't it Microsoft fault : | I am a fan of Nokia, but they are slow as hell when getting product out of the door. I purchase 3 Nokia 2520's the first week they came to vzw and I'm still waiting on my power keyboards. I'm not defending MS, but Nokia is the hardware what Microsoft is to software update releases........SLLLOOOOWW

Yeah but that's normally only true for the US. I've never seen Nokia take so damn long to release a device in Europe. Never. This is definitely not normal...I wonder if they decided to redesign something or whatnot...

I'm in the U.S. and would also love to have one, but they chose to tie them to two carriers, neither of which are mine.

Sorry, but your carrier chose not to get this device just like they chose not to get many if any WP handsets. You must be with T-mobile or Sprint.....which is it???

Are you trying to get a Europe version in order to also receive data on it? Cause otherwise, we could probably just send one?

Cyan 2520 looks nice dose anyone actually have one?

Regarding the title, don't you mean your?

Should be "you," actually. This article is aimed directly at the 2520, as they have become sentient.

Me too! So bummed Nokia is only offering such limited colors in their devices. And confused Cyan is very seldom available after they kinda made it their official color.

That's a nice looking cover, but the cover I want for my 2520 comes with a power keyboard attached. C'mon Verizon/Nokia!!!

Good luck with that, I'm still waiting on 3 of the power keyboards fir the 2520's I purchased as soon as wpc advertised the power keyboard offer. I contacted Nokia on Thursday this week and they informed that ATT is already receiving their power keyboard shipments but vzw has not completed the paper work to get the keyboards so theirs are delayed until vzw turns it in

Guess my wait will be awhile since I bought it after the keyboard deal. I'm sure it will be even longer before Verizon has some to actually sell.

I'm starting to believe these delays are due to vzw not fully committing to WP still and their Android shipment are a priority over their WP shipments. Heck my Verizon rep didn't even know about this issue when I called her. I emailed her the details of our conversation about what Nokia had told me about vzw and the paperwork issue which she forwarded to her superior.....guess what, I haven't gotten a response from the supervisor thus far. I have Verizon for work and I'm beginning to hate them. I don't have these issue with my personal ATT windows phones, devices, or service (That's fact).

I just want the Power Keyboard in the US. I hate carrying it around with no protection.

I know. I was so glad when my keyboard came in on Thursday. It does about double the weight of the unit, however, so I'm considering a case such as this Incipio for times I don't want the weight or need the extra battery life but would like something a little lighter.

So you're in the US? If so, are you on ATT as the Nokia rep I spoke to said ATT was receiving their shipments.

Yes, I'm in the US and on AT&T. I think the Verizon customers are supposed to be gettiing theirs around the end of February. Supposedly due to some firmware update that has to go OTA but things aren't adding up to suppor that reason. My keyboard came in last week.

My power keyboard arrived this last Monday and it was well worth the wait and weight,seeing as how it was a free offer,2 USB ports,mouse pad,keyboard,nice fitting magnetic stand/close case and extra battery. Once again as with the free charging pads I got with my 920's Thank you Nokia for giving cool stuff and rewarding your users.

I rarely take it out of my house. I have a case for my rt I use but its not the same.

I have 1- red & 2- black 2520's, and I too and awaiting my power keybords

Great if you want everything robbed at once :P

2520 launch date in India??

Seems very nice, but what I am missing as a better calendar app... something like Simple Calendar for Windows Phone.

That's a nice case.
I'd buy one if I had a 2520 , but there's no matte yellow 2520 :/

Poetic: SlimLine Case $17.95 on Amazon is an excellent case.

I went into my local att to look at/price one, and sadly, they had none in store. Said they never had any. I was pissed

I know what you mean. I asked at the AT&T company store in Longview, WA and was told that they could order it but wouldn't have one in stock. Fortunately a Portland, OR store is only 50 miles away and they had them in stock. The only bummer there was that the first one I picked up was defective and I didn't figure it out until that night so I had to drive back the next day and exchange it. I'm glad they had them in stock! I think I'll go to my local store and show them what they lost the commition on.

I also love Nokia, but their problem the last few years really has been actual making their great products available. I even contacted Elop about this when the lumia 620 first came out, and it was impossible to buy the coloured shells, and i got a reply! Made no difference, 1 year on and I've still never seen a 620 shell in a shop, only on ebay etc.

How did Incipio manage to get their hands on a Cyan 2520 and the general public can't have access to one! Very poor marketing and supply chain ineptitude by Nokia. Apple can have multiple colored phones at launch but Nokia just keeps on getting it wrong. Nokia=Poor Supply Chain Management=Missed Sales!

I would prefer to buy the 2520 first but it is not available in Austria - damn Nokia!