Lumia 550 firmware update reportedly rolling out, but without 'Double Tap to Wake'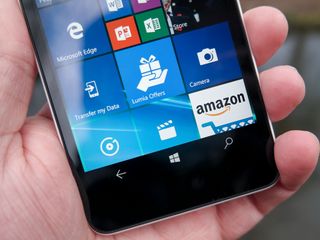 We have received tips that a new firmware update for the Lumia 550 is currently rolling out, but it apparently does not add the "Double Tap to Wake" feature that has been included in previous firmware updates for the Lumia 650, 950 and 950 XL phones.
It's possible that the budget-price Lumia 550 simply cannot support the Double Tap to Wake features for this new firmware. Hopefully, Microsoft will offer some more information on how this update differs for this phone compared to its other Windows 10 Mobile products. If you own the Lumia 550 and have received the update, let us know what differences you have noticed in the comments!
To see if your unlocked Lumia 550 is getting this update, go to Settings > Update & security > Phone update > Check for updates. If eligible you will see MICROSOFTMDG update.
Thanks again to our readers for their tips via emails and forum posts!
Check out our Lumia 550 review
See at Microsoft Store (opens in new tab)
Get the Windows Central Newsletter
All the latest news, reviews, and guides for Windows and Xbox diehards.
Double tap to wake has been made a hoo-hoo while it is just a another simple feature.

This ain't the Micromax crap we discuss here. I m not sure you get that !

Still waiting for my 650 to get the update

Common, it is not a very big deal.

It's pretty cool actually. I miss it on my non-Lumia phones.

It would be great if Microsoft drops prices of Lumia 650 in India. They are still selling it in India for more than $200.

Couldn't agree more. Amazon currently has it for 14,500, which roughly 219 ! Way too expensive. 9500 Rs is more like it !

Yeah ... 640XL itself is sometimes around 8k

That hero image with the Amazon app is a disapointment.

There's an Amazon app out there, so......
But it still sucks.

Even Lumia 520 has the double tap to wake...

and It had s4 chip better than 210

The S4 chip in no way is better than the 210 or 212 !!
You can see this online for yourself. There are many comparison benchmarks. Even WC has an article by Daniel Rubino comparing the 520 and 530.
Btw the 210 and 212 are quad core which makes a TON of difference.

You do know that the only difference between the S4 and the S4 plus is clock speed.

520? Doubt so. 620+ ? Yeah, sure.

520 always had it. Posted via the Windows Central App for Android

@Macco26, what are you even saying ?! Both 520 and 620 have the same chip. Same amount of RAM even.

Not sure about 520. But my 535 has it :D

Me too.. Waiting for OTA update for my L650.

Got this yesterday for my 550 and have not noticed anything. :-(

Just getting the update what's new' anybody ?

And I hate my neighbor across the street Your point? Posted via the Windows Central App for Android (LG V10 or Nexus 5x)

Saddened that this doesn't have DTtW. I thought that this was a nice little phone when I had one.

It seriously feels faster! But it could be caused by the reset. Probably some little changes for the Redstone update.

What do you expect for a fifty dollar phone?

I bought a Lumia 532 for $50, it has double tap to wake. It's also faster than the last Apple product I owned. (the 532 isn't my main phone btw)

My little brother has a 532, and he absolutely loves it :D For my taste, its screen is too small and the phone itself is too thick, so I went with the 535 (and also love it btw) :D

I use it for insider builds and a 950 for general use. Also you kinda look like someone I know. >.>

lol that "feature" is just a regedit 0-1 value, I've seen people on phones that never "supported it" activating it just fine

Unbelievable! Even lumia 430 entry level phone got it.

ive updated the firmware of my l550 through recovery tool.. the phone got 10586.494 after installing then updated to anniversary update via OTA and what ive got is no change.. no single feature they ve provided its still the same as before!!

I've no idea why people flip out for this feature, I've it on my L535 and it's irritating as hell because when the phone is in my pocket, the screen gets active somehow and wrong lock codes get entered and my phone gets locked. :/ Turned it off.

er....how loose are your pockets? The phone would have to bounce around a lot for DTTW to activate the screen. Perhaps, something is inadvertently pressing the side buttons.

Nope, it gets unlocked itself.

I have found firmware update for my L550 through WDRT, but not yet installed, what's new in this???

Off topic. L650 has the DTTW feature available via WDRT in India. I'm guessing more regions will get it now and they'll soon release it OTA.

Microsoft is about to reach out to a point from where it will become permanently a Serving Company to other companies.

550here in india on production build...no update yet. ... Posted via the Windows Central App for Android

This is great news Folks it shows that Microsoft is still working to improve and support Lumia smart phones even though it may no longer sell them after Deecember this year. All Windows 10 mobile capable Lumia smart phones will get most of the software upgrades the New "Surface" Brand Windows 10 mobiles smart phones will get so they are not obsolete smart phones.

I wish there was a quadcore/ 1GB RAM version of Lumia 720. My 735 is too unweildly and abit heavy. Very disappointing coming from 720, which hands down is the best design Lumia ever made

Hi,all I can say is that windows 10 its massive disappointment.I had(lost) Lumia 735/windows 8 which is so so.now for time being,till 750 comes out I bought 550.omg,hotspot don't work,contacts,pic...unreal!the best one is Lumia 710.now I don't think I'll be buying 750.Microsoft should have stopped at Windows 7 best OS ever.

There will be no 750. The Lumia series is no longer in development.

In my lumia 540 i cant found display settings im extras. So how can i change picture brightness and contrast.. Please help.

Please firmware Update lumia 540 please Microsoft???

Has anyone compared the 550 to the 650? I think I need to get a new phone for my wife and she doesn't want to spend the 300+ to get a 950. Her 640 is having picture message issues (acts like it isnt connected and won't download the message WiFi or network) on the preview build of 10.