Lumia 550 is just $99 on the Microsoft Store site until June 11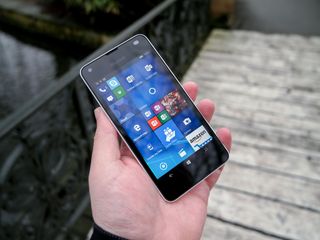 The Microsoft Store has a temporary price cut for the Lumia 550 smartphone. The unlocked Windows 10 Mobile device is just $99 from now until June 11.
Normally, the Microsoft Store site charges $139 for the Lumia 550, so this discount to $99 is a $40 price cut. The phone was launched in late 2015 as a budget-priced Windows 10 Mobile device with a 4.7-inch display, a quad-core Snapdragon 210 processor, 1GB of RAM and 8GB of internal storage, which is expandable with a microSD card. Its rear camera has 5 megapixels while its front-facing camera is 2MP. It also has a 2100mAh battery.
Check out our Lumia 550 review
That's where it must stay, right in their store. I'll rather buy a Lumia 640, than waist my money on that stupid phone. Lol

Unfortunately 30$ AT&T Lumia 640 is all sold out. It shows the item is no longer available in Bestbuy website and Wallmart.

Sure...for Americans. 950 XL Canada

This price reduction is NOT available in Canada. Microsoft Store in Canada lists it for $169 Posted via Surface Pro 4 or Microsoft Halo Phone

And is that a lot? I don't know the value of the canadian dollar. In europe, you can buy this phone fore 89 € on ebay or 99 in stores. Eitherway is not worthy. Lumia 650 is 169 €. Better that one or even better to go for the already legendary 640. The only good phone ms has made up until now. Battery, speed and price wise! Aproved by me!

You can grab this in UK for anything between £49.00 to £59.00. It has been as low as £30 when Vodafone were knocking them out recently.

Why isn't WC reporting on the amazon app disappearing from search in store, but still working with a direct link.
.
Please downvote me. I'm aiming for the most.

Not only did the amazon app disappear from search but on http://amazon.com?tag=hawk-future-20&ascsubtag=UUwpUdUcU2441622 of you to to their app section and click on "Windows Phone" it shows a picture of a dog and says "this page no longer exists"... Not a good sign

Oh great... Posted via the Windows Central App for Android... I'm sorry

That app needs to be refreshed. It's so slow Posted via the Windows Central App for Android... I'm sorry

Garmin StreetPilot has also recently dissappeared. Not that I expect WC to comment on every app that gets discontinued though.

Should have been that price from the start or lower. The 650 should be around 150.00.

I bought this phone when it came out and got the student discount but it should have been a. 100.00 bucks and no more.

Got mine for $50 hehe 1 week old. Ebay can be good

Unlocked, single SIM or dual SIM? Posted via Surface Pro 4 or Microsoft Halo Phone

Unlocked 4 weeks old. single sim only here.

Still too expensive for that hw. Microsoft once again show they don t care.

Better buy a cheap $60 Android phone from China. Will work better and do more stuff.

Explain how it will work better and do more stuff Posted via Surface Pro 4 or Microsoft Halo Phone

A refurbished phone is a better buy. Posted via the Windows Central App for Android

At least you will have apps to use it :) I saw something like UMI Rome for $60 with 3GB ram, checked it on youtube and it's actually a really good phone for the price. Definitely better than this thing MS is selling for $100. You must be really out of mind to buy Nokia/Miscorosoft phone right now.

Well it'll have a bigger app selection so it may do more however I highly doubt it'll work better running lagdroid

But then again W10 isn't as snappy and responsive as 8.1 was so who knows which one will work better anymore

Cheap android phones are just that. Cheap, and don't forget the nasty as well. Most ship with 4.2.2 or 4.4.2 jelly bean, which is very restrictive for SD storage, unless developer allows storage to SD, you are comfortable rooting or you need a burner phone. It doesn't take long before performance takes a nose dive, and many cheap ones have not updates at all, security or rom wise.

Every Android phone gets some security updates directly through Google Play Services. Cheap phones have become a decent experience on Android actually. There is a reason Windows phones have dropped below 1%, Android us now good enough at the low end. There is no reason to buy a Windows phone at any level. Posted via the Windows Central App for Android

Wanna make jokes,join the circus Sent from Lumia 950

Can't beat the joke using Lumia in 2016 :)

I want to see 650 on sale. I want to get that for use in fast ring in insider.

Well it is somewhat of a bargain selling for $200 CAD Posted via Surface Pro 4 or Microsoft Halo Phone

It's not compatible with my Tmobile 4G

Or buy a Lumia 640 for less than half that and have a better phone.

Wowee, that was some review of the 550! I've never seen such a W10 bashing on this site before. Shows how far W10 has come, and maybe should have waited a few months before releasing it. Also shows why the ill will towards it today.

Finally Microsoft reduce the price of GARBAGE phone (lumia 550)... hahahaha.. well let see... this increase sale of phone.... Posted via the Windows Central App for Android

Unfortunately this sale in not in key markets like Canada, India, UK, Finland, etc. so it will likely not generate any revenue for Microsoft. Posted via Surface Pro 4 or Microsoft Halo Phone

As much as I hate to say it (because im in it too), Canada is not a key market. At least not to Microsoft anyway.

Canada is a key market? Made me laugh Sent from Lumia 950

You would think that offloading them at $70 or lower would make more sense than selling relatively few then eventually having to crush them in bulk. They're still trying to squeeze blood out of the stone and it looks foolhardy.

Cool! This is kind of tempting. Just kind of... Why go with the Acer Liquid M330 when you can have this instead?

I have tried it and I like it, just not how the cameras are in low light. Otherwise, it's tempting to put my 435 to the side and use this instead.

I'm good with my 640. I'll upgrade to a 650 if it's this price. Or maybe just get my broken 950 fixed for $250

Nice article thanks for sharing <a href="http://indguru.com/2016/ap-pgecet-result-rank-card-appgecet-org/12132/>AP PGECET Result 2016</a>

L950 + craptinuum box is 299€ nowadays. Still not selling. Lets see when that drops to 99€.

Where exactly are you finding a price like that?

I think you missed the "craptinuum" joke, I wouldn't expect anything useful from a child :)

Temporarily discount price on couple finnish online shop

Have you used 'continuum' ( which is the correct terminology )?? Do you think HP would show ANY interest if continuum was as "crap" as you perceive it to be??

I had a question if you can use 5megapixel front camera in lumia 540or 535..why people will purchase this GARBAGE phone(lumia 550). Windows 10is also not ready. Plus with every update the software(OS) will definitely become heavier . 1 gb will definitely be in enough in future.still Microsoft think purchase this GARBAGE.....JUST THROW THIS PHONE IN DUSTBIN.THEY SHOULD CHANGE THE NAME AND KEEPTHE NAME AS GARBAGE 550INSTEAD LUMIA 550 Posted via the Windows Central App for Android

You have no idea what you are talking about! I have six of these at work and they all excellent phones. I would recommend to anyone.

I have to agree Bob. We have a couple of these in my taxi business. They are pretty damned good if you want something that just works. The cameras are good enough as accident cameras etc. The ease of use is up there with my 950's, the performance is more than acceptable, and they just get on with it. I got them as the 640 still commands a premium price in the UK. I have one running RS build, and it is very good. It may be a 'lower' spec device, but people need to realise that these are not for lounging around playing games that are resource heavy, they are not a DSLR, they are a budget phone for those who just want mail, text and phone. It cannot be compared to another more expensive device. My mate sells a few of these each week from his retail store. The demographic is the 'older' generation for its ease of use, and first time smart phones for youngsters, as parents can use the Family facility to see where kids are or, where they have left phone. People need to get past the so called poor specs, and see this device for what it is. We use them heavily and have not, so far, had any crashed or reliability issues.

If recommendation work.. Microsoft will not had to retrench there employees... the thing is the price of phone is high.. and specs including app eco system are no match with any other phones at same price.... it is the responsibility of companies to fix price as per the environment of market and expenditures they had done in making such products... but I think Microsoft fix's the price just taking into consideration of their development cost.. and I really don't understand why they are not doing marketing research at ground level. Launching this kind of products in market is hell to both manufacturer and consumers. This mean there market data is still incomplete or they are overconfident . Posted via the Windows Central App for Android

Have you had any experience of this device?? What are you basing you shouty comment on?

Just specs I guess,any Windows mobile user knows windows OS works great on mobiles with least amount of spec Sent from Lumia 950

I am using LUMIA 535. And I am not able to update my phone due to garbage phone lumia 550. Because it had 2 mega pixels front facing camera and have you saw the price of the phone.. really mygod.. if had that much money go and purchase that phone,the day when it was launched..... but I am thinking to purchase lumia 550,due to price drop...but I am use to use 5megapixels front facing camera.. but I still think it is expensive... compare to what all things Microsoft gives in this phone ... Posted via the Windows Central App for Android

Garbage 550. Clever. Posted via the Windows Central App for Android... I'm sorry

For what it is, the 550 is a great phone. I would recommend it to anyone who just wants a phone, certainly better than the 640 of which I have a number. My staff like the 550 because it is nice and light and easy to use.

Sir you have much money I think..so kindly purchase for me at a price of LUMIA 535...but I want 5 mega pixels front facing camera in that device(lumia 550)... well I respect you sir very much... but the thing is the price is not correct for that phone.. we are purchasing this phone ,though there are many app still missing in windows 10. Windows 8 denim updated PHONES apps and games are STILL not optimised for windows 10 PHONES... till now... just forget about ANDROID app or games like clash of clans etc... still, we stick to windows. I personally like it's UI.. BUT THEY ARE CHARGING Too Much FOR THIS PHONE... THATS WHY I NAME LUMIA 550AS GARBAGE 550.. MICROSOFT IS REALLY CHECKING THE PATIENCE OF ITS CONSUMERS.. BY LAUNCHING THIS KIND OF PRODUCTS... I PURCHASED LUMIA 535DUE TO ANDROID BRIDGE... NOW GONE... WHATEVER REASON THEY TELL TO THEIR CUSTOMER.. I WANT ONE WINDOWS BUGET PHONE.. BUT CURRENTLY NO GOOD BUDGET PHONES ARE THEIR IN THE MARKET ... Posted via the Windows Central App for Android

I don't get some people..... Maybe they need to get out more and actually see, use or handle decides, before basing their hatred on a spec sheet?? I use them, I like them, my kids like them, my drivers like them and most of all, for an everyday device, they just work. Then again, we use them as a tool, not a bragging tool, but a work tool. A business doesn't care about peer pressure, doesn't care about a case with a hole to show a half eaten piece of fruit ( and the inherent risk of muggings, fragility and ridiculous costs ). A business doesn't care if a phone comes from the same stable as refrigerators and TV's, or where the form factor has stagnated so silly fashion gimmicks like curves screens appear. To put it bluntly, a business isn't so shallow that it succumbs to the ad executives sales pitch for something you don't really need. The 550 serves a purpose for many, and hands on experience, with the untainted view of someone with a level head, would show this to be true. This can also apply to many other manufacturers and devices.

You may be right.. but still price of that is too high.. what ever examples you can give.. habit is something which cannot be ignored by any products manufacturer ,of any consumer. Well they just launch lumia 535and540.. people get the habit of front facing 5mega pixels camera..and in lumia 550,they had given 2mega pixels camera.. we know we will get upgrade on WINDOWS 8 phone device.. then why to invest so much money in GARBAGE lumia 550... I hope you understand what I am trying to say..if you charge high for this kind of phone you will out of the market.. and you had saw LUMIA phones are out of market after launching of LUMIA 550... Posted via the Windows Central App for Android

Also the Lumia 640XL is just 200 bucks, and you get Windows 20 update ,just check for update when finished or use Upgrade Advisor,13MP,5MP FFC,3000 mah battery #DEAL

not a dea. I paid 35USD for the 640. The 640XL is at most worth 80-100USD at this point considering its choice of OS and specs.

It should be 50 bucks tbh.

How this one compares to the 640?

The 640 is better generally.

As always we, canadians have none of the deals. That'S why lumias are not popular: overpriced phones with an os that only has few apps. i personaly don't mind having less apps (i use the lumia 640) but they should at least sell devices with a snapdragon 400 at $70 maximum because this is the kind of price i would get on an android phone running on the same processor. I understand windows phones are mainly for business but it's not a reason to sell them at high costs. Take a look at the lumia 950 in canada: snapdragon 808, 3gb ram, 2k display, w10 mobile..... $749, WTF? okay the screen is a good one but it'S not a reason to sell it at that price! the xiaomi mi4c has the same processor and 3gb ram and it costs about $250 the screen is not 2k but still they should sell the device at $450 otherwise people will spend their money on a better phone.

8GB storage? This isn't even good enough for Windows Insider usage.

The 640 runs just fine with 8gb storage on insider..

I'm pretty sure that you can find the 650 for £120 on Amazon. That's a much better deal for 20 more GBP. I know the topic is not about that but if you plan to take the 550 for 100, you should definitely consider the 650 for 20£ more. Posted via the Windows Central App for Android

Oh sorry. Everytime I read the price I read £ instead of $. Maybe it's a good price after all! Posted via the Windows Central App for Android
Windows Central Newsletter
Get the best of Windows Central in in your inbox, every day!
Thank you for signing up to Windows Central. You will receive a verification email shortly.
There was a problem. Please refresh the page and try again.