Lumia 650 officially launches in India for ₹15,299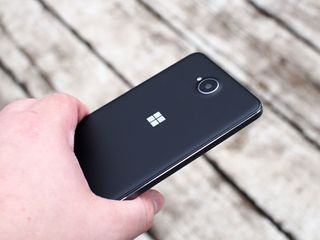 Microsoft has officially launched the Lumia 650 in India for ₹15,299. The phone features a metal frame, and runs Windows 10 Mobile out of the box.
The Lumia 650 comes with a 5-inch 720p display, quad-core 1.3GHz Snapdragon 212 CPU, 1GB of RAM, 16GB internal memory, 8MP camera, 5MP front shooter, LTE, dual-SIM functionality, Wi-Fi 802.11 b/g/n, Bluetooth 4.1, and a 2000mAh battery.
Sales are now live at retail stores around the country, and the device will be up for sale shortly at Amazon India.
What do you guys think of the pricing of the Lumia 650 in India?
Don't know if buying L650 is a good idea. Phones releasing just two or so years back are considered outdated and unfit for W10M

650 was released this month. Not two years back.

I bought a 640XL with better specs than this for 14k on launch

I understand its because of taxes.

I agree that the pricing is more than expected but it's not because of taxes and all. In UK L650 was priced at about £159 at launch which is almost ₹15K, in China at CN¥ 1699 which is ₹17.5K and in US and Canada at around US$200 which is ₹13.3K. The average comes out to be ₹15.3K which is exactly its price in India. So, yes Lumia 650 is priced higher but not because of extra govt. taxes but because it's base price is that much, maybe because of the so much metal used.

SD212 omg!!
2000 mah battery...omg.
1 GB ram ..OMG!!!
only@15299.....take all money plz....
**** you MS..
is this some kind of joke to you.?
waiting since 5 months for a decent phone and you giving l550 and l650

Exactly. A 2016 phone that is selling for ₹15000 and cannot even record videos at even full HD which the 2013's Lumia 625 could do. Neither can it record your motion data which the 63x and 640s can even do. Pathetic. 1 step forward with 16GB ROM and 20 steps backward. Posted via the Windows Central App for Android

now that is top flagship i cant afford...a decent mid range i need.
but no options...and no lumias coming this year...saddest part

Buy a Xiaomi Mi3 and put Windows 10. Its a high end for LESS THAN 10K!!!

I bought 640xl 4g version for 12k

Dat 212 processor is not worth the price.. I'll buy oneplus x instead or save more money and grab oneplus 2.. They should've added 410/6** processor..

Yup0 Posted From WC app for Windows 10 Mobile on my NOKIA Lumia 730.

Ridiculous pricing for a sub par device from the market having 2% share. Nice design though (externally) unless it doesn't get heated so easily like the L930 that I own for more than a year. This will get reduced to 13K in a few months...

Itne main to xiaomi ka mi 4 aa je ga with custom rom window 10 mobile

Wut O_o !
either wait for price drop OR go with Lumia 640XL LTE !! Posted from Windows Central for Windows 10

Why would anyone buy this if lumia 640xl LTE is at same or cheaper price??

With better specs and better camera 640xl is better

Internal storage dekh uska..

Abe 640 xl mst hai yaha key angrejj bc chutiya hai

SD212 omg!!
2000 mah battery...omg.
1 GB ram ..OMG!!!
only@15299.....take all money plz....
**** you MS..
is this some kind of joke to you.?
waiting since 5 months for a decent phone and you giving l550 and l650.

16Gb internal storage, though. Very importantly for running Windows 10 properly. Said jokingly but yet seriously.

i was kinda hoping for it to fall in the 11-12k bracket so I feel its slightly overpriced, but that's ok I guess since its around the moto g which would be its competitor, a worthy upgrade to my 730

Moto G Turbo is powered by Snapdragon 615 and is priced ₹12500. So, don't compare this to that. You'd be better off keeping your 730 instead.

Moto G Turbo's launch price was 14,499.
Give it time. 650's price may fall down too. Posted via the Windows Central App for Android

Even being a Windows fan, I would rather prefer to purchase a Sub 10,000 android phone packing much more power than Lumia 650 and not to mention, with a sturdy finger print scanner. So, looking from point of view of money, way too overpriced considering no usp. PS: Lumia 730 was launched at exactly the same price.

Yeah it packed better CPU and more sensors ... This is way over priced.. Competition has better pricing.. Samsung j series, moto etc Posted via Windows Central App for Windows 10/Android

The Snapdragon 400 does not have a better CPU. The 212 is more or less its equal. Faster CPU, slower GPU. Windows Central for Windows 10-Nokia Lumia 830

I meant it was packed with better CPU at its tym. I could have been more clear though. Right now SD212 is not worth ₹15k phone. Plus it has none sensors L620/730 had which were at same price range. Posted via Windows Central App for Windows 10/Android

Lol at worthy upgrade, you are better off keeping that 730.

Even ₹8000 android phones are more powerful, more battery. . More ram... What the hell MS.

I can get one plus x at that price yaar,why should i buy this? Stupid pricing Microsoft. Snapdragon 801 is way more powerful than 212

Dont make me laugh.. Its not worth even 10 thousand.. Now That's called over pricing my friend..

These idiots never gonna survive in the Indian market

Oh 15299 only? It should have been placed around 20k-22k -_-

No no.. This is a business phone pricing should be 25-30k

My god...i can't believe I'm gonna get this phone for₹15299 only.
Dream come true.

Over priced. Would have bought if 12k or lower

Microsoft should have priced it a little more higher , its even worthy to sell out our car just a buy this phone. Stupid pricing microsoft. One of the reason why windows phone is going to be dead in near time Posted via the Windows Central App for Android

Windows phone wont die as long as Android phone still selling well. Lumia 640 XL DS
Build 10.0.586.164

How much do taxes & import duties add to price?

Not more than 2k, don't write idiotic figures without checking import duty figures.

You're an idiot.. I never said im sure what i said.. I just guessed.. U think you're smart then y the hell was 830 priced 22k at launch in US and 28k in india..

Listen areshole, i never called you an idiot, just called those figures. And 3-4k sounds about right for a 28k phone, the taxes are based on percentages you know, not on some fixed money like 2k, 5k, 10k etc

Compared to 640 it lacks battery, camera, screen size, processor, GPU, full HD, compass and have higher hand only in terms of design & internal storage. How can they price it more than 640???

I gues it only lacks behind in battery and processor type :-/

Screen size is not a spec suitable for comparison. There's only negligible difference.
Camera is pretty good or better than 640.
And the display is the same as 640. The 640 does not have full HD. :-\

The Snapdragon 400 really isn't the better processor. They're basically equivalent. Windows Central for Windows 10-Nokia Lumia 830

Cpu area both 212 & 400 performance almost same but gpu
400 is much better than 212

The 212 has a slightly better CPU, and the 400 has a slightly better GPU. There's no massive gap between them. Basically a three year old 4xx chip translates to a 2xx chip.

650 is still quite better than 640.. Look at 550 vs 540.. 550 is complete sh*t

And don't forget the 640s motion sensor. Crap device Posted via the Windows Central App for Android

Too high around rs5000 high

Snapdragon 212 at 15k is just ridiculous. The new Redmi Note 3 comes in at just 12k with a SD650, 3 GB RAM, 1080p panel, all aluminum body and 32GB of storage. I know its Chinese but its not at all a low-quality device. Hell, even the Moto G Turbo edition comes with better specs at a cheaper price. Not to mention a lot less buggy OS.

Import duties and taxes add to the load !! Chinese phones are like dumped in market at such low price that even after taxes the price is subtle to buy and on point of specs .!! Win10 doesn't need heavy processor though I agree a better processor would have been better but that high spec sheet is android thing to work better not windows !!:)

Am sorry but Microsoft has price themselves out of their biggest competitirors, the mezui note 3(10,999) similar specs as the Redmi note 3 and also the Huawei honor 5x (12,999) and have better specs and features compare to this Microsoft phone including fingerprint scanners. This is a market you are trying to get a foothold in. The pricing is bad

Chinese phones .!!! They produce in tad bulk cost is minimal low !!! Its just craving for specs because android require those specs !!! Ppl buy iPhone ( it doesn't have specs 1 gb ram etc .. Because software is light , same for win10 for phones its just the software has been created again from scratch t that it needs time to mature!!!! Stop comparing on basis of specs better go on ecosystem and usability :)

Please stop. Windows does not need heavy processor is a myth. Lot of lumia x20 series got dumped because of so to say light processors. Windows Mobile 10 on even high end speced phone is a Shame with Loading•••••••••

You'll be crying for a bigger processor when Windows 11 comes out. Posted via the Windows Central App for Android

Lets concentrate on present till the time !!!

oh god..plz help.
plz put some brain is damn MS leaders.
give us decent specd lumia in mid range....
i'm dying to buy new phone but MS!!!!

Totally agree with you Dhruv.Why compare android specs with windows specs when the requirements are different for each. Windows works much smoother with lower specs. I wish though that Xiaomi or some other Chinese company start manufacturing high quality cheap windows 10 phones. India's I ball also had some good cheap windows 8 phones earlier.

10k phone ..... Not worth it..... The pricing has been very bad..... I could easily go for mi note 3 32gb and still save 3K to service my old L620 for longer use

Good luck getting your hands on the Note 3 in their idiotic flash sales. Posted via the Windows Central App for Android

I think Microsoft is getting out of funds. Lolz.. Its not worth buying for ₹15k.

This phone is pretty smoother than the lumia 550 and works great on windows 10. I liked this phone

Only 15k?? Its a great price go get it, it worth every penny.

The price is on higher side as compared to US prices.

This phone not worth more than 8k. MS will understand that in few months coz in coming months Microsoft will be forced to slash the price below 10k at least.

Very costly, now 1 GB ram and quad core android phones are not seen @15k price range. They have to drop the price by at least 5 - 7k

LOL... Xiaomi Mi 4 comes for 15K with SD801 and 3Gb ram

I think Mi4i as better specs than this. And maybe we can upgrade to Windows 10

12,000 should be the price. Be little competitive MICROSOFT to other OEMs.

Maybe Indian OEMs should fill the void.

I don't think they can sell 100 devises at least in in first month.

100? Not even will cross 50 with that kind of pricing

Was hoping to get this for my dad.. Guess il go with a 640xl LTE instead.. Bigger screen better camera.. There's the 8gb memory thing but oh well

Lol, Indians should just consider this price as a "first-party" tax.

Expensive!! This should be priced around 10k..!

I mean, seriously, what was MS thinking giving the device this price?!

Don't we always say Microsoft is pricing their phones high in India? Does it change anything? No. The price will drop in a month anyway...

Wow. Great pricing Microsoft. Get ready for another quarterly sales report in India stating that the "windows phone sales have gone way too down.
And honestly speaking with this pricing, Lumia 650 will not get any love in India. So, bye bye Lumia 650. Sent using Lumia 640 xl running stupid w10m build 14295

L O L. Are they expecting people to buy at this price? I understand they are in retrenchment mode..but why sell a phone at such a premium.

When in Brazil? Posted on Windows Central App for Windows 10 Mobile

The only considerable thing is amoled display or 640 and 730 are much better.

730 also has AMOLED display and more sensors. It will not be an upgrade for 730 owners,

15k is too much where the device lags in the gaming department this badly.. It should have been under 10k. Only then it would have been a catchy product.

And still Lumia 640 LTE is not available for purchase in India.

I was the lucky one to get lumia 640 dual sim though :P

you damn lucky....
i can only dream now

bad pricing,12k is okay....15k never

Well if its 6xx series I think till 14000₹ is good. At most 15000₹. Because you know it sounds in such range. I would gladly pay 15k+ to 24k for a 7xx series

There wont be a 7xx series
There are killing Lumia series
& next year they will release phones under surface name

The pricing may be high to the general public view, the specs are low. But I'm buying it anyway as plan. I don't considered much about the specs, but i do consider the quality of the product. Windows 10 Mobile is the best mobile OS.

Lumia 730 is better than this piece. L650 has 4G that is the only advantage. Its price too costly at this configuration. Is not competitive at all in this range. Beside apps availability, now users are fearing that Microsoft is going to abandon all Lumia series one by one once surface phones release in the market. They already abandon 512MB RAM mobiles.
Next it is time for mobiles which came with 8.1 OS. - Using windows 10 on Lumia 730(10586.164)

Yes the 730 & 830 will get ditched after Redstone update 1

It is clearly overpriced. This is the reason why people go for Android phones and not windows. Windows phone market won't change if they price their products like this.
*SHAME* Posted from Windows Central for Windows 10

Have u guys got 10 update on lumia 640 lte (AT&T)

Is Microsoft mad ? Such basic configuration Smartphone pricing 15000₹ what a Blunder !!

You have outplayed yourself Microsoft!! People will surely choose a Moto G or Xiaomi phone for 12-14k.. LOL.. Being a windows phone user, I would like to sadly inform you nobody want to buy an over priced hardware with an OS which has no popular apps. :/ None of the awesome start up services has windows phone apps.. Good luck adding that 'next billion' from India with this hilariously over priced phone!!

Mi4 with windows 10 is better than L650

Is Windows 10 for Mi4 available in India?

I don't think so. It's only available for the Chinese variant. Posted via the Windows Central App for Android

Times of India has labelled this phone as the "last lumia". Seeing the price and the specs, i m sure they are right.

lol, to think the Moto G turbo is available for ₹2500 less.

WHY MS!!!... WHY
How much do I need to wait to get a decent mid range phone from you...
And when will you learn about pricing a phone rightly in India...
Take a look at the market in India...
Just see what other are offering.
And no other OEMs for windows phones .

Waiting is useless
Buy the vaio wp with continum support if its available in your region
Its a proper mid range wp

that's the problem....in india.
only MS here....
and MS reaaly giving me headache

Blu win hd lte with snapdragon 410 is available in India for 9.5k
But service centres are a problem unless u live in metro cities

service, camera quality...and some bad reviews too.
white spot on screen problems in some handsets.
I really want MS to built one more Lumia this year...otherwise I don't know
how can I survive with my L720

Lol same problem I am facing too
My 2.5 year old 720 is dying
& not a gud mid range phone to buy

i dont understand.
how much difficult it is for MS to put any 4XX SD processor, 2XXX mah battery in a phone like L650?

Exactly my sentiments. My 720 is on the verge of dying. Camera not working, headset jack issues and what not. Was hoping for a 750 or smthng but i guess will have to settle for 650 as of now :\

settlement with l650 is like a punishment we will be giving to ourselves.

I settled for the 650 :p My 720 started giving indications that NO, im not gonna work when u want it the most :p Went to two stores, 650 was out of stock already. Got it at a Malaika store. as of now, phone does look very premium. Its super super light. Works super smooth out of the box (Came with version.107). No glitches or resuming at all. Just the volume seems like half of my 720, will have to get it checked if its just me or same with all 650's.

well..good if its working fine for you.
but it seriously have some limitations like no GPRS, average battery...
and if you're gonna hold onto it for coming 2-3 years, its gonna be tough with such specs i think..
but i hope for the best.

No GPRS? You are just babbling anything now. Posted via the Windows Central App for Android

I mean there is no compass in it.

I bought Nokia Lumia 730 for a deal at ₹12400 which has 1gb Ram, good Camera, 8 gb internal (doesn't matter cause I've put 32 GB of sd card and my stuffs are movable) also oled display. 4g doesn't matter to me because I cannot afford it + got Windows 10 upgrade. So better buy 730 instead of this

Yes, L730 is way better than this L650, anyway it might have shipped with buggy OS .164 build, where Navigation bar doesn't hide & lot of 8.1 apps, apps crashes frequently. If a new WP user tries it then definitely he would abandon it in few months..... - From Windows 10 Nokia Lumia 730

Why that ₹299 either remove it or round it to ₹300.
By the way disappointed with pricing.
I keep my L730 with Windows10.
Running here and there with flickering screen.

L730 is way better than this metal looking phone.... keep L730 and don't purchase new mobiles from MS, NOKIA is wayyyyyy better than this MS phones......... If we start purchasing new phones these people start abandoning all old Lumia series. - From Windows 10 Nokia Lumia 730

No compass,&c,&c. I'm holding on to my windows 10 updated 640xl till the surface phone with intel or equivalent processors is out with full features. Updated 640xl's a bit buggy though. I hope we're getting updates to fix these soon.

Worst mobile ever seen with the price of above 15000 . No 4g no otg support only 2000 mah , only 2x zooming just 8mp camera. Bad pricing .

First it's a 4g phone, and phones that shipped with win10 is equipped with otg facility.... As far as i know lumia 950xl, 950 and 550 has this function, so 650 also have the otg functionality....

In amazon store they dint mention 4g

There is no 3g only version, all 650 versions are 4g capable .....

Those who think that better speced android phones are faster, my L630 beats moto G 3gen.

They better stop producing this phone

Snapdragon 212? 2000mAh battery? I don't think its a good deal. I mean look at Moto g turbo edition..and it costs way less than it. I really like window phone but I have no idea what they're doing.

15k? For those specs? Are they out of their damn minds?

Its only 9k. 6k goes to crooks you voted for.

your posts do not befit a reply, Seeing that yours is a troll account but still is good to gove correct figures. Import tax is around 10-12% not the ridiculous figure you are quoting

How long MS going to sale Qualcomm 212 processor in 15k... Its really worthy?... We are not going to blindly choose a mobile fot camera memory spec... Ok... Pls grow up..

Yes Nokia lumia 730 is many times better than this... Except 4g...

Windows10 - No app locker, No Fb
calling, slow apps, wats app loads every time in multitasking, very less apps , no imo app, no btter notifications on lock screen.. And the worst part is PRICE this is only higher than specifications

Waiting for W10M for Xiaomi Mi5 or One Plus 2/3. Then I'll make my shift to one of those 24k ain't bad for a flagship specs. Better than investing in Sub par L650. Using Windows Central Beta for Windows 10 on Lumia 520

I request to all of you,,,,PLEASE Don't PURCHASE MICROSOFT PHONES,,
I REGRET THAT I PURCHASED LUMIA 640XL LTE FIVE MONTHS AGO,,,,
PHONE STOPS MAKING CALL IF I SWITCH IT OFF AND THEN SWITCH IT ON,,,,,,
condition is applications is worst and third grade,,,,after upgrading to windows 10 battery backup is worst ,,apx 14 hr,,,
I had purchased 2 application of LAROUSSE French dictionary when i was in windows 8.1, after upgrading to windows 10 both the purchased apps disappeared from windows store,,,,,,
Microsoft phone is biggest blunder in the history of telecom

Microsoft said--those are third party aps,,we can't assure you,,,
Microsoft phones are a big black spot on the name of a big company

Today when ,,,,,i updated ONE NOTE and after that,,,,that also stopped working,,,
WOW WHAT A WONDERFUL CRAP,,
PLEASE DON'T MAKE THE MISTAKE,,,,,,GO FOR ANDROID OR APPLE,,,,,THOSE ARE FAR AHEAD

15K too much overpriced according to Indian market lol

Looks like 650 is last lumia device, MS is planning to build surface flagship phones.

Aise hi prices set karenge to phir doobne se koi nahi bacha sakta

9400/- is the perfect Price for that Hardware and the quality services it provides.

Guys, be realistic. Specs are decent, its just 2-3k costly, wait for couple of months for price to reduce. I'm worried about battery, as Lumia phones dry within 10 hours, 2000mah is not enough.

Price not justifying its features. 9300 rs should be recommended, in india windows phone not used as much as android..any branded android phone offering 2gb ram 13 mp camera in just 9000 rs..not satisfied with pricing.. Posted via the Windows Central App for Android
Windows Central Newsletter
Get the best of Windows Central in in your inbox, every day!
Thank you for signing up to Windows Central. You will receive a verification email shortly.
There was a problem. Please refresh the page and try again.