Lumia 730 gets announced in Vietnam, will be available for 'selfies' from October 1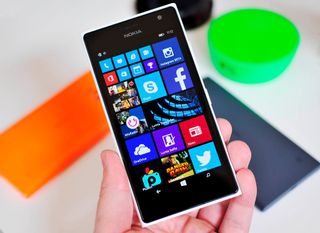 Microsoft has today announced the Lumia 730 for Vietnam at an event in Ho Chi Minh City. The Lumia 730 making its way to consumers in the region is - of course - configured for dual-SIM support, perfect for those with needs requiring more than a single phone number to be attached to a mobile device. Pricing for the Windows Phone will set purchasers back by 5 million Vietnamese Dong (about $240) and the Lumia 730 will be available from October 1st.
Just in case you require reminding, the Lumia 730 sports Windows Phone 8.1 Update with Lumia Denim, 1GB RAM, 8 GB internal memory (micro SD expandable up to 128 GB), 4.7" HD OLED display, Qualcomm Snapdragon 400 1.2 GHz quad-core processor, 6.7 MP FF ZEISS, f/1.9 rear shooter with 5 MP wide angle (2596x1948) f/2.4 'selfie' machine, and a 2220 mAh battery.
Be sure to check out our hands-on with both the Lumia 730 and Lumia 735. So, who's picking one up?
Source: Windows Phone Vietnam Community; cheers, Linh, for the tip!
Windows Central Newsletter
Get the best of Windows Central in in your inbox, every day!
Rich Edmonds was formerly a Senior Editor of PC hardware at Windows Central, covering everything related to PC components and NAS. He's been involved in technology for more than a decade and knows a thing or two about the magic inside a PC chassis. You can follow him on Twitter at @RichEdmonds.
Sounds like a fair price :)

Well need one in India badly...!!!! :/

It should be Below 235 USD in India. then only people will buy.

anything below 250USD (15300 INR) will be perfect starting price in India

And how does a measly $5 make a difference? The phone is priced quite competitively. I think the Moto G will be its main target. And that is about $15 cheaper than the 730. But the 730 holds more potential than the Moto G of course.

Here...you deserve a cookie..;)

Wish these prices would come to Europe, but I doubt we could buy it for around 240$. Not even around Christmas, when there are usually slight pricedrops, it won't even get close to 240$. And it's not device specific, they are milking us all the time!

I know! They just have the guts to ask 1319 EUR for the Surface Pro 3 i5 256SSD wich is 1681 USD for that price i can have the i7 version in the states and buy an Microsoft Office package. Its ridiculous. The i5 128 SSD should be no more then 899 EUR, the i3 version should be no more then 699 EUR the i5 265 SSD should be at 1099 EUR max, the i7 265SSD 1399 EUR and the i7 512SSD max 1599. Current pricing is just insulting to European consumers. Its insane!

That €700 SP3 would sound so freaking good..

I know. They dont have to make it cheap, but the least they can do is make sure its atleast as cheap as its in the USA.

I'm not sure if this is the actual reason, but production costs in Europe is higher than here in Asia. I may be completely misinformed here, but don't you get the phones (and i'm talking about Nokia only) that are made in Hungary or Finland? The phones in our markets are always "made in China". That could be a cause.

Yeah, When's Saudi Arabia? Soon?

Brother, I saw your post asking for 930, 930 is available at Jarir for 2200 SAR when I last visited Jeddah

Thanks alot, I asked because Nokia website shows that it will come soon

Noooo, I want a 735. Not every one wants a dual sim device :(

Yea bro.. Want 735 for 4g connectivity

I hope this phone gets released in the Philippines soon. I love that it's dual sim, size is just right, and don't care about the selfie branding at all. Please release it in the Philippines already. :(


Me too. I hope it gets released. Mine is a 720 from Sun. I loved and still in love with it. :) I hope they get to tap Sun again. I want to renew my contract with this phone if ever. :)

Mine is an htc radar, still working perfectly but i want a bigger screen and a dual sim capability. I passed on the 630 because i don't find it appealing haha :) let's all hope 730 and 830 arrive soon here in Ph.

Just checked Noka Philippines FB page, no mention of 730 nor 830. I'm aching to get my hands on 830!

That's sad :( Malaysia and Vietnam are already getting theirs next week. I am also considering the 830 but the dual sim functionality of 730 is more attractive to me. I'll decide once they're available. :)

What's this phone is released in all markets except India.. come on Ms don't do this release 730 fast...

And today I received an email from Microsoft Devices News that we are having a new member of the Lumia Family which is Lumia 530. :-/

When will it be available in India??

Almost 14,300 in indian rupee's. :D

Decent phone for the bucks!

Yahhh considering this phone as a upgrade from current 520

Tunggu aje Gan..... Feeling harga Rp2.999

I just translated the above linked source to English in Google Translate and was shocked by what the phone is called in Vietnamese :) lol. Funny how one thing means so different in another language :) I guess it was meant to be called 'Selfie'. BTW, very good price!

Yeah! In Vietnam the word "selfie" and "masturbation" are the same word. :D "Tự sướng" means "happy self" and there're a lot of thing you can do to make yourself "happy".

What are those things? Tell me.

Anything that you can do to make yourself happy.

No, they are't same. =)) In vietnamese, selfie is "Tự sướng". But "masturbation", we use another word: "thủ dâm" :D They are totally different. We use the word "Tự sướng" or "Self happy" (google translate version) because when we take a selfie, we must smile, smile means happy. Other thing may not do it.

Can we just say it has a good front camera? Hating the term "selfie", plus it's old news and faded.

i'm waiting here in indonesia.

Hope for Rp2.99 price. No more than that price!

Microsoft releasing it in Vietnam before in a market as huge as India? What? This is not right MSFT. Sent from somewhere. Don't worry I ain't illegal.

It's discriminational. Lumia is one of the most popular phone brand in Vietnam now. Why do think India must sell those phones before other markets?

Camera test and see which is better LUMIA 930 or iPhone 6 http://is.gd/pkxvEb

When will it be available in India. Eagerly waiting for it. :P

The 6.7MP FF ZEISS. The FF here is standing for Fixed Focus? :O

I believe that is no need to expedite hundred times that this is 5mp selfie phone.
There are so many 5mp front facing camera phones out there.

Quite good price but still a little expensive for students. I hope the price will be down under 200 USD in next months.

5 million! Wow I could be a billionaire in Vietnam.

Yeah. Bring about $50K to Vietnam then you'll be a billionaire.

I would love to go back in Saigon where I was living before April 1975, Just to buy this perfect phone for my daughter... She have a 920 right now but at 15 years old she want so much a real WP selfies phone, and the price of the 735 (single SIM but 4G) is a sweet one.
Windows Central Newsletter
Thank you for signing up to Windows Central. You will receive a verification email shortly.
There was a problem. Please refresh the page and try again.