Lumia 735 goes on sale in the UK today for as low as £199.95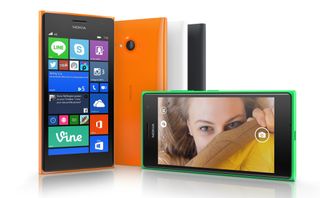 As promised last week, residents in the UK can now pick up Microsoft's new Lumia 735 smartphone, with Windows Phone 8.1 pre-installed along with a local beta version of Cortana.
At the moment, it looks like Carphone Warehouse is the place to get the cheapest off-contract Lumia 735, for a price of £199.95 (opens in new tab). Other retailers like Clove and Unlocked Mobile are selling the same phone for £220 and £224.98, respectively. If you want to purchase the Lumia 735 with a two year contract, you can get it for as low as £17 a month if you shop around.
The Lumia 735's most hyped up feature is its "selfie" 5 megapixel front facing camera with a wide angle lens. It has a 4.7-inch 720p ClearBlack display, a 1.4 GHz quad-core Snapdragon 400 processor, 1 GB of RAM, and 8 GB of onboard storage, along with a microSD slot that supports up to 128 GB of additional storage.. There's also a 6.7 megapixel rear camera. It's the single SIM 4G LTE version of the Lumia 730, which has two SIM slots but only supports 3G networks.
If you live in the UK, do you plan to purchase the Lumia 735 today and if so from which retailer or wireless provider?
Windows Central Newsletter
Get the best of Windows Central in your inbox, every day!
Display got an update btw

What did they update on the display?

I don't know, there's no change log

Maybe to solve Lumia 930 issue

I have a Lumia 930 and.... what issue?

There used to be or still is a purple tint hue on the screen on some of the 930 devices.

purple tint has been fixed i guess.

My 925 is already on Cyan, but I have neither the Brightness Adjustment, or any other features available on Cyan, i.e. Living Images, USB settings, etc. Does anyone have this issue, too??

When is it coming to south Africa?

If you're going to Europe anytime soon, just buy it there, it'll probably come out there earlier

I'm again getting errors regarding some passport in the wpc app

Funny, I got that one too... Just once though

Like this "global launch" wave...

I know, right! They're coming to Brazil next week already! Wish they'd done this sooner with the 930, though...

Looks like a nice phone, though with a border as big as that at the bottom, I'm surprised they didn't go with capacitive buttons ala 920. Though it's not ideal to judge from photos alone!

Its possible its just a photoshop/market image render that shows the software home bar but not the icons? Or the bezel could just be that big :P I've never seen the device before.

Cost how much when converted to dollars.....

Won't be buying, love the design but on screen buttons and the lack of camera button mean I'll be giving it a miss.

all about costs - on screen buttons are much cheaper because they don't have to put LED's on the board ect.

Yeah but this is 735 ... Not 730

£199 is not the same as Rs.15000. Check the exchange rate!!!

Lol you Lier john callahm it only have 1.2ghz not 1.4 ghz processor don't confuse the people by giving wrong information.

Nigeria pls?! Interested in the 730 variant

Can someone please help me understand what's the difference between 730 and 735?

730 is dual sim 3g. 735 is single sim 4g.

Thanks! Althought I have to admit I find it weird that this is priced around £200 in UK whereas yesterday's article claimed about £150 for 730 in India.

Needs to be £150 for it to be remotely competitive. The payg prices might be lower hopefully. I certainly won't be paying £200 for one.

Virgin mobile are offering it from £15 a month with free insurance on their lowest tariff up to £24 a month and the phone is free.

NOTE that is provided you have Virgin Media. Non- VM prices are £10/month more, so from £25/month w/out VM.

True..true..davidD93...forgot to mention that, keep forgetting as a customer I only see media customer prices

I have checked on the phone with local stores and they have stock of green and orange. I am picking a green one up in the morning

When is it coming to Lithuania?

Great phone! waiting for it in Poland :) what about a picture quality on 735/730 Denim is it better than on 720? (I know it uses the same lenses)

Just in time for my upgrade! Ordered it tonight for collection on Monday. :) Decided this was my next after the Lumia 920 as nothing else has taken my fancy in the 830 or 930. Not too fussed about a 1080p screen as nice as they are. 735 has a 4.7" screen, which is absolutely fine, has two great cameras (everyone talks about the selfie cam but the main cam has some decent specs too even if it's not PureView), removable covers (this is huge, I love being able to change the colour of my device and I'll be buying some spares to get coated in new colours, like cyan!). The lack of a dedicated camera button is an will always be a stupid decision. Microsoft shouldn't be allowing that on ANY of their flagship Windows Phone line. But I pinned camera to my action centre a month ago and while it's a little annoying I'll get used to it. Processor wise it would be nice to have more power but for what I use the phone for I'll be fine. And if not, I tend to end up getting a new phone every year (one on contract, one off contract that I swap in. Never planned, but I'm a big phone geek so...) so I won't need to wait too long if something way better comes out in 2015. But this definitely looks to be overall better than the 830 for me. A real shame they didn't make a high-end version of this with an 800 processor, 2GB RAM, camera button, PureView, and 1080p yet retaining the removable covers and selfie cam. It would have been a true winner.

OK,picked up a nice shiny new green Lumia 735 this morning at Carphone store in Birmingham. The stores only just had delivery today and they had not sorted them out yet. So I was told to come back at 12pm. I now have my phone in my hands. One sotre had never heard of the phone and never even bothered to check so I had a moan at them. ANyway,my impressions are this. It's a lovely little handset. Build quality is solid as always with Nokia,not too small and definatetly not big,quite lightweight too. Phone feels smooth to the touch on the matt finish,no build quality or display issues and all on the phone works perfectly!! Display in sunlight was great as usual. I can confirm the display is pentile though hardly noticeable. When I first tried the camera it opened very slowly but after the Nokia camera app updated it was fine. Photo saving is pretty fast i will say not slow,back speaker is quite loud and clear but lacking in bass. Video recording is smooth with very good sound although it looks like the screen refresh rate on video recording looks slightly jerky, when played back it is smooth!! Front camera is good & I like the Selfie app!! Double tap to wake works well. When I first took it out the box I actually though my God this is way too light thinking it was a unibody non removeable battery. But it wasn't the battery was in the box haha. In the box is just plain standard charger and cable. overall very pleased and cannot see any issues so far

do you have Lumia 720 to compare picture quality is it better on L735?

Want this in South Africa. Microsoft come on.