Lumia 900 on offer at Amazon Wireless from just $10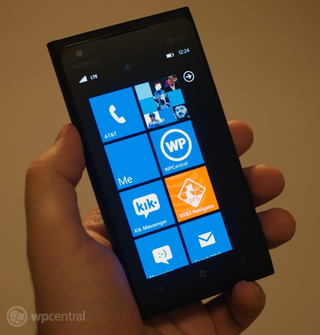 Amazon Wireless has some pretty enticing deals, much like Amazon itself, but the online retailer is now offering the black AT&T Lumia 900 4G Windows Phone for just $9.99 when upgrading, or $39.99 when adding a new line. The Nokia smartphone, which boasts a 5-star rating on Amazon Wireless from 342 customers, is the culprit behind the delays that have occurred in Europe due to high demand in the states.
Powered by a 1.4 single-core chip, and featuring 16GB storage, an 8MP rear-shooter (with FF), 4.3" AMOLED display with ClearBlack technology, and 512MB RAM, the Lumia 900 is definitely no slouch. Will you be picking yours up?
Source: Amazon Wireless (opens in new tab); thanks parthp90 for the heads up!
Windows Central Newsletter
Get the best of Windows Central in in your inbox, every day!
Rich Edmonds was formerly a Senior Editor of PC hardware at Windows Central, covering everything related to PC components and NAS. He's been involved in technology for more than a decade and knows a thing or two about the magic inside a PC chassis. You can follow him on Twitter at @RichEdmonds.
I want Nokia at Verizon so bad!!! Love my Trophy, but I'm a materialistic creature and 'New and Shiny' always wins out with me! :)

Agreed. Verizon needs to show Nokia and Microsoft some love..

I'm sure if I don't see a sexy WP8 coming to Verizon its time to leave. I too have been thinking of leaving for the 900 but am trying to be patient...and it sucks waiting.

In Canada I did left Telus to have the Lumia 900 with Rogers. I do not regret my move :) ... love so much my Lumia :)

Ah! New & Shiny works for me2

I left Sprint a month ago to get a Lumia 900 on AT&T and I have no regrets.

I left T-Mobile for Nokia on AT&T almost 2 month ago, no regrets at all, plus I've got my 100$ on the account even though at that time connectivity issue was fixed already.

Plus with Verizon getting rid of grandfathered unlimited data, no reason to stay.

If I didnt get my Lumias all for free this deal would have made me mad lol! Although I do wonder why its 9.99 to upgrade and 39.99 for new contracts. This is how it should be anyway.

The problem with amazon it appears to me is that they make you get a new data plan and at ATT store or Sams Club I can keep my current unlimited smartphone data plan at no additional cost so its off to Sams Club and the 48.88 Lumia 900 with 4G LTE unlimited data plan ( I know the throttling etc so dont start anything about not truly unlimited etc )

Just got back from Sams Club with my matte black L 900 like it very much so far havent hooked up to Zune yet tomorrow morning with the laptop at the office we will see how that goes.

I'm more concerned about your spelling than the throttling.

So still no word one they are going to get a brain and offer 32GB?

Sadly you wont see that until fall with WP8.

This low memory crap is getting old! I can "live" with 16gb but after having 40 on my Focus for so long, it's hard to go to anything less.

When they come with WP8, it better be maxing at 64 or they are just going to keep falling behind the iPhone.

Whatever they come with onboard won't be the limiting factor as WP8 is supposedly supporting micro sd cards and I assume 64GB cards will be supported. Removable flash memory is a more flexible and preferable option for me so I am keen to see WP8.

well if the rumors are to be believed the new iPhone will have two choices 100 or 200 GB Not that I am want to switch to to the iPhone!

That is what I am taking about. We should be hoping for 64 but instead are begging for 32.

When are you going to get a brain and stop saying this escoría on every article?

When you stop going to each of my comments and replying on it, like a stalker.

Because the shít you say is racist and stupid

Never have I refered to someone's race, little boy. My negative comment about someone looking immoral is in no reference to his race. The fact that I say he looks "immoral" (I put it another way and have since apologized to Daniel) and you assume my statement IS because of his race, shows you as the racist. Drop it already.

I did get one, and for free, after the $100.00 credit on my bill. I am still loving my Lumia 900. iPhone what?

Does any one know if you get a new phone do you lose all ur games? And apps u purchased?

Just keep in mind when you go to redownload the apps that you will need to tap "Buy" but it will tell you after that you already purchased the app and asks if you want to install it.

That thows a lot of people off because they think they are re-buying it.

Actually, the Nokia Lumia 900 has close to 500 reviews on Amazon (everyone tends to forget that the cyan Lumia is listed differently and so is the white Lumia).

Yup... That's it.. Im ordering 2 lumias Tom..

I think with this deal you need to get the 30$ plan for it, doesn't give the option for the 300 MB plan.

I left Verizon for at&t just to get this phone.

Here are this week's WP sales rankings on bestbuy.com. The Focus 2 makes its debut in 47th place on AT&T. This also marks the one year anniversary of Verizon's one and only WP ever, the Trophy. AT&T (74 phones offered)
19. HTC Titan (20. a week ago, 30. a month ago)
24. Nokia Lumia 900 Black (23. a week ago, 22. a month ago)
30. Samsung Focus Flash (32. a week ago, 32. a month ago)
47. Samsung Focus 2 (not available a week ago)
48. Nokia Lumia 900 White (48. a week ago, not available a month ago)
49. Nokia Lumia 900 Cyan (49. a week ago, 48. a month ago)
56. Samsung Focus S (56. a week ago, 55. a month ago)
65. HTC HD7S (64. a week ago, 63. a month ago)
70. HTC Surround (68. a week ago, 66. a month ago)
HTC Titan II is not offered T-Mobile (31 phones offered)
8. Nokia Lumia 710 Black (7. a week ago, 7. a month ago)
9. Nokia Lumia 710 White (8. a week ago, 8. a month ago)
10. HTC Radar (10. a week ago, 10. a month ago) Verizon (59 phones offered)
55. HTC Trophy (35. a week ago, 36. a month ago) Sprint (53 phones offered)
45. HTC Arrive (42. a week ago, 41. a month ago)

I wonder if new lumia owners still getting the rattle problems??

Knock on wood no rattle so far brand new tonight

Still waiting on word of a t mobile version!
Windows Central Newsletter
Thank you for signing up to Windows Central. You will receive a verification email shortly.
There was a problem. Please refresh the page and try again.