Lumia 950 and 950 XL get permanent price cuts; unlocked Lumia 650 discounted to $149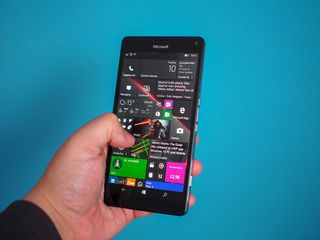 (Image credit: Windows Central)
Microsoft has permanent cut the prices on the Lumia 950 and Lumia 950 XL smartphones. Also, the unlocked dual SIM version of the Lumia 650 gets a $50 discount down to $149 (opens in new tab) on the Microsoft Store until August 21.
Microsoft has reduced the price of the 5.2-inch Lumia 950 to just $399 (opens in new tab), and the 5.7-inch Lumia 950 XL can be bought for $499 (opens in new tab). Microsoft's previous offer of a free $99 Display Dock with the purchase of either phone has now expired.
If you want to get the Lumia 950 for an ever cheaper price, AT&T has the phone for $298.99 without a contract. However, you will be stuck on AT&T's network for six months until the carrier allows you to unlock the phone.
The current discount for the Lumia 650 on the Microsoft Store site looks like it will indeed only be around for seven days. Cricket Wireless is also selling a version of the same phone for an even lower price of $49.99 without a contract until August 21. However, you are once again stuck with using the phone on its network for six months before you are allowed to unlock it.
See at Microsoft Store (opens in new tab)
Windows Central Newsletter
Get the best of Windows Central in in your inbox, every day!
in finland lumia 950 XL costs 399 € normally but it got discount as 299 € and lumia 950 costs 299 € normally http://www.gigantti.fi/search?SearchTerm=lumia+950&search=&searchResultTab=

Glad I bought mine when I did

Me too. I paid full price on day 1, been enjoying it every day since. No regrets.

I wish I paid more for mine..... Bully me harder Microsoft, deny me those updates, I can't get enough.

Bought it launch day as well. Definitely wasn't the most impressive not pleasant experience initially, but subsequent updates to the OS have made it a pleasant device to use. Also, the camera very much lives up to its PureView name. I've taken many fantastic photos on this device.

Got my 950 XL last week (with the free dock), got the Mrs. the 950 from AT&T... switched from Verizon after a lot of years because they chose not to support Windows Phones. No regrets, happy and not looking back!

Congratulations to you and your wife. I hope you both enjoy your new phones and service.

I picked up a 950XL a couple of weeks ago as well. My switch from Verizon is a bit of a gamble with some coverage area issues in my area. The phone is awesome! If Verizon builds out a decent GSM network, i might return.

Same. Did the math and VZW was fleecing me. Once I found out I could get the same plan for less money AND actually get phones i want it was a wrap

If you're a fan of the platform the 650 price is good. Even on Android you wouldn't get much of a phone at that price.

Do you know if the cricket version of the 650 is the exact same as the regular MS version?

I don't think the cricket version is dual sim, but I could be wrong.

The 650 come both ways single sim or dual sim through MS but through Cricket it is only single but you can get service through Cricket on the dual sim version.

The cricket 650 is single sim. If you want it unlocked you have 2 choices. Buy it on the unlimited plan and get it unlocked immediately or wait the 6 months

Thanks for the info/ help, going to get my wife the 650 from cricket Friday.i got the 950, but I've been wanting to check out 650 since it came out.

The 650 is not going to be as good as the 950/950XL it's a serious down grade. We don't have and from what I have been researching won't be able to get the double tap the screen to wake it up which I loved on my 1320. My 128 gig card didn't work in it I was blessed I was able to return it my 64 gig card is very stable.

The Cricket 650 has better connectivity over the unlocked one.

The microsoft version is missing band 17 which is a huge hit if your on AT&T. The fastest speeds I got was 3mbps. I returned it and picked up a 950. It could have just been my area which is all mountains and woods. Odd considering I'm just outside NYC

Nah, it's the phone. Your area is probably fine.

650 is nice, but zmax pro at $99 is easily the low price king.

Exactly.All mid-range android phones are worse than any midrange windows phone.If you want to have a new android go buy a flagship device.

I held this thing for the first time this weekend. It is mint. I am almost envious of it and I have a 950.

Lol.. That's really why I want to get one for my wife so I can check it out

Oh and another thing that kills me is there is no camera hardware button; you have to launch the camera from the camera app. Of all the research I did before buying it I have no idea how I missed that.

Partly correct. Win10M on my 640 allows camera launching using long push of back arrow on lock screen. It actually shows a camera button instead of back arrow. I'm happy with that solution!

I bought my 950XL for full price in January. It didn't work when I got it and and it doesn't work now because Microsoft still hasn't been willing to repair it under the warranty it I supposed to have. If I was willing to buy anything from them ever again, I'd buy that discounted 650 to use well I continue to fight with them to repair my 950XL.

The mobile data connection didn't work when I got it. The store also accidentally sent me a US model (I am Canadian), and it is not covered under warranty in Canada. I spent 3 months back and forth with support to get special permission for a repair. I had to ship it across the country to the repair facility (at my own cost), where they failed to repair it. Repeat that a second time, and this time they returned it to me with no working sound (front & back speaker and headphone jack). Now they want me to send it back again at my own cost ($40 to ship) to fix the thing they broke. I've been asking Microsoft to replace it with a working model since I got it, but they won't do anything except just tell me to send it in for repair again. Literally over 25 hours on the phone with MS support; worst customer service I have ever come across and they don't seem to care about making it right or retaining a customer. Accordingly, I don't recommend purchasing a MS product.

If a Microsoft store sent you a US model and gives you this kind of after-sell treatment, contact the Canadian version of the consumer protection agency. As that US model would be considered a grey good. If you bought it from any other retailer, then they are responsible for replacing it. Since you had it repaired, they, now, may be no longer responsible.

I think your problem lies else where, but it's definitely not with M$. I would still by M$ products.

It is a Microsoft product purchased from the Microsoft's online store covered under Microsoft's warranty. How would it not be MS's problem? Either way, how could I go buy myself a Surface Book or something knowing that the manufacturer won't honour their warranty if it were to have a problem.

Sadly my experience with Microsoft support here in Germany isn't any better. Nothing left of the once great Nokia Customer care. Had to send my device to iQor, a company specialized to take care about customer care for companies that don't care about their customers. They are located in Hungary. It took 3 weeks for my Lumia 950 warranty repair which didn't get any repair because of false claims by iQor. Microsoft said they couldn't do anything about it, cause its iQors decision (sure, that's why the product is named iQor Lumia 950, isn't it? ;) )

It's not a M$ problem as MS as a company made a mistake. The store and who ever runs it is part of your problem the other half if I understand your comment it that you found out your warranty the hard way. Look up Microsoft Mobile Canada inc. It's in your limited warrant guide. it may help explain why MS is acting the way they are with your warranty.

The phone was bought from a Microsoft online store. Any and all problems are therefore Microsoft's to resolve. Don't try and excuse Microsoft for their shoddy aftercare

I would recommend tweeting Microsoft's support channels. I did the same for a Lumia 1020 issue (including uploading a video to YouTube). I got a call from Nokia(/MS) in Espoo who requested I send the phone...at their cost...to Finland from where I am in the UK. They sent a replacement 64GB 1020 and a Fitbit fitness band for the inconvenience. Some of the best after sales care I've ever seen...and was pretty cool to be directly messaging the engineers in Finland.

Just go to MS store. They are always good to replace the broken items.

The nearest MS store is about 1,600 kilometers away from me.

What part of Canada do you live in? You could always cross the border and go to a MS store?

The closest is Minneapolis area, but that is still 8 hours away. I'm not sure what they would so with a Canadian purchase though.

The $300 price is pretty good. If they'd done this when these devices were released, they might have sold more than 10 of them.

Am pretty sure they sold more then you think;)

I agree completely I want the 950XL but couldn't afford it so I got the 650.

Haha, so funny... Love this.

Yes. They would have sold more BUT they would have lost money on every single device sold.

I very much doubt they'd lose money on every device. iPhone's cost about $200 to manufacture...then a ton of money to advertise. Microsoft aren't even bothering to advertise - so they may as well have just sold them at cost and pumped the market full of them. It isn't a cheap game being a distant third in this kind of market. Microsoft should have spent money to maintain market share. It would have been cheaper in the long run.

Got a new 950 to replace my 830 for $62 from Asurion last week. Liking it so far and the camera is awesome! Now I wish the MS store would cut the price on the Display Dock. $50 sounds about right. Unfortunately it looks like I will be stuck on AT&T's network for six months until the carrier decides to release the DTTW firmware!! :(

Since cricket is owned by At&t, can you use a cri let phone on At&t?

I thought you could when I switched to AT&T but nope. Had to go buy a new 650

I never tried it, but sounds like no. But it does work the opposite way. AT&T locked device can use a Cricket SIM... go figure

And here is hoping MS pulls an Xbox move.. that is get rid of all stuck (just like they tried to do with the Xbox One which was introduced in the market for $500), and then come out with an S version of the phone (sub 5" screen, like a 4.3" - 4.5") at a much cheper price than the original 950 was sold for...

Explain how you can buy the phone without a contract but you have to still use it on their network for six months... THAT'S STILL A CONTRACT!!!

Cricket is month to month (no contract) but without cell service you'd need to use it on WiFi. At this price it makes a great stand alone media player, if you're already in the Microsoft ecosystem.

Can I buy a lumia 650 from them for $49 and just stick in a sim from another carrier without paying them another cent?

Nope. Like AT&T, you need to have service for 6 months before they'll unlock it.

Isn't that a contract?? I bought my ATT Lumia 640 without a contract and ATT sent me the unlock code within 48 hours.

You do if you are an AT&T customer. If not, no. Just request an unlock.

Nah, other people who were customers bought the same phone and had theirs unlocked the same way. The restriction was whether you had a past due balance. Regardless, it was a no contract phone and people weren't locked into using their service for any amount of time. That and the price was why they sold out so quickly. Good phone, no strings.

Yes, pay an unlocking service to get it unlocked.

Which reminds me that carriers have to unlock any phone that's not on contract. Either you fulfilled your end of the contract and paid off the phone or you purchased a phone that's not on contract. Either way, you don't have a service to do it, the carrier must do it for free if its not under a contract; its the law.

Ermm Pay as you go, monthly rolling arrangement.

Selling off inventory. No more Lumia. RIP the last of Nokia, hello to nothing from Microshaft. These Lumias were the last in the Nokia portfolio, their pipeline. Granted, the design on these was cheap, unimpressive, and not worthy of the predecessors like the 920, 928, 1020, 1520, etc.

Well hopefully it's for the best. I miss my 1520 its why I never went back to iPhone. I own the 950 now and it's be great, does get really warm but after only paying 234.00 for it I don't complain and I have had it since July. I still want a 1520 again though.

It's a shame that here in Mexico the Lumia 950 is no longer to be found on retail stores :( no carrier bring it to this place, the Lumia 950 XL is still to expensive to buy and the Lumia 650 it's not really a big upgrade compared to my Lumia 735. Oh boy

I think it's a good occasion to get a high-end windows phone. If the price of the Surface phone will be as high or higher as the the HP Elite X3's i'm not sure i'll be willing or able to pay that much for a smartphone. It would be absolutely ok for me to stay with my 950.

Of course Surface Phone will be more expensive than Elite X3. It'll be interesting to see if Surface phone is any better than the Note 7. Samsung did that right. Maybe Microsoft will make a Win10M ROM for Note 7 as it did for Xiaomi?

Good to know that they are permanent. I guess I jumped the gun here.

Anybody else getting an iTunes web page when clicking on the Microsoft store link above?

Seriously MS! Xbox One $499- poor sales vs PS4. Today price reduced to $299 or less with free games. Selling well. Lumia 950 and 950xl- now $399 and $499 respectively. Morons got no respect for the mobile space. Both these kids toys should be $199 and $299. Get the right price to get them to the hands of the masses to buy and try. Maybe they'd like it and future w10m phones could sell well. F***k MS!

That's how much it cost to make the phone

Wonder how much it cost to make the Xbox one? I thumbed you down.

Oh yeah? Well Fstar you too buddy... ;p
Nah, just kidding lol =D

Picked up the 950 for the in-laws and wife this week from ATT Next. Using them from the 1020. Gonna miss the 41MP camera but gotta stay current. I've had the 950XL since release. Looking fwd to the W10 Mobile Anniversary update... Wouldn't mind upgrading myself to a Surface phone but would have to be a really good reason (1020 camera successor maybe?)

Ya know, when I got my 950XL I really thought I'd miss my 1020's camera, but it hasn't been a problem. The reduced MP count isn't too much of a problem unless you want to crop and zoom in, and is more than made up for by how fast it is to shoot and the new video features that the 1020 just couldn't do (4K, slow-mo). Still kept the 1020 though, brilliant little device.

Glad I returned this when I did when it was $649. Would return it again.

Nah....Note 7 and Galaxy S7 Edge are better devices.

There okay devices, as long as they do what you need them to do. It's all good.

Nice but I'm probably about to sell my 950xl today since my 3rd trial of AT&T was again a failure due to bad service. Back to Verizon to stay, I have my Nokia Icon but this feature won't matter on it :/ I also have the Nexus 6p.

Well,it saves the flagships from note 7 danger

Just checked with CDW, they are estimating the Elite X3 availability to be 3rd week of September now :-(

Hmmm, I may just pick up an unlocked 650 here in the US for my mom in South Africa who currently has a 625. That'll at least get her onto a supported phone and I can continue to use Skype with her after Skype support gets dropped for WP8.x next year. Anyone here have a 650 and know how it compares to the 625?

I have a 650. I've never had experience with a 625, but I can tell you it's great for Skype (5MP front camera) and it's also good for reading email, browsing the web, and even playing most games I've tried with it

I have a 650. I've never had experience with a 625, but I can tell you it's great for Skype (5MP front camera) and it's also good for reading email, browsing the web, and even playing most games I've tried with it

Awesome, thank you for the response. My mom's phone needs are relatively modest. She texts a lot, uses Skype a few times a week, and when she's travelling, she likes to take photos of all kinds of random stuff. In her eyes, the camera quality of the Lumia 625 is outstanding (which it really isn't... it's mostly okay-ish, in my eyes), so she probably doesn't need a high end camera, but as long as it's at least as good as the 625, I think she'd be happy.

My only beef with this phone is the one screen buttons. Microsoft must be asking itself why they Samsung and iPhone haven't start following me yet? well, because it was a stupid idea. A physical button is what can tell the difference between a failed hardware or a failed software. For the skeptic, a swipe up to show the home button nay not because the software freeze or because your digitizer is not working.

I personally prefer the on-screen buttons, my LG G2 ,G3, G4, Alcatel idol 4.7 and 5.5,1520 & 649, htc m7 and Moto G was the same way and it just made for a great experience. I believe it to be a great idea, heck it's the future and really do we need one button on the front still? But then again some people just like pushing buttons

On-screen buttons are a UX disaster !!! My LG G3 is a nightmare thanks to those on-screen buttons that reduce the overall screen size when in use! Hardware buttons are 1000% better than those terrible on-screen buttons.

I see this has a nano sim - How difficult would it be to swap the nano-sim from my iphone 6s into this? Go back and forth when I want to etc?? Im on Tmobile and and I see the 950 will work with big magenta

You will have no problem at switching between the two. A nano sim is a nano sim.

You will have no problem at all switching between the two. A nano sim is a nano sim.

The HP Elite X3 is a very sexy phone... specs all-day-long! But I agree that it was priced out of my range being a "WP enthusiast," and not really needing it's specs for anything from a business work day perspective. So I got the 950 XL with free Continuum Dock. I'm sure I'm going to be satisfied for quite a long time with this set up.

1 week in on my white $298 ATT L950. So far it been pretty solid. The build quality is higher to me than what the common refrain from the masses here would lead you to believe. I've never had any issues with plastic phones. The screen is impressive. Just need W10 AU now.

Noone would be stuck with at&t, you can purchase unlock codes for like $3 on ebay... But, I'll just wait for Black Friday, get myself a 950xL, and give my mom my 950. All good.

Can you tell me a little bit more about black Friday deals? Like does it apply to every product sold online? Or only select products? Will eBay celebrate black Friday, and if so, what's the usual discount range? 50% 60% 25%? Posted via the Windows Central App for Android

Where in u.k and u.s can I get 950xl

Still too pricey considering you can get a new LG G4 for $240.

We all need to bite the bullet, get rid of our old Windows phones, and buy a 950. If we wanna see Microsoft survive, we should eat our own filet mignon. (dog food)

Still to expensive when we already know Microsoft now will focus on business for mobile. So Windows 10 Mobile will not be for consumers. So why would any normal user invest in a Windows Phone? Apps like Amtrak and others will not be on the Windows Store. And more will probably follow to.

Where do you draw the line between consumers and productivity? Productivity in these terms actually means broader continuum experience, and, possibly, win32. Or in other words, more PC experience with a phone. In that respect "productivity" is just an advert that says: Here, you have a complete microsoft experience with this PHONE.

650 is 120 too expensive #TeamLumia 950 XL

Is this the effect of galaxy note 7 release?

1 month before iPhone 7 release. They know the iPhone 7 will be $649, and has better MS software than MS phones and millions of working apps. Something had to give.

No price drops on the South African Store. No BOGO deals, no free docks. Just a Fitbit that is losing some support in Microsofts Health app. **** M$.

This should have been the starting price... I bought my 950 a minth ago and paid full price with no free dock...

Expected Even more Competitive price for 950 XL (Presently 38499 INR.) approx 574 $ .... Price still too high in India........!!!

Let me check the prizes down under!
No luck:
https://www.windowscentral.com/e?link=https2F%2Fclick.linksynergy.co...

please find answer i get from online chat from windows site "As of now, we do not have the official price of the Lumia 950 XL in India since it is not available on Microsoft Store Online India."................!!!!!!!!!!!!!!!!!!!!!!!!!!

https://www.microsoftstore.com/store?keywords=950XL&SiteID=msin&Locale=h...

nice. I will get one after Christmas at half this price. until then, the 640 works fine as a 2nd device.

Well, in Indonesia Lumia 950 still Rp 8.999.000 (around $700), no price cut in here

Well, the price is quite ok, in India the L950 has been sold for Rs. 29999(USD 449) for quite sometime. The thing is the once big network of Nokia Care that took care of the services and repairs are no more, just recently my L930 speaker got spoiled and I went to the once big service centre of Nokia that was rebranded as Microsoft, they could not repair it, nor they had any means of sending my phone to other centres for repair. They also said it was not a Microsoft/Nokia service centre anymore, maybe they were in the cutbacks.
I don't mind buying it but, the lack of support really grates me and I am wary of buying any Microsoft phones now.

Hopefully making way for Surface Phone.

Today only, 8/16, B&H Photo in the US has the Lumia 950 XL RM-1116 32GB Dual-SIM White, Unlocked for $379.99 Free Shipping while supply lasts.

I jumped on the MS discount offer last week for the 950XL and the display dock. It's tough to give up my Icon but the 950XL is pretty sweet. Plus I get to ditch Verizon!

Hii dr frndz!! Im planning to buy a lumia 950xl , bt my frnd told me his 950xl selfie camera capture always the mirror image..so many times get irritated.. so anyone conform how is the selfie camera capture the image.. its mirror face? How to fix it ?? Plzz reply soon as possible!! Bz today im planning to buy a mobile!! Thankz in advance.... Posted via the Windows Central App for Android

Anyone has the wallpaper used in this phone background ?

Hey here you have https://1drv.ms/i/s!AvXF5UhnjiOdma9xbMJxQwFjVvJgFg

That is a sweet looking wallpaper... I'd run with it!

I lyk Posted via the Windows Central App for Android

Hii dr frndz!! Im planning to buy a lumia 950xl , bt my frnd told me his 950xl selfie camera capture always the mirror image..so many times get irritated.. so anyone conform how is the selfie camera capture the image.. its mirror face? How to fix it ?? Plzz reply soon as possible!! Bz today im planning to buy a mobile!! Thankz in advance. Posted via the Windows Central App for Android
Windows Central Newsletter
Thank you for signing up to Windows Central. You will receive a verification email shortly.
There was a problem. Please refresh the page and try again.