Madden 21 details improvements to Franchise mode coming in next update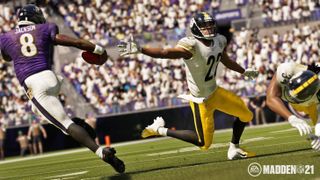 (Image credit: Electronic Arts)
What you need to know
Electronic Arts has detailed some of the changes coming to Madden NFL 21's Franchise Mode.
Changes include a revamped stats UI, playoff brackets, and more.
EA hopes to have the update out by mid-November.
After promising to fix some of the issues regarding its longstanding Franchise Mode, Electronic Arts has recently detailed some of the changes that will be coming to Madden NFL 21's Franchise mode in a future update.
In a brand new blog post detailing some of the changes, EA has announced that after some time carefully planning and implementing the changes, they have come up with some changes to the mode. This includes a re-tooled way of handling the game's X-Factor and Superstar abilities, allowing commissioners to assign X-Factors to any player, a revamped stats UI, and much more.
Electronic Arts says that it's currently targeting a mid-November release for the patch, which will be the first of three post-launch franchise updates. According to them, users also won't have to restart a franchise to have access to the additions made in the updates, meaning that you can freely play through franchise mode now and not worry about losing any progress. In our review of Madden NFL 21, some of the biggest issues holding the game back was its many bugs and glitches and lack of franchise mode additions, so it's nice to see EA attempting to fix things at a fairly rapid pace.
For a more detailed look at what's coming in the new update to Franchise Mode when it drops later this year, check out below:
X-Factor/Superstar Ability Customization: This highly requested feature by the community allows commissioners to assign X-Factors to any player via the edit player feature. Once a player has met the criteria to unlock an X-Factor ability, commissioners will be able to edit their player's Superstar abilities and Superstar X-Factor ability by selecting from those available within his position group. Users will have control over this functionality in both offline and online Franchises.
Player Card Career Stats UI: A top community request for several years now, the team is revamping the statistics on the player card to include more context in season stats, like week, opponent, and outcome, while also providing what team the player was on for every year of their career.
Dev Trait Regression Tuning: The team is doing tuning work to player development traits in Franchise mode to ensure a proper balance of Superstar and X-Factor players when progressing multiple years in a Franchise.
Playoff Bracket: A visual playoff bracket will be added into the game that reflects the new Wild Card format, allowing users to see the full playoff picture.
Madden NFL 21 is currently available on Xbox One, PlayStation 4, and PC.
Go deep!
(opens in new tab)
Prepare for the game.

Madden NFL 21 promises to deliver another year of excellent football simulation. With the game set for launch later this year, you can secure your copy now.
Anthony Nash has been writing about games and the gaming industry for nearly a decade. When he's not writing about games, he's usually playing them. You can find him on Twitter talking about games or sports at @_anthonynash.
The game is garbage right now...the update can't come soon enough.

(Humor Inteneded)
They should add a "SJW Mode" where, after you kneel for the national anthem, both teams walk off the field and don't play.
Cool additions:
- Add a press conference where they virtue signal, saying they're afraid to leave their homes (if they're black), or cry, wishing things could be better (if they're white).
- Randomly have their agent call and tell them they won't get paid unless they get back to work, so they need to decide. There would be not choice, of course. They choose to get paid every time.
- Make sure the crowd noise is dropped about 40%, to account for the current lack of interest. And have the players blame that on racism.
- Real time updates of names on helmets or jerseys.. taken from a national criminal database, so the virtual players can tell you what a hero that person is.
Windows Central Newsletter
Thank you for signing up to Windows Central. You will receive a verification email shortly.
There was a problem. Please refresh the page and try again.