September's free Xbox 360 games are Magic 2013 and Rainbow Six: Vegas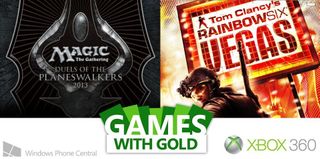 We just reviewed Charlie Murder, an awesome downloadable Xbox 360 game. Now let's talk about free 360 games. Microsoft's Games with Gold program got off to a decent start when Fable III became free for Gold members during E3 in June. The program, meant to compete with Playstation Plus's free games giveaway, offers two or more downloadable games a month free to all Xbox Live Gold members.
Since then, July saw Defense Grid: The Awakening and Assassin's Creed II go free. In August, Gold members received Crackdown, Dead Rising 2, and Dead Rising: Case Zero – probably the strongest month of free titles so far.
September starts on Sunday, and with it comes a new free game: Magic: the Gathering - Duels of the Planeswalkers 2013. Tom Clancy's Rainbow Six: Vegas will follow later in the month. Head past the break for details on both games!
Magic the Gathering 2013
Magic: the Gathering started the trading card genre of games in the nineties and remains one of the most popular trading card games in the world. Such a long-running game filled with thousands of cards, an expansive lore, and ever-changing rules can seem very daunting to get into. But the XBLA games are surprisingly easy to learn thanks to a helpful tutorial and generally great user interface.
Stainless Games releases new Duels of the Planeswalkers games annually, each entry introducing a new mix of decks to unlock and play with, gameplay tweaks, and new game types. 2013's big addition is Planeschase mode. This mode features solitary Planes cards that affect gameplay for everyone at the table – basically, each plane represents a new environment for players to battle within. Changing the Plane or playing a new Phenomenon card really adds a dynamic wildcard element to Planeschase games.
Magic is best played with other players – this one supports competitive online multiplayer for up to 4 players. It also has a cooperative mode in which two players can team up locally against an AI Archenemy or online versus a human Archenemy. Don't think Duels of the Planeswalkers is multiplayer only though. It boasts a full single-player Campaign and puzzle-like Challenge mode that can be a lot of fun and help you learn the fundamentals before going online.
Magic: the Gathering Duels of the Planeswalkers 2013 regularly sells for $9.99. It will be free from September 1-15. If you enjoy card or strategy games, don't miss it.
Magic: the Gathering Duels of the Planeswalkers 2013 – 1.27 GB – Xbox.com Link

(opens in new tab)
Rainbow Six: Vegas
Though Ubisoft has let it rest for a while, the Rainbow Six series used to be one of their most popular games set within the Tom Clancy universe. Rainbow Six: Vegas casts players as a team of operatives tasked with defending the city of Las Vegas from an army of Mexican terrorists.
When playing alone, you'll actually command the squad via controller commands or headset, providing a strategic layer to the third-person shooting. Each mission can also be played in 2-player split-screen co-op or 4-player online co-op, though the actual story scenes sadly don't play in co-op. Vegas also supports 16-player versus play with a variety of game types. This is an older retail game, but the hordes of Gold subscribers getting it for free should revitalize the online mode for a spell.
Rainbow Six: Vegas regularly sells for $19.99. It will be free from September 16-30. Fans of military-style games and shooters should give it a try.
Oldies but goodies
Both of September's free games are quality titles – especially Magic 2013. But Magic is a year old and Rainbow Six: Vegas dates back to 2006. These games are unlikely to satisfy critics who complain that Playstation Plus subscribers get new releases games for free (though not to keep) while Microsoft gives dustier titles to Xbox Live Gold members. What do you guys think about these two titles?
Windows Central Newsletter
Get the best of Windows Central in in your inbox, every day!
Paul Acevedo is the Games Editor at Windows Central. A lifelong gamer, he has written about videogames for over 15 years and reviewed over 350 games for our site. Follow him on Twitter @PaulRAcevedo. Don't hate. Appreciate!
Wow we get magic while PS gets assassins creed creed .

Assassin's creed 2 was out free a few months back.

Assassins creed 3 sorry for not posting #

Assassins creed 3 was available for $15 several months ago. While not free, it was a heck of a deal.

Who cares. Half of the "free" games on psn are also crap! You also do not get to keep them unless you keep paying. Do you know what, i can hire games and play them from boomerang rentals and i can have as many as i like, all free!

Quality is subjective. The important thing is the PS Plus games are varied and often quite new.

That is definitely a factor, but for people who would continue subscribing to PS Plus anyway (and I know that's not everybody), it really doesn't matter. My Xbox Live Gold subscription has never stopped in eight years or so, and it probably never will unless Microsoft drops the ball unimaginably far with Xbox One or a future console.

+1 my gold account has been active for about 6-7 years and don't plan on stopping when Xbox one arrives.

My Xbox Live account has also been active for 8 plus years (including Xbox) so I'm in the same boat. I've been a PS Plus member since its inception (even subscribed to the digital PS mag Qore for 2 years) and I agree its a great program. If Xbox One becomes anything like PS plus I'll be a happy man. Paul, do you know if the free games will continue on Xbox? Insider knowledge? ;-)

Play station plus gets much better games, Xbox should do better than this.

"Play station plus gets much better rentals" There, fixed that for you

So for the tiny fraction that has the gold equivalent, but then suddenly decides not to have it, fine. For the other 99%, ps has a far more varied and newer plan. Theirs also doesn't end in December

wow I can't even buy xbox live so great country racism. GO Microsoft!

Blame it on the rules your country imposes.

Hope we get Saints row 3 that's all. I'm enjoying Crackdown and Dead Rising 2 A lot

Wow. I havent played a single games for gold game yet. I already beat Fable 3 and ASS 2. I downlaoded but have touched Defense Grid, Crackdown, and Dead Rising 2.
Magic looks like ti is defintiely not my style, but I will get it I guess.

The one I am excited about is RSV, as I played this like 7 years ago. And didnt really get the achievements out of it that I wanted and debated renting it recently to finish it off a bit more.

You really must give Crackdown and Dead Rising 2 a play! Crackdown is actually a lot more fun than you'd think - kinda like Saints Row 4 but without the sense of humor.

Yeah I will defintiely look into them some more. Cant really do anything with the 200GB free space on my 360 anymore. Now that I will be transitioning to XB1. Might as well fill it with free huge game downlaods! I wish they would have given Dead Island instead of Dead Rising 2. Equally old and devalued, but I personally hated Dead Rising 1. I was hopign DR2 is different?!

Well, Dead Rising 2 is easier, has more stuff to do, and adds 2-player co-op. Even if you hate the time pressure stuff, running through it in co-op makes for a much better experience. And I think 3 on Xbone will fix pretty much any remaining annoyances that part 2 had.

Personally, I am a Defence Grid nut. Love it, but had already bought it. Worth a loom for those that have not sampled it yet. Not a fan of the creed games and can't budget enough game time for Fable. Downloaded them though. I know the games are old, but at least you can keep them. Good for me as I intend to give the kids my Xbox when I get the One.

I'm also a Defense Grid nut...LOL...I need to buy the last expansion!...It has Captain Jean Luke Picard as narrator!!!...Amazing game.

Magic the gathering isn't for me. But I'm totally up for replaying rainbow six! Cannot wait for Rainbow Six: Patriots!!!!

Duels 2013 is pretty awesome game.

It was actually Dead Rising 2 and Dead Rising 2: Caze Zero that were available.

Thanks for catching that. :)

Rainbox six yawnnnnnn. Beat this game 5 years ago

Wouldn't it be cool if we could play old games that we beat years ago to relive the experience?...

Its a good game but not trying to relive that one lol

I snagged Orange Box a couple months ago for $5. The kids had never seen the original Portal before, and I spent way too much time replaying the whole Half Life 2 series. (Originally played on my laptop when Orange Box first arrived on the scene.)

PlayStation Plus games are rentals. Why are we comparing the two?

For the reasons described in my conversation with Common Blob in the comments up above.

Guess I won't be downloading anything this month. Not into card games like magic/yugi-oh/etc. Already beat RSV, and I think 2 is better anyway. That should have been the free game. Defense grid gets boring after about 20 minutes, I played dead rising when it came out but downloaded it anyway...same with AC2 and crackdown. I agree with a few of the other people here that we should be getting some newer titles rather than these "covered in dust" games that are only a few bucks physically if you know where to look.

I'm curious: have you ever actually played a trading card game? If so, which one did you try?

I have actually. Back in my playstation 2 days. It was a yugi-oh game, think it was called duel of the roses or something like that. Just wasn't my thing although I play uno on my 521.

Ah! It's good that you've tried the genre. Just let me point out that Magic is a LOT simpler and thus both easier to learn and more enjoyable than the Yu-Gi-Oh! games. Someone could easily hate Yu-Gi-Oh and still love Magic. Magic is still about 100 times more complex than UNO (which I also enjoy) though.

Perhaps I will try it in between black ops 2 and SC: blacklist. I assumed all card games like that were the same.

lol yugi-oh is so different than magic! i "hate" yugi, well i like it, but it has so many "unfair" things, yeah i have real cards :P so i have played on computer and in real life. but sometimes yugi was really not enjoyable when you saw losing a match in 4 turns because some cards were just that way. so in my opinion, if you have played yugi and not magic, well you cant just say "oh i dont like trading card games", since they are too different games. of course its not like magic is the heaven in TCG since they added alot of crap in recent years but it can get complex and maybe more interesting.

something i like about magic its when a card its not really clear and you play it as you think it means haha. of course if you play it in real life it may happen that way, or sometimes you would make mistakes that will cost you the match. it just a nice TCG.

I have played, pokemon, yugi, magic and they are all different and nice. I even used to play them through Lackey! (havent touched it in a while) but it was nice to play in my computer but still like in real life, with mistakes and you doing the flip cards and stuff yourself.
But like i said, those 3 games are reallly different, you cant say you wont like magic when you only played yugi. of course these magic games are not that great compared to the real cards or even lackey to my taste, but its still a nice experience :) you can always try it anyway since it will be free.

I have tried magic and after the tutorial, managed to win a few games in campaign. I still don't know much about it, but its not a bad game as previously thought.

Dont care much about Magic, but R6V is one of the best shooters ever for Xbox 360. It is a true tactical shooter and that's what sets it apart from other shooters. The ability to control a squad and the fact that the hardest difficulty is a good test of your patience make the game great. Its sequel was even better.

I was waiting on a comment like that (cause I was too lazy to type it myself, lol). Seriously though, Vegas I&II really set the bar in my opinion. I just hate games without true headshots. I wreck all my friends who are so-called "beasts at shooter". Probably because they're stuck with games where bullets substitute as pellets.

The "rentals" rebuttle cracks me up every time. Even Paul himself admited that his Xbox Live Gold membership has been continuous for 8 years. You keep your PS+ membership continuous, and those games are yours to play whenever you want. It's such a grasping for straws point for me.
It's cool that Xbox is giving away free games, and it's a great start for Xbox Live to rival PS+. But it takes quite an Xbox white knight to say their "Games for Gold" program is on par with PS+ at this stage.

Doesn't the games for gold promo end in December though?

Except they started that around the time after pan was down for a few months. Gave everyone 3 months of plus. I didn't get to finish some games before my ps+ subscription lapsed.

Can't you just renew your subscription?

I could, but I don't want to pay for it. Haha. When I played the last of us it was the first time my ps3 did anything other than play blurays and Netflix. Just not worth the cost for me.

Too bad I already bought Rainbow Sic Vegas.

Will definitely get Rainbow 6, still enjoying Crackdown though!

The Rainbow Six Vegas series was very entertaining. I still play terrorist hunt on RSV2.

"You go -- I'll wait"
"Shoot the F***er!"
"Oh Sh**! He's Dead!" Ring a bell? Lol.

R6:V was awesome in its day. I probably spent a good 70 hours + online in that game...

Well people can complain about old games but crackdown and dr2 are both kick arse games that ive been having a blast replaying. i havent touched much of the other freebies

I personally like Crackdown better than Crackdown 2.

"September starts on Monday" - uhhh you might want to check your calendar, because it starts tomorrow (Sunday). [Note: it's already 31/08 for me]

Rainbow Six series its one of the best tactical Shooter from old days, saddly no games like that have been released in years! but the game was amazing. of course i used to play it on PC.


hmm its been years since good tactical fps were released, with nice coop and all. one game i used to love was SWAT something, it was the best! I always tried perfect scores in the hardest mode, but it was so hard, i raged and never finished! haha. of course rainbow six was different and nice and even the story was cool and interesting. so its nice to see it free for gold users! since I would take and play this game over any recent shooter, since "old" tactical shooter games are really nice thing to play anyday :)

Word! I've been hitting up all my fellow Vegas I&II fans. Real headshots, all day!

I would rather MS just re-release older gamertags that are unused. They did it once but stopped it. Plus why not give gold members the option to change your gamertag once or twice a year.

I cannot be the only one who did not try the Rainbow 6 Franchise for various reasons. This will allow me to try it and if I like it then I may try other games.
If the game was good then, do not see the issue with it now.
For those who played it out, maybe this been there done that, but given the base of Xbox Live Gold users, I cannot believe this is true for everyone.
One more item, games are not exactly cheap.....I am more than happy to play a free older game

I like both games that a free coming out I have no debates about it. I am a big tom clancy's fan and magic. I have my own decks three to be precise.


If you really want your voices heard so that we can get to choose from a list of games which 2 games you want each month, then go sign the online petition.
Maybe if enough voices are heard, real changes will be made to show their "real" appreciation for their loyal gamers.
https://www.change.org/en-CA/petitions/microsoft-xbox-lets-gamers-choose-games-from-a-list-for-games-with-gold-promotion

In my opinion, Microsoft should consider offering four (4) games to XBox Gold Members each month but with the option of downloading any two (2) out of them as free games. Remaining two may be offered on low price as part of "Deal of the Month" promotion. This scheme bears the potential to better cater for players' individual choices of games!

hate these games put in dragon ball z ragen blast 2 please
Windows Central Newsletter
Thank you for signing up to Windows Central. You will receive a verification email shortly.
There was a problem. Please refresh the page and try again.