Mail and Calendar app on Windows 10 Mobile crashing for some users after latest update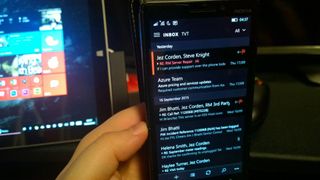 Last night, Microsoft released a number of updates for its core Windows 10 Mobile apps, including Mail and Calendar. Now it appears that small update is causing some problems for a number of users, as they have reported crashes after they downloaded the new version.
Microsoft didn't add any new features with this latest Mail and Calendar update, which pushed the version number up from 6413 to 6417. However, some users have reported on Twitter and Reddit that the app has started crashing. One Reddit poster stated:
It's likely that Microsoft may release a quick bug fix for the app to solve the crashing problems. Are you also experiencing this same crash bug in Mail and Calendar? If so, let us know in the comments!.
Source: Reddit, Jason Lundgren (Twitter)
Get the Windows Central Newsletter
All the latest news, reviews, and guides for Windows and Xbox diehards.
Sounds like a great feature! I'm praying for all you that are sticking with it and getting the 950.... having to deal with bugs like this to BASIC apps such as emails and calendar.

I think we're getting a new build today so hopefully that will sort it

Mail and Calendar is an app which is updated outside the OS. In fact most of the apps are like this now. This is one of the biggest things in Win 10 Mobile.

That doesn't mean a new build won't fix. It may have been ready to ship for Desktop and those getting their 950 today but not on older builds. I obviously don't know, but none of us do. Example - messaging on PC before the Fall Update was broken, shouldn't have even been able to download the app. New build fixed it, not an app update. - Though they did update the app quite a few time around then. But it was the build that allowed the app to work.

Shame nobody update the people app for a while

The People app had two recent updates.

That would be nice. But it isn't going to happen. I will eat my steak if it does.

Gabe tweeted "Sunny with a chance of build" two hours ago. Remember, it is only noon there. Though, nothing wrong with a steak and a build. :)

Why so confident about that?

LOL. Fortunately not crashing on my L640.

Works here also.... it acutally fixed crashing I had had prior which is ironic tha everyone else is crashing now, while the update solved my crashing issues.

me to L1520 my 640 waiting for rtm build to come out

@rld Why are you so negative always... You are talking about a technical preview OS here.. That's the purpose of insiders...To deal with bugs and report it to MS... Go get some sleep brother...

Negative? Nay, realistic. The 950 is RTM and it's being shipped... with the email and calendar apps crashing. It's a rough OS.

Maybe it's for build 581, go and see if the rtm users are facing problem or not. And stop ranting.

Not ranting, commenting. There is no stopping it. It's the comment section, deal with it.

Mail and Calendar are not part of the OS any more.

Since when does an independent app make the OS rough?

@rld You are pathetic, you don't even know the build of WP that's being shipped. If you think it's the current tp version you must have lost your mind. Problem can always be a combo of app version and os version. With a new tp version to be released today in mind this must be the case.

Yep, my thought is they were updating because they knew that customers would start receiving today. Better to have the update for a phone that is shipping than the older ones not shipping for some time. That and we want to be sure any new customers to WP have a better experience than us on the TP. Some people should not see how the sausage is made.... many here it seems. TP is cool, but some that are on it should not be.

Don't care, windows mobile 10 is not up to snuff and you know it.

No, an old build is not up to snuff for your standards. Me, I am pleased. Just like PC (now you may be one that thought PC wasn't ready either and I don't want to bicker about that) when it launched, 3-4 builds prior to RTM were rough. It wasn't until a build or two before launch that it really felt good and was ready for daily driver. 1-2 builds can mean everything in software, especially an OS. Again though, I am digging the current build and excited for today's later.

I've been using W10 build 10181 for a couple of weeks, and as far as my experience is concerned I think it's ready. No issues at all on my 930, everything working smoothly.

"With the email and calendar apps crashing" ???.. Seriously?.. You are talking like holding 950 in your left hand... You are whining alot... Such a jerk ...

It isn't a technical preview build that is with 950 devices I believe.

It's not a technical preview anymore

The stop works fine for me. I've had no issues since the update.

hah, i know. my 928 has never been so slow and laggy. many of my apps dont work anymore (627 for alarm, groove music blows, lost nokia extras so no more audio EQ) and others are no longer available (HERE maps and transit).
seeing that MS isn't even standing behind the 950 and 950XL (its ambivalence is pretty clear), i feel like I'm being forced to consider Android now, even though I want to stick with WP.

Lukily I don't use this e-mail thing :P

Damn, most days I wish I could say the same.....Stupid work!

Messaging and Skype app too. And there are messages stuck in Notification centre.

Quick tip : You definitely need a hard reset after the RTM build..

Skype integration doesn't even show in my contacts. Smh! After RTM hard reset.

Yep, same here. Messaging was working fine, but since today it crashes a lot. No problems with mail and calander though.

It's crashing for me on 1520

Seems that the connected accounts are causing the crash. The not connected account shows up, the connected ones not.

I use linked inboxes on my 930, it doesn't crash.

Same. Not at all crashing for me too on 830.

It crashed when launching from start screen, then I re pinned it to start screen and no problems. 640 latest fast ring build

It's crashing for me on my L640XL. Notifications for emails are working though. Some notifcations are duplicated over and over 5-10 times. Hoping for a quick fix.

Crashing for me on my 1020

Working fine on my Lumia 1020, latest released build (10581, I think). Hoping for "native" glance screen app setting on next mobile release, rather than the WP 8.1 app currently shipped.

Nokia 930 problem with outlook

Lumia 1520- Build 581 - latest app updates. No crashes here. So I assume it's not everybody.

Lumia 930 on Build 581 and non of these issues. Perhaps it's Build 586???

I have this issue. Can't use the app since the update.

Oh it crashes for me alright, it's frustrating

Same... Yet kind of freeing lol
640 on latest fast ring. Also since the issue massive battery drain.

All good here...that notification problem was before this update and now is fixed...what is new is that now the integrated email inbox works perfectly...so now we can have all our emails in one inbox...

Messaging is crashing for me on my L830 as well after the last update. Quite frequently.

Messaging is crashing on me too.. 1520. My Skype integration doesn't show up in my contacts.

Yes crashing for me on 1520 too. Seems to be eating the battery too.

Mine isn't too bad but Facebook is. That's the only app where I regret receiving an update, lol

Yes. The new fb app is horrible!

Pallav, stop "ranting"!!!

It's crashing on my 925 to. Unusable.

Agree. My 925 is a little flaky on 10581. Can't quite put my finger on what tipped it over the edge. As long as I can nurse it through the next 3 weeks or so I'm not too fussed as it will be replaced for 950/950XL (won't decide until I can 'feel' for real).

Crashing for me on L1520 won't stay open for more than 5 seconds.

Was it a earthquake? Someone replies I m safe and other replies No???

Not crushing here but this one rather solved the crashing bug present in 6413!

Outlook Mail crashes when I open it via another app.

previous version crashed on my 930 when swiping to delete, this update last night fixed it for me

Mine still crashes when using swipe. L920

Mail and Calendar are broken for me (no data and crash on launch). Had the infinite notifcation occur on one of my email accounts - every 8s or so I would get notified of the same email. Fixed the symptom by turning off email notifications but now my battery usage is sky high! Looking for a fix soon or am reverting to 8.1. Yikes!

Haven't you tried removing and re-adding that account?

It happened to me as well. A not so ideal fix is: 1) go to account setting, and stop syncing your primary email 2) allow it to "syncing" to apply the change. Then the mail app stops crashing although without your primary mailbox... 3) enable syncing, and change the option to download email from to 2 weeks or shorter (1 month will crash you!) 4)Now the mail app will sync your emails. You can see new email. BUT, your old email won't appear in your mail box...

Mine are perfectly fine.....

Still no fix for "new note" in week view (when you choose a latter date to note it automaticly choose accual date or first date of week). The calender app has been updated at least 6 times since i noted the error but no fix. And yes i have sent an error report about it

Argh this is so frustrating! Now thanks to this latest update I've lost mail and calendar functionality which is my main use of my Lumia 930. Microsoft can't keep putting out these buggy updates, especially once the final build is launched, otherwise people will jump ship. I get that Win10 is still a preview version, yes, but why release an update that breaks an app completely? Now I can't use any of these features until the next update, whenever that is.

That is why it is a preview though. I get ya, these things can be frustrating, but if they are deal breakers previews are not for you, friend. As well, a lot of us aren't seeing this. When you update the way that they have been lately it can cause these types of issues. The rollout for older devices is still a little ways off.

Well I'm all for trying out preview builds and providing feedback, but this issue stops that entirely for some people. Also, if this was an isolated incident then that would be more acceptable, however many reporting this which does make me question Microsoft's own testing. Plus, as has been mentioned these apps are no longer previews, and *if* people who have just shelled out on a 950/xl have this issue after updating the apps then that's pretty poor. Have enjoyed the insider process and have been more than happy to put up with bugs and crashes, but this late in the day this kind of issue isn't good.

Ok, so update 10.0.10586.11 now downloading, let's see what happens...

Perhaps it has a positive effect on the 950. In my mind from this point forward only users with official WM10 releases have the right to complain.

I second that! I am curious if anyone that has gotten theirs today is seeing this.

Update incoming, hang tight

It hasn't been a preview build since 10572

well i have 15 app updates in queue and just getting errors updating all the time...any ideas anybody?

I have 3 as well: Motion, glance and Lumia Tips. Didn't have them until I did a reset after the last build. Not sure why that is and I just cannot get them to update. (I had 4, Lumia Help or something like that. Orange Icon - I just deleted the app)

Lumia 830 on latest build...no issues

No issues here. If I recall right, this is not the first time that an app update made the app crash on people. This will surely be fixed soon.

Gabe Aul tweeted that there is a chance of a new build today.. So wait for a fix.. Lets hope for the best..

This Gabe Aul guy (if that is his real name) is probably a 1 man team working in Microsoft's basement while the rest of the mobile team is busy churning out top notch ios/android apps.

Not crashing on AT&T M8, Build 581. Messaging crashes on first try sometimes, but loads thereafter and works fine. Like the latest Outlook.

Yes, I am having thi sissue after the update. I can not access my email through the email app.

The update it's working fine for me on my M8

Works fine on my 1020. Linking works fine.

Outlook Mail on desktop RTM still doesn't sync on it's own! I thought it was fixed after getting the big BS fall update recently but it's still broken. It only syncs after first boot up, shows mail in the good for nothing action center, then the notifications clear on their own. And Mail never syncs again after that.

Fine on my Nokia 1520 after the update.

I also don't even get notifications unless I am in said app

What about edge crashing on mobile?!

Crashing, plus notifications issue that showing new email non stop with battery draining. It makes the phone unusable, please fix asap. Lumia 1520.

Yep my mail went to crap, and battery already drained in half a day!

I have a old GMail junk email that i was sycing for bulk emails and seems to be with that account only. I deleted the account and all is fixed. **Microsoft employees laughs while rubbing hands together**

The only time it crashes for me is when I try to use the swipe gestures. Otherwise it works like a charm.

I noticed that my secondary calendar on yahoo has changed from outlook icon to an envelop icon

So is everything else they've been updating.

I deleted email and reinstalled, problem fixed...on mobile10 and I'm in my crappy HTC M8 replacement phone

Messaging, calendar, and mail are crashing after the updates on my 830. Also, my notifications are acting weird...

On my wife 920 the mail and calendar app crashed too. Now it's working again, but I had to turn off email synchronization on the outlook account only. All other accounts are working fine again.

Camera app here and it just got updated. Worked fine before the update. Edge is a mess right now. Its just going down hill.

Major crashing and sync issues. The same email will sync non-stop and has eaten my battery alive. Everything worked beautifully yesterday, now it's gone to hell.

I have had it crash on my 521 when I try to start an email from another app, but it works fine on my 640. So maybe I am seeing the problem other people are reporting...

Just release it already!!!

Mine was crashing as well so I uninstalled it and re-installed it and now it works.

Trying to share an article from WC through email is not working. I share, select email and Outlook opens then closes. I can share through text though.

My Outlook is broken but Calendar is still working. Hope Microsoft fixes it soon since I have no access while on travel to my personal email. My phone (Lumia 1520) is also showing a high battery drain.

No crashing on my device. Lumia532

Re-pinning the tile didn't work for me on my 830/10581. I had to delete and re-add my gmail account. That seemed to fix the issue. Seems it's an issue with linked inboxes.

yeah, this is my experience. once I figured out how to get rid of the linked inbox the crashing stopped.

I just got an update for Mail and Calendar and it looks like they removed the linked inboxes...perhaps to have a stable version while they iron out the kinks?

Yup, they fixed it and removed a whole bunch of improvements.. One day without email on the phone, that was painful. Glad it's back to a working state at least.

Mail pretty consistently crashes with every other build, so it's on track.

It's been crashing for me the last two days. What gives?

also month view got removed from this version

Does anyone have any suggestions? After upgrade to Windows 10 on my laptop, my MS Outlook (private purchase and installed to work with Yahoo mail on Windows 8) has now lost visibility to calendar and contact items. They must be there because I can see a "name" when I enter it on an address line and I get reminders from my calendar. But, when I open a separate window for contacts or calendar, what I used to see was both fully populated. Now both are empty. I was previously never able to get my view in Outlook synched with my yahoo via web (or on my phone -- which see the "web" version). My Yahoo web calendar now shows all the items I had created with Outlook (it didn't use to!) and my contacts are also populated with Yahoo web view.
Does anyone have any suggestions?

My Outlook app is all but unusable on my Lumia 930. It crashes within seconds after launching.

Suddenly all the accounts i set on the outlook app disappeared, and the app closes seconds after i launch it. i dont remember updating the app lately. So far, windows mobile has been my worst nightmare and it is really really disappointing. I am facing a lot of troubles with this mobile, i really regret buying it.