Make $100 by buying T-Mo Radar?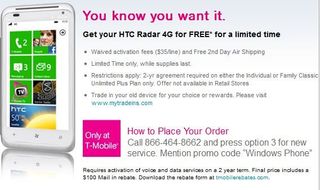 What could be better than a free WP7 phone? How about making $100 on the deal?! T-Mobile is running a promo on their WMDeals site where you can pick up a 4G HTC Radar for free (after rebate) with a 2-year agreement. The phone comes with free 2-day shipping and no activation fee.
While this is reason enough to grab one, we are catching word that if you go through their trade-in page and enter the promo code "MSMango" you will receive a guaranteed $100 for any phone that you trade in, even something as simple as an old flip phone, as long as it is in working condition. According to reports, the $100 comes in the form of a check that is mailed out after the phone is received.
If you are looking to upgrade, or get into the WP7 game, the HTC Radar is a solid phone, especially for this price. We have not confirmed any of this, so by all means, let us know if it works.
Source: T-Mobile; Via: TMoNews (Thanks for the tip, Jon!)
Windows Central Newsletter
Get the best of Windows Central in in your inbox, every day!
lulz They cut off the bottom part of the phone. :p

I came to the comments page specifically to note that, lol. Poor chin. :D

must... resist... resigning... with... t-mobile

i think it means that it costs $100 but you get a $100 mail in rebate almost like my htc trophy verizon was when i got it, $200 with $50 mail in rebate.

You are partially correct...if you read the whole article, you will notice it is free when you get the rebate, but there is ALSO $100 cash back when you trade in your old phone. So you buy the phone for $100 and get $200 back in the form of two checks.If you need a phone, buy a GoPhone from AT&T...last one I got was $4 for an old refurbished flip phone that I use as a backup if my Focus is ever out of commission.Does this also work with the $25 App Card mentioned yesterday? Anyone confirm?

Wow. Now that's how you do it!

This is a rare nice post century ah! North Face Denali Jackets Heaven has eyes ah, north face jackets cheap let me be the year of the concept of eugenics was so fantastic North Face Down Jackets post!

I did this today and here was my experience.1. 800 number was fast, friendly and easy. They did not have a problem finding the deal (use code "Windows Phone"2. If you don't buy one of the unlimited plans, then the phone is $99.99 with $50 back by mail (so the $100 rebate is wrong, but I would rather pay $50 with $50 back by mail than $100 with $100 back by mail.) W/ unlimited plan is is FREE ($50 with $50 back by mail)3. The 800 number did not have any info on the Trade In, but I read the site and then played with it. You have to use the code "MSMango" AND you need to send in a old phone AND submit a copy of your Radar purchase reciept, so it must ONLY be good with purchase of a Radar. Still a great deal as they are getting my 7 year old flip phone and I am getting $100!!Good deal! Thanks for the info!
Windows Central Newsletter
Thank you for signing up to Windows Central. You will receive a verification email shortly.
There was a problem. Please refresh the page and try again.