Dull display? Make the Lumia 950 and Lumia 950 XL's extra vivid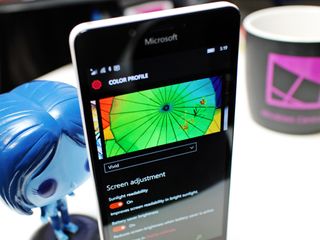 For those using or planning to get the new Microsoft Lumia 950 or Lumia 950 XL, the display is surely something to get excited about. The 5.2 and 5.7 inch displays pack a 1440x2560 resolution with ClearBlack and OLED technology for super deep blacks and rich, vibrant colors.
One complaint from some users, however, is that the displays on these new Lumias are not vibrant enough. Truth be told, AMOLED displays can be contentious as some call the color saturation too vivid and not life like. Others, on the other hand, simply love how the color pops.
Luckily, there is an easy way to customize the saturation, hue and coolness of these displays to your satisfaction. Here is how!
Control display vibrancy
1. Settings
Open up Settings and scroll down to the bottom until you find the Extras category. Tap to open.
2. Profile
Select the option that reads Color profile and open it
3. Choose
From the drop down menu you will have four choices: Standard, Cool, Vivid and Advanced. Choose the color profile that suits your tastes. You can scroll through the sample images to see how images will look with the changes. By default, both new Lumias ships on Standard, but many will prefer Vivid to have a high-contrast appearance.
4. Customize (optional)
Don't like any of the presets? Select Advanced from the menu and three sliders become visible. Those sliders control Color temperature, Tint and Color saturation. You can move the sliders to where you like to find your sweet spot.
Once completed just back out to the Settings menu. The effect is instant, and there is no need to reboot the phone. This also means you can change these profiles on-the-fly, which may be good for those shutterbugs who want a Standard profile for photo editing.
So next time someone complains that the Lumia 950 and Lumia 950 XL displays look dull, set them straight with this guide!
Bonus!
We should also note that older Lumias like the Lumia 1520, Lumia 930, etc. also have these settings found under Settings > Extras > Display. There you can set the Brightness and Color profiles just like above.
Although the new Lumia 950 and Lumia 950 XL do not have a brightness profile per se, it does look like the brightness buttons now directly set those natively, or you can use the slider under Settings > System > Display to set the base for brightness.
Which profile do you prefer? We're set on Vivid here at Windows Central.
Where to buy
Want to know which Type-C cable to get? How about a micro SD card? Read these guides for the best tips.
News
Want all the latest news on these phones? Hit these topic pages for all that we got.
Microsoft Lumia 950 XL main page
Support and help forums
Want to chat about the Lumia 950 and Lumia 950 XL? Jump into our forums and ask others what they think or get help and advice on your new phone!
Windows Central Newsletter
Get the best of Windows Central in in your inbox, every day!
Daniel Rubino is the Editor-in-chief of Windows Central, head reviewer, podcast co-host, and analyst. He has been covering Microsoft since 2007 when this site was called WMExperts (and later Windows Phone Central). His interests include Windows, laptops, next-gen computing, and for some reason, watches. Before all this tech stuff, he worked on a Ph.D. in linguistics, watched people sleep (for medical purposes!), and ran the projectors at movie theaters because it was fun.
Use it on my 735, a must used feature

My 535 does not have it. I have been looking for it. Running build 586

I do too, works lime a charm and brings the screen to life.

It might be useful to highlight that brightness profile working depends on whether you have the automatic or manual (low/mid/high) brightness mode selected when you visit the menu. For me it was confusing when being on auto (as 99% of the time), but looking to dim the display even more on "low", for a proper "night mode"

I know this is off topic but I've got visual voice mail on my 950 (att). I know some pple were complaining that it wasn't present.

Same here on my Lumia 635. I was surprised. It asked for my voicemail password and Bam, visual voicemail started working. Interesting feature. Never used it before.

I got the 950XL yesterday. It started importing some of my old text messages but it stopped at 2013. Did anyone have a problem restoring their text messages? :( I've tried disabling it and enabling it again to see if it gets it going again but no go. A little bit frustrating. :(

You do? I cant get mine to work.

Can we send this article to the verge?

"One complaint from some users, however, is that the displays on these new Lumias are not vibrant enough.​" I knew you were talking about whatsisname ​who wrote that Verge article. Hahahaha. I guess some "journalists" are too washed out to actually explore the OS. That's what happens when you stare too long at a Retina display's artificially overboosted saturation - you can no longer see past the haze of the iPhone's frosted glass UI pretentiousness. Much innovation! So refinement!

I always did think iPhone was a bit wintery, and Samsung slightly oversaturated. WP seems to kinda split the difference, though they err on wintery.

Then they will be complaining that they have to go through several settings to sort it out... They are pathetic.. Just leave those idiots like that.. They don't deserve our attention

Its a valid point, people rarely go into such settings on their TV let alone their phones. Expecting people to know where such hidden setting are and have to adjust them out of the box to get a decent looking display is ridiculous (which is what android is so often criticized for here) but I wouldn't expect the MDDF to admit such a thing.....

"a decent looking display" should mainly display colours as naturally as possibly, not over the top vivid.

It's a shame that this isn't a given with most people. I go into retail electronics stores and see ridiculously oversaturated TVs getting all the oohs and aahhs. I'm just glad I started using IPS monitors when I did, or else I, too, may have been stuck with eyes that could only register neon colors.

Indeed! Instead of chasing to reach the most-life like colors, consumer product these days chasing the most artificial ones and claim it's "life-like" or "larger than life" colors. Alot of TV when they show trees, the leaves just way too green as if it's a plastic. Oh well, we cant blame them though since it's more like a human thing. We easily gets impressed on shiny and shimmering things subconsciously, so consumer products takes advantage of it for marketability.

A decent looking display AMOLED or OLED certainly is not. A decent looking display should have natural colours which I've seen only on some IPS displays and (AM)OLED has too much "kick" in the colours.

I wouldn't expect customers to, but c'mon, its journalists job's to know about the stuff they cover. Not gonna cut them slack if they can't properly gauge the device. It's like an auto mechanic who doesn't know how to change a flat tire on a 2015 car.

It's not a vailid point when it already more than a "decent looking display" with the default settings.

I see what you did there.

Nice to see you here and there Sam XD

Number of dislikes on their review video confirms that , viewers have seen review by Daniel Rubino or Michael Fisher... Don't worry buddy , everyone knows they are misleading information providers

what misleading? have i been missing something? :D lemme know too

Verge referred Iris scanner unlock to just face unlock in Android
Verge called 1440P OLED display as washed out
Verge said camera is Mediocre without showing just one camera sample
Verge said Continuum doesn't impress everyone bcoz of very few apps have been updated to support continuum (as if 3D touch is enabled for all 12,00,000 apps in App Store)
And many more... I couldn't tolerate their review anymore . So watched half and disliked it

I was about to post that until I saw you beat me to it. Even WP8.1 had these settings; some review those muppets did over there...

Lol was about to say the same thing

Can't wait to see them up close. I know they'll have beautiful screens. No doubt

Anyone have a store link to this or is there not one yet?

It's not an app, but built in settings.

I know this Daniel, but so far all built in settings apps in the Extras have been updated throughout the years and was wondering if there is one or not. If there is, would be nice to know if it can be installed on older Lumias. Would there be a point? Not really, but seeing how it's built more around Windows 10 design and probably having more backend fixes would be nice to know.

Store link to what? It's under settings, it's not an app you have download.

What do you mean it's not an app? We need more apps and they have the nerve to make this part of the OS...WTH is wrong with Microsoft!

Well, you never know, I've read crazier things. :P

good to know, keep it up with the tips/how tos. im loving the phone even more without even having it yet. thanks

I thought it said "dual display". Lol I was like what???

too bad iVerge didn't bother using the phone for more than 3 minutes to have found this...

Nobody cares about Biased Reviews

Also works on my old Lumia 920 :)

I can't get rid of my my red 920. I love that thing. :)

How you get it? I have a 920 but dont see the option :/

it's in settings under display settings and then colour profile

Well i can go to the settings but, there isn't an option for vivid etc

So what is the MicroCell setting. I am getting the XL, so I will not have that, but I do have an AT&T MicroCell and wonder what the setting does.

Yeah! I use an AT&T MicroCell also, and have never seen that settings feature before. What does it do? Did AT&T make a settings app to let you add / remove / view allowed numbers from the settings?

Love this feature on my Lumia 1520

When will the 950XL be released on Indonesia? Or will it even be released here?
Anyone have an idea?

I think it will come to Indonesia in mid-December.

Super Low brightness that's what's missing on WP8. I dont think W10 has it too

First I need to order the 950xl...

At 2.10, I thought he was going to say: ...so you can jack off.

I prefer my screens "washed out"

Dull display? or Accurate color display? Most probably the second one. Waiting for Anandtech... 8-)

It's funny...Samsung users complain about a cartoony screen. Then they fix it by selecting "basic" in the OLED display mode. Looks washed out at first but is color accurate. Now WP users will take an accurate OLED panel and make it cartoony. Funny how that works.

It's not really about accurate or saturated, but what comforts the eyes. That's why it's important to have the ability to adjust. Humans eyes don't see color the same way which is why some saw a gold and white dress and some saw a blue and black dress. I tend to lean towards cool colors so I prefer a more wintery (or accurate) view, but others lean warm and a more vivid screen is desired.

Many Samsung users complained about that but not all. Some like it to have saturated at some point but ome people like it just in the middle and some want it to be in the cool side. For WP users, it is the same. Not all but many would prefer one profile and other people want the other.

Agreed. I like the colors in my Lumia 920 better, the Surface also has great colors, warm, and accurate. I deeply dislike the default color scheme in those Samsung phones, it looks cheap.

Excited... I'd be excited if it was sculpted, and didn't waste battery by needlessly going beyond 1080p. :-/

There's nothing new to it but yes I like it

Im using a custom setting on my 1520. Amazing tip. Really makes the screen pop without over saturating. Thanks Daniel!

Everytime I hear someone say their screen pops, I visualize popcorn. :]

Hi Daniel, you are posting some nice articles (how to's) for 950. Lot of infor's, keep it up buddy.

Problem is that this feature is buried deep so unless you tinker a bit. You won't be able to find it. Great tip!

Good that the settings screen has become minimalistic. Avg consumers who used to have Windows phone didn't come to know how to customise their operating system.

My Lumia 930 is on Windows 10 Build 10586.11 ver. 1511 but adjusting color profile is different from what you have shown. I mean, it is not in the same path.

On my Lumia 925, I can't click on display under settings. It doesn't do anything. I had the feature pre Windows 10, just never changed it.

I like how they gave us a lot of good options for this.

Tried "Vivid" for few hours on my 930. Prefers "Standard" though.

Okay, this is to make them look like the displays on Samsung phones? I pass. I like colors to be more realistic, not all IN YOUR FACE DAYGLO.
Windows Central Newsletter
Thank you for signing up to Windows Central. You will receive a verification email shortly.
There was a problem. Please refresh the page and try again.