Microsoft's quiet mission is to make technology accessible to everyone
Today, Thursday, May 16th, 2019, is Global Accessibility Awareness Day; and Microsoft is committed to ensuring that its technology, from conception to production is built for everyone – including the approximate 650 million people living with disabilities.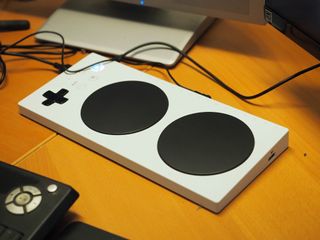 (Image credit: Windows Central)
According to the "Disabled World towards tomorrow" website, 650 million people — nearly 20% of the world's population — are living with a disability. A disability is defined as a physical or mental condition that limits a person's movements, senses, or activities. Many millions of people around the world have limited access to the opportunities and technology the majority of the population enjoys without inhibition.
Global Accessibility Awareness Day's (GAAD) purpose is to get everyone "talking, thinking and learning about digital (web, software, mobile, etc.) access/inclusion and people with different disabilities."
Rather than just trying to build general awareness of these challenges, GAAD is promoting action by targeting the "design, development, usability, and related communities who are responsible for building, shaping, funding and influencing technology and its use." That means Microsoft, and it means you.
Have empathy because it could be you
Interview with GAAD co-founder Jennison Asuncion
GAAD was birthed eight years ago through a blog post written by Joe Devon, a Los Angeles-based web developer. Accessibility professional Jennison Asuncion, after reading the post, joined forces with Devon to create the first GAAD event.
GAAD is geared toward ensuring that the companies that make the products we use have the knowledge and resources to adhere to the strict standards of inclusive design and accessibility. Every year numerous events are held around the world to promote this mission.
On this Global Accessibility Awareness Day (GAAD), the realization that disabilities are both congenital (present at birth) and acquired throughout life is core to appealing to human empathy to build awareness and promote action for the needs of people with disabilities. Disabilities can affect anyone. As life expectancy increases (life spans over 70 years), so does the incidents of various impairments. Malnutrition, disease and child labor, particularly in developing countries, are also causes of disabilities. Armed conflict and violence also cause many of the disabilities with which millions are living. Accidents are a factor as well. Thus, it is important to remember, that someone who does not need technology to be made accessible for them today, may need it in the future.
Empathy, which is the driving force behind Microsoft's CEO Satya Nadella's passion for ensuring its products and services are accessible to all is an important characteristic for individuals, companies and leaders of industry to exercise. Without it hiring practices that promote the inclusion of people of varying abilities will not be part of a company's core mission. This ultimately robs companies of the valuable perspectives of the needs of important segments of the markets they serve.
Inclusive design is also a byproduct of genuine empathy in that it ensures that necessary time and resources are committed to guaranteeing products are designed from conception forward with every user in mind rather than "tacking" on accessibility options after a product is built.
How raising a son with disabilities helped Microsoft's CEO transform the company
Microsoft, inclusive design and accessibility
Nadella admits that his experience raising a son with severe Cerebral Palsy has made him an empathetic leader for Microsoft. He confessed in an interview (above video) that he initially saw his son's condition as something that happened to him; but after the selfless efforts of his wife he realized it had happened to his son Zane. This enabled him so see life through his son's eyes and to address his needs. This empathy has been made part of the company's core identity and is driving a mission of inclusive design to make sure everyone can use Microsoft's products and services.
This is an evolving challenge but Microsoft is aggressively positioning itself as a vocal leader by designing products and services that meet the needs of people with disabilities. Here are some areas where Microsoft is making technology accessible to people with disabilities. They've produced a number of products and programs to open up technology to even more users.
Microsoft's Immersive Reader battles Dyslexia
Immersive Reader is a feature Microsoft built first into OneNote and then expanded to other Microsoft tools and cross-platform products. It has been used by millions and has succeeded in helping people with Dyslexia overcome their challenges.
Microsoft's Seeing AI app helps the blind to 'see'
Created by a Microsoft programmer with blindness, Saquib Shaikh, Seeing AI leverages artificial intelligence and Microsoft's Cognitive Services to describe the world to people who can't see it . This enables them to interact, navigate and provides a level of autonomy they might otherwise not have.
Microsoft's Project Emma confronts Parkinson's Disease
Microsoft's Project Emma is the company's investment in combatting Parkinson's Disease. The Emma Watch, which sparked the more expansive Project Emma, helps to control the tremors associated with Parkinson's Disease.
Windows Eye Gaze gives hope to people with quadriplegia
Microsoft's Eyes Gaze technology was birthed from Microsoft's efforts to help people who cannot navigate Windows with their hands. Using just their eyes, people with immobilizing conditions like ALS can navigate Windows and even type entire articles using only their eyes.
Cortana makes Windows 10 setup easy for everyone
Setting up Windows on a new PC can be daunting for some. And for those with limited movement, using your voice in conjunction with Cortana to set up Windows can be liberating.
Microsoft's Autism Hiring Program
Microsoft's Autism Hiring Program is a modified multi-faceted hiring process that navigates around the social-interaction barriers many people with autism face. Microsoft has allied itself with the Autism @ Work Roundtable to help bring its successful model to other companies.
Microsoft's Xbox Adaptive Controller makes everyone a gamer
Microsoft's Xbox Adaptive controller is an ambitious device filled with a host of ports allowing users to configure the controller to their specific needs. This device has opened the world of gaming to millions of people who were previously shut out.
Championing inclusion
(opens in new tab)
A platform for inclusion

The Xbox Adaptive Controller is the ultimate adaptive peripheral for those with unique accessibility needs. Tailor each standard button with a huge array of controls and add-ons to suit specific usability scenarios.
Microsoft patents Xbox Braille controller
Earlier this month a Microsoft patent for a Braille panel incorporated into an Xbox Elite Controller surfaced. Microsoft is very serious about including everyone in its products and services.
Global Accessibility Awareness Day and you
On this GAAD make an effort to not only know about the issues, but perhaps you can find a way to be a part of doing something to make technology accessible for everyone. Check out the activities and events going on around the world; perhaps there is something near you.
Jason L Ward is a columnist at Windows Central. He provides unique big picture analysis of the complex world of Microsoft. Jason takes the small clues and gives you an insightful big picture perspective through storytelling that you won't find *anywhere* else. Seriously, this dude thinks outside the box. Follow him on Twitter at @JLTechWord. He's doing the "write" thing!
Before Bleached comes, and pops his lowly mouth off about nothing, I'd like to say that I think it's great what MS is doing here.

Global accessibility? Get a grip and stop drinking the MS koolaid. MS is not delivering the basic component of accessibility and that's a network anywhere in the world so talk of enabling accessibility with a few pieces of software is just so much hyped BS.

Though delayed by half a month, I did honour the day now by spending an hour listening to what (to me) was a very incoherent talk about what is being done to tackle the issues mainly around standards. (Link: https://livestream.com/internetsociety/isocgaad2019/videos/191334145)
The key takeaways I got was the following: - There are standards but of those who by law are forced to adhere to them, is only the public sector, which leaves out the private sector. Further, the private sector usually didn't do accessibility unless it posed a security issue or was cost ineffecient not to do (the switch from Adobe Connect to Zoom was one such example) - When designing content for accessibility, just making content that is responsive also helps with accessibility, and it was emphasised as a great first step. - I've heard Microsoft say they design and build with accessibility in mind, and not plaster it on afterwards. This was also emphasised in the stream. Further explained that it is not good enough to check for accessibility issues once every major release, but with every code change and with every new content we create. - People with disabilities are encouraged to leave their comfort zone and reach out. One example that was mentioned was how pairing developers and those with the issues in the same room, helped with building understanding (and likely empathy as well).
Windows Central Newsletter
Thank you for signing up to Windows Central. You will receive a verification email shortly.
There was a problem. Please refresh the page and try again.