Metro Exodus for PC will launch only on the Epic Games Store (update)
By Asher Madan last updated
Valve probably isn't too happy.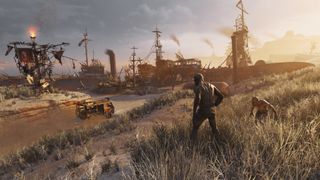 Updated February 6, 2020: The game is launching on Steam starting February 15, 2020.
Epic Games has been on a roll lately, and many could argue that the company is by far the most popular developer in the world right now with the unprecedented success of Fortnite. Not only that, but it also launched the Epic Games Store which has not only attracted a slew of incredible indie games, but also support from major developers. Recently, we reported that Ubisoft would only release its "AAA" games on the Epic Games Store from now on, forgoing Steam, but now there is another title which will only be available on the Epic Games' platform.
Today, publisher Deep Silver announced that Metro Exodus will only launch through the Epic Games Store on PC with a $10 price drop. What's really shocking is that preorders have been available on Steam for a while now. Epic Games and Deep Silver put out the following joint statement.
It seems that the 88 percent revenue split is the reason why Deep Silver decided to abruptly abandon Steam. Deep Silver's head Dr. Klemens Kundratitz said that it was Epic's generous revenue terms that swayed his company's decision. However, it seems like Valve wasn't happy with this decision and posted a somewhat snappy response on the game's page.
The Division 2 will also only be available on PC through the Epic Games Store or directly from Ubisoft. That's not all though. Ubisoft will release even more PC games on the platform in 2019. Epic Games is even going as far as to incorporate Uplay into its online services. It's unclear if other major publishers will follow Deep Silver and Ubisoft's lead, but this is definitely a promising start to say the least. If I were Valve, I would definitely be concerned because this seems to be a trend at this point. Metro Exodus will probably return to Steam in 2020, but the deal between Deep Silver and Epic Games may be extended.
Metro Exodus is a post-apocalyptic first-person shooter which has garnered a lot of interest in recent months. The game is a sequel to Metro: Last Light which was ported to Xbox One a few years ago. Years after nuclear war devastated Earth, a few survivors still cling to existence beneath the ruins of Moscow. They have struggled against the lethal elements and fought mutated beasts. Now, in Metro Exodus, they must flee the underground tunnels in search of a new life in the East.
If you love post-apocalyptic experiences like Rage 2, then be sure to give this game a go in February. The title features Xbox One X enhancements and runs at native 4K resolution on Microsoft's new console. From what we've seen at events like E3 2018, the title looks stunning on the system.
Asher Madan handles gaming news for Windows Central. Before joining Windows Central in 2017, Asher worked for a number of different gaming outlets. He has a background in medical science and is passionate about all forms of entertainment, cooking, and antiquing.
Oh how much I love this. I don't care for Epic, but Valve definitely needs this.

let's see if that motivates Valve to actually do something

Time to get some popcorn 😂

Yes, a price drop that isn't hitting Europe and other countries than the US. The announcement came with an increased price as well. Real shaft job on that end. 1 of the things why people are mad at the devs and EPIC. So far they have been avoiding people's questions about that on twitter.

Have to question the logic behind this move. The millions of younger teenage kids that play Fortnite and have the Epic Games store installed are not actually the target demographic for Metro Exodus. This could backfire on Deep Silver and 4A Games.

Well yeah. But those are choices. Accepting buckets of money shouldn't be the only move a game company should make. But well. Time will tell.

I really hope Epic Games paid Deep Silver enough.

Never cared for this game but it's getting out of hand.

Limiting store sales only hurt customers in the end. I should be able to get any fame from any retailer, not have to pick and choose from several. Imagine if retail stores did this with console games. It's bad enough with pre-order exclusives!

Couldn't agree more! It's down right infuriating! I'm sick of having to install useless utilities to play games. Open a game in Steam that opens u-play... So I figure, hey I'll just open it in Uplay... So it opens Steam as well.... I can handle one but two clients open for absolutely no gain is ludicrous...........

In the long run, this could be great for consumers. Steam has been far too dominant for far to long. By making this game exclusive Epic will incentivize people to try other platforms, and when people start trying other platforms it will incentivize people to set up further platforms. In turn, the increased competition should force Steam to step up their game and\or lower their prices. I remember back before digital sales were a thing, and every department store had a video games isle. Big stores would compete with each other to have better sales or lower prices, or retailer exclusive offers.

From this point of view it's great! It's just frustrating that PC gamers are bound to these platforms for specific games, all of which insist on running while playing.. It would be nice if the keys were sold and redeemable universally on any client/platform.

This is why I buy the boxed edition wherever possible. I only really ever buy digital download if Steam\Gog have a sale.

Epic store does not support game reviews, Avoids issues in price increase in EU and countries outside of US when Epic jacks a game from steam and Windows 10 store, with that giving US residents a nice discount only, And games from Steam or Windows 10 store to Epic Store as Exclusives create region blocks because the EPIC store is region locked unless a game is bought directly from the Epic store. All this won't help Epic and devs in the long run at all unless fixed. People are dropping their preorders now or either wait for the steam release once the Epic deal is over, or they go for the console version instead. Imo Epic opened their store incomplete without a clear view towards customers. Great for developers getting that extra % but customers outside of the US get shafted in the process. And people still wonder why people stick and back up Steam.

Who trusts reviews these days. With all of paid for fake good reviews, or bad reviews because people don't like the politics of the creators\publishers, I'm not sure that I would trust any review that didn't include a playthrough video at least.

Mmm, try using Origin and get back to me on that, lol. Competition is good when the consumer can get the same content on multiple platforms. Take rocket league for example. You can get it on steam, but you can also get it on Xbox, Switch, and PS4. You can play the game together too (though, I think online MP costs money if you play on consoles) By comparison, Battlefield 1 launched on all platforms, but it's multiplayer was limited to each respective platform. It's player count dropped considerably over time, where rocket league flourished. While it's not a perfect analogy, limiting games to one platform really cripples adoption of the game. At this point, I don't even bother with games that are on the Microsoft store, Origin, uPlay, or others, because everyone else has a tendency to half-ass their launchers, butcher social integration, make refunds difficult, or have significant glitches such as overlays appearing in game randomly. Or suddenly having the platform not recognize the file tree for installs if the game has been temporarily moved. This is coming from someone who uses multiple platforms to play PC games: it's a complete clusterfk. I welcome competition for PC, but I want them to release the content on multiple platforms, not just their own. (And make sure cross-play *works* between PC platforms)

It's annoying for some, but users' need != devs' need. This is between Valve, Epic and devs.
Maybe Valve will start negotiating better deals with devs, or else... only time will tell.

Not hating the $10 off on the release price! :) That is a plus for EPIC in my book.
Since i am not a loyal fan boy of steam/valve i care more about the cost than who is selling the game.
Windows Central Newsletter
Get the best of Windows Central in in your inbox, every day!
Thank you for signing up to Windows Central. You will receive a verification email shortly.
There was a problem. Please refresh the page and try again.