Microsoft begins rolling out the Windows 10 October 2020 Update to customers
The second big Windows 10 update for 2020 is finally here, and it brings with it subtle improvements.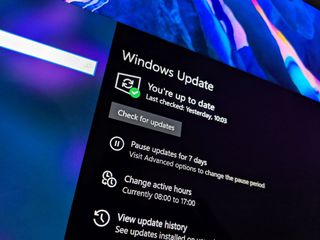 (Image credit: Windows Central)
What you need to know
The Windows 10 October 2020 Update is now available to the public.
It will begin rolling out in phases, so not everyone will get it right away.
Users must manually initiate the update on version 1903 or above.
Microsoft has today announced that the next big Windows feature update, known as the Windows 10 October 2020 Update or version 20H2, is now generally available and is starting to roll out as an optional update for customers on supported versions of Windows 10. As always, Microsoft is throttling the availability of the update at first to ensure there are no widespread issues when updating to the latest release, so not everyone will get it right away.
The update will be made available first to customers on a supported device, running Windows 10 version 1903 or above. It won't be installed automatically, however, meaning you will have to go into Windows Update yourself to initiate the update if it's available to you. If you're already running the Windows 10 May 2020 Update, the update process will be quicker as it will install like a monthly update.
To check if the update is available to you, head to Settings > Update & Security > Windows Update and hit the check for updates button. If it's available, you'll see a dialog that says "download and install" for the October 2020 Update. Once the download has been initiated, you cannot stop it, so only proceed if you're sure you want to install this release.
Microsoft will begin to automatically push this update to Windows 10 users on unsupported versions of Windows 10 in the future, but that's not happening today.
What's new?
Microsoft's latest release of Windows 10 features minor improvements and enhancements, many of which focus on subtle UI changes. For example, Microsoft is updating the Start menu interface with a cleaner look, removing the colors from live tiles and the accented squares from logos in the apps list. It also brings more legacy Control Panel settings to the modern Settings app, including the ability to change your display's refresh rate.
It's also the first version of Windows 10 to include the new Chromium-based version of Microsoft Edge by default, meaning if you've avoided the new Edge so far, it'll come preloaded when you update to the October 2020 Update. There are also minor improvemnets to the tablet experience on 2-in-1 PCs, in that it no longer asks if you want to enter tablet mode and instead provides a more touch friendly desktop environment.
Windows 10 October 2020 Update review
For enterprises, this release brings simpler device management, more secure biometric authentication, and stronger app protection with Windows Defender Application Guard. As this is the H2 release of Windows 10, the October 2020 Update will be supported for 30 months, and is the release Microsoft recommends enterprises begin updating to.
The Windows 10 October 2020 Update is the last major release of Windows 10 for 2020. Microsoft hasn't detailed its plans for Windows 10 releases in 2021, but rumors suggest the OS will only be getting one big update in the second half of 2021 next year, as it'll be focused on delivering Windows 10X in the first half.
In the meantime, what are your thoughts on the October 2020 Update and will you be installing it? Let us know in the comments.
Zac Bowden is a Senior Editor at Windows Central. Bringing you exclusive coverage into the world of Windows 10 on PCs, tablets, phones, and more. Also an avid collector of rare Microsoft prototype devices! Keep in touch on Twitter: @zacbowden.
Funny. Last week I just couldn't stand anymore that all that Windows Update would tell me is that I am all up-to-date with my 1909. So I downloaded the Update Assistant to see what it has got to say. First run took about an hour or so when at 80% installed it would simply hit complete lock-up and black screen. I was a bit worried because Windows updates usually don't happen flawlessly nowadays even without having the system crashed during a "don't shut down your computer now" moment. Luckily everything was fired up fine after the restart. Then at second run it got as far as 93% and then finally it said that I am not ready. Because I have Connexant audio driver and it is not compatible.
First of all, if Windows Update is smart enough for whatever reason not to offer me the upgrade, why is the Update Assistant taking more than an hour at 93% to find out the same.
Second, funnily enough, I don't have Connexant audio driver. I don't have Connexant anything. So I am still waiting for Microsoft either lifting the burden for me, or my desktop PC to burn down, so that maybe my next set of hardware will be eligible. Probably by then all new features of 20H1 and 20H2 will have been removed because of some telemetry showing that the functionalitis are not being used enough.

Why not just wait for the update to come to your computer? What is the big new feature you really, really needed now now now? And did you really need to post this in the comments section of two articles?

Why are you always so concerned about why people need or want a new update? You did that to me as well. This seems to be a recurring theme with you. This is an article speaking about a new update. People are complaining about Microsoft's broken update system - including an Update Assistant that bails out at the END of the update process and not the beginning. This commentator wasted their time. I have too. I have an XPS 17 that does not update to the MAY update. My Surface Laptop 3 finally did a month or so ago. So now my XPS is TWO "major" versions behind of Windows 10. Microsoft is incompetent when it comes to delivering updates. I'd switch to a MBP 16" from my XPS 17" because of WINDOWS and not the hardware. Most of my work is done in VS 2019 so it would be dumb of me to do that. But Microsoft's neglect of Windows 10 is starting to chafe on me.

Maybe because he is stuck on 1909, and we have had 2004 aka 20H1, and are about to get 2010 aka 20H2. That will be two releases behind on a Software As A Service model. End of Service for 1909 is May 11, 2021, so it would be nice to get off of it. With the 'what is it you want' mentality, you could just as well stay with Windows 7.

Thanks for asking! Windows subsystem for Linux. I could just wait. Only I just described above my issues with waiting despite what features any update has. Your comment was real value added! Much appreciated.

Original Surface Go user here. Still have not received it.

Hmm, my Surface Go got it some time ago. Not when it should have, but a couple of months ago. Just showed up, no trickery.

I just got this today (Surface Pro 7) and I have no issues. The new Start menu colors scheme is definitely cleaner, but it's also kind of bland. I'd like to be able to make the tile background the same as my theme color but not make the rest of the Start menu that color. Just a quibble really.

Natural Update Birth? Just showed up with check for updates? Mine isn't offering. (SP7)

Yes, I don't know why it did not come as a personalization setting in form of a slide to setting transparency of the accent color on tile backgrounds in the first place.

i am in no rush, I may wait until next year before i update to it, make sure it is working right

Does anyone know what's the situation with the feature where your account info is displayed on the top of the Settings app? I do have it on one of my devices and on none of my other devices. If I'm not mistaken it had been available for some since 1909. How come it is not omnipresent still in 20H2? I don't even see it in the official Microsoft's Windows 10 October 2020 update rollout video.
Windows Central Newsletter
Thank you for signing up to Windows Central. You will receive a verification email shortly.
There was a problem. Please refresh the page and try again.