Microsoft begins selling clever charging stand for the Band 2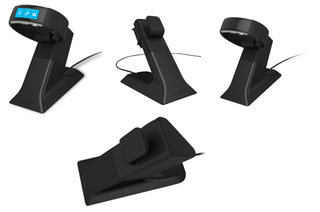 Back when the first Microsoft Band came out, some crafty people created 3D-printed charging stands for the wearable to be used at your desk or when in the shower. This time, however, it looks like Microsoft is taking things into their hands as they now have their own charging stand for sale to be used exclusively with the new Microsoft Band 2.
The diminutive stand sells for $19.99 and can be ordered directly from Microsoft who describe the product like this:
Indeed, one of the issues with the 3D-printed fan versions of the Band 1 stands were their lightness. The stand would shift around easily on the table, so although it looked good, it could have been better. This new stand from Microsoft looks to fix that by adding some weight to it.
So far, there is only one review posted, but it does say:
Order the Microsoft Band 2 Charging Stand for $19.99 from Microsoft (opens in new tab)
Update: You can find some actual photos and a brief review of this accessory in our forums.
We've ordered up one to do a quick hands-on video review for this coming week, so if you are hesitant to order, we'll take one for the team. Stay tuned for that or just order yours above.
Thanks, Curt W., for the tip!
Daniel Rubino is the Editor-in-chief of Windows Central, head reviewer, podcast co-host, and analyst. He has been here covering Microsoft since 2007 when this site was called WMExperts (and later Windows Phone Central). His interests include Windows, Microsoft Surface, laptops, next-gen computing, and for some reason, watches. Before all this tech stuff, he worked on a Ph.D. in linguistics and ran the projectors at movie theaters, which has done absolutely nothing for his career.
thats cheap... normally they put +50USD for accessories

I guess this is further evidence that the original Band was more of a demo/concept unit, and the Band 2 is being taken far more seriously as a consumer product.

Actually, as much as I like Band, I'm afraid to move to it and have them not supporting that much when a new one comes out. I believe that once it ships with Windows 10 IoT it would be a much safer bet.

I don't think you will have to worry about that TOO much. I think we will see a longer support life for devices like this. Up to two years, but a minimum of 18 months. To be honest, it wouldn't make sense to support it longer than that. I like the Band 2 and it's unclear if I will update to a third version. However, making it waterproof and extending the battery life by 2 or more days would be nice.

You will miss out on a year of good updates then. New features are added every couple of months.

I'm with you. It was excluding Band 1 the music control update, that did it for me. No reason, other than a biz decision to leave Band 1 behind.

I just recently got my Band 1 and I definitely feel the same way. I'm hoping its a case of how phone manufacturers debut features on the newest first and bring it down later on, especially since the hardware is there.

They pretty much said that in their explanation for limited quantities. The Band 2 is the official release product and you'll even notice in some of the marketing they won't even say 'Band 2' they'll often say 'the new Band' because to most people it's considereed the first iteration. But on purchase pages, they'll stay Band 2. :)

Yep. The Band 1 was originally supposed to be a reference device for OEMs. Microsoft's goal was to license the sensors within the Band and have 3rd party OEMs actually manufacture the direct-to-consumer devices (basically like how Windows works). No one ever took MS up on the offer so they're doing it themselves now.

Is there any particular reason people haven't just modified the 3D model of the DIY one to add a small space for a counterweight?

Time, effort, available materials. Not everyone is into DIYing something.

Time taken would be a minute or two, effort would be minimal, materials irrelevant as it is being 3D printed. In fact since some 3D printing companies charge by amount of plastic used, it'd be cheaper with a slot or similar for a weight of some sort. If you can put a round peg in a round hole, I think you can put a weight in a stand.

Riiiiiiight. (Daniel's answer is correct. This is no "minute or two" fix.)

What about all those people stuck putting a square peg into a round hole?

That is the stand they use in the Microsoft Store. I was just saying a few weeks ago that I wish that they would sell them.

Love to buy it but Microsoft doesn't seem to be interested to sell Band 2 in Europe.

Yes, would really like to buy one in Norway, but no such luck. I thought they said it would become available in all "Surface" countries? Have there been any rumors on when they plan to expand?

Order one from the UK store. They happily ship abroad (I order stuff from the UK store and have it delivered to France, since I prefer QWERTY), including the Band (1 and 2).

But it's more expensive if you buy it from UK due to the currency conversion.

More expensive than what?

As mentioned above, it's no problem to order it from the UK store to Norway,I have done it a dozen times and I',m a happy owner of a Band 2.0 :) Also, there are no additional taxes or shipment if you use standard delivery methods.

Just order it from the UK MS store website. They ship for free throughout Europe. Just sure you enter the default UK zip code for the billing address (their sales rep told me this).

UK is Europe and they ship to Europe mainland. They could to more, yes. Like sell in the country stores. I agree

Yes, the UK is a part of Europe and yes, you could technically order from the UK store but there's always alot of if's that you want too avoid. Microsoft say that they are a worldwide company and should act accordingly.

I can't think of any "ifs" except "if you absolutely want to be right (and not have a band stand) (or a Band 2) go ahead". Order from the UK store or stop moaning.

I know.. You're right I'll stop moaning but, I have point in my criticism against Microsoft and the way they launch products, right?

Your original point was "Microsoft doesn't seem to be interested to sell Band 2 in Europe​". Microsoft ARE selling Band 2 in Europe. There is no argument here.

I think there is. I was not aware that you could buy them in the UK store and there's nothing in my local store that tells me that. That means that Sweden is not an intendent market. If it was an intendent market we would see adds in media as we have for the Surface pro 4... so Microsoft sells the Band 2 in one country in Europe..and that's the UK.

Now you're only arguing for the sake of arguing. You're wrong. Deal with it.

I bought 2 bands from the Microsoft UK website and first band from Amazon.co.uk website. Never had a problem with them. Actually, my experience with both sites from UK are awesome. I´m from Portugal. I returned my Band 1 3x to Amazon UK due to malfunction and they always replaced it. When I returned the Band 1 for the third time, I asked Amazon UK for a refund and they said no (through email) so I decided to call them and after 2 minutes of chat, amazon UK said they would refund me and they did in 20 days. I would call Amazon on a Monday, print the UPS label, send for replacement and I woud get the band replacement at the same week by Thursday/Friday. Super fast!!! My Band 2 just stop monitoring HR so tomorrow I will call Microsoft UK for a replacement. Is the last chance Im giving MS. Cant stand the instability of MS Bands. If I had to replace it again, Im going to ask for as refund. BTW, Microsoft UK replaces and refund products but Amazon UK do not refund....only in rare ocattions like mine. So if people from Europe want to buy Micorsoft products, try to buy frist from Microsoft UK instead of Amazon UK.

You can order the Band 2 from the UK MS store. During the order, you can choose the destination EU country freely. Unfortunatelly the stand is not there yet.

And it just occurred to me... Why did they not call this product "Band Stand"?

Lol. There's a place in India named Band Stand

With integrated speakers. Would've been awesome.

They need to focus on smart selling djeezs #belgium #noband or #band2 #uselessinformation

Buy from MS UK Store. They ship to Belgium. Warranty and all.

You can order the Band 2 from the UK MS store. During the order, you can choose the destination EU country freely. Unfortunatelly the stand is not there yet.

What Hoekie said... Have one around my wrist from UK store... Free shipping.

Apple building horrible hardware, MS building nice hardware. What's happening?

Microsoft has always built nice hardware (accessories, Zune, Xbox, etc.). They just never made a lot of hardware until now. :)

LOL. NO. All the mices and keyboards were HORRIBLE until Windows 8 era.

$20 seems a little ridiculous without a charging cable. Make it $30 and toss in a cable.

That was my question whether it included a charging cable. If this did I would upgrade from my Band 1. Tired of schlepping my charging cable to / fro on the weekends.

That's one sexy stand! That looks like the one from the store.

And while on the subject of charging...... hope our friends in Redmond fix the B2 problem of thinking its discharged when it really isn't. Like the Band Stand comment north of here.

Totally. My friend is having this problem. His first MS product and coming from crapple so its a bit embarrassing

Bought one two weeks ago :)

FYI: I just ordered one. I got free shipping and $11.00 Earn beta credit. I toatally forgot about the Earn program.

Earn is only available in three US states right now. I like the program, just hope they expand to more retailers if it rolls out sometime in 2016. And as for the stand for Band, it looks great. Thanks for the tip, Windows Central.

:(( Not available outside US, and US MS Store does not ship outside US.

Give it some time. UK are selling Band 2, pretty sure they'll get the stand.

Man, if I had a dollar for every time someone said "give it time" in relation to Microsoft I could have quit my job by now.

man, if I had a CENT for every time someone bitched about Microsoft I'd have more money than Bill Gates.

MS distribution is very poor. I had to import it from the UK with the consequent additional costs. Most users will not do this...

would love some new about more teretories for the band 2 in general

I'll wait for the review before ordering. Wish they would do a package deal with the charging cord for say $30.

Looks nice! Offtopic but, would be even nicer if they would bring out a desktop stand with Qi for the Lumia 950 XL, that will actually charge the phone in portrait...

Yes, the stand doesn't work with the 950 either. Stinks as I have two of them. Placement is also VERY finicky on the original Nokia flat charger (DT-900 was it?).

Use the binder clip/landscape hack!

Yeah that doesnt have a bright led on gthe front that keeps one awake at night!

DT-910 stand charges 950 in portrait

Anyone know if this available in store also?

I got this from the Microsoft store the day after Thanksgiving. It's a decent design, but the spot the charging clasp connects to is a pain to get sitting correctly. It's also a bit overkill when you wear the Band all the time, as you just use it for maybe an hour or so.

I returned my Band 2 and went back to Band 1. Found Band 2 latch way to bulky. Band 1 is actually more comfortable for me. Does everything I want it to.

The biggest issue with buying it from the UK is price. It's just ridiculously expensive there.

No it's not. It's the GBP to EUR conversion rate that's killing us at the moment, but there's not a lot we can do about that.

Could attach the band 1 charger connector to the front clip of the stand, and use as a band 1 stand charger.

I think that a wireless charger would work great for this type of device. I struggle to attach the charger to the Band 2 clasp. More of a puzzle than a solution. Would be nice to just toss it down on a pad.
Windows Central Newsletter