Microsoft commits to a Windows 10 'flagship smartphone' for 2015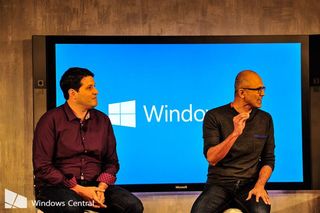 While Windows 10 in its phone form only got a partial look – expect to see more at MWC at the beginning of March – ahead of the highly anticipated preview builds pushing out, we did at least get a little snippet of information many Windows Phone users have been wanting to hear. Microsoft is committed to building a Windows 10 flagship smartphone later this year.
Of course, with Windows 10 not due for a while, there's no telling whether that means a new device that will launch with Windows 10, or whether it means a device that will launch before and be the poster child for Windows 10.
But a lot of people have been concerned about the lack of a high-end option, and this at least should put those concerns to rest. We might not like waiting, but at least we know for sure there's something to wait for.
Richard Devine is an Editor at Windows Central. A former Project Manager and long-term tech addict, he joined Mobile Nations in 2011 and has been found on Android Central and iMore as well as Windows Central. Currently you'll find him covering all manner of PC hardware and gaming, and you can follow him on Twitter and Instagram.
Doesn't put anything to rest for me. It's pretty obvious that eventually they will put out a new flagship... I want to know when!

They said they will be at mwc. Which is pretty far away still. :(

Yup, 6 weeks or so is an eternity, right.

Well, when you've already been waiting for four months...

Sure - the cancellation of McLaren with no back up device was a big blunder from MS/Nokia.

True. Did they "bet the farm" on untested technology? If they did, then it was certainly poor risk management. Perhaps they were also resource constrained in that all remaining resources were committed to developing additional entry level models.

When you're on Verizon and your Lumia 822 contract is ending this week, and they've pulled the Lumia 928 and Lumia Icon from all Verizon stores, then, yes, another 6 weeks is an eternity as it's already been 2 years with the outdated 822. Microsoft needs to get a flaghship out now, on all carriers. The hardware is here now. It's absurd they don't have anything till Windows 10 launches.

Like I said, cancellation of McLaren with no back up was a big plunder. I am on AT&T and had 920, now 830, so doing reasonably ok.

My 822 contract ended early December. I'm patiently staying off contract (enjoying whatever power that gives me) until a new Microsoft flagship phone comes out. I have nothing bad to say about my 822, but I am so ready for something new and bigger.

That's what... **arrgh.. must resist.. juvenile.. overused... joke... ** ..she said! **sorry, predictably, I failed**

When a phone you want comes out, think long and hard before you get back on a contract.

Yeah, I'm seriously thinking about forking out the cash and buying my next phone out-right.

Only thing bad about it is its not a world phone(not that anyone would use it outside of US)

you can still get the icon on the MS site if you so wish $99 contract

No you can't. It's been out of stock there for over a month now.

MWC means nothing all they plan on doing is showing a phone model off with no relase date and then they will cxl it like in the past and just release budget phones made by BLU and the other have nots in the industry. The are screwed up when it comes to hardware should have left Nokia to keep building the last flagship was what the ummmm ummm 1520 and what the 930 if you consider that a flagship give me a break they said WMC my mom can bring a prototype there to satisfy you if thats all you want is a mock up to show off the guy wants a real date for a real phone to be released not look what we got coming late in the year.

That WMC was when they doesn't build their own phone. They had a timing problem with Nokia about that. Hope this year it will be a little bit different.

Actually when the 920 was announced the hardware was ready, it was the software (W8) that was still in development.

Ever heard of using dots in sentences? Pfff

Same here; a two year wait for a flagship is potentially fatal! I'm hoping my 1520 will hold out long enough AND that any coming flagship will be a worthy successor to the 1520/1020...!

1520 holding out long enough?? Im still rocking a 920

Owner of dead Lumia 920 since last winter here. I've gone through 2 Lumia 520's hoping that a flagship would come out in April of last year to relieve me, and now I'm holding onto my BLU Win Jr still waiting and waiting and waiting...

again they love releasing just low budget phones no real flagship BLU sucks and so does all of these other makers folks want a real flagship since the dealth of Nokia nothing has come out thanks microsoft and for those waiting for MWC good luck we will get all of these photos of some good looking device get all hyped and booooooom explosion it will never be released their excuse we are working on windows 11.

810 -TMo's WinPho bastard child, which actually got better with age.

I think the reason we didn't see a flagship in 2014 was because they would rather debut one running the next generation OS in hopes of better sales. Let's face it, if they released another $650 flagship last year, the only sales would be from us...Microsoft supporters, fan boys and lovers. Waiting until Windows 10 creates an opurtuniy to reach more than just "us".

keep making excuses for them hope you post the samething come end of year when they delay again saying windows 11 is coming.

Dude I'm still on a Nokia Lumia 900 running Windows Phone 7.8 and its holding up. Your 1520 will hold up just fine. I've been really patient with microsoft so I hope they don't disappoint

That's too long. And if they do wait that long it has to ship the week after.

It's the perfect time for me. My 925 will be two years old in just a few months. Perfect time to get a new phone!

better ask santy claus now because microsoft will play us like they have been doing for the past 2 years get ready for more BLU and other budget crap.

Seriously dude? When a new phone gets released don't say anything else. They aren't going to do what you've said. Sure you might be pissed but honestly the 830 is a nice phone, the M8 is a nice phone. The Icon is a nice phone. You can get all of these from either carriers or Microsoft. They aren't "BLU and other budget crap". So put your money where your mouth is or quiet down. Personally, I'm waiting for the day a "flagship" is released. I know what to expect from the software so its just all about hardware that will last a few upgrade/update cycles for me. My 8X has done just fine but it's nearing the end. But it isn't going to go "POOF" in the next few months so I'm happy. What is it you are missing other than bragging rights about what your phone can potentially do(not what you'll actually do with it)? And don't mention apps. This isn't about apps.

Now would be a perfect time for any OEM to come with a high end device. A lot of Lumia users are waiting for flagship, If anyone offers a high end windows phone now, it would snatch up quite a lot of customers.

Except there is, have you not heard of the HTC One M8? It is a nice high end device yet has had little impact on the market. It probably doesn't help that everyone here is too blind to recognize a good phone and will only accept one made by Microsoft in the form of a Lumia.

Honestly forgot about that phone. Is it still having the restart issues? I'll jump to that to hold me over.

If the M9 comes out without a Windows version, that'll be a big kick in the nuts. It just feels like Microsoft wants us to wait until everything is just perfect, then they'll release a great phone. By then, too many apps and people will have given up and moved on. Wait, maybe since they have a "Mobile First" priority, they just made the new flagship phone way too big. At 84", it'll never fit in a pocket.

Well, there is the 55" Surface Hub Mini.

I agree. It hasn't been promoted that well though. For example, at T-mobile, you can only purchase one online. You can't just go into the store and pick up one. I've seen the HTC camera advertised more than that phone. I've had HTC since the MDA, Wing, HD2. I love my 925 though. Ready for a larger phone like a 1520 that will also work wirelessly with my Samsung lcd. I'm hopeful for the new flagship but won't get excited until they announce it's for t-mobile or all carriers.

Except HTC m8 isnt that kind of new(m9 is already coming out) and was launched on ONE CARRIER ONLY.how could it make any impact ?? I know it was launched much later also on other carriers but still ONLY IN AMERICA. in Europe it would sell decently ;)

Yeah the m8 is awesome, its my first windows phone and I love it.

Yeah, this was a complete waste of a read... Nothing to see here... SMDH..
..........
Sad that it's even a question if they will release a flagship device in 2015..
............
Do we know for sure if Samsung, Apple, Motorola, LG, or HTC, will release a flagship device this year? Without a doubt.. THIS ARTICLE ACTUALLY MAKES MS LOOK BAD❗

i say by August or Sep 2015, since MS was working on some KILLER invention for flagship Windows phns. This will NOT like the Overrated, 4 years behind others, Hyped-Up ,......................trash iJUNK6/6+. My Nokia 1520 is still way ahead of iJUNK6+, in software and hardware. My 1520 has 3400 mAh(iJUNK does NOT), FULL NFC(iJUNK now finally has LIMITED NFC, after making fun of it for years along with Large screen size), 6 Inch screen(iJUNK does NOT), 20 Pix pureview cam(iJUNK is still at 8 pix cam), 4K recording(iJUNK does NOT), Surround Sound recording(iJUNK does NOT), Glance Sensor(iJUNK does NOT), MicroSD slot(iJUNK does NOT, and they make you pay excessively for higher storage space), Swipe Keyboard(iJUNK has to download Swipe keyboard app), 4 MIC(iJUNK does NOT),............................ well you get the picture. So , since my 1520 is so far more advanced than iJUNK6/6+, waiting till Spet,or Aug,.... i will be fine to get another iJUNK killer device to rub in iSHEEP's face.

You forgot camera button and live tiles,raw and dng photo shooting, remote selfie using nfc tag, file manager, Bluetooth file sharing(my 2006 Nokia dumbphone has this, iJunk still does not,a decade later) hardware back and search buttons,MTP, Xbox games, and lots more.....

Dude, you need to learn how to format your text, but this made me laugh!

The greatest phone (once you hack wireless charging into it)

they have a BLU phone waiting for you go give them your money bruh .....

Take you money this December, or do you want to give it to them now, and wait 11 months?... Lol.

Loved Satya Nadella speech at the last.

Anybody else cringing when that guy kept coming on stage to be awkward and have scripted sentences and pausing waaay to long between them?

My guess is he was trying to leave gaps for the journalists who were there and trying to document the event.

Didnt make it any less awful. When Joe Belfiore got on stage i was like OH GOSH OK NOW HERE WE GO.

@musicman it's a presentation style. Steve jobs used it a lot. It build's anticipation if used correctly.

BIG fan of Phil Spencer though. He's a great speaker and I just like the guy.

Seriously? I always fall asleep when he speaks. Bunch of visionary BS if you ask me.

Well we properly already knew that we'd have to wait for Win10 for the next flagship, but it still hurts a bit :,-/

You have a free upgrade to Win 10. I was so pissed with Verizon for not allowing my 928 to upgrade to WP 8.1. It took forever. Now that i have 8.1 on my 928, I find the phone much better. Cortana is wonderful. Plus, the phone works much better with my bluetooth car radio. So, Micorsoft is working alot of the back office issues with the ecosystem. All this works flows into the firmware of the next flagship (not carrier dependent) and software (imbedded in WP 10). I would expect Microsoft is working diligently to get a flagship out on the market before Win 10 is released. My 928 comes off contract in May. Look for the release about that time. I would guess in late march. As a side note, I bought a nokia 625 for my office manager. She said the phone works good and she only has to charge it every 2 or 3 days. Also, my family is adament they do not want to leave Verizon. They all have iPhones. My daughter states her friends (all iPhones) are with AT&T complain about connectivity and my daughter has no problems (Verizon). So I would wish that the new flagship arrives by May so i can get hte Free/inexpensive upgrade.

keep your eyes on MWC(Mobile World Conference) in march, in Spain. you have a nice phn, just hang tight. My guess will be Aug or Sep. My Nokia 1520 is still WAY AHEAD of CrApple iJUNK6/6+. So waiting just a few short months to get another killer CrApple's iJUNK phn is fine with me.

Patiently waiting for that to happen

Probably March , or even April ( Build )

Doubtful. The quote was that they're commited to building a flagship for end of the year. To me that says November 2015-January 2016. Maybe even Mobile World Congress 2016.

March, MWC. Mobile Conference.

Availability in October (for both the phone and W10) seems likely to me.

True. This what I see also, but some fanatics don't seem to realize. They will advertise it in summer at build then release it before the holidays world wide.

Will it come out after the Note 5 and iPhone 7 then? *With 2014 specs*

Flagship device with kind of Hololens included? I would splash my money!!!

And the preview is next month?

Yes. Preview in February.

Specifically they said "after the Superbowl," which is Sunday Feb. 1. THat doesn't mean it will be Feb 2, but most likely at the beginning of the month.

I'll believe it when I see it.

You didn't listen to Wayne Dyer, did you?

I think they are waiting for w10 to finish I think. And you guys need to know MS likes to go silent. For example surface and that hologram thing.

For I saw today I wouldn't mind a dent waiting little more. The boss said they are working on flashing phones and looking at MS hardware I believe they will be just beautiful. W10 is more powerful than I thought.

Thats the right word. POWERFUL. Did you see that stream demonstration of Xbox to a PC? I mean, OMFG ...

The stream feature does look exciting, just need to get a Lenovo Q190 for the living room TV!

I just hope 'flagship' means flagship. Not some bullshit like an 'affordable flagship'

what if its a TRUE flagship that happens to be affordable due to its aggressive pricing?

first 100k units for, say $400, sold online, world wide ;)

for $400? I'd stand in line for that lol

Four words : "patience is a virtue"....

Try telling that to all the people I know who had 920's who now have iPhone 6, waiting for a flagship device.

I would tell them they're spoiled brats.

That'll be me if there's nothing before summer.

I have a 920, and gave been out of contract since November. Been enjoying a higher data plan, unlimited minutes and texts fo £18 per month. Saved me a little each month, so all good. My 920 is still running well. Given the issues with the snapdragon 810, I am happy to wait.

I will be one of them real soon :/

I feel sorry for them since 930 is far better phone than iphone 6 ;)

Yes but the 930 is not for AT&T.

yeah that sucks... I mean OEMS cant get it right... M8 for windows Only in america, 930 not in america( anymore)

patience is a Microsoft fan :P

Should we trade-marking "patience" now?

#DWL Patience, patented by Microsoft

Verizon customers have no choice but live by that...

S wp10 is in half development stage ..they showed today just a unfurnished one but was good...wp10 is good..the full fledged version will be more powerful and awesome

Praise the lord finally but honestly I'm impressed

Pretty darn obvious they'd wait for Windows 10, wish they just put it out there earlier to ease our fears. Same with Office.

In the meantime, Lumia 1520.3 Unicorn GSM all the way!!! :)

still no TV based on Windows : /

you're getting HOLOGRAM...!!!!!

TV is obsolete when you can command one to appear in front of your face.

Sometimes I like to watch movies, after a while even strippers become boring....

Hook a tuner/cable box of your to choice to a Surface Hub. Whalla, TV based on windows. I'm hoping the Surface Hub has some input options. If not, a slingbox can fix that ;)

Later this year? Gonna loose an awful lot of potential customers when they see the next Galaxy, One M9 etc which will probably all get revealed before even a sniff of this device.

They could be Windows phones too. And they will be able to upgrade to 10 when it comes. Win win.

Sorry, missing your point.

Me? I meant that Windows Phone may get some decent phones, just not from MS. But yeah, highly likely that the ones you mentioned will be on the store shelves before any true flagship from MS.

Ah cheers. Wasn't reading it properly.
Personally I don't think we'll see a great deal from the 'big' manufactures since the Nokia purchase, especially since they wasn't exactly flooding the market beforehand.
Microsoft, although with a great product ALWAYS bring it too late.

guys i don't know about you but this microsoft event has made my day, i'm gonna drink some beers this afternoon, cheers fellas

They need to get this thing out ASAP that has hardware that will support whatever is coming in Windows 10 but release with Windows Phone 8.1 now. They can't possibly wait until the end of the year for a new flagship.

Yeah, if April comes in autumn...

Availability not announcements...

April is autumn in Australia I believe. They always get everything first.

Actually this makes it worse. The fact that this is a headline worthy story shows how pathetic the situation is. Oh wow, they are committed to 1 flagship over a whole years time. Which means they will have released 1 flagship over the course of 18+ months. Absolutely pathetic and embarassing. And the fact that they have to announce plans to build one flagship also shows even more clearly the direction they are going with the platform.. Cheap, low end, value phones. I am just about done. Thanks for wasting my time and support and making me look like an idiot to all the people I convinced to get WP over the last couple of years.

"Flashings" not flashing. The boss used s when referring to future phone devices.

I knooooow... How stupid, right? Rich boys should have new expensive little toys every year or else... there's going to be a scene at the supermarket floor OMG!!

Uh, just because X company releases a flagship device each year doesn't necessarily mean that people will buy the new flagship each year. Yes the rich may and probably would, but the rest of us may not buy a new flagship for two or three years or so. However if one does not release a flagship then no one can buy that product. In my opinion MS has already waited too long to release a true flagship for Windows Phone and to wait until the last quarter would be a significant mistake.

Do not you know that rich boys are the ones that buy devices with a higher profit margin?...

I'm sure Microsoft can't take all the credit for making you look like an idiot.

This is what Windows Phone 7 should have been, then marketshare would be different today, obviously, but just saying. The functionality they are bringing now, the integration with the PC, was what I was expecting from WP7.

Rome wasn't built in a day, you know?

No but its monuments are still standing after 2000 years.....

they said "a" meaning one. i feel bad for them.

They really only need to release one if its a real badass flagship and not some halfassed shit.

And it is available across carriers or unlocked and multi-band.

HTC and others may release their own flagships. M9?

Maybe we'll see it at summer. By the time GS6 LG4 and M8 are already selling out like cheesecakes! MS get your act together. Everyday that passes is a permanent loss

You get your act together. People come and go and come, your know?

Looks like 1 more upgrade on Android till the new Windows 10 phones are really cooking. All the new stuff should be implemented by then. I'm hopeful now................ Cry me a river if you want but then build me bridge to get over it... Posted from my HTC M8

Yeah, you could arguably get into another new contract with an iPhone or Android, and by the time it's over, Windows 10 on phones should be just about ready to go.

Yea I was watching when he said after WiN 10 is released later this year , then Flagship.

I suspect Mobile World Congress 2016 is the next Lumia flagship. Its almost another smartphone device cycle away, pretty much. Whatever.

Yeah, but the issue is details. In the past, Microsoft has released its flagship devices late in the silicon cycle, and mostly just tried to equal the competition, not surpass it. We need a spring release of a flagship, not a fall release of something with near-replacement hardware.

Why everyone is so surprised amazes me. Who didn't know they weren't going to see a phone until mwc? This was about Windows people, not hardware. Just wait. Do you want them to rush out some garbage so you can complain about the quality? Keep your shirts on. At least they committed.

Please, they can always cancel them.

With fingerprint scanner and SD card slot
That would be perfect

And a holographics projector, so we can talk to Cortana up close and personal. Wait, did I just type that out loud?

You just described the Galaxy S6... LOL

With dual exhausts and a flux capacitor.

It's about bloody time they started talking about a flagship phone!

I'm waiting to see how the Developer Preview (or whatever it's called) is going to look on my 928. I really like the WP interface, but it just never quite feels "done". I like iOS almost as much -- the apps make up for the lack of Live Tiles. As much as I loved my Pre, getting mentally invested in a platform that died really sucked. I'm starting to have flashbacks. MS isn't going to fold, but they don't seem to be doing well in the phone market. *sigh*

Exactly. I love WP, but I'd rather not do without some apps.

I'll be moving to Android or iOS soon thanks to no flagship announcement and my Chase app being removed...I hope to come back to WP when they get their shit together eventually.

Pretty much given up on hope of getting an 830 on sale from AT&T or an 830 with real Denim and Lumia Camera 5 from AT&T so thanks MS for ruining my 2014 holiday shopping gift to myself. That said, my 920 will be 2 years old in June 2015. Pretty much ready to fork over some cash on a legitimate FLAGSHIP and 920/1020 successor anytime between now and then! Windows 10 preloaded!!!!!

At the core, that has always been one sore spot with Microsoft. They announce way too early and everyone sits and waits, and waits, and waits. By then, the hype dies down and they are presented with other options, or even worse, further delays turn the tide from excited to frustrated. I think that is one thing that has made Apple so succesful. While everyone is amped up from the big announcements, they can go right out and purchase, or download the latest and greatest same-day.

Got to agree, an announcement and then almost immediate availability is great. I think MS did that with the slim 360. One under every seat.

Hololens greatest technology of 2015 already confirmed!!!!

Despite never having been too bothered by flagships before (especially coming from Android where 'flagship' simply means 'will be updated with the next revision of Android), I am finding myself considering one of the more expensive Windows Phones. Let's hope the WP flagship really is something worth waiting for.

Thank goodness the 920 is built like a tank!

Why do y'all get mad at Microsoft about a new flapship being released? Last I checked Microsoft is not the only manufacture on Windows Phones. Get mad at Samsung, LG, Sony, Motorola, etc as well.

Because we don't want crappy Samsung/HTC phones with no updates and no Lumia Camera/Denim. We want Lumnias. And Micorsoft must be held to a MUCH higher standard... it's their platform... if they can't be bothered to support it, why should anyone?