Microsoft commits to a Windows 10 'flagship smartphone' for 2015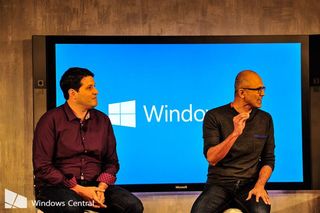 While Windows 10 in its phone form only got a partial look – expect to see more at MWC at the beginning of March – ahead of the highly anticipated preview builds pushing out, we did at least get a little snippet of information many Windows Phone users have been wanting to hear. Microsoft is committed to building a Windows 10 flagship smartphone later this year.
Of course, with Windows 10 not due for a while, there's no telling whether that means a new device that will launch with Windows 10, or whether it means a device that will launch before and be the poster child for Windows 10.
But a lot of people have been concerned about the lack of a high-end option, and this at least should put those concerns to rest. We might not like waiting, but at least we know for sure there's something to wait for.
Richard Devine is an Editor at Windows Central. A former Project Manager and long-term tech addict, he joined Mobile Nations in 2011 and has been found on Android Central and iMore as well as Windows Central. Currently you'll find him covering all manner of PC hardware and gaming, and you can follow him on Twitter and Instagram.
Doesn't put anything to rest for me. It's pretty obvious that eventually they will put out a new flagship... I want to know when!

They said they will be at mwc. Which is pretty far away still. :(

Yup, 6 weeks or so is an eternity, right.

Well, when you've already been waiting for four months...

Sure - the cancellation of McLaren with no back up device was a big blunder from MS/Nokia.

True. Did they "bet the farm" on untested technology? If they did, then it was certainly poor risk management. Perhaps they were also resource constrained in that all remaining resources were committed to developing additional entry level models.

When you're on Verizon and your Lumia 822 contract is ending this week, and they've pulled the Lumia 928 and Lumia Icon from all Verizon stores, then, yes, another 6 weeks is an eternity as it's already been 2 years with the outdated 822. Microsoft needs to get a flaghship out now, on all carriers. The hardware is here now. It's absurd they don't have anything till Windows 10 launches.

Like I said, cancellation of McLaren with no back up was a big plunder. I am on AT&T and had 920, now 830, so doing reasonably ok.

My 822 contract ended early December. I'm patiently staying off contract (enjoying whatever power that gives me) until a new Microsoft flagship phone comes out. I have nothing bad to say about my 822, but I am so ready for something new and bigger.

That's what... **arrgh.. must resist.. juvenile.. overused... joke... ** ..she said! **sorry, predictably, I failed**

When a phone you want comes out, think long and hard before you get back on a contract.

Yeah, I'm seriously thinking about forking out the cash and buying my next phone out-right.

Only thing bad about it is its not a world phone(not that anyone would use it outside of US)

you can still get the icon on the MS site if you so wish $99 contract

No you can't. It's been out of stock there for over a month now.

MWC means nothing all they plan on doing is showing a phone model off with no relase date and then they will cxl it like in the past and just release budget phones made by BLU and the other have nots in the industry. The are screwed up when it comes to hardware should have left Nokia to keep building the last flagship was what the ummmm ummm 1520 and what the 930 if you consider that a flagship give me a break they said WMC my mom can bring a prototype there to satisfy you if thats all you want is a mock up to show off the guy wants a real date for a real phone to be released not look what we got coming late in the year.

That WMC was when they doesn't build their own phone. They had a timing problem with Nokia about that. Hope this year it will be a little bit different.

Actually when the 920 was announced the hardware was ready, it was the software (W8) that was still in development.

Ever heard of using dots in sentences? Pfff

Same here; a two year wait for a flagship is potentially fatal! I'm hoping my 1520 will hold out long enough AND that any coming flagship will be a worthy successor to the 1520/1020...!

1520 holding out long enough?? Im still rocking a 920

Owner of dead Lumia 920 since last winter here. I've gone through 2 Lumia 520's hoping that a flagship would come out in April of last year to relieve me, and now I'm holding onto my BLU Win Jr still waiting and waiting and waiting...

again they love releasing just low budget phones no real flagship BLU sucks and so does all of these other makers folks want a real flagship since the dealth of Nokia nothing has come out thanks microsoft and for those waiting for MWC good luck we will get all of these photos of some good looking device get all hyped and booooooom explosion it will never be released their excuse we are working on windows 11.

810 -TMo's WinPho bastard child, which actually got better with age.

I think the reason we didn't see a flagship in 2014 was because they would rather debut one running the next generation OS in hopes of better sales. Let's face it, if they released another $650 flagship last year, the only sales would be from us...Microsoft supporters, fan boys and lovers. Waiting until Windows 10 creates an opurtuniy to reach more than just "us".

keep making excuses for them hope you post the samething come end of year when they delay again saying windows 11 is coming.

Dude I'm still on a Nokia Lumia 900 running Windows Phone 7.8 and its holding up. Your 1520 will hold up just fine. I've been really patient with microsoft so I hope they don't disappoint

That's too long. And if they do wait that long it has to ship the week after.

It's the perfect time for me. My 925 will be two years old in just a few months. Perfect time to get a new phone!

better ask santy claus now because microsoft will play us like they have been doing for the past 2 years get ready for more BLU and other budget crap.

Seriously dude? When a new phone gets released don't say anything else. They aren't going to do what you've said. Sure you might be pissed but honestly the 830 is a nice phone, the M8 is a nice phone. The Icon is a nice phone. You can get all of these from either carriers or Microsoft. They aren't "BLU and other budget crap". So put your money where your mouth is or quiet down. Personally, I'm waiting for the day a "flagship" is released. I know what to expect from the software so its just all about hardware that will last a few upgrade/update cycles for me. My 8X has done just fine but it's nearing the end. But it isn't going to go "POOF" in the next few months so I'm happy. What is it you are missing other than bragging rights about what your phone can potentially do(not what you'll actually do with it)? And don't mention apps. This isn't about apps.

Now would be a perfect time for any OEM to come with a high end device. A lot of Lumia users are waiting for flagship, If anyone offers a high end windows phone now, it would snatch up quite a lot of customers.

Except there is, have you not heard of the HTC One M8? It is a nice high end device yet has had little impact on the market. It probably doesn't help that everyone here is too blind to recognize a good phone and will only accept one made by Microsoft in the form of a Lumia.

Honestly forgot about that phone. Is it still having the restart issues? I'll jump to that to hold me over.

If the M9 comes out without a Windows version, that'll be a big kick in the nuts. It just feels like Microsoft wants us to wait until everything is just perfect, then they'll release a great phone. By then, too many apps and people will have given up and moved on. Wait, maybe since they have a "Mobile First" priority, they just made the new flagship phone way too big. At 84", it'll never fit in a pocket.

Well, there is the 55" Surface Hub Mini.

I agree. It hasn't been promoted that well though. For example, at T-mobile, you can only purchase one online. You can't just go into the store and pick up one. I've seen the HTC camera advertised more than that phone. I've had HTC since the MDA, Wing, HD2. I love my 925 though. Ready for a larger phone like a 1520 that will also work wirelessly with my Samsung lcd. I'm hopeful for the new flagship but won't get excited until they announce it's for t-mobile or all carriers.

Except HTC m8 isnt that kind of new(m9 is already coming out) and was launched on ONE CARRIER ONLY.how could it make any impact ?? I know it was launched much later also on other carriers but still ONLY IN AMERICA. in Europe it would sell decently ;)

Yeah the m8 is awesome, its my first windows phone and I love it.

Yeah, this was a complete waste of a read... Nothing to see here... SMDH..
..........
Sad that it's even a question if they will release a flagship device in 2015..
............
Do we know for sure if Samsung, Apple, Motorola, LG, or HTC, will release a flagship device this year? Without a doubt.. THIS ARTICLE ACTUALLY MAKES MS LOOK BAD❗

i say by August or Sep 2015, since MS was working on some KILLER invention for flagship Windows phns. This will NOT like the Overrated, 4 years behind others, Hyped-Up ,......................trash iJUNK6/6+. My Nokia 1520 is still way ahead of iJUNK6+, in software and hardware. My 1520 has 3400 mAh(iJUNK does NOT), FULL NFC(iJUNK now finally has LIMITED NFC, after making fun of it for years along with Large screen size), 6 Inch screen(iJUNK does NOT), 20 Pix pureview cam(iJUNK is still at 8 pix cam), 4K recording(iJUNK does NOT), Surround Sound recording(iJUNK does NOT), Glance Sensor(iJUNK does NOT), MicroSD slot(iJUNK does NOT, and they make you pay excessively for higher storage space), Swipe Keyboard(iJUNK has to download Swipe keyboard app), 4 MIC(iJUNK does NOT),............................ well you get the picture. So , since my 1520 is so far more advanced than iJUNK6/6+, waiting till Spet,or Aug,.... i will be fine to get another iJUNK killer device to rub in iSHEEP's face.

You forgot camera button and live tiles,raw and dng photo shooting, remote selfie using nfc tag, file manager, Bluetooth file sharing(my 2006 Nokia dumbphone has this, iJunk still does not,a decade later) hardware back and search buttons,MTP, Xbox games, and lots more.....

Dude, you need to learn how to format your text, but this made me laugh!

The greatest phone (once you hack wireless charging into it)

they have a BLU phone waiting for you go give them your money bruh .....

Take you money this December, or do you want to give it to them now, and wait 11 months?... Lol.

Loved Satya Nadella speech at the last.

Anybody else cringing when that guy kept coming on stage to be awkward and have scripted sentences and pausing waaay to long between them?

My guess is he was trying to leave gaps for the journalists who were there and trying to document the event.

Didnt make it any less awful. When Joe Belfiore got on stage i was like OH GOSH OK NOW HERE WE GO.

@musicman it's a presentation style. Steve jobs used it a lot. It build's anticipation if used correctly.

BIG fan of Phil Spencer though. He's a great speaker and I just like the guy.

Seriously? I always fall asleep when he speaks. Bunch of visionary BS if you ask me.

Well we properly already knew that we'd have to wait for Win10 for the next flagship, but it still hurts a bit :,-/

You have a free upgrade to Win 10. I was so pissed with Verizon for not allowing my 928 to upgrade to WP 8.1. It took forever. Now that i have 8.1 on my 928, I find the phone much better. Cortana is wonderful. Plus, the phone works much better with my bluetooth car radio. So, Micorsoft is working alot of the back office issues with the ecosystem. All this works flows into the firmware of the next flagship (not carrier dependent) and software (imbedded in WP 10). I would expect Microsoft is working diligently to get a flagship out on the market before Win 10 is released. My 928 comes off contract in May. Look for the release about that time. I would guess in late march. As a side note, I bought a nokia 625 for my office manager. She said the phone works good and she only has to charge it every 2 or 3 days. Also, my family is adament they do not want to leave Verizon. They all have iPhones. My daughter states her friends (all iPhones) are with AT&T complain about connectivity and my daughter has no problems (Verizon). So I would wish that the new flagship arrives by May so i can get hte Free/inexpensive upgrade.

keep your eyes on MWC(Mobile World Conference) in march, in Spain. you have a nice phn, just hang tight. My guess will be Aug or Sep. My Nokia 1520 is still WAY AHEAD of CrApple iJUNK6/6+. So waiting just a few short months to get another killer CrApple's iJUNK phn is fine with me.

Patiently waiting for that to happen

Probably March , or even April ( Build )

Doubtful. The quote was that they're commited to building a flagship for end of the year. To me that says November 2015-January 2016. Maybe even Mobile World Congress 2016.

March, MWC. Mobile Conference.

Availability in October (for both the phone and W10) seems likely to me.

True. This what I see also, but some fanatics don't seem to realize. They will advertise it in summer at build then release it before the holidays world wide.

Will it come out after the Note 5 and iPhone 7 then? *With 2014 specs*

Flagship device with kind of Hololens included? I would splash my money!!!

And the preview is next month?

Yes. Preview in February.

Specifically they said "after the Superbowl," which is Sunday Feb. 1. THat doesn't mean it will be Feb 2, but most likely at the beginning of the month.

I'll believe it when I see it.

You didn't listen to Wayne Dyer, did you?

I think they are waiting for w10 to finish I think. And you guys need to know MS likes to go silent. For example surface and that hologram thing.

For I saw today I wouldn't mind a dent waiting little more. The boss said they are working on flashing phones and looking at MS hardware I believe they will be just beautiful. W10 is more powerful than I thought.

Thats the right word. POWERFUL. Did you see that stream demonstration of Xbox to a PC? I mean, OMFG ...

The stream feature does look exciting, just need to get a Lenovo Q190 for the living room TV!

I just hope 'flagship' means flagship. Not some bullshit like an 'affordable flagship'

what if its a TRUE flagship that happens to be affordable due to its aggressive pricing?

first 100k units for, say $400, sold online, world wide ;)

for $400? I'd stand in line for that lol

Four words : "patience is a virtue"....

Try telling that to all the people I know who had 920's who now have iPhone 6, waiting for a flagship device.

I would tell them they're spoiled brats.

That'll be me if there's nothing before summer.

I have a 920, and gave been out of contract since November. Been enjoying a higher data plan, unlimited minutes and texts fo £18 per month. Saved me a little each month, so all good. My 920 is still running well. Given the issues with the snapdragon 810, I am happy to wait.

I will be one of them real soon :/

I feel sorry for them since 930 is far better phone than iphone 6 ;)

Yes but the 930 is not for AT&T.

yeah that sucks... I mean OEMS cant get it right... M8 for windows Only in america, 930 not in america( anymore)

patience is a Microsoft fan :P

Should we trade-marking "patience" now?

#DWL Patience, patented by Microsoft

Verizon customers have no choice but live by that...

S wp10 is in half development stage ..they showed today just a unfurnished one but was good...wp10 is good..the full fledged version will be more powerful and awesome

Praise the lord finally but honestly I'm impressed

Pretty darn obvious they'd wait for Windows 10, wish they just put it out there earlier to ease our fears. Same with Office.

In the meantime, Lumia 1520.3 Unicorn GSM all the way!!! :)

still no TV based on Windows : /

you're getting HOLOGRAM...!!!!!

TV is obsolete when you can command one to appear in front of your face.

Sometimes I like to watch movies, after a while even strippers become boring....

Hook a tuner/cable box of your to choice to a Surface Hub. Whalla, TV based on windows. I'm hoping the Surface Hub has some input options. If not, a slingbox can fix that ;)

Later this year? Gonna loose an awful lot of potential customers when they see the next Galaxy, One M9 etc which will probably all get revealed before even a sniff of this device.

They could be Windows phones too. And they will be able to upgrade to 10 when it comes. Win win.

Sorry, missing your point.

Me? I meant that Windows Phone may get some decent phones, just not from MS. But yeah, highly likely that the ones you mentioned will be on the store shelves before any true flagship from MS.

Ah cheers. Wasn't reading it properly.
Personally I don't think we'll see a great deal from the 'big' manufactures since the Nokia purchase, especially since they wasn't exactly flooding the market beforehand.
Microsoft, although with a great product ALWAYS bring it too late.

guys i don't know about you but this microsoft event has made my day, i'm gonna drink some beers this afternoon, cheers fellas

They need to get this thing out ASAP that has hardware that will support whatever is coming in Windows 10 but release with Windows Phone 8.1 now. They can't possibly wait until the end of the year for a new flagship.

Yeah, if April comes in autumn...

Availability not announcements...

April is autumn in Australia I believe. They always get everything first.

Actually this makes it worse. The fact that this is a headline worthy story shows how pathetic the situation is. Oh wow, they are committed to 1 flagship over a whole years time. Which means they will have released 1 flagship over the course of 18+ months. Absolutely pathetic and embarassing. And the fact that they have to announce plans to build one flagship also shows even more clearly the direction they are going with the platform.. Cheap, low end, value phones. I am just about done. Thanks for wasting my time and support and making me look like an idiot to all the people I convinced to get WP over the last couple of years.

"Flashings" not flashing. The boss used s when referring to future phone devices.

I knooooow... How stupid, right? Rich boys should have new expensive little toys every year or else... there's going to be a scene at the supermarket floor OMG!!

Uh, just because X company releases a flagship device each year doesn't necessarily mean that people will buy the new flagship each year. Yes the rich may and probably would, but the rest of us may not buy a new flagship for two or three years or so. However if one does not release a flagship then no one can buy that product. In my opinion MS has already waited too long to release a true flagship for Windows Phone and to wait until the last quarter would be a significant mistake.

Do not you know that rich boys are the ones that buy devices with a higher profit margin?...

I'm sure Microsoft can't take all the credit for making you look like an idiot.

This is what Windows Phone 7 should have been, then marketshare would be different today, obviously, but just saying. The functionality they are bringing now, the integration with the PC, was what I was expecting from WP7.

Rome wasn't built in a day, you know?

No but its monuments are still standing after 2000 years.....

they said "a" meaning one. i feel bad for them.

They really only need to release one if its a real badass flagship and not some halfassed shit.

And it is available across carriers or unlocked and multi-band.

HTC and others may release their own flagships. M9?

Maybe we'll see it at summer. By the time GS6 LG4 and M8 are already selling out like cheesecakes! MS get your act together. Everyday that passes is a permanent loss

You get your act together. People come and go and come, your know?

Looks like 1 more upgrade on Android till the new Windows 10 phones are really cooking. All the new stuff should be implemented by then. I'm hopeful now................ Cry me a river if you want but then build me bridge to get over it... Posted from my HTC M8

Yeah, you could arguably get into another new contract with an iPhone or Android, and by the time it's over, Windows 10 on phones should be just about ready to go.

Yea I was watching when he said after WiN 10 is released later this year , then Flagship.

I suspect Mobile World Congress 2016 is the next Lumia flagship. Its almost another smartphone device cycle away, pretty much. Whatever.

Yeah, but the issue is details. In the past, Microsoft has released its flagship devices late in the silicon cycle, and mostly just tried to equal the competition, not surpass it. We need a spring release of a flagship, not a fall release of something with near-replacement hardware.

Why everyone is so surprised amazes me. Who didn't know they weren't going to see a phone until mwc? This was about Windows people, not hardware. Just wait. Do you want them to rush out some garbage so you can complain about the quality? Keep your shirts on. At least they committed.

Please, they can always cancel them.

With fingerprint scanner and SD card slot
That would be perfect

And a holographics projector, so we can talk to Cortana up close and personal. Wait, did I just type that out loud?

You just described the Galaxy S6... LOL

With dual exhausts and a flux capacitor.

It's about bloody time they started talking about a flagship phone!

I'm waiting to see how the Developer Preview (or whatever it's called) is going to look on my 928. I really like the WP interface, but it just never quite feels "done". I like iOS almost as much -- the apps make up for the lack of Live Tiles. As much as I loved my Pre, getting mentally invested in a platform that died really sucked. I'm starting to have flashbacks. MS isn't going to fold, but they don't seem to be doing well in the phone market. *sigh*

Exactly. I love WP, but I'd rather not do without some apps.

I'll be moving to Android or iOS soon thanks to no flagship announcement and my Chase app being removed...I hope to come back to WP when they get their shit together eventually.

Pretty much given up on hope of getting an 830 on sale from AT&T or an 830 with real Denim and Lumia Camera 5 from AT&T so thanks MS for ruining my 2014 holiday shopping gift to myself. That said, my 920 will be 2 years old in June 2015. Pretty much ready to fork over some cash on a legitimate FLAGSHIP and 920/1020 successor anytime between now and then! Windows 10 preloaded!!!!!

At the core, that has always been one sore spot with Microsoft. They announce way too early and everyone sits and waits, and waits, and waits. By then, the hype dies down and they are presented with other options, or even worse, further delays turn the tide from excited to frustrated. I think that is one thing that has made Apple so succesful. While everyone is amped up from the big announcements, they can go right out and purchase, or download the latest and greatest same-day.

Got to agree, an announcement and then almost immediate availability is great. I think MS did that with the slim 360. One under every seat.

Hololens greatest technology of 2015 already confirmed!!!!

Despite never having been too bothered by flagships before (especially coming from Android where 'flagship' simply means 'will be updated with the next revision of Android), I am finding myself considering one of the more expensive Windows Phones. Let's hope the WP flagship really is something worth waiting for.

Thank goodness the 920 is built like a tank!

Why do y'all get mad at Microsoft about a new flapship being released? Last I checked Microsoft is not the only manufacture on Windows Phones. Get mad at Samsung, LG, Sony, Motorola, etc as well.

Because we don't want crappy Samsung/HTC phones with no updates and no Lumia Camera/Denim. We want Lumnias. And Micorsoft must be held to a MUCH higher standard... it's their platform... if they can't be bothered to support it, why should anyone?

**CONFIRMED** Lumia Flagship 1030 coming 2015 December 32nd :D

And exclusive to only one carrier! Yay!!!

Yea, I am sure Verizon wont carry it....ugh...

Let's enjoy our Windows phone 8.1 for another while, is a great os and will be missed, but looks like 10 is going to be something special

As much as I hate the wait for a new flagship (because I get the feeling win10 is going to kick my L920 in the teeth), it would be a mistake for MS to release a device that does not come with win10 on it natively. I mean look at the Lumia Icon which was the Windows 8.1 flagship device which STILL does not have a modern version of the OS running almost a year later through the carrier (though Preview for Devs fixes that). If the next device is going to be made to show off win10, then they NEED to wait for it to come out before releasing the device. Hopefully this time we will have a wide release for once rather than getting it pinned to a single carrier who can sit on it an burry it.

Personally I think it is irrelevant whether or not a new flagship releases with Win10 and to wait another nine or so months, almost another year is foolish. I fail to see that the Icon is necessarily representative of what would happen if a flagship was released between now and the release of Win 10. I do agree that a Windows 10 phone release across all carriers would be very nice. I'm still looking for a five inch or so display with an SD Card Slot and is aesthetically pleasing, that's enough for me.

First in line to get this! Good bye apple! Good bye droids! See ya in another life!

I just wish they would release to all carriers at same time and control the firmware as well as the OS updates instead of the carriers

I'm sure they said flagship phones (plural) in the event.

Good sign that Elop was too busy to be around!

Yeah... well... this really didn't satisfy at all. They need at least oine flagship out there NOW. Actually, months ago. But especially now. No Lumias at Verizon, and the highest Lumia at AT&T is the 830 (once the 1520 stock is gone). They can't afford to constantly sit on their asses and saying "just give us a few more months"... it has been one of the major things killing them the whole time with Windows Phone. You can't retain the people that will push your platform by using this strategy. They leave, as I'm certain is happening now, and will continue to happen for the next 2, 4, or 6 months while they wait for W10 to come out to release a flagship. This whole strategy is moronic. Yes, the low end phones sell in better numbers, but you need to have the devices people want to upgrade to as well. And you need to keep the high end fans and journalists happy, they are the ones others look to for phone advice. I am literally at the top end of Windows Phone fan level... I would NEVER want to go to Android or iOS. But I can't possibly recommend any of my friends buy a Windows Phone. That's just... painful. Even the low end device here on AT&T (635) has no ffc, making it pretty much a no-go right from the start. Sigh.

The M8 is a flagship device.

No Denim camera speed + crappy camera + likely poor long term support = non-flagship in my book. No thanks!

The camera is fast and the picture quality is about the same as my old 925.

Yes, the low end phones sell in better numbers, but you need to have the devices people want to upgrade to as well. And you need to keep the high end fans and journalists happy, they are the ones others look to for phone advice.

Can't agree more. Pushing the low end and getting WP devices in more people's hands is great, but you NEED a flagship device at the top of your product catalogue and it's pretty sparse up there and the devices we have at the top at this point have some signficant downsides. Waiting till the last quarter is not wise. MS really should have simply removed the 3d touch features of McLaren and shipped the damn thing.

It better be 6" or I'm not interested.

I hope it is 5.5 at an absolute maximum.

6" is not my preference. 5.5" max

6 inches or larger! I'm not going back to tiny toy size phones ever again. My 1520 has definitely spoiled me.

Size isn't all that matters. Really.

So, we're probably still 10 months away from the new flagship. Seeing Belfiore on stage with that beautiful glossy red 1520 served to re-upset me about not having the 1520 in Canada. MS, please give us unlocked 1520's in Canada to help tide us over until the Fall months.

Microsoft has already stopped manufacturing 1520s... so I don't think that's going to happen.

10 months away and last year flagship specs...

They do have unlocked 1020 on ms store site

Hope it is a real flagship this time, not like their last affordable flagship.

New Flagship: Lumia HoloLens. Skype will let you physically interact with the person you are calling.

What useless chatter. HoloLens requires a headset, the McLaren 3d touch feature is more likely than HoloLens on a phone. Personally I don't really know that I would want either on a phone, I just want a well designed phone with standard features that is not gimped by some weird Nokia omission.

Wow. Is that stick so far up you can't recognize a joke? Life should be more fun than that. Try getting one. A life that is.

phft, am I supposed to know you well enough to parse stupid from a joke? Oh, so funny, sorry it just looked stupid to me. And speaking of such, misinterpreting your "joke" does not necessarily imply I lack a life, that's just as stupid a comment.

Sounds like they're doing a begrudging favor for us

Does anybody know about anything about app list on windows 10

However, there was no promise of it reaching the US or coming to all carriers. I fear it's the 930/Icon all over again.

That's a lot of negativity to extrapolate from the simple commitment that there will be one.

With nothing to replace my 920, I jumped ship to a Nexus 6, this miscalculation has lost Microsoft a phone customer.

and I should add, 930/Icon are not avaliable in Canada or on my network.

Sadly mwc doesnt represent good timing for wp/north American reveals since their always overshadowed by competitors

I assume there has been no date given for release yet? Too early.

Unfortunately ... too little too late. I was an early adopter of wp7 but when MS misses the upgrade window by 6 months to a year ... they will most likely lose me as a customer. I understand that the switch to Windows 10 is probably part of the problem, but I'm weary of all the promises that may or not materialize. I was hoping for something much more solid from this press conference.

Might be out of the WP. No guarantee I can wait that long. Sux

Do away with carriers exclusivity

I think ima ditch my 1520 for an 8 inch windows 10 tablet, with cell data ( if one becomes available ). Use skype and a bluetooth headset. All I would need.

You could use it with a second gen MS band....

new flagship coming..running a SD 800 :)

I hope they make sure this device is availabe on all carriers, or at lest sell unlocked versions in regions that have Microsoft stores.

What's wrong with the 1520? Seems to have run rather well on Windows 10 and it is still on par with a lot of other devices.

The problem with the 1520 is that it was never made properly available, especially in North America. Canada didn't get the 1520 at all (I would have been a day 1 buyer), and the Americans got a gimped version exclusive to AT&T. I would buy a 1520 tomorrow if Microsoft made the 1520.3 available in Canada for a fair price relative to its age.

Next announcement on December 31, 2015, flagship phone coming soon. Just like O/S updates.

Whatever it is, it will become the successor to my 920. She's still faithful even with a few dings.

Everybody knows MS will release a phone later this year but question is When? Lot of previous flagship owners will move to non-windows devices. Really bad strategy. They should have release flagship and then update it with Win 10.

Nothing but the precise moment this flagship will not only ship, but be in their hands is what people want to know. And they must know now before they die. As for Hololens, it doesn't matter what you say or don't say until everyone gets one for free. Until then, it will always be too expensive.

And that so called "flagship" will come without SD-card slot, if I guess right? :-( Because MSFT knows better than users how much memory we need...

They'll want people using OneDrive

My 1520 will.do just fine with windows 10 in February or so... What's the rush... I mean we are so hurry up and wait... When it comes... It comes... No need to rush hardware for software that is not ready... Microsoft is really cooking and with all of their projects and secrets in their laboratory... I can wait... Cause I know when it comes it will be the right time...

Given that according to Microsoft, we already HAVE a Flagship phone, the 830, I'm reserving judgement on this. No mention of this ' flagship' having better photo capabilities than the 1020, or Miracast, or an SD slot, our a screen big enough to do justice to a PowerPoint presentation leaves me cold. Any if these choose have been mentioned without giving away critical info to their competitors. And with Elop in charge of new phones, well, ...

By the time they release anything my Lumia 1020 will be over 2 years old and won't have any new features a camera phone should, Denim brings nothing to the table for it. Really pissed off right now. I absolutley hate iOs and Android but I might have to go that way for a new Camera syntric phone thanks to thi scrap.

I hope the flagship have a fingerprint scanner so I dont have to worry about some chick trying to break in my phone while I rest or turn my head. Uhh!

Really I just need something like the 1520 but a finger print scanner. Microsoft I hope you guys hear me and other users.

Windows 10 on a device similar to the note 4 Would rock.... Just imagine, a galaxy note 5 with Windows 10....

Awful plastic Samsung... No thanks been there before... Never again!

Wow, the crying never ends.

Sometimes I feel most of these tears come from 12-year olds who can't stand living without bragging about owning the latest and greatest model. Seems like they would be very well served with an iPhone.

My contract is up in May, so I'll have to float for 6 months waiting for the new flagship. I'm ok with that, since the 928 is holding up. The icon didn't tempt me, so here's hoping for a bonkers phone in the fall.

I've had 1520 since July and this I'd the first time in not getting itchy feet about looking for the next best flagship almost 6 months in- my 1520 ticks all the boxes as things currently stand. My only two requests if Microsoft were to ask is that (1) they get denim sorted for ALL 1520s asap and (2) they release windows 10 for phones with a decent feature rich reliable/stable version by April.

SURFACE PHONE with 41+mp Pureview Camera........drops mic

Sorry, but this puts nothing to rest for me, unless Microsoft has a plan to ensure cooperation from all carriers.

I hate to say it, but I think it's one of the main reasons not many people are picking up windows phone and saying "OH...I just HAVE to have that." Yeah, some of the phones we have now are decent, I love my 1520, but it's not a true flagship like the Galaxy or iPhone. They really need to think about this one and up their game, advertise like crazy and make people want to buy it. It's one of the driving forces that got people onto the apple/samsung bandwagons, constant advertising. You can't swing a dead cat without hitting an apple billboard or a tv with their commercials on it.

What differentiates your flagship 1520 from other flagship phones with other brands/OSes? 1520 is far better than Samsung galaxy s5 for example and iPhone 6 large size in everyday use. I have access to all of them and that's the conclusion I've made.

My 930 $hits all over the iPhone 6 and the Galaxy s5... I'm totally biased, but it's my honest opinion based on fact, and experience with them as well... If we did get a flagship phone before W10 we couldn't really get much more than Glance, SD or maybe dual SIM?
Anyways.. Unrelated...
I'm more excited about Hololens, who needs a phone with one of those units!! :D

A Holophone would be badass!!!!Let's just hope it doesn't look like the "3D" phone that Sony (or was it Samsung?) made several years ago. That thing flopped hardcore.

I'm thinking just a phone "app" for the Hololens, we could have any size any color phone we want! This has mind boggling potential!!

Flagship is more considered "this is a phone made by this company that is high end and everyone knows it" type of thing. At least to me. Don't get me wrong, cause I absolutely LOVE my 1520, it's the best phone I've ever owned but something just doesn't feel "complete" about it. There are too many choices when it comes to WP and most people see them as "just another cheap phone". I don't wanna be a hippie douchebag kind phone. Just something more upscale.
:-(

All 3 are good phones. For me, Apple is so locked down and I got so tired of the same icons. I like the glance screen and building & rearranging my home screen with my 1520. Just me. I have a problem with the privacy intrusion of Google & Android. Plus malware issues. Personally, I like the build quality of my 1520 compared to the Galaxy. Just me. It's nice to have choices. My 1520 gets more attention than any phone I've owned.

I fully agree with you norcal. I always get questions about my phone. It is an attention grabber. I always get the usual "Damn! That is a BIG phone. What is that?" statements. But then when i tell them what it is, they say they've heard of it but it's really nice. MS could sell the hell out of these phones if they marketed them more. If nobody hears about it, nobody will buy it.

Your statement is very valid. When I talk about the wireless charging for instance, they say "no way". It doesn't matter that it's also available on other phones. It's non-obtrusive on mine. They really need a marketing company that can communicate features & benefits in an interesting way that people will relate to.

If your phone runs 8,1 it will get 10 free. I figure my phone will make it that long without a problem. I just don't expect we will see much market impact until 10 is fully released on all devices. Then people will see the benefit of a phone that actually ties with everything else seamlessly, and no one is actually doing that. I hope MSFT starts to focus on direct sale, non-locked phones. Thus, the carrier either allows the device or loses the customers. Verizon has no interest in selling anything other than Droid, so why even bother with them for marketing. It will be a bait and switch operation anytime a customer walks in the store seeking one. It's time for direct updates, and no carrier nonsense.

With my 2-yr contract ending in late April, you'd have to pry my cherry red L920 out of my cold dead hands... unless I crave the new flagship. What I want in a phone: 5" screen (it has to fit in my pocket, ya know?)
2 GB RAM
32 GB storage onboard
SD support (something they forgot in the 920)
SensorCore
Hey Cortana
18mp camera (or better)
HD Video (not a dealbreaker, but if it will appease the masses...)
Qi charging BUILT IN (none of this add-a-shell crap)
BT 4.0 (goes without saying, right?)
Competition-killer battery life (right now, I rock 26-30 hrs) DIFFERENT BODY COLORS - NO SKITTLES. Red would suit me just fine.

Minus the SD... UM... 930? I changed the back cover of mine from orange to green ;) I'm extremely happy with it, I get people asking about it all the time and saying how good it looks, I also get iPhone users asking me if their phone can do the sensor core stuff, love it hehehe ;)

The 930 that was never released in the US market? I saw a post about the lack of a 1520 in the Canadian market. One would think they'd make all models available wherever they sell phones. It doesn't take both brain cells to see the benefit of that. Maybe later this year, after the device portability act goes into effect (prohibiting carriers from maintaining locks phones so they will only be able to use their own service), Microsoft will move toward all phones, all markets.

Oh.. Ok.. That sucks... Well if it makes you feel any better the 1520 was never available with my carrier in Aus...

So, Half-Life 3, then a new flagship?

I need a flag ship phone now

I bit the bullet and got a 930 no regrets here... It's leaps and bounds above its predecessors... A flagship in its own right! Very happy with it ;) My other contract is up atm though, wanted to replace my wireless charging hacked 925 but it is still a great phone as well... So ill just sit tight...but I can highly recommend the 925 to anyone who wants a "get me by" phone... It won't support hey Cortana, and no expandable storage but has glance, top camera and everything else! Actually now that I think about it... There isn't really much there to constitute buying a flagship right now anyway, Not until W10 goes public really..

The problem is that they keep on unleashing phones instead of frequent OS updates. Try OS updates first. We can't keep up buying new phones each time. Why release denim if it was meant for high end devices and a name change for low end devices. This is discrimination.

Um... No... It's, you get what you pay for.

If low-end devices had all the same specs and capability of flagship high-end phones, there would be no justification for different prices. You can buy a Hyundai for $13K, but don't expect it to be as well-equipped as their $70K Equus.

How about...Discount renewal of W10 for PC the following year, for people who purchase other MS devices (Phone/tablet)! The More new MS devices on your account for that year, the less you pay the next?
Would be a great deal for business', and they would probably buy all employees WP's to get it ;)

By "2015" I hope that they mean some time in the next 3 months, and not November or December.

I think many more new features will be announced in coming months. For me, I no longer feel like I'm suffering, and I can deal with waiting. With my 1520, I have a great camera, quad core cpu, a beautiful large screen that is very readable outdoors, 144 gigs of storage, more music streaming choices than I can use, wireless charging with my Incipio cover, Cortana, a great gaming experience, and more. Crap.....I remember just waiting for LTE and bluetooth A2DP. For some social networkers there is still an app gap, but for me there is no app gap. I have a Starbucks app that works great, multiple navigation apps, my bank app that lets me make check deposits and etc. One of my complaints has been not having the ability to edit an email message before forwarding it, but it looks like that will change in W10. I don't think they will release a flagship until close to the holidays, but it will probably have a snapdragon 810 and a phenominal camera. An option is to buy an 830, 1520, or M8 on NEXT or EDGE (if there is a decent choice on T-MO or Verizon which I know is currently lacking) then sell it to pay it off when the flagship is released. Meanwhile, I'm feel'n no pain. That's just me and I respect the frustration of others.

I hope that we are not headed for another infamous "October Release". We need this January Announcement followed by a March/April/May rlease where they release every piece of hardware with Windows 10 on the same day. Should be announcing a flagship Windows Phone on ALL carriers and a Surface Pro 4-- both with Windows 10. I know that's wishful thinking, but having a nice Spring Release means you get to follow up in November with a Holiday Release and thus stay relevant with two major releases in the same year.

Well another 11 months with my trusty 920, is not a long wait at all... :P. On the plus side my bank account should be ripe for a good plunder when Windows 10 launches lol.

Let's hope that flagship will be 6"+.

Please make surface phone (iphone & lagdroid killer)..

They've got to do better at announcing phones

Man I really hope they redo the home screen fonts and transitions. Feels disjointed from the rest of the ecosystem

It really doesn't matter in the U.S. as the Flagships will all be on ATT since Verizon doesn't care anymore and T-Mobile gets the MidRange stuff. It will be the same with people having to buy unlocked, which simply doesn't produce sales the way the U.S. market is structured.

That's okay. My 1020 still works. Take a year. I'll wait and in the meantime move my phone pay as you go.

I think you mistyped 2016 wrong. :)

Finally some official communication on this. Can't wait. Hopefully the camera will be the major focus

Sorry MS. My Lumia 925 WONT wait till the end of the year. Im heading to Android. Why? Because EVEN IF you give us the 1030, there is a damn good chance it will be carrier exclusive. I wanted the 1020, or the 930, but im not in AT&T or Verizon. Im out.

As long as they offer their "flagship"on ALL carriers.

Microsoft needs to stop acting like BlackBerry with the "coming soon" mantra. Ship. Ship. Ship.

Sadly I already bought a Moto X. Keeping the 830 as a media holder and to see how Windows Phone progresses. The app gap finally got me.

I'm confident that we will see a new flagship Windows phone in 2015. My only worries are that it will be carrier specific and/or they won't make enough of them (like with The Band).

This sucks. A whole year waiting to see if these fools at MS can deliver.

This fits me perfectly! I have a 930 on contact until July, so a late-summer flagship would be great timing.

I really hope that Microsoft means a flagship with high-end specs and not another "affordable flagship" type 830. It's been far too long.

It's no coincidence that Hololens has LOL in the middle of it. What a joke.

Please don't be a phablet. Please don't be a phablet. Please don't be a phablet.

Hurry up MS! I've had my 920 for well over 2 years! Its time for a true upgrade!!!

I'm pretty excited for the windows 10 phone myself so I can get off this ishit 6 plus iv been using. I tried out the windows version of the htc one m8 and it was by far the best phone I have ever used OS wise and other. Sadly I did not keep it because I was unable to get a crucial app that I use in my life a lot which was xfinity home to monitor cams aka check in on my dog. Yes the lack of apps and number of 3rd party apps suck but as far as the operating system goes I think it's already been said its not only the most secure out there but is also very smooth and snappy. Also cortanna eats Siri alive and Apple has had a 10 year head start on the game. Just because they hold the weakest share right now does not mean they don't have a quality phone os environment because they do and personally I like it better than apples iOS and Fandroid which is written with Java yuck!! But everyone has there own opinion and mine is its only a matter of time before windows 10 phone hits is available on more devices and drones actually realize it's a good if not the best mobile OS out there and start migrating over to windows making the App Store situation get better. But please no google store filled with third party malware root kit apps that have control of every aspect of your phone. but hey in the short time windows phone has been out its quite impressive what they have done and the progress they have made being so far behind in the game and honest nobody can deny that. My bets are still on the company that makes operating systems for a living not one that makes overpriced pc,s run specific to there OS environment. Plus microsoft has so much more money to throw around than Google or apple it's only a matter of time.

The thing to remember is that the company that made previous flagships, Nokia, is gone. Microsoft is in many ways starting over. I think that the pause, while it sucks, is justified. Due to this, whatever Microsoft finally releases as a flagship had better be out of the park at least. In reality they really need a grand slam flagship that is so good that it could make an iPhone or S6 user a little jealous.

NOT GOOD ENOUGH This is getting tedious. Someone dropped my 1020 on the concrete floor today, and while the disaster isn't total, I won't bother having a phone with a somewhat cracked screen for long. I may need to go back to Android, as they at least come out with flagship phones on a regular basis. Too bad - I do like windows, but this lack of commitment from Microsoft is not convincing me to stick with them...
Windows Central Newsletter
Get the best of Windows Central in in your inbox, every day!
Thank you for signing up to Windows Central. You will receive a verification email shortly.
There was a problem. Please refresh the page and try again.