Microsoft downgrades free OneDrive storage to 5GB, ends unlimited storage for Office 365 customers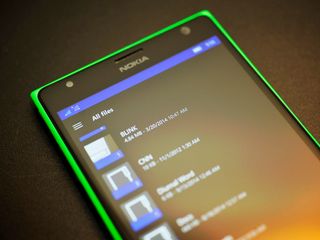 Microsoft has announced radical changes to its OneDrive cloud storage service, ending unlimited storage for Office 365 users. Free storage is also being decreased from 15GB to 5GB for all users. The reason for the scaling back of storage comes after Microsoft found that a few customers were using up to 75TB of cloud storage from a single account:
These are the changes prescribed by Microsoft:
We're no longer planning to offer unlimited storage to Office 365 Home, Personal, or University subscribers. Starting now, those subscriptions will include 1 TB of OneDrive storage.
100 GB and 200 GB paid plans are going away as an option for new users and will be replaced with a 50 GB plan for $1.99 per month in early 2016.
Free OneDrive storage will decrease from 15 GB to 5 GB for all users, current and new. The 15 GB camera roll storage bonus will also be discontinued. These changes will start rolling out in early 2016.
The Redmond giant has mentioned that customers that exceed the new quotas will have access to their files for at least 12 months, following which it will scale back the storage:
If you are an Office 365 consumer subscriber and have stored in excess of 1 TB, you will be notified of this change and will be able to keep your increased storage for at least 12 months.
If you are an Office 365 consumer subscriber and find that Office 365 no longer meets your needs, a pro-rated refund will be given. To learn more visit the FAQ.
If you are using more than 5 GB of free storage, you will continue to have access to all files for at least 12 months after these changes go into effect in early 2016. In addition, you can redeem a free one-year Office 365 - Personal subscription (credit card required), which includes 1 TB of OneDrive storage.
Current customers of standalone OneDrive storage plans (such as a 100 or 200 GB plans) are not affected by these changes.
Microsoft has additional information regarding the changes here (opens in new tab). What do you guys think of the upcoming changes to OneDrive? Will you continue using the service?
Source: OneDrive blog (opens in new tab)
Wow. That's not hyperbolic.

No, making radical changes for ALL users because some users were using more storage than Microsoft expected is.

My OneDrive only lists 1TB anyway, so I've lost nothing. So no, it's not all users.

Mine never showed more than 1TB either.

Mine shows 1TB as well. I'm an Office 365 Home Premuim subscriber.

Right. If you are already a 365 subscriber with way less than 1TB of storage in use, than this does not effect you. The free storage being reduced is a big deal.

Mine has showed 9.6 TB since 365.

at least keep the 15GB for Windows Mobile camera uploads.

We actually don't get to keep that either.

Yea I agree. This would cripple one of the many 'benefits' of a Windows phone.

This is because you have not uploaded 1TB of files. Once you reach that tier, it would automatically bump up to 10TB. After that I'm not sure what it would say for sure as I'm only at about 1.5TB.

Once you reach that tier, it would automatically bump up to 10TB

That's done and you'll probably have to pay for that extra 1/2 TB you have up there

so you are one of the people using 75TB! :)

mine has shown 10TB for a long time , ever since thet said they where offering Unlimited storage. I had 25GB to start with as a bonus back when i bought a Window Phone 7 .. then I got Office 365 becuase they promised it would include Unlimited storage .. apprently that was a lie

How was that a lie? It was true at the time that you signed up. Now they changed their terms, which all companies do, and will give you a prorated amount of your money back if you want to terminate your subscription early. In no way shape or form did they lie.

Are you saying you are USING 10 Tb, or you have had 10 Tb available for a long time?

I called MS a few months ago to clarify, they said it shows 10TB, as soon as you go over it increases by 10TB so you would see 20TB and so on into infinity (also known as 75TB is too much for unlimited use)

Mine the same. Office 365 came with one TB in June 2014. A little later they wrote: 'Good news, we are increasing your OneDrive storage to unlimited. Whilst we make these changes we are upping it to 10TB.' It has remained at 10TB but am using about 250Gb, being mostly pictures and music. Music now streamable via Groove and via Groove/Sonos it would be a real nuisance is they withdrew the storage although it is very unlikely I'd ever get near even 1TB.

@Akshay Bharwani please stop it, Microsoft is not making any money on free OneDrive accounts, maintaining all those petabytes of cloud storage costs energy, support man hours and investments. Cloud storage is only profitable if it costs money. That's why I won't stick to cloud storage, its a dead industry, Seagate, Kingston, WesternDigital, Toshiba,EMC make billions every year for physical costumer storage, while Microsoft hasn't made the business profitable, its in red numbers. I think that's the reason Steve Ballmer rejected Dropbox purchase. Cloud storage for consumers is a dead business, time to move on.

And now they will lose even more money. The awesomeness of OneDrive is what has kept me anchored to the Microsoft/Windows environment, and what had me lauding and recommending Mircorosft products to all my friend.

Yeah, I get to access all my music, pictures and documents from any device, even within apps. I could play my music directly. And that is what I liked about OneDrive.
It all used maximum around 15GB, and I was happy that they're allowing me 30GB. Im not gonna buy 50GB subscription, bcoz i don't need it. So now I've to stop thinking about the good part of my device usage. That was a BAAAD decision! Posted via the Windows Central App for Android

It's not dead and could you care to tell me how much does it cost to have those 75TB on physical storage? You need quite the number of HDDs and if they are too big, you need even more SD cards to cover that and you can't access them that easy from a phone if you have WiFi somewhere you go

I'm paying for unlimited storage and they're going to reduce mi space to 1 TB...

Yeah but us Loyalists are losing the 25GB we had from the beginning... =(

actually it doesn't say anything about the loyalist bonus of 10gb so i think we get to keep that

Mine shows 10.3 TB, which always seemed like an absurd amount of space. I have 10.2 TB free space lol...

Eactly ! How many people ever new there was an unlimitlan? I guess only the microsoft bashers and those that had a ridiculus amount dfiles stored! Why would anyone think you could backup multiple computers for free ! Those that believe in fairy tales I guess!

Hey, welcome to the real world. Denis Leary said best with. "life's tough, get a helmet."

As a Windows Phone user, I find this incredibly insulting. Clearly Microsoft knows that 1TB of storage is enough for most people using Office365. So, most of these folks may never notice the change. Truly, the most users that will be directly impacted by this are WP users that have their pictures automatically backed up. We are losing more than half of our promised storage. This is bad. Microsoft has such low regard for us WP users, it is laughable. Why? Because they know we will take it with a smile. Heck, they know some of us will actually give excuses for them. And you know what? They are right. You will only be treated as valuable when you begin to see yourself as valuable. Until then, please make plans to move those pictures you have saved up on Onedrive. And, don't forget to post an excuse or two. You're welcome.

Stupid. Iphone offer same sir.

You do know Android users and iPhone users can use OneDrive to store their photos too and they also got the reduction, right? So how is this direct at WP users and not just "mobile" users?

Because users on other platforms can use other storage providers to back up. WP users can't.

There is an app called picassasync which will back up all your photos automatically to google.

Insulted? gimme a break, outrage...fine, but this is not a slander against your very name so don't be insulted, sir. Please. =\

So, lets mobilize and start telling MS about our displeasure. Is the Feedback app the right medium?

Seriously - you have a terabyte of photos you've taken with your WM phone? The biggest photo I can take with mine is around two megs - but let say yours are 5MB... that's 200,000 photos. That's 54 photos A DAY for ten years. And why are they all up on the cloud all at one time? I find it hard to believe you have 200,000 excellent - must share - must always have on hand all the time photos.

Google engineers now trying to figure out how to store 75TB+ data. Execs debating whether or not to put a cap on consumer subscriptions.

Google will have an easier time with it @Dick S O-Rosary. Microsoft should have kept the 15GB limit for Microsoft Accounts without Office subscription. This now becomes one more reason to leave Microsoft (for those that enjoy Google, Dropbox, and Box services)

Hows this one more reason to leave Microsoft when the others offer even less than 5GB?

Google offers 15. Apple sells 50GB for half the price. I almost waited for the alumina 950XL. Glad I pulled the trigger on the iPhone 6S Plus. Time to go all in with Apple and get rid of the few remaining Windows devices I own (but barely use).

Google Photos on my account is showing 115GB for full original res photos, more than I need for now. So goodbye MS onedrive, too bad, I have enjoyed using it.

That's not possible according to Google's own site, unless your pictures are low resolution. Anything 2,048 pixels or above on the long end counts against the free space. So basically any picture 4MP or less is free, anything larger isn't free. In other words, you can't use your high end smartphone's camera to take pictures unless you choose to shoot in low res. From the Google Drive site... https://support.google.com/drive/answer/6093613?hl=en&ref_topic=2375187 ---------- Full size or standard size You can back up an unlimited number of standard size photos and videos for free. Auto Backup is set to back up at full size by default. If you have your back up setting set to full size and you run out of storage, we'll automatically switch to backing up at standard size. How to change your back up setting size Standard size: photos are 2048px or less on the longest edge and videos are less than 15 minutes long and have 1080p resolution or less. Full size photos can be no larger than 100 MB. What counts against your free Google Drive storage quota? If you have your back up setting set to full size, which is the default setting, then items equal to or larger than this size will count against your free storage quota: photos that are 2048px on the longest edge and videos longer than 15 minutes or saved at a resolution higher than 1080p. If you have your back up setting set to full size and you run out of storage, we'll automatically switch to backing up at standard size.

Google Changed it to 16MP and they compress the images, however while the size is significantly reduced the quality is only somewhat reduced. This works for most people backing up smartphone pictures. That's free. Video is also compressed and ther eare some things you should research before you back up Video to Google Photos using the Unlimited Tier. You also can't back up 4K video with it like that, that will always count against your storage (or be downscaled to 1080p, likely). If you upload Original quality, then everything counts towards your storage. And they ony give you 15GB. Google Docs/Sheets/Slides do not count towards your storage. All other documents and files in Drive do. Gmail counts against your storage, so if you're someone who uses email a lot and archives a lot of email, that will eventually become an issue especially if you use Drive heavily and back up photos/videos in original quality (and especially if you send/recieve a lot of attachments). Google Accounts come standard with 15GB of Storage. Everything shares this, similar to iCloud. The only perk Microsoft has right now is that email does not count against your cloud storage, but they will only have 5GB of Cloud Storage and their 50GB Plan will be twice as much as Apple. Their cloud storage offering went from looking amazing to looking like trash in one blog entry. Not everyone needs or wants Office, and a lot of people certainly don't care about Skype. $6.99/mo is a lot to pay for cloud storage for a lot of people. The fact that they bundle perks into it doens't change the fact that you're paying for Cloud Storage and never wanted those perks to begin with. This is just them trying to sell more Office Subscriptions.

You just posted that to show your new phone up... admit it. Any person who has more than one device, and at least one being overpriced, should pay for his/her ofimatic software, and Microsoft's USD50 anual subscription comes with 1TB of cloud storage. I'm yet to find a better deal than that.

That's not correct: 50 GB iCloud: $1 per month, OneDrive 100 GB: $2 per month. Same price 1 TB iCloud: $120 per year. OneDrive with Office 365: first year free, after that it's $84 (or $20 for first 4 years for University). Lot cheaper with OneDrive But if you were considering a 950XL you could have bought a 64 GB microSD card for about $20. Compare that to Apple iPhone asking $100 for just 48 GB extra (and it already starts at $750).

1. The 100GB Plan on OneDrive is going away. They're replacing it with them with a 50GB Plan for $1.99 a month. Did you read the post?" "100 GB and 200 GB paid plans are going away as an option for new users and will be replaced with a 50 GB plan for $1.99 per month in early 2016." 2. I'm not sure why people keep acting as if people care whether or not Cloud Storage space comes with Office or not, when they're buying it for the Cloud Storage. You're better off just buying Office H&S for $149 in the long run. It's way cheaper than a subscription over the long run. Subscription only makes sense for businesses. Friend of mine had a OneDrive Storage Plan that I pushed him to get a bit over a year ago cause the storage was a bit cheaper to make a cloud backup of his photo Library. I'll have him move that to Google Drive when we meet for dinner later, though. He's already an Android user, so he'll just need to purchase a cheap storage upgrade and install the Auto Backup Utility with it set to "Originals." 3. What does a Lumia or iPhone have to do with this discussion. The iPhone starts at $650 for the iPhone 6S, the 6S Plus is $750. And most people will prefer not to have to deal with SD Cards. To many people, the (clearly), app & accessory ecosystems and developer support are worth the higher price than any Windows Phone. Plus, with the new Windows Phones being practically AT&T Exclusives, why should they care if they aren't on AT&T anyways? Rome wasn't built in a day. Don't expepct people to run to the Microsoft Store to pay $500+ for a phone just because Microsoft released a new (way overdue) flagship. I'd be surprised if half of them knew/remembered that Windows Phone still existed at this point.

@ n8ter#AC Yep, can easily happend that WP flagships are not available everywhere and new NOKIA (Android/Google) phone(s) already knockin' on the mobile heaven's door ... with Google, Dropbox, Box services and (maybe) CianogenMod onboard. Reasons enough to take a comment from (above) @mildmanneredjanitor ... ''Google rubs hands'' ... seriously.

No, in fact not. when you pay for subscrition as I do about £7 monthly (about 80 quids P/A) you got a family membership and you can install Office 365 on 5 devices in your household and on 5 mobile devices and also you can have up to 5 users (among family members), and each user get 1Tb of space on OneDrive (Ok, used to be unlimited, but I did not ever knew). So you actually have to compare to 5 boxes of office, which is not 150 bucks, but 150x5, and to 5Tb of cloud storage. Not sure you can get anywhere close to that stuff for £80 p/a with another providers. Also, as long as you pay for subscription you always have a fresh software, and it is full-functional office, not like this openoffice crap.

Apple's cloud services are the worst in the Industry. "All In" with Apple? Good luck with that. OneDrive is still the best and most versatile Offering in the industry - especially with O365. Don't limit yourself with Apple Products.

They certainly aren't limiting. Windows is limiting. The bad app ecosystem is limiting. The horrible Universal Apps (and limited selection) are limiting. Really, I don't have that issue on iOS or OS X. Developers seem to be jumping on board with them pretty nicely these days. When was the last time you tried it. I literally don't need Office, period. I just don't. I've moved everything to iWork and even though I have a Laptop with an Office 365 Personal Subscription on it, I literally *never* use it. It's not a question of limits. It's just that Windows and Office simply don't offer anything that I need out of my devices, while Apple's ecosystem does. So yea, I'm gonna go All-In and replace my Laptop and Windows Tablet with a MBA and iPad Mini. Why does that make you so mad?

@mpr ''OneDrive is still the best and most versatile Offering in the industry - especially with O365''. Probably ... I don't have experience with Apple's and I'll never have one ... but become less attractive and not everyone needs O365. Windows/Microsoft pushing us (customers) to buy a things we don't need and with money we don't have. Or ... if you want ... I can permit myself a brand new Lumia 950 XL every 3 months, but i don't have 10 $/€ monthly for O365. Why ... becouse I don't need O365 and I don't like being pushed.

I did the same...loved my Lumia Icon, but it was apparent MS was giving up on the WP support. Iphone is what makes Apple money so they will spend resources to keep their advantage...like MS with windows. I love the Apple app choices and getting updates right away. I'm in a better world now...I just changed my auto-upload from Onedrive I had on my new iphone 6s to icloud. 108 photo uploading now. I was all in with MS at one point (had 3 zunes), but now the only thing that has Microsoft on it in my house is this OS on this computer. Still the Best OS....for now anyway.

Sorry to say the 6s hardware is outdated before it even hit your hands.

It has the best Mobile SoC on the market (CPU/GPU), it supports more LTE Bands than almost anything on the market. The camera is good and lets me do 1080p 120FPS Slow Motion video. It has force touch. They still have the best fingerprint technology in the device. The device isn't outdated at all. And weren't you people using the whole "Windows Phone doesn't require massive hardware to not lag" back when Microsoft was putting way worse hardware in their flagships? You're endorsing the spec race now that they finally caught up to the competition, in 2015? And I use the term "caught up" very loosely since they'll be Android phones with updated QC SoCs releasing in mere months after most people here get their hands on these new "flagships."

Google Drive = 15GB free + 35GB for camera uploads Dropbox = 5GB free Box = 5GB free Apple = less than 2GB free with lots of paid options

My concern is where would those with 75TB+ data go?

It will be printed out and mailed to the user.

Well, nowhere;). They will pay for the extra space. 1.99 per 50gb of space. Well. They can't go cause is way to much data. So they will probably pay for that crazy amount of space... With some good amount of money!

No, they won't pay. They are digital horders who put their kungfu camcorder movies in the cloud because it was free. They will just let it get deleted before they pay for it.

By a NAS, store it at a friend or relative's house, and use the built-in synchronization software to upload the data. Not cheap to store that much data, but it's still going to be cheaper over the long run than paying for 75TB of cloud storage. BTW, are you concerned because you are one of those 75TB users? If not, why are you concerned for them?

You'd have to take it offline and run your own server, because any other cloud service would be ridiculously expensive. Google Drive's 30TB plan (the highest they offer) would cost you $300 per month.

Back to Physical media I hope... =\

reallu google you get 50 already? If android is starting to look atractive to me.

Apple less than 2GB free?? where did you get that false info? Apple also offers 5GB free with 50GB for 0.99 which is less than 1.99 MS has in mind for onedrive! Also google costs less also.... MS fanboy...

I pay 1$ for 50GB at the moment, so they are increasing the cost?

But does Apple offer a 100 GB reward for using their search engine? One month of searches on Bing and you get an extra 100 GB. I say the cost of using Bing for a month is less than the $0.99 to get an extra 50 GB from Apple. Others who dislike the Bing search engine may disagree.

Install Flickr Booth and you also have automatic upload should you so wish.

The thing with Flickr and Google Photos is that they're pretty bad if you want to store Video. They limit it to 1080p and 10 minutes or less. Not sure how many people feel like storing their videos (as Private) on something like YouTube, but you'll need something like that if you go with either Flickr or Google Photos. iCloud Photos and DropBox don't have that issue because they've always had you pay for the storage instead of tempting you to use them with massive amounts of freebie (and often, temporary) storage promotions.

Gonna miss windows phones. 950 Cancel. Android in.

If you Contact box on their Facebook and ask nicely they will increase you to 50GB. They did for me, my friends and many other users who asked on their page, but this was about a year ago.

"Apple = less than 2GB free with lots of paid options" Apple's free tier is 5GB, not 2GB.

iCloud offers 5GB free. Dropbox offers 2GB.

MS is deceiving you. That's the issue.

Google offers Unlimited Photos & videos upload storage! Inform yourself well before start talking shi*

MS should do similar for certain file types at least....or just control the abusers

Free pics do not get uploaded at full resolution.

Bullsh**. You have to read the fine print. Google Offers unlimited storage for low res photos, anything 4MP or less, and videos 15 minutes or shorter no higher than 1080p. Anything larger than these files goes against your free 15GB quota. That means pretty much every photo taken by a decent smartphone today counts against the free storage limit and doesn't get unlimited storage. From the Google Drive site... https://support.google.com/drive/answer/6093613?hl=en&ref_topic=2375187 ---------- Full size or standard size You can back up an unlimited number of standard size photos and videos for free. Auto Backup is set to back up at full size by default. If you have your back up setting set to full size and you run out of storage, we'll automatically switch to backing up at standard size. How to change your back up setting size Standard size: photos are 2048px or less on the longest edge and videos are less than 15 minutes long and have 1080p resolution or less. Full size photos can be no larger than 100 MB. What counts against your free Google Drive storage quota? If you have your back up setting set to full size, which is the default setting, then items equal to or larger than this size will count against your free storage quota: photos that are 2048px on the longest edge and videos longer than 15 minutes or saved at a resolution higher than 1080p. If you have your back up setting set to full size and you run out of storage, we'll automatically switch to backing up at standard size

Go on then leave, because you not getting something for free anymore.

I've got 100 GB from Google for $1.99 a month. That's what MicroSoft charges for 50 GB. Also, Google Drive stores all 'standard' photos each for free. And 5000 songs free. It works for me. The only thing I need OneDrive for is integration with my Xbox One. I wish I could get a Google Drive app on my Xbox One. Oh well. I do like OneDrive. It's very intuitive and well designed. Honestly, if they matched Google's offerings, I'd probably switch. This move just solidifies my loyalty to Google. Google's offerings got a lot better earlier this year. Microsoft's just got a lot worse. It seems like Microsoft just doesn't want to compete.

Becouse no other company gives something and then takes it back without explanation. When they offered extra 15GB for storing pictures they claimed that it was no time limited offer. Seems they layed. I've spent hundreds bucks for Microsoft's hardware and software partialy becouse of OneDrive. Now the service is cripled seriously by removal of "smart files" in W10 (i had to go back to Dropbox) and I will have to move 30GB data to another cloud service.

I agree. My free Google Drive is 15GB. 5GB by Microsoft is cheesy. I just came over to Windows phone from Android but I'm going back to the Samsung Note 5 after this bit of news. I don't trust Microsoft, next they will announce they are out of the phone business.

they only need to offer about 30gig for free and google will won won.

Let the hate flow through you

Microsoft needs all the leverage they can get to re-energize Windows Phone/Windows 10 Mobile. If MS can give away their #1 product (Windows 10) for free (FREE!), they can throw a little love our way. At least until they possess much greater than 3% market share, it should be as simple as: buy a Windows Phone, get 2 years free Office 365 included. That's the full desktop version, with the 1TB One Drive storage. Done. Considering how few phones they sell (and how few manufacturers support the platform), I seriously doubt this will affect their bottom line in any any discernable way--except to move more phones and pull people into the MS fold.

You seriously doubt that only because they barely have any smartphone users. But what about the people who will buy a Lumia 520 just to get 2 years of Office 365 for the price of one, or the ones who may go out and buy 2-3 of those phones and stack 4-6 years of Office in one go, then resell the phone for $50 on CL? Microsoft can give concessions to the people who lost storage capacity like this and be fine. They cannot sustain what you're suggesting. They depend too much on Office Revenue to do that. This is not equivalent to Apple giving away iWork. iWork was a selling/bullet point, not a pillar product in their portfolio.

It should be exclusive to the 950 and 950XL and it should just be 1 year. They do it with the "chromebook killer" laptops like the HP Streams. I don't see why they can't offer that for the phone.

yeah google photos is really awesome service. unlimited photo uploads? sign me up. the only thing stopping me from jumping into it fully is the fact that i own a windows phone

I see it more like this: Google allows you to upload photos to their cloud for free, because they own everything you upload. So in reality, they are not giving YOU anything, you're giving them free stuff to sell to the highest bidder. I believe Google makes more money from the files and other data you give them for free then they could ever get from charging you for cloud storage.

How do you think they are making money of pics of your kids and pets? Or even the terrible selfie.

Suuuuuuuuuuuuuuure. *rolleyes*

You are right in that it is easier for Google, but not for what you're saying. Google makes money not off of selling software to users but off of ads. They can index the data you upload (like all other companies with cloud storage) and use that to sell to ad companies. It's similar to how they make money on Gmail, or even just the search engine. Posted via the Windows Central App for Android

Google doesn't own what you upload. They do use it for machine learning purposes to improve their other products, though. That's why it's free for Standard Quality Photos/Videos. Full/Original Quality isn't free. Google Photos basically pays for itself because you using the system advances it forward quite a bit. OneDrive doens't do that. Microsoft's business model is not the same as Google's. I think it's about time you people grow up and stop throwing FUD towards other products/companies/ecosystems. It's given the Windows Phone community is really crap reputation and it doesn't seem like any of you guys care. You're probably a bigger reason to go to Google than the price of Cloud Storage or how they use the pictures you upload.

It's not unlimited. Read the fine print. Any photo over 4MP in size counts against the 15GB free storage. So after 15GB you have to start paying. From the Google Drive site... https://support.google.com/drive/answer/6093613?hl=en&ref_topic=2375187

And now you pay Google $1.99 you get twice the storage that OneDrive offers. OneDrive is about to make you pay after 5 GB. You still win with Google.

.. not to mention that 15GB includes your email usage.

Google rub what ? Have you subscribed 365 Microsoft office suite for only storage ? Make no sense at all. 1TB for 365 subscription users are a lot, a lot more than productivity functions. Microsoft should terminate earlier or not to offer in the first place due to it would not affect their 365 users. ICloud is worse than OneDrive anyway.

Looks like we can expect Google or even Apple take advantage of this fiasco. Offering higher free storage nor higher subscription offer (maybe even unlimited if they want to troll harder).

I mean, they advertised /unlimited/, and only a minority of users are actually using that much... What else did they expect when they advertised UNLIMITED? And why are they suddenly decreasing the free storage tiers? This combined with the loss of placeholders, I wonder: Does part of Microsoft's deal with Dropbox include giving up all incentives to use OneDrive and instead encourage us to use DropBox?

dropbox is only 2G i recall? OneDrive is 5GB at least. I need to stick to OneDrive.

Use DropBox (2GB), OneDrive (5GB), and use MEGA (50GB), and you'll end up with 57GB of free storage. All have WP apps, and you'll get more than you did with the 15GB free + 15GB Camera Roll bonus. However, it won't be automatic backups other than the 5GB to OneDrive. Seriously, this stinks for a lot of people I know. People who don't have Office 365, but take a lot of pictures, and don't have the tech savvy to simply plug their phone into their PC and do a backup of photos. Now I've got to do some teaching to my Mother-In-Law on how to get her photos saved from her phone. This may not end well for me with the Mother-In-Law.

Tell your mother-in-law to sign up for Bing rewards and start searching. I haven't checked recently, but they use to offer a 100 GB reward for what it equates to less than a month of searches.

@SwimSwim Agreed. Anyone with a bit of common sense would realize there would be a group of people that would take advantage. They could have easily capped it at 1 TB if that's all they really wanted to offer in the first place. Then it saves them the bad press that follows what is perceived by many as a loss of service or a price increase. Not smart on there part. I too don't get why they are dropping the lower tiers like camera roll bonus and the initial free service. Not sure what that has to do with the heavy users. The only reason I can think of is that it doesn't, and they just decided to re-evaluate their entire structure once this was discovered and brought their service in line with what most of the competition is offering.

Exactly. We're not in elementary school, so don't treat us like we are.

i agree. I think this woill be a last straw for alot of people. We dojnt need unlimited but 5gig is a huge slap in the face when we have been geting 15gig. And even them most of use could do with more, easpecially if we had bought into the eco system.

If you buy office you get 1TB and the worlds best productivity software. I bought into the ecosystem and am unaffected by these changes, I use about 300GB of my limit and maybe add 50-60GB a year so I'm covered. However, with place holders removed and now free storage reduced the OneDrive team have made a lot of fans angry, however, the average user like my wife won't even notice, she has 100GB limit and only uses 2GB. All in all, more people will buy office subscriptions to get the extra storage or pay $1.99 for a little extra and they won't care about it at all. So I everyone should stop panicking and complaining and just get on with it.

We are not "fans", we are customers.

Re: mbrdev,
Yes. You are correct. This doesn't affect me at all. I don't understand the panic, the anger, the hate, nor the hyperbole.
.
I do want the placeholders feature restored.

you don't understand the hate that comes from Microsoft promising one ting , then don't honoring what they promised? I bought Office 365 because it came with unlimited storage ... 1TB is not unlimited storage ..it is a very limited storage. If you don't use OneDrive that much you might not even notice, but if you start using it to store music to stream, it fills up fast. add some backup and a couple of Windows Phones (for instance with 41MP camera that also stores in RAW format, and 1TB is not that much space anymore.. If OneDrive is not intended to do backups and automatic uploads to from a phone and computer,, and Groove music connection in OneDrive is not intended for music .. ... what is the whole point of OneDrive ?? consiudering OneDrive is useless in Windows 10 it sounds more an more like they try to kille the serices, and also remove incentive to buy a Windows Phone or Office 365 .. of course people that bought a product based on a promised services that then turns out to be a lie will be upset..

I don't think it was mentioned, but I think user's of Groove music will still get the free 100GB bonus. I didn't research so correct me if I am wrong.


I would like confirmation of this as well.