A Microsoft employee and ardent Windows phone fan explains his switch to Android
Most people I know don't use a Windows phone. With just 1% market share, most people that most people know don't use a Windows phone.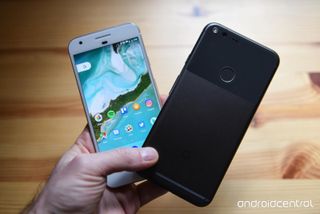 Several months ago, while I was at Microsoft's Redmond, Washington headquarters, most Microsoft employees I saw with smartphones didn't use Windows phones. With Android claiming 84% share and the iPhone approximately 15%, statistically speaking, most Microsoft employees use iPhones and Android phones.
There are some die-hard Windows phone fans among Microsoft's ranks, however. Just as with the non-Microsoft employee fan base, however, that number's decreasing. Adharsh Kannan, a data scientist at Microsoft, is among the ranks of those defectors. Kannan is a fan who loves and still sees the value of the platform. For reasons he expressed in a LinkedIn post, however, he felt compelled to switch to Android.
Kannan doesn't speak for Microsoft in the post where he shares his journey to Windows phone and ultimately to Android. Nor does his perspective as a data scientist at Microsoft suggest any privileged insights or access to details of Microsoft's mobile strategy that would have influenced his decision either way.
His voice is that of a disappointed fan and consumer who is also a Microsoft employee.
Inside perspective
It's interesting, nonetheless, to view Microsoft's mobile dilemma through an employee's eyes.
Interestingly, the company which employs an individual does little to shape their preference of a device that is the hub to their very personal digital experiences. The impact and highly personal nature of smartphones begins in our personal lives after all.
For instance, Kannan's interest in Windows Mobile was piqued as a developer: "I was…keenly interested in developing more applications that were Windows Mobile based." He continues:
Kannan's experiences reflect those of many Windows phone fans. In this piece we'll see what Kannon views as strengths of the platform that still appeal to him as well as weaknesses that pushed him to switch to Android.
Glass half full
Kannan is a proud Microsoft employee. Amidst criticisms levied against Redmond's mobile efforts, even from his fellow employees, Kannan raises a bold and practical defense. He highlights several unique things Redmond has brought to market that are a benefit to Window phones and the Universal Windows Platform.
Tile Notifications
Kannan notes that Microsoft's Tile notifications offer users more information than the tiny badges that iOS sticks on it static icons or Android's mere icons in the status bar. Tile notifications can provide a summary of content whereas a badge is limited to giving a number reflecting how many notifications may be within a certain app.
Will Microsoft evolve Live Tile functionality beyond its "glance and go" origins to the cancelled "exploding tile" feature that has excited so many fans?
One Core
Both Apple and Google have asserted that different software is better suited for different form factors. Thus, Android fans may never see the rumored merger of Chrome and Android: Andromeda.
The strength of Microsoft's One Core concept goes beyond the common UI many focus on. A single core simplifies the end to end "development to user experience process" for developers and users for all form factors. There's just one platform for which to develop and one Store from which to distribute and acquire apps.
Continuum
Kannan is proud of Microsoft's success with Continuum:
Many criticize Continuum's current state as if it's Redmond's final vision.
Keep in mind that smartphones have put word processing, web browsing, instant messaging, media editing and other previously PC-centric tasks in the palms of our hands. Furthermore, "beaming" our smartphone displays to larger screens and modern televisions via various means reveals an evolution in the industry and consumer behavior toward using our smartphones as a hub when a larger display is practical.
This behavior coupled with the "PC-in-the-pocket" that smartphones have become, joined with the more PC-like functionality coming to Continuum points toward a practicality of the Continuum vision.
Ironically, Samsung may be positioning to benefit from this phenomenon by bringing a Continuum-like feature to its next flagship.
Where did Microsoft go wrong?
So where does Kannan feel Microsoft went wrong? He asserts Microsoft's initial charging of OEMs (that were using Android for free) for using Windows Phone was detrimental. He also acknowledges "Apple was [manufacturing] so many phones they had completely bought in the production capacity of many factories." Finally, developers didn't feel they'd make money with Windows Phone's closed source platform.
So what drove Kannan to Android?
As with many disenchanted fans the app gap is the culprit. Though we're headed toward an intelligent app AI and bot ecosystem and Gartner predicts a 20% decline in apps by 2020 (confirming my own predictions), apps are still relevant.
I've asserted Microsoft must, among other things, bring more developer support to the platform via the app Bridges if a Surface phone is to succeed. Furthermore, Microsoft's Xamarin acquisition provides developers with tools to build cross-platform apps. Their Wand Labs acquisition gives them access to tech that allows users to use apps they don't even have.
We need to see "app yielding" progress with the Bridges, Xamarin and Wand Labs in 2017. As OEMs like HP, Alcatel, WhartonBrooks and others embrace Windows Mobile, and cellular PCs enter the market leading up to a presumed 2018 launch of a Surface phone, such progress would be welcome.
Kannan concludes, "If there is the slightest chance of recovery of the Apps Ecosystem in Windows Phone, you will find me going back to my Windows Phone." I have a feeling he wouldn't be alone.
Get the Windows Central Newsletter
All the latest news, reviews, and guides for Windows and Xbox diehards.
Jason L Ward is a columnist at Windows Central. He provides unique big picture analysis of the complex world of Microsoft. Jason takes the small clues and gives you an insightful big picture perspective through storytelling that you won't find *anywhere* else. Seriously, this dude thinks outside the box. Follow him on Twitter at @JLTechWord. He's doing the "write" thing!