Microsoft extends Xbox Elite Controller Series 2 warranty as class action looms
Microsoft has extended warranty coverage for all Xbox Elite Controller Series 2 units, with refunds promised to owners who previously paid out for repairs.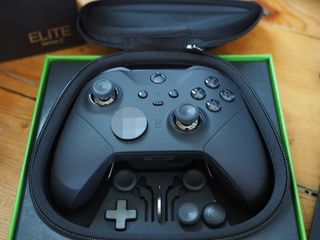 (Image credit: Windows Central)
What you need to know
Microsoft has extended its Xbox Elite Controller Series 2 warranty to one year, amid hardware issues impacting "a small percentage" of users.
The extension replaces the former 90-day coverage included alongside the device and retroactively applies to all past controller purchases.
It comes as Microsoft faces class-action lawsuit for "drifting joysticks," recently updated to include both generations of the Xbox Elite Controller.
Microsoft has outlined plans to extend its warranty for the Xbox Elite Controller Series 2, the company's premium gamepad, amid reports of issues among buyers. The amendment extends coverage to one year, effective immediately, over the previous 90-day window offered alongside the accessory.
The changes to retroactively apply to all previous Xbox Elite Controller Series 2 shipped since its November 2019 debut, in response to a "small percentage" of users encountering hardware issues. Microsoft also states payments made for repairs outside the previous warranty will be refunded by October 31, 2020.
Microsoft's original Xbox Elite Controller was notorious for long-term durability issues, with peeling grips, faulty bumpers, and stick drift among common issues voiced by buyers. The second-generation design undoubtedly reinforced its souped-up controller, but the former warranty neglected many returning troubles.
"We've received claims that a small percentage of our customers are experiencing mechanical issues when using their Xbox Elite Wireless Controller Series 2," Microsoft stated via the Xbox Support (opens in new tab) website. "To ensure your satisfaction, we're extending the warranty coverage period on Elite Series 2 controllers from 90 days to 1 year from the date of purchase."
Elite Series 2 owners expressed concerns from launch, with sticky or unresponsive buttons, inconsistent connectivity, and drifting thumbsticks among prominent issues. "We are aware that a small number of users may be experiencing issues with the Elite Wireless Controller Series 2 and are actively investigating with our engineering teams," Microsoft told Windows Central in November 2019. "We encourage any customers who experience issues with their hardware to contact Xbox Support."
But this extended warranty comes as Microsoft faces a class-action lawsuit for "drifting joysticks," with plaintiffs alleging a known hardware flaw saw controller thumbsticks develop unwanted movement over time. The lawsuit, first filed back in April, was recently updated to include both the Xbox Elite Controller and Xbox Elite Controller Series 2, providing a likely motive for the sudden change.
"Microsoft does not disclose to consumers that the Xbox controllers are defective, causing the joystick component to fail. Members of the general public have the right to know the latent defects with the Xbox controller components," the lawsuit states. The complaint also impacts other Xbox One controllers outside the Elite series.
The ongoing lawsuit seeks monetary compensation from Redmond, along with a public injunction, pushing the company to notify controller owners about the alleged defect.
Windows Central Newsletter
Get the best of Windows Central in in your inbox, every day!
Matt Brown was formerly a Windows Central's Senior Editor, Xbox & PC, at Future. Following over seven years of professional consumer technology and gaming coverage, he's focused on the world of Microsoft's gaming efforts. You can follow him on Twitter @mattjbrown.
I had my series 2 for a little over 6 months and the left trigger became "sticky" and caused a slight delay and also had an audible feedback... I sent it in for a repair because I paid for the extended warranty. I got it back, it was perfectly fine for a day and then it went back to the above issues...I don't know. Seems like a lot of money to have issues occur.

That **** is cool, I'll take it as win. because bottom line when the pad is working flawlessly it is the best pad I have tried so far and not many other comparable options anyway.... I don'5 care how many times I have to send it back, I'm keeping that pad as my favorite..

Extending the warranty is a good move. Given the prevalence of drift being an issue in the industry I wonder if there is a shared parts supplier to blame.

Just spent some time on customer support about this. It took a while (they had to go off and ask about the new warranty), but the outcome is, go through the reapair process on the website and make sure to include a list of issues. I was told I do have to pay, but will be refunded at the end of the month. An additional thing to note, is because of the short warranty, I ended up opening my up to repair some of the issues myself (I refuse to pay almost £100 for something that breaks within a few months). They said my repair may be rejected at the repair centre and sent back unfixed, but regardless I should send it in as I'll still get a refund. I haven't made the request yet as the site crashed whilst trying. This is my third series 2 controller (this one actually worked fine at first, the others did not), it's now about 9 months old. And my list of issues:
- Sticky A button - Removed some dry glue from the side of it
- Right trigger made loud clacking noise - glued a foam pad used to dampen sound that fell off
- Right bumper squishy and unresponsive - the foam from the trigger got stuck under the bumper
- Rubber sleeves for trigger locks kept falling off - I cut off the sleeve's little legs and glued the sleeves back on
- Slight drift on right stick - still broken
- One of the paddles requires a lot of force to active - still broken
- Controller disconnects or restarts every few weeks - still broken

I had 3 of the series 1, and the left bumper/trigger broke on all of them.
I got the Series 2 despite my gut telling me not to, and the left joystick was busted within a few days. Sent it back and just used regular controllers.
I was really hoping the quality of the series 2 was going to be improved especially for how much they charge for them. Unfortunately doesn't look like it got better and may even be worse.

I've never had an elite controller, but my day one Xbox One controller is still working great. My day one PS4 on the other hand has had just about every part replaced inside. And the Xbox gets about three times as much use. They don't make them like they used to.

My day 1 controller failed out the box... Xbox Design controller drifting after 30 days. Now it's disconnecting from the Xbox constantly.... To top it all off, the grip I opted for is coming off. Their quality control needs to drastically improve for their controllers.

Wait, what? Extended to one year? How short was it originally? No manufacturer could ever get away with offering less than a year warranty in Australia and if they did the ACCC would rule against it. But then again, Australia is also the reason that you can now return games on Steam that are faulty or don't live up to what was advertised, so you're welcome.

3 months, or maybe 6. Believe it or not 90 days is a pretty standard warranty on items on the US.

I was burned so bad by the Elite series 1 that I didn't even consider series 2. Grips came off, right thumbstick doesn't click, right bumper doesn't click, and drifting right thumbstick... It's crazy how bad their controllers are for longevity.

Enjoying the Norwegian 5 year warranty by law...
Windows Central Newsletter
Thank you for signing up to Windows Central. You will receive a verification email shortly.
There was a problem. Please refresh the page and try again.