Microsoft acknowledges Xbox Elite Controller Series 2 hardware issues
The Xbox Elite Controller is still breaking for some with Series 2. And that's a damn shame.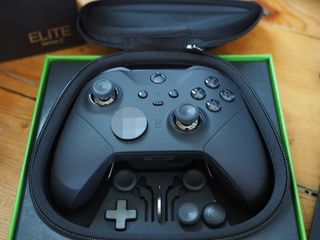 (Image credit: Windows Central)
What you need to know
Xbox Elite Controller Series 2 buyers are reporting out-of-box issues with Microsoft's latest flagship gamepad.
A sizeable number of users report problems affecting buttons, wireless connectivity, thumbsticks, and more.
Microsoft has acknowledged the problem and is investigating.
Update November 14: Following a request for comment alongside our original report, Microsoft has acknowledged issues reported with the Xbox Elite Controller Series 2. The platform holder has launched an investigation with aid from internal engineering teams, providing this statement to Windows Central on the matter:
The original story follows:
Microsoft recently launched the Xbox Elite Wireless Controller Series 2, the second-generation revision of its flagship gamepad, aimed at Xbox One and Windows PCs. The premium $180 accessory sets out to deliver leading comfort and experience in its class, boasting customizable components and heavyweight design.
Those ambitions are similar to the Xbox Elite Wireless Controller, first debuted in 2015, although now refreshed with adjustable thumbstick tension, wireless charging, and Bluetooth, among other enhancements. But that follows the original design, which was plagued with well-documented shortcomings and poor durability. Peeling grips and faulty bumper buttons were among common issues, which Microsoft appears to have fixed with Series 2.
We received the Xbox Elite Controller Series 2 ahead of launch and walked away impressed throughout the weeks. While long-term durability is difficult to gauge, the improved gamepad exhibited clear refinements and matching build quality with the price tag. But with Series 2 shipping to the public from November 4, it's been a week of issues for some customers.
Xbox Elite Series 2 buyers have taken to the web to share their frustration, reporting out-of-box issues with Microsoft's latest design. Like the original Elite, quality appears to be a mixed bag, as a mega-thread of disgruntled buyers hits the Xbox One subreddit, while some report flawless hassle-free experiences. Hiccups are natural for any new product launch, although they're only further emphasized by a variety of problems against that premium $180 price tag.
The most prominent issue appears to stem from the Xbox Elite Series 2's face buttons – primarily the A, B, X, and Y ensemble. Many report sticky or unresponsive buttons, essentially rendering the controller unfeasible for everyday gaming. One Windows Central staff member experienced the same issue with two Series 2 controllers purchased from Best Buy, with his third device currently in transit as a replacement.
We've also heard of numerous instances of inconsistent connectivity, both over the Xbox One's proprietary wireless connection and the newly-integrated Bluetooth. Stick issues include failing to center after being pushed or "drifting," where thumbsticks register inputs when not physically moved. Some report reactions to the new rubberized grip, with one Reddit user claiming the material causes their "hands to itch and sweat." The Xbox Elite Series 2 mega-thread compiles many of these issues on the Xbox One subreddit, matching our experience alongside further faults.
The full scale of Xbox Elite Series 2 controller issues is unclear, though highlights apparent troubles surrounding the product, even with Microsoft's second crack at the flagship. The first-generation Xbox Elite was infamous for its shortcomings, claiming fixes in 2019, although it appears to have sprouted new issues for Microsoft. It's possible with any product launch but shows a steadily-developing poor reputation for the Elite line amid consumer concerns. It's a shame really — as we said the Series 2 could be the best controller ever made.
We'd love to hear your experience with the Xbox Elite Series 2 in the meantime, via the comments or Windows Central Gaming on Twitter.
For those experiencing issues with the Xbox Elite Series 2, we recommend contacting your retailer for further steps on a replacement. For those unaffected, check all inputs via the Xbox accessories app, and look out for potential defects.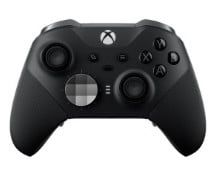 Premium Gaming
(opens in new tab)
Xbox Elite Controller Series 2
The Xbox Elite controller returns for 2019.

At long last, the Xbox Elite Wireless Controller has been updated. Series 2 brings big improvements to the table, such as Bluetooth connectivity, a charging dock, adjustable tension for the thumbsticks, and much more.
Xbox
(opens in new tab)
Main
Matt Brown is Windows Central's Senior Editor, Xbox & PC, at Future. Following over seven years of professional consumer technology and gaming coverage, he's focused on the world of Microsoft's gaming efforts. You can follow him on Twitter @mattjbrown.
I experienced the sticky button on my controller but with normal use for a week it stopped sticking.

This was my experience as well. My A button was sticking a little bit but I basically just sat there and mashed it a couple hundred times and it stopped.

The only issue I had was with my A button sticking but pushing it a couple hundred times fixed it. I don't have issues with the sticks, grips, or any other buttons so I think I lucked out...I was worried though when that A button was sticking. Others also reported that using the controller for a bit made the buttons stop sticking.

Maybe the rubber underneath the button turn sticky due to heat during transport / while it was in the warehouse?

Sigh... this is why Microsoft needs a dedicated testing team and programmatic testers (re-hire). They would have been able to identify these defects before controllers made their way to the public. Firing the testing team and programmtic testers was another highly short sighted decision.

This is an issue with quality control in China more than anything else. They just need to put pressure on Foxconn & Co. to up their quality control standards. But yeah, that likely requires having to pay for someone to actually be on sight to oversee the testings.

Looks like you too have been in the business, I have dealt with Foxconn and QC teams and know how much of a hassle this all can be but yes, this seems to fall almost directly on QC at this point and should be addressed quicker than later, these issues are really flooding M$ and XB and is more hurtful than not, a quick resolution will be the only way through this all.

I got 2 Xbox Elite V2 controllers. One from Best Buy. Com one from Walmart four days before it was supposed to be released. I am having zero issues.

Haven't had issues. Knock on wood.

What is the current method that Microsoft uses to ensure quality for their hardware? Razer boasts rigorous quality control for their gamepads on their website. Is there something similar for Microsoft or do they just not test the gamepads?

I just bought Razer Junglecat to use with Razer Phone 1, and it has consistent connectivity issue, as well as some other small issues. I think they didn't do a good job either.
Nintendo joy-con also has infamous drifting issue. I don't follow Sony, so not sure if they have better quality control or just the same. I mean, it seems the whole industry forget how to product a expensive controller with good quality.

The video released that talk about the improvements to the ES2 controller shows a few clips of a large manufacturing room using robots to simulate button presses and stick rotations for extended periods of time. More than likely they pick 1 out of every hundred or thousand for QC testing in these so they should have picked up these defects. I'm thinking these defects happens while in storage after the testing.

So I guess Microsoft just treats their early buyers as "Hardware Insiders" then?

Has anyone attempted any updates via accessories app or Xbox settings? Seems like response issues might be taken care of by that kind of thing, I mean I usually end up seeing updates coming out right when things are sold

I got the controller on The 4th when It come out. I have not had a any issues as of yet. With the original I just had the grip come loose but that happened after two years of use. I feel the new one is perfect.

I'm on my 4th one. 1st - damaged out of the box. Pieces came loose during shipping and caused major damage.
2nd - A button wouldn't register intermittently.
3rd - A button wouldn't register intermittently.
4th - A and Y (and sometimes B) button wouldn't register intermittently. Unacceptable for a $180 controller.

I feel that's just unlucky because I had no issues in mine. I've had no issues so far. I suppose I'm just lucky cuz I had no issues even with my first generationother than grip on the bottom be coming loose after about two years of use though. I am sorry that you went through that and I hope you get a fifth one that will ultimately work. Sometimes when things come off a conveyor line there are some dead sometimes and that just happens with every product there is a 10% chance of failure that comes off the production line. And some things fall through the cracks it happens. Companies using anticipate this and have a budget for failure. I'm not saying it's wrong but it's just the way of business. Again I hope you get the fifth one that is going to be the charm.

I'm on my second. My first was like your 4th, and my second is like your 2nd/3rd. I will bring my laptop and test the next one in the store, once they are in stock reliably.

Thanks for the good vibes everyone. Unfortunately, after a month delay, #5 and 6 arrived on Tuesday with the same issues. A button on one intermittently unresponsive, A and Y button on the other. Logically Im with you on the manufacturing tolerance issue, but I must have the worst luck in the world to get 5 defective ones. At this point I don't really know what else to do, but I hope someone keeps this topic in the conversation. Right now it feels like Microsoft made the delay to allow the PR mess to go away.

This is pretty crappy. I'm glad I didn't pay the 630 USD that they want to charge for this in my country (don't cry for me).

OMG that's an insane amount of money.

That was exactly my reaction too. It's insane. It doesn't even justify import rates, shipping, taxes. They just sell it at whatever price they want. That's Argentina nowadays. Hope better days come. But it's gonna get darker before sunrise.

Luckily seemingly I haven't experienced any issues at least to the degree I would consider them issues. I will pay more attention as there were moments A and B didn't seem to respond but this was only through navigating menus or youtube. Perhaps the "intensity" of gameplay forces me to use enough pressure that I don't experience these not registering "when it mattered."

Why are their statements always defensive and say "small percentage"? There are thousands of reported problems with this controller and putting out a statement that's basically a shrug emoji is tone-deaf and offensive to anyone with half a brain. How difficult is it to state the facts? Maybe go with "specific batches have problems, these are the ones we know about, it's unacceptable, we're going to make it right through either a refund or an exchange, and we're sorry"

Because in the grand scheme of things it is small.
A lot of the issues have been resolved by just using it.
If it turns out to be more you'll hear about it. The red ring days can't happen anymore because the internet screams very loudly.

If 500,000 sold (not an actual sales figure) and 5000 of those became defective, that would be only 1% of all the units sold. Thousands affected, but still a small percentage.

Because the internet likes to take something that's actually a relatively small failure rate and make it seem like the product is highly likely to be unreliable and you shouldn't buy it. Even this article is engaging in that. They need to push back on that or it'll scare people off, even when the vast majority of people who buy one aren't going to have an issue. That it is ultimately not effective in changing that perception doesn't really change that either. If they didn't add that, people would make claims about how the product is a reliability disaster and even MS admits it. They did say they were taking it seriously, trying to identify the source of the problem. They'll make right with anyone who has an issue via support.

Par for the course, the MS apologists stating the obvious but missing the point. Just b/c it's a "relatively small" percentage doesn't mean you treat it as a non-problem which is effectively what they're doing. This is the classic MS playbook. The only difference is they at least immediately acknowledged the problem which probably means it's much bigger than the apologists want to believe.
Windows Central Newsletter
Get the best of Windows Central in in your inbox, every day!
Thank you for signing up to Windows Central. You will receive a verification email shortly.
There was a problem. Please refresh the page and try again.