Microsoft finally details its plans for Windows 10 19H2
Microsoft has finally announced Windows 10 19H2, and it's just as we expected. There's not much to see here, folks.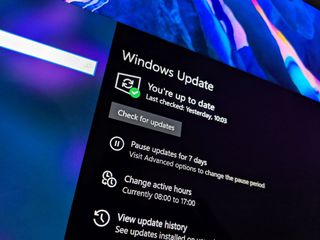 (Image credit: Windows Central)
After being delayed. Microsoft has finally announced its plans for its next Windows 10 feature update, codenamed 19H2. As was suggested by recent rumors, Microsoft's 19H2 release is going to be a much smaller one than usual, being released as a cumulative update that sits on top of 19H1 instead of a full blown new OS release.
This means that 19H2 builds flighted to Insiders will be a variation of the 19H1 RTM in the form of a 18362.xxxxxx build. Microsoft has already released the first 19H2 build to Insiders in the Slow ring with build 18362.10000. Microsoft does not intend for this release to have any blockbuster new features or changes.
Microsoft's head of Insider Program, Dona Sarkar, details the following:
Microsoft's Director of Program Management, Windows Servicing and Delivery, also published a second blog post detailing its plans for 19H2 in more detail.
Microsoft has also announced that 19H2 is expected to launch in September, slightly earlier than usual. This isn't much of a surprise considering how small 19H2 is as an update. It's much more like a monthly cumulative update, and not a full blown twice a year OS release.
19H2 can easily be described as a Service Pack for 19H1, as that's pretty much what it is. It's a rolled up set of fixes and improvements that sits on top of an already existing version of Windows, known as 19H1.
Microsoft's 20H1 release, scheduled for spring 2020, will bring us back to the usual larger feature updates. But until then, are you planning to test 19H2? Let us know in the comments.
Portable (and affordable) power accessories we love
Each and every one of these charging gadgets will keep your favorite gear and gadgets going for longer, and none of them costs more than $30.
VisionTek 8,000 mAh micro-USB power bank (opens in new tab) ($13 at Dell)
This compact dual-output powerbank can speedily recharge any and all your devices, thanks to a two-amp "fast charge feature," using its micro-USB out port. Its simple design includes an LED indicator, and it costs about as much as a single ticket to the movies.
Panasonic eneloop AA batteries (opens in new tab) (From $13 at Dell)
Panasonic's rechargeable batteries are among the best available, and just a couple of them will keep your favorite remote, mice or other peripherals powered up when you need them. They're also eco. And the company's affordable charger (opens in new tab) fits and charges both AA and AAA batteries at the same time.
Belkin Qi Wireless Charging Pad (opens in new tab) ($30 at Dell)
This unobtrusive Qi wireless charging pad looks good (and kind of like a UFO …) and easily charges all your Qi-compatible device up to 5W. Its LED indicator lights up when you're charging. And it costs just $30.
Zac Bowden is a Senior Editor at Windows Central. Bringing you exclusive coverage into the world of Windows 10 on PCs, tablets, phones, and more. Also an avid collector of rare Microsoft prototype devices! Keep in touch on Twitter: @zacbowden.
I definitely plan to test these but I have a question for the current Surface Book 2 owners. Are you on 19H1 and are you experiencing any issues with it? Reviews seem pretty mixed atm. I couldn't resist any longer and have a new SB2 headed my way this week. Even though I know I'll want to kick myself in October if the Surface Book 3 is announced and most likely awesome lol

My Surface Book 2 15 is on 19H1. I've noticed the fan running more frequently and at higher speeds. I am also running Edge Canary on this machine and so I don't know whether the update or the browser is causing the fan to run more often.

> My Surface Book 2 15 is on 19H1. Are you on some kind of "insider" track? All of my Windows 10 Pro machines (Microsoft hardware or otherwise) display "your device is not quite ready for this release".

I'm not on an Insider track with Windows, only Edge. If you want 19H1 what I found was removing any SD cards will allow the update to be installed. Once the update is done, reinsert your SD card and all will be well. I found an obscure reference on an MS update page that says the update is being held back because of an issue with machines that have SD cards installed as a drive. Apparently, the update can cause the drive letter to change. The webpage says MS is working on a fix for this, but I decided to try just removing the card, installing the update and putting the card back in. It works. By the way, I tipped off Windows Central to this over a week ago but apparently they don't read their news tips submissions.

Buddy I did the same. Let's hope my wife wants a (nearly) new surface book by then if it does

Updates on my SB2 displays a msg "your pc is not quite ready for the update" in reference to 19H1 update... and it doesn't bother me one bit. Everything on my SB2 works for me as is and will update to 19H1 when MS updates says it's safe to do so. Congrats on your new SB2! That wait is excruciating... but once you get the package you will totally forget about the potentially upcoming SB3, because the SB2 is already very capable. All the best with your new toy.

So it is so small and insignificant (no big changes) that it can be continuously released to and tested by Slow ring. Then does this mean that there is not much risk to get on the 19H2 train with one's daily driver...?

"...and it's just as we expected. There's not much to see here, folks." Yes, which thanks to MJF, we knew all along. Which underscores just how ridiculous the overwrought faux-dramatic "Microsoft misses its 19H2 deadline and fails at communicating!" posts of a couple of weeks ago really were.

Nope. 19H2 being what it is actually makes that article stand out as correct even more. It showcases Microsoft's continued failure to communicate, even with things we already know.

It would be nice if the May update happened seamlessly. And it didn't take some 4 hours to only fail.

Exactly as I predicted last week, I said it would be a service pack-style release

"There's not much to see here, folks."
It's great if Microsoft is not focusing on more new thing, but instead try to get a stable version of Windows first!

I would really really welcome update for fixing bugs, fixing stability or unifying UI.
The maintenance update.

Was this the version that the Edge Chromium release was going to happen? Hope so, Edge should have been Chromium from day 1 so any delay now is bad.
Windows Central Newsletter
Thank you for signing up to Windows Central. You will receive a verification email shortly.
There was a problem. Please refresh the page and try again.