Microsoft flights first Windows 10 Redstone 4 build for Insiders on 'Skip Ahead'
The first Redstone 4 build up for testing has now been released to Windows Insiders who opted into the new "Skip Ahead" feature.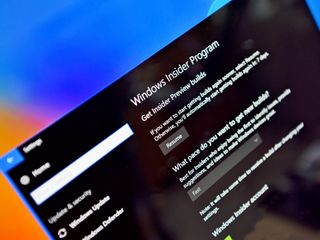 (Image credit: Windows Central)
In July, Microsoft offered up the option for Insiders on the Fast ring to opt into a new "Skip Ahead" feature that would let them move on to testing the next big Windows 10 feature update, Redstone 4, while Redstone 3 is finishing up testing. Now, Microsoft has released the very first Redstone 4 build to anyone who was able to throw their hat into the ring before the branch was filled up and subsequently closed to new opt-ins.
Labeled as build number 16353, this initial build doesn't contain any big new features. Those will come with time, but for right now, Microsoft is in a transition period of ramping up its efforts with Redstone 4 while winding down development of Redstone 3. That said, here's a look at all of the changes and improvements in Windows 10 build 16353:
When the Action Center is black (the default option) the "clear all", "expand"/"collapse", and "see more" link text will now all use your accent color – making them pop more and improving discoverability.
We've updated the Action Center to now support a two finger touch gesture to dismiss all notifications. Place two fingers vertically within the Action Center near the edge opposite to the side of your screen. Then slide these fingers towards the side of the screen. You will notice all notification groups following your fingers and then dismissing as you slide your fingers off the side of the screen.
We fixed an issue in XAML resulting in text animations appearing slightly blurry in the last flight until the animation had stopped (for example, when loading the main page of Settings).
We fixed an issue resulting in the taskbar being unexpectedly thick if you booted up the PC while plugged in to an external monitor with a different DPI.
We fixed an issue that caused minimized per-monitor DPI aware windows to miss DPI changes and end up with a mix of DPI scaling upon restoring.
We fixed an issue from recent flights where when Slideshow was enabled resuming from sleep a second time might place the Lock screen in a state where it couldn't be dismissed without pressing Ctrl + Alt + Del.
We fixed an issue resulting in an unexpected change in mouse sensitivity in the last flight for PCs using non-default display scaling.
We fixed an issue resulting in Asphalt 8 not accepting input in recent flights.
We fixed an issue resulting in progress wheels on certain websites in Microsoft Edge unexpectedly moving out of place during their rotation.
We fixed an issue where the Windows Hello strings would appear on top of the page when performing a pin reset from the login screen.
Again, this build is only being flighted to those who managed to opt into the "Skip Ahead" portion of the Fast ring. If you're a standard Fast ring Insider, you'll continue to receive Redstone 3 builds as development winds down.
What exactly is Windows Insider 'skip ahead?"
Windows Central Newsletter
Get the best of Windows Central in your inbox, every day!
Dan Thorp-Lancaster is the former Editor-in-Chief of Windows Central. He began working with Windows Central, Android Central, and iMore as a news writer in 2014 and is obsessed with tech of all sorts. You can follow Dan on Twitter @DthorpL and Instagram @heyitsdtl.
I'm currently on Active Development of Windows, Fast Ring, Build 16278 any news on that

What news are you looking for? It just came out and there were full articles on it..

a new build today i don't think so

So many fixes in an early preview build? Shouldn't these have made it into the current release? As for new "flights", I expect experimental new features

What does fixing issues in pre-release code have to do with released code? You do know that there are bugs present in test builds that aren't present in production builds right?

Every new branch starts out with under the hood stuff before delving into new features. Not sure why anyone would expect RS4 to be any different.

They want suckers....I mean 'insdiers', to skip ahead to help with beta testing since there is no testing department left at microsoft.

Apple faboy on a Microsoft site? Didn't see that coming. s/

No apple fanboy here ....As I type this from my dell 2 in 1 notebook...DOES NOT CHANGE THE FACT THAT MS HAS CANNED THEIR TESTING DEPARTMENT.....

With Windows Insiders, Microsoft finally allowed MS and more importantly, beta testing enthusiast to join in. Every popular OS/software/game title have done this since the beginning. Personally, I like the challenge and have been submitting issues since 3.1. It's what the community does and sometime, cranky old bastages.
For those that want to make money at it, get in IT, become a programmer, or spend free time looking for security issues.

Real life test cases provide for better results when finding and sqashing bugs, so dont be to upset about MS killing thier testing department.

You know people voluntarily join as insiders. Every other company has some form of insiders, you can test beta/alpha/whatever you want to call it software as an Apple user or Android user too

The testing team is fine. The purpose of the insider program is that Microsoft has to build for 1000x the product range as Apple. It's easy to make OS changes when you control the end to end hardware and drivers, but MS have to build to work with everything from a top end Lenovo thinkpad enterprise ultrabook to a gaming rig built into an old beer fridge by bob the pc builder

With 'alternative facts' like that I just have to ask. Trump voter?

WHO ME? NOT ******* LIKELY...he's a **** and a half.

Yup. I was referring to you. For some reason the site didn't attach the reply to your post. Odd that you have such vehemence towards someone you behave so similarly to on a regular basis. I also hate Trump, but I don't emulate his behavior. I tend to research and learn the facts before I speak. I don't run around spreading poorly researched opinions as facts. Food for thought.

Oh...i don't emulate him either. I give props to microsoft on a variety of things. surface devices, windows 10 on desktop/laptop. It does not change the fact that the guy in charge dropped the ball on a wide variety of consumer products and features in windows 10. I am not like the so called ruler of the United States at all.....quite the contrary actually. But MS did let go ALOT of their testing dept so "take advantage" of the free testers (suckers).....Apple does not release a verison of IOS or MacOS that is not READY. MS released a few versions of windows 10 now with features they claimed to be releasing then not because they are "not ready". IF they are not ready, keep your damn mouth shut until they are..

You clearly don't understand the purpose of the Insider Program. That's by far one of the best things done by Microsoft and others are starting to do the same as it is a success. I'm an Insider too, so I know what we are doing at the program, we are not only reporting bugs, this is one of the things Insiders can do, but the biggest advantage for MS and the users is the ability of allowing us to give suggestions, to request features, to give our opinion. That is why Windows 10 is so different and so much better that other previous Windows. And if you don't agree with it, don't use it, or at least don't complain about it and the users that are help you to get a better OS.
Inform yourself before commenting as it looks ridiculous the way you talk about something you clearly don't know, don't undrstand, and have no interest in.

I beg to differ. You are just an unpaid guniea pig for MS windows beta testing.

Get your facts straight for once would ya! Apple does it like everyone else. TBH, I believe you had to pay for Apple beta testing at one time too!
https://beta.apple.com/sp/betaprogram/ DA :P

You are just vomiting and spreading hate without a base. If you didn't know, Apple and then Google (Android) started a similar Insider program after Microsoft did. It is a great way to engage and keep in touch with the users, since that was one of the main complaints, from people like you, after the Windows 8 design (UI) commotion.

I am seeing the build but appears there is an install issue, it fails during the installing step.. going to report on feedback hub • Windows 10 Insider Preview 16353.1000 (rs_prerelease) - Error 0xc0000005

I had a different issue crop up, but the last couple builds have failed via WU and required I do a UUP to ISO to update my Surface Pro 3. Make sure to save your upgrade logs just in case they need them.

That is caused by some third party Software. Bitdefender, Chrome, RealPlayer, old Skype Versions, for example, if you have some of these, uninstall them together with any other component for them. If you it still experience same issue after this, uninstall any third party software that was designed for previous Windows versions and anything else that can be installed back later. It can be old games too. But this issue is caused by Software that are not fully compatible with Windows 10.

Sorry, but no. My Surface Pro 3 has failed to install to properly install the last 2 Skip Ahead builds unless I convert the UUP to an ISO. It has failed at a point where 0 apps (not even Office) have been installed. Only the default inbox apps/programs from a Surface Pro 3 that was completely wiped weeks ago to prep for Skip Ahead. I didn't want to install anything after I had an upgrade failure so bad when the first SA build was released. I flattened it after reporting the error and including the relevant log files. Reinstalled Windows via USB from the Win10 recovery image for the Pro 3 (1511 build). Let it auto-update to 1703, then rejoined Skip Ahead. Sure enough install failure again. Luckily a recoverable one this time. Since then I've left the machine completely vanilla and have only been able to update by converting the UUP and putting it on a thumb drive to make it finish that way. I should also note I'm not a noob. I am a former Microsoft employee and am still friends with many folks within various Windows and related groups. So I assure you, there is an issue, but it seems small scale and hard to replicate, even on like hardware. I still live close to the MS campus and regularly still drop in for various things. I'm hoping to let them actually peek at my SP3 if they don't track it down before next week.

D'oh. Sorry for the typos in my last reply. I was editing part of it and somehow accidentally hit the 'Comment' button so it left a couple extra words in there. *shakes fist at myoclonic spasms*

Hmm, I've only installed one new application, and it is an old PC game. Either way this is an issue because the installer should have a compatibility check that tells you which application, driver/dll, etc. is preventing the install. I'll give it another shot after uninstalling SWAT 4 :)

This and 16273 have failed for me at 11% working on updates. After reverting back to 16257, Windows Update throws up a "couldn't finish installing updates" notification but the update history just says that it needs a reboot instead of giving me an error code. Where are the Windows Update logs?

I was waiting for the install to finish but after some time I checked my laptop and it was turn off, I turn it back on and it was restoring my previous installation... Not sure if I'll try to install it again...

"...this initial build doesn't contain any big new features. Those will come with time..." I'll get my almanac out to keep track of that.

I noticed a huge improvement with Edge. Before the upgrade to this build, I had Edge opened with multiple pages/tabs and the memory usage was on 78%. After the upgrade I noticed that having Edge opened with the same sites/tabs, the memory usage was on 55%. Also, switching between tabs is lighting speed now. Great improvement.