Microsoft flights Windows 10 Mobile build 15254.1 to Insiders as release candidate
By Dan Thorp-Lancaster published
A new Insider preview build is now headed out to the Windows 10 Mobile Fast and Slow rings.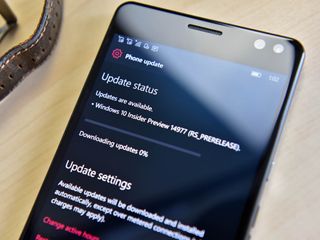 It's been a while since Windows 10 Mobile Insiders have seen a new preview build, but the wait is now over. Unfortunately, if you were hoping for some noteworthy additions, this build will not satisfy those expectations.
Microsoft says that Windows 10 Mobile build 15254.1 is now rolling out to Insiders on both the Slow and Fast rings. According to the announcement, this build contains all of the fixes from build 15252, along with the fixes included in the recent cumulative update KB4041676 (opens in new tab).
More importantly, Microsoft has labeled this build the release candidate for the Windows 10 Fall Creators Update for Mobile. The launch of the Fall Creators Update for PC is set for October 17, so it's likely this is the build that Windows 10 Mobile users will see roll out around the same time. Of course, things could change between now and then. Barring any major issues, however, we should expect to see build 15254.1 hit Release Preview users relatively soon.
Dan Thorp-Lancaster is the Editor in Chief for Windows Central. He began working with Windows Central as a news writer in 2014 and is obsessed with tech of all sorts. You can follow Dan on Twitter @DthorpL and Instagram @heyitsdtl. Got a hot tip? Send it to daniel.thorp-lancaster@futurenet.com.
Downloading now on my 640XL. Expect to download on wife's 950 this week. Of course, my regular phone now is my IPhone 8+

I don't know why you got 11 down votes. Not like you spent 1,000 for an iPhone x

Because these idiots hate anything Apple. Even though it is a quality product and supported for more than two years. Don't blame Apple for this mess. Blame Nutella and Blowfiore.

Because no one gives a **** about his new phone or his gloating, half-assed attempt at an underhanded way to brag.

How you found moving to an apple device. I moved over to android and went for the xperia xz premium as it felt the most like a lumia in my hand and had a dedicated camera button to which alot of phones don't have and for me it's a must.

I went with Apple because my wife has an IPad so I felt more comfortable with it. I've had it a few weeks and I like it. Of course, it is not elegant like WP and I miss Live Tiles, but there notifications and widgets almost make up for it. I have apps out the yazoo, many of which are worthless, but some are useful (my banks, etc.). All the apps have more features than the WP apps although they work differently. When I would share with WP or even Desktop windows, half the time it wouldn't work. Everything works on the IPhone. Even WiFi works better and with faster downloads than I got on 640 and 950. Do I hope in a few years that Windows Mobile will produce something I can go back to and that MS will solve app problem? Of course, I do. Do I expect that? No.

This starts to be ridiculous, 15 down votes. He keep updating his W10M but have moved on to a new daily driver as all at Microsoft have done. That should be seen as exemplary the he keep his contact with the now decleared dead OS not something generating down votes.

To bad that you can not see who these chicken down voters are that hide behind a thumb down instead of arguing for their view with some well chosen argument. It would be intressting to learn why they can not take an argument and have to hide behind their thumbs and why they hate realist that even keep their W10M phones as a memento, update them but have moved on to be able to cope with reality.

It's more amusing to see the number of people crying about their downvotes. This isn't Reddit, we don't have karma, and downvoting doesn't actually do anything useful - like put the unhelpful comment at the bottom of the page. I'll downvote if it doesn't contribute to the article conversation - like screeching that W10M is dead or touting a preference for Android/Apple. We know, we don't care. Enjoy your device, let us enjoy ours. Move on and let's stick to the actual topic of conversation.

What argument? The down votes are an emotional response to the general situation highlighted by the poster. Not a personal attack nor any form of intellectualised response.

I was going to upgrade my 640xl to a 950xl but they are hard to find and were costing still about 400.00. And then found out that everyone at MS has already switched to Android. Many no doubt secretly have IPhones.

Oh and by the way I have my Windows Phones stacked up on my desk. 640XL, 735, 928 and before it died my HTC 8x (the one that was supposed to be upgradeable to 10 but wasn't). The 928 was left behind too. I even switched from Verizon to AT&T earlier this year so we could get the newer 950s. My wife had an Icon (it's on my desk too). AT&T was out of 950s, so bought her one on Ebay. I think I showed a lot more commitment to WP than MS did. She is sticking with 950 for now but her next phone will be IPhone.

Same path followed here. Had win phone 6, 7, 8 and now 10. I had to buy my 950 950xl unlocked from Amazon. Could not find a single device in a store. Microsoft made it crystal clear they were done just after releasing these phones. Didn't stop me from enjoying w10m. But we are backed into a corner when these phones die. Will prob switch to android.

If you want to sell any of the phones, I am here. I will buy

I'm in the same boat. Went for the iPhone 8+ simply because I don't want to deal with Android lag issues, so I went for reliability over customizations. I had every flagship since the 920 and my elite x3 is now a backup phone. Not sure why people are down voting your post. It is either iPhone or Android. We can thank Microsoft for the fact that those are the only choices we have on mobile. I don't like it, but why support something the company itself couldn't care less about?

I have an enduring objection to the Apple Business Model, among other things, it will take a lot to convince me to get an iPhone.

Good for u..I have a pile of windows phone on my table...And was all set for surface pro... But, I disgressed just as Nadella and purchased an iPad pro and iPhone...

im a Windows Mobile 10 user who wont be ditching this platform for awhile myself but i find it hilarious how you've been down voted neverthless your choice is yours to take and perhaps one day you will be able to make it back to 'Windows' for a better full experience instead of being affected by what others prefer or their judgement(downvoters are no exception) on you, by your own choices as you left with'em.

My 950 can read my text aloud in my car. Then ask if I want to reply, all hands free through bluetooth no timplate message. Cortana will navigate for you as well without an app! That is what you will give up if you switch, not ready to give that up yet!

Have an upvote, fellow traveller in the Apple land

Why stay if you are not welcomed

Downloading. Kind of sad when you think about it. These types of updates are all that W10M will see from now on. I'm grateful they continue the support, however half heartedly. I can only hope the rumored Surface mobile still comes to be.

Hope in one hand s h I t in the other.

Well, if it does, it will be very expensive and the average consumer may not take to it right away. It will have to demonstrate something outstanding and different, and even then, MS will still have to show commitment. Anything resembling a phone will likely be a bad thing right now. Ms will have no choice but to market as the true ultra-pocket PC they have talked about.

I just wished, MS would release the Surface Phone, and create a Sideload app to install any android app. Just let windows mobile run rampent, maybe developers will create unqiue and wanted apps for the OS.

I suspect the device in question will run win32 and therefore blustacks.etc..

Who would buy a $1000 Windows Phone?
🤣🤣🤣

Tbh I would not mind Microsoft making a surface phone with android os but then have Continnum run when it is docked and you get all the windows 10 apps running full screen. As Microsoft now have their own Android Launcher lock screen apps ect so it could just be preinstalled with all that on it without the Google bits. But tbh no one knows what Microsoft are going to do we may just get Windows 10 arm on a phone which again ide take to.

It is a shame windows phone is dead. My 950 is working better and fast than it ever has.

@James Allatt. Emulating android apps and running windows apps in continuum won't really work. As users would need to side load apks to use android apps. Google only allows OEMs who take the entire google mobile suite to use the play store. They aren't going to make an exception for Microsoft, other than make life more difficult. We all seen what they did with Microsoft's developed Youtube app for Windows Phone.

How can anyone down vote this? It would give the users of the old Windows phones some hope for the future. The a-hole factor is starting to be a bit ranking on this site.

According to Nayan from WinCentral, his sources claim that when Microsoft releases the "Surface Phone", top vendors will follow with their devices.

You'd have to be nuts to buy another MS phone, Surface or otherwise. And I've been 100% Windows phones since 2000. Nutella blew it and blew it bad to alienate guys like me. I'm still on my 950 only cuz the thought of Android or iPhone disgusts me even more. I had to use iPhone just last year for work and hated it, not to mention they're over-priced. Android/Google are creepy.

Even if they do bring their ultra mobile PC that can make phone calls, I'm not going to touch that thing with a stick until until the second generation and a visible show of commitment from Microsoft. That's the sad reality: if it come to consumer products, you can't trust them.

Wow, what's up with all the downvotes? Seriously, what's wrong with this community?

@wgs84, They are a bunch of Whiny little fanpanzies. thats whats wrong. Down vote away sissies! On a related note, I did not expect to see this as I turn on my computer this morning.

See....exactly what I said.....*******!

Again...exactly what i said...TRUTH!

To be fair, Microsoft pretty much killed any enthusiasm for WP for me. I was a big proponent and was with the platform for years (even moved my parents to it). Now, what's the point of getting excited by a platform that was confirmed dead?

I put all my friends on Windows Phone. I was responsible for 6 of them. My choosing Apple will probably mean they don't the same route although they may not trust me anymore. I love the DirecTV app on IPhone. I remember when there was one on WP. Of course, it didn't do anything compared to the one on IOS.

It wouldn't be Windows 10 Mobile. It would be Windows 10 with Cshell. The biggest components, aside from C-Shell, would have to be Continuum and Surface Pen support. These three components, IMHO, would have to be the shining stars for the device. Of course device specs would have to be on point, but the features I mentioned has been something that most of us as WP users/fans have waited on. If MS can show these features to be truly useful, beyond "look at me, I can do this," then MS may stand a chance. However, it will not be easy, even with a world class device that breaks the barriers of what the future of ultra-mobile PCs look, feel, and perform like.

RS2+, as a cumulation of fixes, is more than what we'll see from now.

I'm ok with current features. Improvements are what I like.

Andromeda, people. Andromeda.

Delusions, people. Delusions.

Just like SO much of Microsoft's stuff, Andromeda is vaporware. There will be no Surface phone. And even if there's some other "ultimate mobile device", it won't be usable as a phone, it won't fit nicely in any pocket, and the consumer world will greet it with a collective "Meh" and continue on with their actual SMARTPHONES.

Good support from Microsoft. Excellent

Today I got update 14393.1770 for non insider on Lumia 535

I had the AU on my non insider L635. Rolled it back to WP8.1 because W10M sucks balls compared to WP8.1, which is still fantastic despite being abandoned.

Too bad you skipped CU. Now you have no way of getting it. Well done.

Downloading on my Idol 4S. Feels faster ;)

And improved battery life....;)

Downloading on my Last of the Lumias 950 XL! Probably will be smoother than my Priv on Marshmellow

Bb priv didn't get 7.0 that shocking.

Oh gosh, can somebody image that: On 10th Dec 2019 (end of feature2 support) we will have perfectly fixed and secure mobile OS and.......it will DIE :-|
That realization is just heart & mind-wrenching....fuuuuuuuuuu

W10M never worked properly until now, it won't be magically perfect 2 years from now.

It started working well on my 950 with 15252. All builds before that had this app-starvation bug where the phone would run hot. Now I am actually pretty happy and getting through a day on a charge. Too little, too late. In 2018 I will look at the Mate 10 and perhaps move on. The Mate 10 seems to have an excellent camera.

Yes my friend, truth has been spoken. Too little, too late. And I also hope that you're right with prediction of Mate 10 camera quality. Because even now, nothing can beat PureView cameras in our Lumias: https://www.gsmarena.com/piccmp.php3?idType=1&idPhone1=8396&idPhone2=7262 That is Mate 9 and you must see which one is better. I also hope for Pixel 2 to have at least that good camera as my L950.

I am pretty sure that it will be, maybe not magically. Just take the fact that there won't be new features introduced. At least not as many and as big as before. Hence, there won't be that much bugs introduced (new feature = new bugs). On top of that, mostly bug fixes will be pushed. From all of those facts deducing, in 2 years it will be nearly perfectly balanced OS.

There was a time when any story about mobile software updates would get literally hundreds of comments.....now its like 20-30 comments..... Not many of us left ☹ A year from now it'll be crickets in the comments whenever a W10M story is posted

Agree. I just now realised that this is my first comment in 2017. Back then, things were completely different. "Seems faster" and "Wen in India?"

I'm still here, but speechless.

We are all here. We just dont comment no more as there is not much left to say. All is said.

I'm rarely here these days. MS have done a disservice to themselves, hardware partners, developers and worst - their supporters (any of whom that have recommended the platform now looking like morons to their peers!!).

I'm honestly also having a hard time believing that we'll have support until late 2019. Team Microsoft want W10M to go away. I suspect they'll keep the Operating System on a basic maintenance framework and will support office for the enterprise customers but will wind down services and apps like news, weather, money, xbox, films and TV, etc The phone will become a very basic communications device with some access to enterprise features. It will force consumers off the platform

Most UWP apps will continue getting updated, since it's the framework for apps both on desktop W10, Xbox One and Hololens.

I think based on their written support policy they have to run it to 2019, which I'm sure they will. The odd monthly "bug fix" will carry them through the next two years.

Much like WinRT, you will probably continue to just see security updates only while the app store slowly dwindles away. Including apps that you have purchased no longer being available for download and existing apps loosing functionality. Hey, but they continue to "support" it.

Also probably because of the app being broken for comments for so long (though fixed now)

Looool now i can lol again in comments

There are lot of guys like me who speechless. ☹ still love MS

There're no features to discuss. Mostly bug fixes - which still better than guy with P8 down there. BUT! he has apps! ;-) No worries, there's something coming. Hope is alive until MS is there.

Hope the battery life improves, last build was bad on Elite x3.

On my Lumia 950XL store still doesn't work when region is not set as USA.

Well this is one more update than my Huawei P8 lite 2017 (Honor 8) - that's stuck on Nougat with last security update of February 2017!

Yeah, if one thing, WP users never worried about security updates since September 2015 at the earliest.

Well Android is like that. I had a Sony Xperia back in 2014, it was discontinued and the Android software could not be upgraded either due to hardware specs were too low... I guess I am still very glad for my Lumia 950 XL.... It seems phones get discontinued like after a few yeats in this business. Holding on to my phone on to date of expiry and hardware malfunction... Perhaps not the last though. Lol 😁

I have the L950, I got the HP Elite X3 lap dock - they are a great combo and they still work perfectly well, but it just seems as such a waste, now that development of W10M and Continuum has been abandoned. It's sad.

I really wish Microsoft would give us continuum 2.0 :/ that said at least we got a update that I'm enjoying on my Lumia 950

Much smoother build. No more random freezes or sluggishness.

I'm from Cameroon, a central african country, it will be the first or the second time i'm reacting here, The time is serious. At firts glance, seems a little bit faster. Also very sad of the way things are going about Windows Mobile. Coming from a lumia 1020 since 2013, and on a 950 XL since february of this year, i was plenty of hope about our lovely OS, that's waht make me take a 950 XL at the begening of the year, but Nadella throws us without a blink of eye, very sad looking the potential of the most beautifull os evr made for mobile

Followed by 950. May not be XL but still rocks. :)

Both excelent hardware devices and camera kings

What phone is that in the title image?

Not sure was wondering myself.

Nice! I didn't realise it had the 2.5d glass. Cheers

Primetime for what exactly?

They would never do this but I think it would of alleviated some fan abandonment issues if they ported a version of android to at least the newer WinMob10 devices. I wouldn't expect something for free of course, so I would of been totally happy if they created a rom preloaded with MS services. There is nothing wrong with my 950xl it's still a powerful device, it just has a dead OS on it. At the very least they should release a boot loader and let the community take over.

Man, I have been looking at Androids. The V30 is where I will likely go. I wish MS would release a decent Skin or Launcher for Android, that resembles Windows mobile. I find looking at the android home screen to be awful. Silly question, but are widgits similar to live tiles?

Widgets are a bit like that yes. But only more pretty and usually more usefull. When done right you can do functionality with widgets without opening the actual app.

Yes, but, like live tiles, relies on the developer to actually make useful. I have a nice one for my stock portfolio I can interact with, see market gains/losses, personal gains/losses etc. The MLB one I can scroll through game scores. Weather one functions like a live tile, updates temp & conditions hourly.

Not in a million years. Live tiles are live. Widgets are not live, they are shortcuts with some animations some times.

I hope that Microsoft will reconsider it's mobile strategy and stay in the market for mobile phones. Otherwise it will look bad for them in the near future. People now use phones more than ever for social media and even work. I am grateful for all updates though. I love my Lumia 950 XL. It is really a very good smart phone.

I hear you. Same here lumia 950 xl getting better and better. Sad story the one we are in. Love my phone.

It actually floats, try putting in in a tub of water & watch.

They'll need to rip out my Lumia 950 from my cold, dead hands

Then I shall sink with my Lumia 950 XL as well ☺

after waiting for weeks, finally my device got an update this morning, ... and of course tomorrow would be like yesterday, praying and waiting for some updates ... this is why I love windows phone, being an insider and waiting for next builds released is very very addictive... lol

True, so true. We'll miss this in android or ios

And it's likely that last build aside from extremely minor fixes. By mid-2018 we'll see nothing.

FINAL build - can switch back to Release Preview now (I guess switching to "Next flight" is kind of macabre).

I can't able to move from preview to fast ring,is there any process??plz help me guys

Haven't touched the phone in six hours..25% battery remaining from a full charge.

Do a soft reset (power + vol up 15 sec). After that should be OK

Feature 2_rs3 svcrls. Service release....3 more of those and is done guys. (I would venture to guess). I expect that is the time-table to CoreOS, OneCore, OneShell ,UWP goodness.....one can hope.... But the one Windows can't exist unless mobile/desktop/iot coexist as OneWindows. That's right I'm calling it Windows 10 is the last version of windows skus and OneWindows will be announced at a mobile event with many devices like the 2015 event. (speculating of course) Now before anyone gets bent go re read the last 3 words from my first paragraph. Let the down voting begin.

Why even bother nadlla ? WHY?? Just close down MS at all already Stuipd CEO

I am mortified by the loss of Windows mobile. It only needed some work, some apps, and some better hardware. It could have been the ultimate solution. I hate it that MS dragged us loyal users along for so long. I was REALLY looking forward to what we all thought was going to be brighter days, but now the sun has set and I am sad.

I'm hoping that Microsoft will add a phone dailer app to Windows 10 and third UI (Desktop, Tablet, Phone). If they made these two changes, Windows 10 can be loaded on to a phone.

It actually already has some good apps.

Yeah, this fixed Spotify app issues where it would hang when trying to play music.

Yap it works i confirm after reading your comment i downloaded it again and it works! Now that my lumia 950 xl is super smooth and apps work, they kill windows mobile. Thats whats wrong with MS. Had a Nokia N9, i know the feeling of killing the future.

Great... No contacts whatsoever now.

The problem I see with Microsoft right now is that they don't have a transition device to allow them to create meaningful experiences. The phone is usually the transition device from pc, to xbox to tv or to other upcoming devices. To create a seamless transition and experience they need to have the freedom of an ecosystem that they now threw away. Even for enterprise users this experience won't happen. Wouldn't it be fantastic to have a Microsoft Band that you would pair with your phone trough NFC? Wouldn't be awesome to get home and the Band app would have been automatically installed on your Windows 10 PC and you could see you progress without needing to log in? Wouldn't be awesome if the same happened on your Xbox so that you could brag to your friends an family about the run you made? These experiences are the ones people want. They are seamless and effortless. They just work without fuss. I still think Microsoft can create an amazing future. They just need a great vision and to actually fulfill it.

Microsoft Band had a lot of potential as a very useful device, but MS var stupid enough to kill it. The Health/Band app is a good example of a true UWP app, that syncs your stats between your different devices (even if the experience is a bit better on Android / iOS). Xbox Fitness was another great product that MS killed because they wanted us to forget the Kinect. It would have been so easy for MS to bring the Health app to Xbox and made it compatible with Xbox Fitness, it would have been the best work out / fitness / health tracking eco system ever! Microsoft and developers had a lot coming for the Band, the best example I think was that Volvo had developed an app exclusively for the Band where you remotely could activate a lot of functions in your car, with voice control. Volvo and Microsoft Band got a lot of attention in the press for this. Just before its release Microsoft pulled the Band SDK and killed the product and I have not heard anything about the Microsoft / Volvo cooperation since that. The Band 2 (and the almost finished -but killed Band 3) could have helped to bring attention to Windows Mobile, UWP-apps and the MS eco-system in general. For its time it was a very smart wearable with a lot of potential.

Wouldnt a RTM version of any Win10M now just be redundant.. we know that know one is going to make any "NEW" phones.. HP MAY make a few more EliteX3s, but since they pulled the Verizon version and kill all future plans. Doubtful anyone is going to make a new Win10M phone ever. Its over.

Updated my 950XL with this build, hardly any major changes. But runs well. Still having EDGE issues though... thats alll I ask microsoft. a decent mobile web browser that doesn't load into desktop view and freeze until I restart the app and it reloads in mobile view..

Updated my 950XL with this build, hardly any major changes. But runs well. Still having EDGE issues though... thats alll I ask microsoft. a decent mobile web browser that doesn't load into desktop view and freeze until I restart the app and it reloads in mobile view..

No need to restart the app again, just open a new tap and then go to the previous one. It will automatically convert to mobile like it should.

Hello, same issues with Edge here on my L640. I thought it was only me for having a very low RAM device.

My 950 can read my text aloud in my car. Then ask if I want to reply, all hands free through bluetooth no timplate message. Cortana will navigate for you as well without an app! That is what you will give up if you switch, not ready to give that up yet!

Just bought a new battary for my 950 to keep it going. Hate Android, don't want to pay the Apple tax, so it's still W10M for me.

after replacing it with new battery, is battery drain / slow charging issue still there? I'll buy new battery if it could solve the issue..

I can't stand how on many Android devices, you can't install apps on the memory card. Your internal memory get chew up by the apps that you download. This really stinks.

Just bought a new battery for my Lumia 950 XL. It is only like one year old. During travel with heavy photographing and video recordings an extra battery is gonna be very handy. Came from Android not gonna look back with all the many universal apps seeing the light in these days. Lumia 950 phones rock! Yeah!

Windows 10 Mobile is not dead yet. We are getting the Fall Creators Update and apps are being updated on a regular basis. It is not like Symbian yet. I plan to upgrade to a Samsung Galaxy S8 in December but keep using my 950 as my daily driver until either the phone dies or the back end services stop working. My 950 was pretty rough when I got it but with each update it has gotten better and better and even after 2 years I feel no need to change to new hardware as I did feel with previous phones.

But symbian isn't dead either - you still can use it. And windows phone will soon join symbian.

I still have a Nokia N8 that I keep charged up although it is a spare alarm clock now.

The lack of a Quad core processor in the 1020 kept it from being upgraded to W10M. I left the 1020 on TH2 and my test 640 and daily driver are now on the Fall Creators Update.

Grant, how did you get the FCU? I know it's by joining Insider, but...they (MS) know what device it is, so they can block further updates, can't they? Any registry hack maybe?

Is there any possiblity that Microsoft is going to add a phone dialer app and third UI (Desktop, Tablet, Phone) to Windows 10? If they made these two changes, we could have full Windows 10 on a phone. It would then make sense to get rid of Windows 10 Mobile. Microsoft would have one OS running on multiple types of devices and running UWP apps. Could this be the future?

Andromeda OS core should be just that from what I understand. Hence a new mobile device with real Windows 10 on it. Let us see in 2019. Until then happy Lumia phone rocking! ☺ Sent from my awesome Lumia 950 XL 😀😀😀

The phone app is already there. At the moment it links to Skype so if you have Skype credit it should work. I will have to fire up my Surface RT and check if the phone app is there I do not have a laptop or tablet with a SIM card slot to check if the phone app can dial a number without Skype.

Didn't get the update on 640XL.

Hello people! I want to ask you for help. I need xap file of app Tango Master - Japanese. I had to reset my phone and after that I realized that app is no longer available 😕 Does anyone have this app on his device to make a backup for me?

Any body is having a issue on creators update on latest patch 950 XL is hanging and rebooting when battery level is 14 percent

I have not even gotten my update yet.

Have to ask.. what is the phone in the image..? I dont recognize it.

Looks a bit like the Lumia 950 XL but it is not. I use that model so I should know.

It looks like the HP Elite X3.

My mobile Lumia 535 windows 10 mobile update with build 15254.1
Windows Central Newsletter
Get the best of Windows Central in in your inbox, every day!
Thank you for signing up to Windows Central. You will receive a verification email shortly.
There was a problem. Please refresh the page and try again.